Electronic drums, or e-drums, have made massive strides both in terms of technology and hardware, bringing them ever closer to the experience of playing an acoustic drum set.
As a result they're surging in popularity. After all, they're the ideal tool for everybody, from beginner drummers, enabling them to practice without disturbing the neighbours, to professional drummers who need a specific, controllable sound in the studio or rehearsal room. As technology and aesthetics have improved, electronic drums have become a more common fixture on the live scene, too.
When shopping for a beginner electronic drum set you should be looking for a rack that's built to last, and at least five drum and three cymbal pads (hi-hat, crash and ride). Pads will likely be made from rubber and the module (sometimes called the 'brain') will offer a limited selection of sounds, from acoustic kits to electronic sounds and percussion – by no means premium, but fine for home practice.
Spend a little more and you'll get tougher hardware, a greater variety and quality of sounds, more sound editing functionality, the ability to import your own samples and pads featuring mesh heads or other real-feel, non-rubber materials.
Once in the professional electronic drum kit arena, you will have access to premium technology, limitless editing capabilities and a kit that's at home on stage or in the studio. Want to add tape to your snare drum, or change characteristics of the room you're playing in? Parameters can be changed within seconds. You won't believe how realistic these kits sound, but the technology does come at a price.
Whether you're after a cheap electronic drum kit for beginners, a mid-range set or something for gigging and professional session recording, here's our pick of the very best electronic drum kits for all levels of player, including the best that the leading manufacturer's like Roland, Yamaha and Alesis have to offer.
Image 1 of 4
Image 2 of 4
Image 3 of 4
Image 4 of 4
1. Alesis Nitro
A great value first drum set or budget practice kit
Launch price (pictured model): $396/£299/€340 | Pads: 4x 8" rubber toms/snare, 1x bass drum tower, 3x cymbals | Kits: 40 | Sounds: 385 | Connections: CD/MP3 aux input, USB/MIDI, MIDI in/out, stereo line/headphone outputs
Great price
Kit editing is quick and simple
Realistic feeling pads
Sounds are a little artificial
The Nitro e-kit includes an 8" dual-zone snare pad, three 8" single-zone tom pads, 10" dual-zone crash (chokeable), two additional single-zoned cymbal pads (one for hi-hat and ride cymbal), hi-hat controller and a complete four-post drum rack. Also included is the Alesis DMPAD kick pad featuring a robust pressed steel housing, anti-creep spikes and a single-zone pad. Partnering the kick pad is a chunky kick pedal together with essential assembly key, sticks and manuals. Only a few strikes of the rubber pads reveal the kit's acoustic drum-esque properties, particularly with rim-shots and cross stick. The same goes for the crash, which is capable of impressive chokes. The module houses 385 sounds, 40 kits and 60 playalong songs and the layout is great for quick kit/drum voice editing – this is where the module has the edge over almost any other kit at this price-point. The Nitro offers up an incredible spec at an impressively competitive price tag.
Read full review: Alesis Nitro
Image 1 of 2
Image 2 of 2
2. Yamaha DTX400K
Enjoy Yamaha's acoustic drum sounds on a budget
Launch price (pictured model): $625/£471/€535 | Pads: 4x 7.5" rubber toms and snare, 1x bass drum unit, 3x 10" cymbals, 1x beaterless bass drum pedal, 1x integrated hi-hat controller pedal | Kits: 10 | Sounds: 169 | Connections: USB to host, aux input, headphone output
Good value for money
Decent module featuring realistic sounds
USB socket for DAW integration
Pedals not great on non-carpeted floors
Billed as the perfect starter electronic drum kit, Yamaha's all-new DTX400K is a no-frills set-up, priced to entice any beginner or serve as a practice kit for the seasoned player. The single-zone drum pads are made from a rubberised compound, designed to be stick resilient yet sensitive enough to give a good triggering response. The cymbal pads are also single-zone, but Yamaha's 'Accent Articulation' makes subtle changes to the dynamics according to stick velocity for a more realistic sound. The module has a USB socket for integration with any Digital Audio Workstation, which can also be used for connection to an iPhone or iPad using Yamaha's Song Beat app – this enables access to several useful practice routines and a huge range of play-along features. The DTX400 module is loaded with many acoustic kit sounds which are derived from Yamaha's own amazing acoustic kits. There are 10 kits pre-configured, but each of these can be edited to create entirely new kits.
Read full review: Yamaha DTX400K
Image 1 of 4
Image 2 of 4
Image 3 of 4
Image 4 of 4
3. Roland TD-1KV
A no-frills compact and affordable electronic drum set, ideal for beginner drummers
Launch price (pictured model): $737/£555/€630 | Pads: 3x rubber toms, 1x mesh snare, 3x cymbals, 1x beaterless bass drum pedal, 1 x integrated hi-hat controller pedal | Kits: 15 | Connections: Headphone output, aux input, USB to computer
Sturdy build
Space-saving rack
Quiet bass drum pedal
Fiddly to set up and adjust
The TD-1 is available in two guises – the TD-1K which includes four single-zone rubber pads for toms and snare, choke-able dual-zone crash and ride cymbal pads, and a hi-hat pad, and the TD1-KV (pictured) which swaps the snare pad for a more realistic-feeling mesh head-equipped PDX-6 pad, with dual-zone triggering for the head/rim. TD-1's pedals are standalone, meaning that they can be positioned where you like, and - more importantly - upgraded at a later date. In total, you get 15 preset kits ranging from standard acoustic kits through electronic and percussion set-ups, plus a metronome, Roland's Rhythm Coach feature and 15 songs to jam with. Sound-wise, the kits are good quality for practising but not mind-blowing, giving you a solid set of basic sounds in different styles. The TD-1's flexible pedal positioning, upgradeability and solid construction mean that, unlike other budget set-ups, you're unlikely to damage or outgrow this kit in a hurry.
Read full review: Roland TD-1KV
Image 1 of 4
Image 2 of 4
Image 3 of 4
Image 4 of 4
4. Alesis Crimson Mesh
An all-mesh, budget-friendly electronic drum kit with great sample functionality
Launch price (pictured model): $1,061/£799/€908 | Pads: (all mesh) 2x 8" rack toms, 10" floor tom, 8" bass drum, 12" snare, 12" hi-hat and crash, 14" ride | Kits: 70 | Sounds: 600 | Connections: mini-jack headphone and aux-in ports, 1⁄4" left and right jack outputs, MIDI in/out, USB/MIDI, USB memory stick input
Superb sample control
Mesh pads feel great
Plenty of on-board sound options
It's not easy to delete individual user samples
The five-piece Crimson Mesh comprises an 8" kick pad, a 12" snare, two 8" rack toms and a 12" floor tom. Except for the kick, all drum pads are dual-zone which means that they have separate sensors for the head and rim. To complete the set-up, the basic configuration includes a 12" hi-hat (with control pedal), a 12" dual-zone chokeable crash and a three-zone (bell, bow and edge) 14" ride. The kit is supplied with a sturdy four-post chrome rack system along with a snare stand for the 12" pad. The sound module is a compact and stylish affair. The module's headline feature is a USB memory slot which makes it possible to load user samples, save and load custom kits, play full songs and backing tracks straight from the external memory, and record up to 99 drum parts in real-time directly to the USB – a really top-notch feature.
Read full review: Alesis Crimson Mesh
Image 1 of 4
Image 2 of 4
Image 3 of 4
Image 4 of 4
5. Roland TD-17KVX
New pads, top-end sounds and Bluetooth on the brain? Roland's midrange electronic drumkit gets an upgrade
Launch price (TD-17KVX): £1,489/€1,499/$1,599 | Pads: 3x 8" rubber toms, 1x bass drum tower, 3x cymbals, 1x 12" snare | Kits: 50 | Connections: CD/MP3 aux input, USB/MIDI, MIDI in/out, stereo line/headphone outputs, Bluetooth
Superb playability
Top-end sounds
Best-in-class Bluetooth system
Not as many presets as some of its rivals
The big message with Roland's mid-range TD-17 line, which features new pad designs, sounds derived from the flagship Roland TD-50 module, as well as Bluetooth alongside the ability to import your own samples, is that electronic drums shouldn't feel like a compromise to those who are learning and improving on an electronic kit. Hence Roland's 'Become a better drummer, faster' tagline. High quality and highly configurable sounds aside, the main draws here are Bluetooth, and the ability to import your own samples. You can throw whatever wav sample you have onto an SD card and into the pool of 100 user slots. Then comes the Bluetooth. Many drum companies have dabbled with their own systems, but this solution is without doubt the best. Pairing the devices and starting to play along is fast, and rock solid. The Roland TD-17K's sound quality, features and playability set a new benchmark for those looking for V-Drums they aren't going to outgrow in a hurry.

Read full review: Roland TD-17KVX
Image 1 of 3
Image 2 of 3
Image 3 of 3
6. Yamaha DTX562K
A well-specced electronic drum kit offering an alternative to mesh or rubber pads
Launch price (pictured model): $2,026/£1,526/€1,734 | Pads: 3x 7" toms, XP80 snare (all Yamaha Textured Cellular Silicone), plus KP65 bass drum and 3x 13.5" cymbals | Kits: 50 | Sounds: 691 | Connections: output jacks (L/Mono, R), aux-in, headphones, USB to host
TCS pads play very well
DTX module is responsive and intuitive
Sounds are impressive
Rack makes pad positioning a breeze
The DTX502 module gives the user a total of 691 drum and percussion samples and 128 keyboard voices. There is also plenty of space for 50 user kits. As well as drum samples, which are taken from Yamaha's classic acoustic drums, this module incorporates additional sounds created by third-party VST developers. The USB port also opens drummers up to the wealth of drum sample libraries readily available. The DTX562K's samples are crisp and clean without being clouded or 'improved' with compression or masses of reverb – just a really great drum sound. The selection of intelligently compiled kits and the small but diverse range of songs is equally impressive. Cymbal features such as muting, swells and choking are authentic and make the whole set more enjoyable to play. While the lower-end DTX kits offer a great deal for your wallet, it is worth shelling out the extra for the enhanced response and feel of these Textured Cellular Silicone pads.
Read full review: Yamaha DTX562K
Image 1 of 3
Image 2 of 3
Image 3 of 3
7. Alesis Strike Pro
An 11-piece electronic drum kit that looks and sounds like the real thing
Launch price (pictured model): $2,788/£2,099.99/€2,386 | Pads: 14" bass drum, 12" snare, 8", 10", 12" and 14" toms, 12" hi-hat, 16" ride, 14" crash | Kits: 110 | Sounds: 1,600 | Connections: Aux input, USB/MIDI, MIDI in/out, SD card slot, direct outputs
Real-sized drum and cymbal pads
All pads are dual-zone. The ride cymbal is triple-zone
Lush 4.3" colour module screen
Mesh pads feel a little clunky compared to other brands
The 11-piece Strike Pro wears Alesis' flagship crown. All drum pads are dual-zone (except for the single-zone bass drum), as are the chokeable crashes. The large ride pad has three zones which offer separate control over the bell, bow and edge. The sleek looking module features a large 4.3" colour display and physical mixer. The unit also features an on-board effects engine and in-built sampling capability which allows the real-time recording and editing of audio via the aux input. Most impressive is that the Strike Module accepts user samples not only for looping or backing purposes but for actual drum kit creation. The inbuilt samples are of a good quality and the sheer number of kit presets take a long while to explore. The Strike Pro may not be perfect, but it does represent an unquestionably impressive amount of gear for the money. However, be prepared for a lot of tinkering to customise your setup.
Read full review: Alesis Strike Pro
Image 1 of 3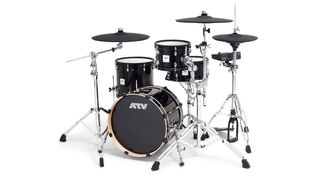 Image 2 of 3
Image 3 of 3
8. ATV aDrums Artist Standard
An electronic drum set as comfortable on stage as it is in the practice room
Launch price (pictured model): $3,440/£2,591/€2,944 | Pads/shells: 6-ply, birch: 18"x12" bass drum, 13"x12" and 10"x6.5" toms, 13"x5" snare, 14" hi-hat, 16" crash, 18" ride | Kits: 5 | Sounds: 37 (more available from ATV Sound Store) | Connections: output jacks (L/Mono, R), stereo headphone, audio-in, USB 2.0 Type B connector, ATV Link LAN connector, SD/SDHC card slot
Looks fantastic
Superb playability
The hi-hat is extremely articulate and responsive
aD5 module could do with more sounds
The focus with ATV's aDrums is strongly on delivering top-quality acoustic drum (and some percussion) sounds, with a familiar, responsive controller to play them from, presented from a design standpoint that looks beautiful. In short, this e-kit aims to be as close in sound, feel and looks to an acoustic kit as is possible. Each drum shell is a six-ply birch construction, fitted with mesh heads top and bottom, and coated with a black lacquer finish. The snare features three playable zones (head, rim and sidestick) and includes a wooden wedge to aid with the latter, while the toms are dual-zone (head and rim) leaving the bass drum as a single-zone pad. The smaller diameter of each drum means that achieving a comfortable placement is quick and it feels like you're sitting at a real kit. Meanwhile, the aD-H14 is possibly the best electronic hi-hat we've played. Combine the aD5 module with ATV's pads and shells and you get a very realistic experience.
Read full review: ATV aDrums Artist Standard
Image 1 of 4
Image 2 of 4
Image 3 of 4
Image 4 of 4
9. Yamaha DTX920K
Top-end electronic drums from one of the world's finest acoustic drum builders
Launch price (pictured model): $5,044/£3,799/€4,316 | Pads: 2x 10" toms, 1x 12" floor tom, 12" snare drum, 10" bass drum, 2x 13" cymbals, 1x 15" ride cymbal | Kits: 100 | Sounds: 1,584 | Connections: USB to device/host, output jacks (L/Mono, R), aux-in/sampling in, headphones, MIDI in/out
Yamaha's Textured Cellular Silicone pads feel realistic
Excellent rack system
Sampling and layering functionality
Costs more than a top-end acoustic drum set
Yamaha's flagship DTX920K electronic drum kit comes complete with the powerful DTX900M module, plus four triple-zone drum pads, three triple-zone cymbals, a dual-zone hi-hat, robust kick pad and sturdy rack system. Inside the module, Yamaha's XA (Expanded Articulation) system helps boost the natural feedback and realistic sound of acoustic drums by creating marginally different samples each time you strike a pad, even if they're at the same velocity. The module also packs an aux-in/sampling connector for recording your own samples, or you can import your favourite sounds via USB flash memory. What's more, if you've been thinking about exploring the world of hybrid drumming, Stacking enables you to layer multiple drum voices on a single pad for greater customisation of your sound. With so much capability, the DTX920K is the ideal electronic drum kit for personal practice, the recording studio or even live gigs.
Image 1 of 4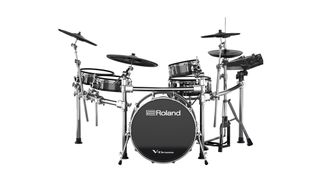 Image 2 of 4
Image 3 of 4
Image 4 of 4
10. Roland TD-50KVX
A supremely powerful and versatile electronic drum kit, bursting with technology
Launch price (pictured model): $9,638/£7,259/€8,247 | Pads: 10" rack tom and two 12" floor toms, PD-140DS digital snare pad, CY-18DR digital ride, VH-13 hi-hats, CY-14C crash and one CY-15R crash/ride, KD-A22 bass drum | Kits: 100
The KD-A22 attachment turns your 22" acoustic kick into an electronic trigger
The new digital ride and snare pads are amazing
SD card slot opens up a host of new functionality
Price might be too rich for some
The most noteworthy aspects of the TD-50 are the new digital ride and snare pads which now plug into the kit's module via USB. The ride not only feels more like a real cymbal thanks to its size and weight, but is also designed to respond more realistically due to multiple sensors on its surface. The snare pad uses the same digital technology to perform much more realistically than any previous model. The module itself plays host to 50 kit presets which utilise Roland's brand new Prismatic Sound Modelling engine. It's also possible to import your own samples via SD card. These can be allocated as a primary sample, triggered by a chosen pad, or blended with other samples using the new 'sub-instrument' menu. Other noteworthy features include balanced left and right XLR master outputs, a new routing engine which allows the kit mixer to control only the headphone monitor mix without altering the front-of-house mix and 10-channel USB audio that allows multi-track recording straight to a computer. For this kind of money one would expect some pretty groundbreaking stuff. Thankfully, Roland hasn't failed to deliver with the endlessly customisable TD-50.
Read full review: Roland TD-50KVX