Quick menu
1. Quick list
2. Best beginner kit overall
3. Best Roland kit for beginners
4. Best with mesh pads
5. Best for learning tools
6. Best kit for value
7. Best for sounds
8. Best full-size kit
9. Best option for children
10. Best budget option
11. Buying advice
12. How we test products
The best beginner electronic drum sets are excellent tools to help players develop fundamental drumming skills that will form the bedrock of their future behind the kit. Technique and timing are vital for any drummer to learn, whatever their level - and beginner e-kits come equipped with a range of features geared towards building such skills. It's unlikely you'll use any of the entry-level kits featured here in a live environment, but for home practice there's no better - or quieter - alternative to noisy acoustic drums than electronic drums.
When researching the best beginner electronic drum kits, you'll want something that feels good to play, sounds and feels realistic and is compact enough to fit into whatever space you're playing in, whether that's a bedroom or a garage. You'll probably be looking for phone/laptop compatibility in order to play along to music, too. Thankfully, big brands like Roland, Yamaha and Alesis have got you covered in these areas.
The rubber or mesh trigger pads that you find on an e-kit produce much less noise than an acoustic drum kit, and - as we've mentioned already - these kits will take up less space overall. Moreover beginner e-kits can usually be folded away when not in use, so fitting one into a compact corner is no problem.
If you'd like to read more in-depth buying advice from our experts, head to our dedicated section at the end of this article. If you'd rather get straight to our product choices, keep scrolling.
Jai is a drummer and producer, who has worked with Afrika Baby Bam, Jay Z, Tyler the Creator and more. When he's not in the studio or away on tour, Jai writes for MusicRadar, specialising in drums, touring and mental health within the music industry. Outside of music he enjoys coffee, video games, sports and dogs. For this guide Jai delved into the world of beginner e-kits.
Best beginner electronic drum sets: Quick list
Load the next 3 products...
Best full-size kit
With full-size, real wood shells and mesh heads all round, the Millenium MPS-1000 offers beginners a more affordable entry point into the latest trends of acoustic looks/electronic versatility. It comes with all of the shells, pads and hardware you need to start playing out of the box.
Best for children
Alesis have always been excellent when it comes to value for money and the Debut only reinforces this. For less than $300/$200, you have absolutely everything you need to start your drumming journey; thoughtfully, it includes a stool, sticks and headphones, as well as a comprehensive metronome and Melodics learning software bundled in.
Best budget option
The NUX DM-210 is an entry-level, beginner electronic drum set that punches well above its weight when it comes to playability and features. This lightweight, small-framed kit is equipped with all mesh drum pads, an independent kick-drum, as well as a few welcome extras such as Bluetooth audio, an aux-in and coaching mode.
The best beginner electronic drum sets in 2023
MusicRadar's got your back Our team of expert musicians and producers spends hours testing products to help you choose the best music-making gear for you. Find out more about how we test.
Want to get to the good stuff without reading walls of text? Well, here you'll find a roundup of our very top pick of the best beginner electronic drum sets, with links to read more if you like what you see.
The best beginner e-kit overall
The Alesis Nitro Mesh now sits atop the throne as the perfect introductory kit. The mesh heads offered us a far more realistic playing experience than traditional rubber pads, and we found they're also quieter to the touch. This alone makes this kit worth a look at this price point.
The module houses 40 drum kits, 385 sounds and 16 slots for customised, user-created kits (meaning you can piece together a kit of your preference from the existing sounds). With USB connectivity, any budding drummer who is interested in producing hip-hop, lo-fi or electronic music can record into a laptop and get creative.
The Alesis Nitro Mesh also comes with some excellent in-built software to help beginners learn the discipline of drumming. There are 60 play-along backing tracks, a metronome, a sequencer and a performance recorder. With drumsticks and a drum key thrown in, a high build quality and a very fair price, there's nothing to complain about here.
Check out more Alesis hardware in our guide to the best Alesis electronic drum sets for all budgets.
Read the full Alesis Nitro Mesh review
Best beginner Roland V-Drums
Roland's latest addition to the V-Drums family is a hugely appealing package if you're just getting started. It features a Roland dual-ply mesh head on the snare, neat and responsive bass drum and hi-hat controller pedals, and studio-quality sounds that are some of the best we've heard at this price point.
The TD-02 module also has Bluetooth capability for jamming to your music collection, although you will need an adapter which comes at an additional cost.
There are more affordable options out there, just as there are kits with more sounds and features, however the TD-02KV represents a cohesive package that you'll want to sit down at months (and hopefully years) after you've bought it. Add to this some comprehensive coaching functions for developing players and it's clear that Roland has considered who, how and where this kit is designed for.
Read the full Roland TD-02KV review
Best for mesh pads
Roland's latest addition to the V-Drums family and the ever-growing TD-07 range - and the 'DMK' version of one of the best Roland electronic drum sets - is a hugely compelling offering if you're getting started or progressing with your playing. It features Roland's dual-ply mesh heads on the snare and tom pads, a clever bass drum pad built into the rack system and pristine, studio-quality sounds that are customisable.
Add-in the TD-07's Bluetooth connection for jamming to your music collection, plus the on-board USB MIDI/audio interface and you've got a serious mid-priced kit that will serve you for years. Roland also includes 40 free interactive lessons via Melodics to keep you progressing.
We thoroughly enjoyed the TD-07's feel and specs, but for those who want a more 'real' feel - a full bass drum tower and pad - then the higher spec models may be more suitable.
Read the full Roland TD-07DMK review
Best learning tools
Yamaha's DTX402 series is perfect for beginners. Building on years of drum-building expertise, they have packaged together everything a drummer needs to get started. The rubber pads feel high quality and responsive, albeit a little stiff in comparison to mesh alternatives. This model is getting pretty long in the tooth now, but it still represents decent value for money and sits pretty in our best Yamaha electronic drum sets guide.
The DTX402 module features 10 customisable kits, with 287 expressive drum and percussion sounds. Alongside this are 10 training tools including Fast Blast, Pad Gate, Rhythm Gate and recording functions.
What really brings this kit to life is the free 'Yamaha Touch' App (iOS/Android), which offers deeper kit customisation and some excellent training functions. Our favourite is a neat little thing called the 'DTX Drum Lesson Program', which scores you on your performance for each song and rewards you with a certificate at the end of it. If you're looking for a kit with a focus on education and development, this is the one.
Read the full Yamaha DTX402K review
Best for value
The Alesis Turbo Mesh is perfect for beginners. The module is simple and easy to use, featuring 10 drum kits and 120 sounds. There is a coach mode which grades you on how well you play along with different time signatures, as well as 30 playalong tracks and a metronome.
As with the Nitro Mesh, this kit comes with mesh heads, a drum key and a pair of sticks. We found that although it doesn't have a dual-zone snare or crash and the kick pedal is electronic – which is not ideal – the feel and sound of the e-kit are still high above other e-kits of this low price point.
Overall, the Alesis Turbo Mesh is excellent value for money. All mesh heads feel great, the drum sounds will definitely suffice and the coaching modes are helpful. If you are on a budget or just looking to have a go at drumming, this is well worth your money.
Read the full Alesis Turbo Mesh review
Best for sounds
Yamaha's DTX6 series really shows what a mid-range kit can do. The 3-zone snare and ride cymbal pads offered us a superb playing feel that most drummers yearn for from acoustic kits. We even felt that the rubber padded toms on the lowest priced option in the DTX6 series could be forgiven - because there's just so much this kit gets right, particularly where the module is concerned.
Take, for example, the new kit modifier knobs, divided up into 'Ambience', 'Compression' and 'Effect'. These tweak-able settings made it so simple for us to easily get in touch with the nuances of kit sounds in a way that is normally incredibly hard to replicate on an electronic kit - and would be a valuable feature for beginner drummers especially. A very classy inclusion indeed.
Moreover Cubase A1 is included, meaning budding session drummers and beat makers can start creating immediately. Bundle this all together with the classic Yamaha build quality and you've got a solid option, worth its price tag.
Read our Yamaha DTX6K3-X review
Best full-size kit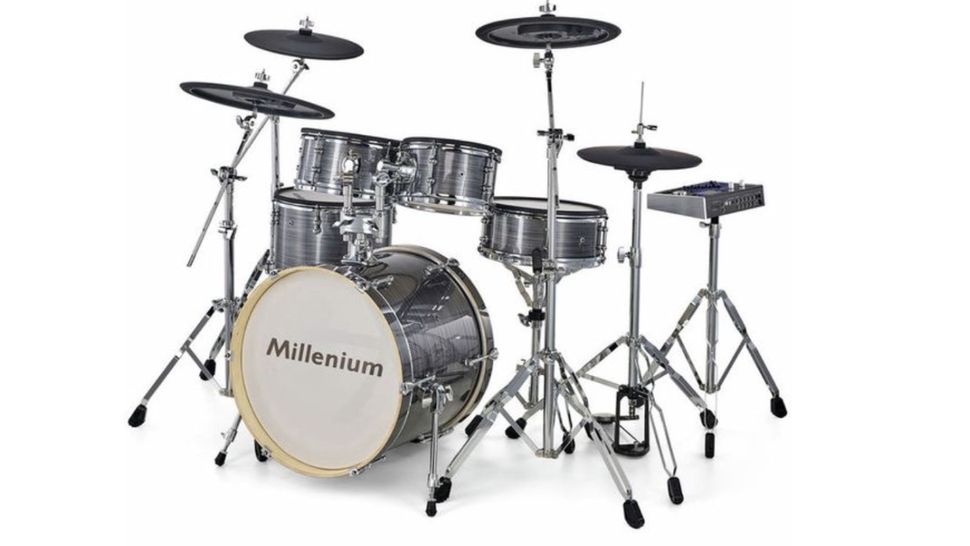 With full-size, real wood shells and mesh heads all round, the Millenium MPS-1000 offers beginners a more affordable entry point into the latest trends of acoustic looks/electronic versatility.
It comes with all of the shells and hardware you need to start playing out of the box (you will need your own stool, however), and with an 18" ride cymbal, 13" hi-hats and a pair of crashes, you have a well-stocked kit.
During our tests we found that the noise in the room is similar to that of a regular electronic kit, but the size and spacing of the setup makes transferring techniques and feel between electronic and acoustic kits a breeze. While the preset sounds are reflected in the price, there's EQ and effects as well as basic editing on board to help you tailor them.
Likewise, we'd recommend experimenting with the pad settings to get the response right. Throw in Bluetooth and user sample capabilities and it's got a lot to offer, particularly at this price.
Read the full Millenium MPS-1000 review
Best for children
Alesis have always been excellent when it comes to value for money and the Debut only reinforces this. For less than $300/$200, you have absolutely everything you need to start your drumming journey; thoughtfully, it includes a stool, sticks and headphones, as well as a comprehensive metronome and Melodics learning software bundled in.
The drum heads are mesh instead of rubber, which we found to be the far better and more realistic option. The module has 120 sounds on board, divided up into 10 kits, as well as 30 songs to play along to, which can be customised to keep/omit certain instruments in order to better understand how each song works. The Alesis Debut also features smartphone compatibility, meaning that we were able to play along easily to our favourite music from any streaming service or video streaming platform. There is also a MIDI output for plugging in and recording into your laptop or audio interface.
With a generous amount of features at a very low price, this kit feels like an open-arms invitation for children and beginners to enter the world of drumming. Solid build quality, Melodics software and the succinct learning tools on board the module will provide brand new drummers a jumping off point to help build vital rhythmic foundations.
Best budget option
Perhaps better known for their affordable guitar pedals, digital pianos, guitar amplifiers and wireless systems, NUX actually makes pretty great electronic drum kits.
The NUX DM-210 is an entry-level, beginner electronic drum set that punches well above its weight when it comes to playability and features. This lightweight, small-framed kit is equipped with all mesh drum pads, an independent kick-drum - which was specially designed for DM-210 - as well as a few welcome extras such as Bluetooth audio, an aux-in and coaching mode.
The "tuneable" heads deliver a responsive, natural feel, while the multi-zone cymbals add an extra sense of realism to the kit. Couple this with USB MIDI and you have a fantastic kit for the drum novice, home producers looking for a more fun way to input their MIDI drums, or established players looking for a low-cost alternative to Roland and Yamaha.
Read our full NUX DM-210 review
Best beginner electronic drum sets: Buying advice
What does a beginner electronic drum set comprise?
The best beginner electronic drum sets comprise a set of drum and cymbal trigger pads connected by cables to a drum module (a small computer which holds the data, sometimes referred to as a brain), affixed to a hardware frame (or drum rack).
On a beginner kit you will usually find eight drums altogether – one snare, three toms, three cymbals (hi-hats, a crash and a ride) and a kick drum – as standard.
What other things does a beginner e-kit come with?
Most beginner e-kits come in a single box containing almost everything you need to get started. You'll get all the parts mentioned above, plus all relevant cabling, a power supply and a drum key for tightening parts and tensioning drum heads, if your kit offers that facility. Depending on the kit you go for, you may also get drumsticks and maybe even a pair of headphones for drummers in the box.
What you will need to check is whether your kit comes with pedals. Many of the best beginner electronic drum sets feature standalone hi-hat and bass drum controller pedals. Or, your kit may have a bass drum tower and separate bass drum pedal. If it's the latter, check that the pedal is part of the bundle.
The final piece of the puzzle is a drum throne - a dedicated stool designed for drumming. You can get away with a standard stool or chair to begin with, but unless these are adjustable you'll quickly be looking for something that is in order to dial in the optimal height for comfortable playing.
Are beginner e-kits easy to set up?
On the whole, yes. E-kits are relatively painless to set up and it's possible to get everything connected and ready to play reasonably quickly. We've compiled a guide covering how to set up an electronic drum set so, whether you're wondering whether this will be a convenient purchase, or you have your kit home and are scratching your head, we can help.
Is an electronic drum kit a good option for beginners?
In many ways, an electronic kit is actually the best place for beginners to start learning, since they offer an ergonomically realistic simulation of playing a full drum kit without the worry - and natural tentativeness - that comes with having your mistakes heard out loud. Moreover electronic kits can be cheaper than acoustic alternatives and take up significantly less room in a house.
Manufacturers will also include learning programmes within the drum module (also known as the brain). Features include play-along tracks, precision tests (where a score is given, based on how accurate your performance and timing is), the ability to record yourself and assess your performance and, of course, the all important metronome for working on your ability to play in time.
Many popular musical genres use electronic drums as an alternative to acoustic. A lot of hip-hop, R&B and pop artists often value the 'sampled' kit sound over acoustic drums – even in live settings. Therefore an electronic kit is definitely favourable to beginners interested in developing these more contemporary styles of music.
Still not convinced? We go deeper into the acoustic vs electronic drums debate in this article.
Is it easy to learn to drum on an electronic drum set?
In a word, yes. Whilst they are not quite as intuitive to the touch as acoustic kits and oftentimes the pads have smaller surface areas, these minor issues aren't deal breakers when you're at the start of your playing journey.
Electronic drum kits provide easy access to many different sounds; allowing you to explore various genres at the press of a button. Without exception they come with a metronome feature to ensure that any learner can work on timing - the most essential skill a drummer needs.
On top of this, when learning any new instrument there is always going to be an initial period of getting to grips with things which, in drum terms, results in a lot of bashing away. It's much easier for a beginner to do this on an electronic drum kit because headphones allow for privacy and peace of mind (for both the player and others in the house). Not to mention the on-board programmes that are aimed squarely at teaching beginners how to play.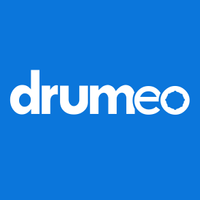 Drumeo Edge: 30 day free trial
MusicRadar readers can get a full month of Drumeo for free (rather the usual 7-day trial) via the 'view deal' button below. In addition to all the drum lesson goodness that Drumeo has to offer, your trial will also grant you access to Drumeo's sister platforms including Pianote, Guitareo and Singeo, just in case you have grand plans to become a multi-instrumentalist!
Do I need to buy an amp for my electronic drum set?
Not necessarily. Beginner electronic drum kits are best used with headphones for private practice. If you are going to use an electronic kit for live purposes, or would just like to be able to play out loud, then it would be worthwhile investing in an electronic drum amp.
However if your reasons for purchasing a beginner e-kit are primarily for practice, learning and potentially recording into a DAW, there is no real need for an amp.
Beginner e-kits: terms you should know
We've rounded up some of the most common terms you might hear below. For a full A-Z, check out our electronic drums jargon buster.
Trigger pads
Trigger pads emulate various drum and percussion sounds when hit. They are made from either rubber or mesh and are designed to sound and feel like acoustic drums. Mesh heads are more expensive but feel more like an acoustic drum and deliver less ambient noise. Rubber pads are cheaper but feel a little less realistic and produce more ambient noise. We've compiled this guide to help you make your electronic drum set quieter.
Pedals
Most beginner e-kits will use a pad for the kick drum, along with an actual bass drum pedal – meaning there is a 'kick' motion happening. On cheaper kits, manufacturers will swap this out for an entirely electronic pedal, which will simulate sounds entirely. This offers less dynamic range and is not entirely representative of how an acoustic kit plays, so bear this in mind when making your decision.
The drum module
The module is the computer that holds all of the information. They are generally user-friendly, with buttons to toggle between kits and activate programmes, songs and the metronome. This is also where you adjust the volume and plug in the most important drum accessory of a beginner's electronic drum kit: headphones!
Plugging in a pair of quality headphone and listening to yourself, knowing only you can hear what you're doing, is very liberating. Shy beginners need not worry about being overheard and – providing housemates don't mind the ambient noise – it's much easier to practice late into the night.
Hardware and cables
The pads and module will fit onto a small metal frame and there will be a cable for each pad, connecting it back to the module. Most electronic drum sets for beginners will be easy to set up and take up a relatively small footprint.
How we test beginner e-kits
The MusicRadar electronic drum set review process is editorially independent and not influenced by any third parties. Our review samples are almost always sourced directly from the manufacturer or via a local distributor. Sometimes review samples are supplied by retailers.
Our expert e-kit testers use each featured kit for at least two weeks, evaluating the instrument in the following categories. These categories are considered with a particular focus on the beginner drummer:
Ease of use/setup
Sounds
Build quality and durability
Connectivity
Other features
This enables us to produce accurate, well-balanced and real-life electronic drum set reviews to help you easily figure out whether the kit you're interested in really is the best choice for you.
Our testing criteria in detail:
Ease of use/setup: How easy is the kit to construct out of the box? Are the instructions useful? Once built, how easily can the kit be adjusted to fit the setup needs of the average beginner drummer? Is the module user-friendly?
Sounds: What level of quality are the supplied sounds? We're not necessarily looking at quantity here. A large number of sounds is often an attempt to cover up a lack of quality. We're also looking at the variety of sounds on offer, and the level of editing functionality for those sounds.
Build quality and durability: Here, we assess the physical feel of the pads/cymbals and the response of the playing surfaces. Are the components - such as wing screws, cymbal arms, ball and socket joints, module mounts - of an adequate quality and designed to last?
Connectivity: How easy is it to connect pads to the module? Is there an opportunity for expansion with more pads? Is there also USB/MIDI connectivity for recording?
Features: What additional features come complete with the kit or module and how well do they work? For example, many e-kits now feature Bluetooth connectivity, but how reliable is it and how easy is the connection process? Is it possible to add your own sounds to the module? If so, how easy is this process? For beginners, learning tools are key to the playing development. As such we asses the options available their usability and whether they have a genuine benefit to new players.
Our testing team includes:
Expert reviewers with years of hands-on experience testing and owning a wide range of electronic drum sets and with a deep understanding of e-kit technology as it has evolved.
Industry professionals who have worked in the drum/music industry for decades, including Editor positions for leading drumming magazines and websites. Some of our reviewers are also drum teachers.
Read more about how we test music making gear and services at MusicRadar.
Related buyer's guides