The best microphones for recording cover a lot of ground. Whether you're looking to record instruments, vlogs or voice-overs, there will be a studio mic that fits your bill. Where to start though? With so many potential options it can be thoroughly bewildering. We can help with this guide to the best microphones for recording available right now.
Essentially, you need a recording microphone capable of accurately capturing a quality audio signal – that's a basic for any record producer or musician. But not all mics are created equal, as we'll outline here. It also pays to invest in the best studio mic that your budget will allow. That said, there can be excellent value found at all price levels.
In this guide to the best microphones for recording, we'll explain the key differences to look out for when choosing among the different recording mics available, and we'll aim to give you a clear idea of which mics are best suited to which applications. The microphones we've chosen sit across a variety of budgets and ability levels, and we'd happily use any microphone on this list in our own recordings. We've got some useful buying advice at the bottom of the page, too.
So, read on to discover our top choices for the best microphones for recording musical instruments and beyond. We've featured these mics in price order to help you find the right one for your budget.
Best microphones for recording: Our top picks
The recording microphones we've rounded up in this guide each excel in their own field, whether that's accurately recording the unique tonality of a vintage acoustic guitar or grand piano, embellishing the sound of a great vocal performance, or providing that velvet-smooth broadcast voice track. As such, it's difficult to single out an overall 'best in class' mic, as everyone's requirements will be different. Instead, we've highlighted a couple of high performers for your consideration.
The Aston Microphones Origin continues to impress. The depth of sound and quality of construction far exceeds the price tag, making it an easy one to pick out from our selection. Likewise, we love the clarity and accuracy of the AKG C636. Overall, however, the best microphone for recording is the one that does the job for your particular project or needs. Invest in something decent as soon as you can and you'll reap the benefits of a higher quality recording microphone for years to come.
Best microphones for recording under $/£200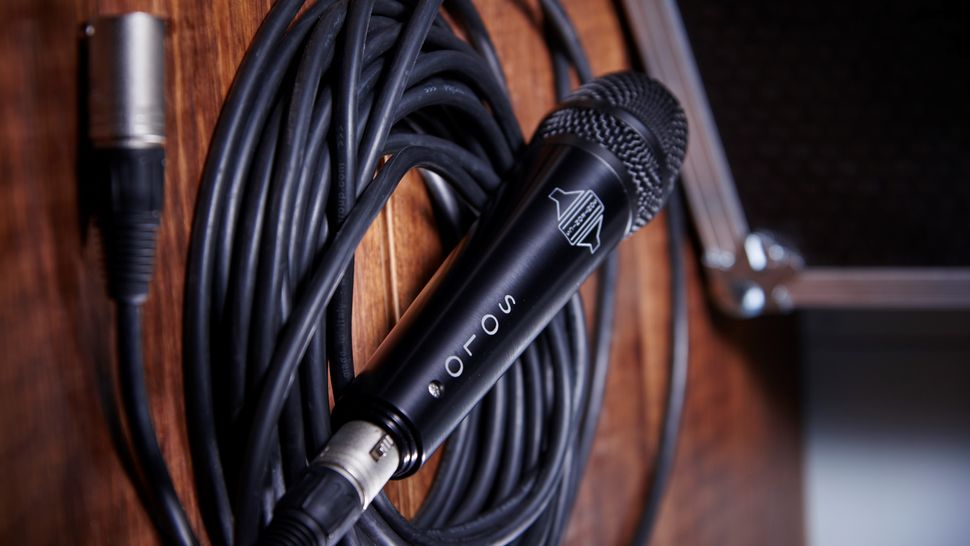 The Solo is a well-weighted, solid microphone; light hand-held mics suck. The grille has a flat front which we much preferred to the usual bulbous type: it not only gives a more consistent distance guide when up close, it is also less likely to knock your front teeth out in a rowdy club gig.
The output impedance is higher than the average dynamic microphone, and this is reflected in the healthy level at the preamp. This bodes well for controlling noise and feedback in live event gain staging, as well as studio usage. A beefy output is useless if the sound doesn't pull its weight, which in this case it does.
Read our full Sontronics Solo review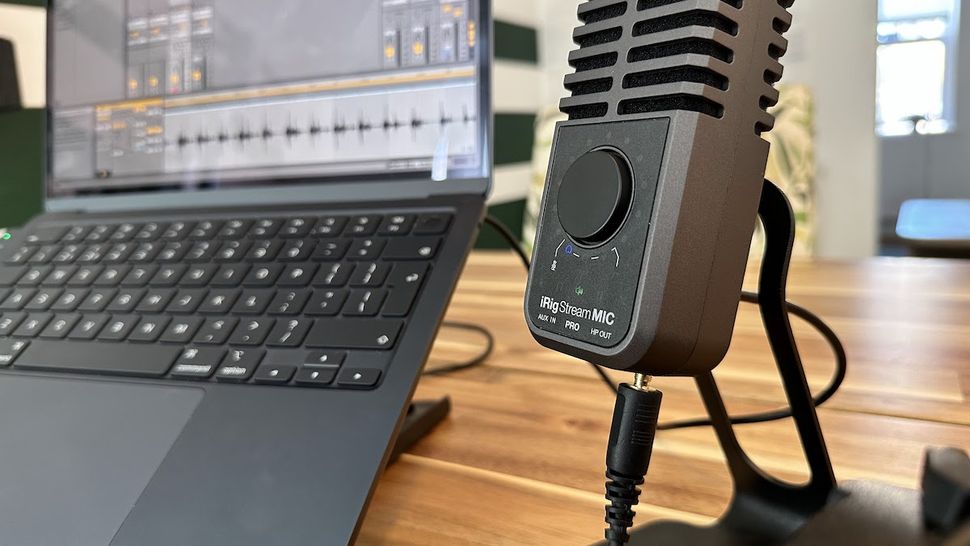 We're big fans of equipment that can carry out more than one function. IK Multimedia are the masters of finding new and innovative ways of increasing the capabilities and tricks their products offer, and the iRig Stream Mic Pro is a great example. Combining a dual-capsule condenser mic - with four different pickup patterns - with a 2 in/4 out audio interface for connecting different sound sources and outputs, means you really only need this device and you're up and running.
The audio interface, in particular, is nicely thought out, with loopback functionality meaning you can route audio from different applications internally. You might, for example, want to stream an Ableton Live session but find Windows doesn't play nicely with multiple sound sources. Loopback is your friend here.
As with IK's other gear, the iRig Stream Mic Pro is designed with portability in mind and full cooperation with the smartphones and tablets in your lives, making for a superb value, highly versatile mic which will suit a variety of different use cases.
Read the full IK Multimedia iRig Stream Mic Pro review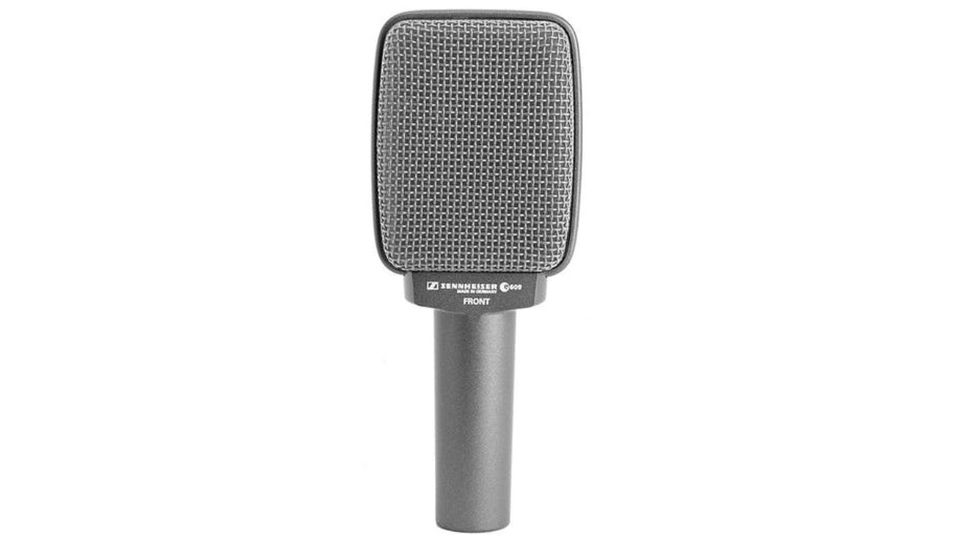 Kudos to Sennheiser for such a simple 'why didn't I think of that' idea. Miking up a guitar cab is rarely that difficult but positioning a mic on a little stand or badly behaved boom arm is always a bit more work than it should be. A nudge of an elbow here, or a gentle stub of a toe there, and your careful placement has all gone to pot in a moment.
The e 609 is different in a less-is-more kinda way. Little more than a dynamic mic with a broad flat grille, you just sling it over the front of your guitar cab. When you've found the sweet spot, just secure the cable to the top of the cab with a bit of duct tape. No need for stands, booms or black looks.
True to form, like most Sennheiser mics, the e 609 is voiced for detailed clarity, while the supercardioid pattern does an excellent job of rejecting off-axis noise. It's also built to be tough, hum compensating and vibration free. It's ideal for toms too, but you'll need some stands.
Best microphones for recording: $/£201-400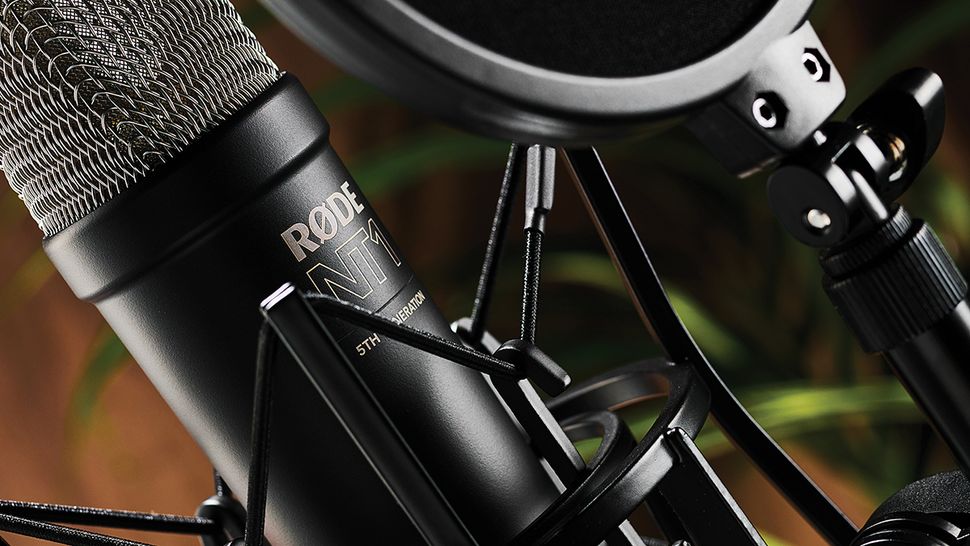 The ubiquitous NT1 from Rode Microphones is now in its 5th generation and one of the most popular affordable large capsule cardioid condenser microphones out there. The big difference with this latest model is the addition of a USB interface, negating the need for a seperate audio interface
The bundle provides everything you need to get started. In addition to the mic (available in either black or grey), you get a suspension cradle with an integrated pop shield holder, a pop shield, a storage bag, a 7m XLR cable and a 3-metre USB-C to USB-C cable.
The mic uses the same 1" gold-sputtered HF6 capsule as its predecessor, although powering is now 48V (not 24 or 48V) or 5V via the new USB connection. Output sensitivity (25mV/Pa) is lower than before, while self-noise is slightly improved (4dB A-weighted).
Read our full Rode NT1 5th Gen review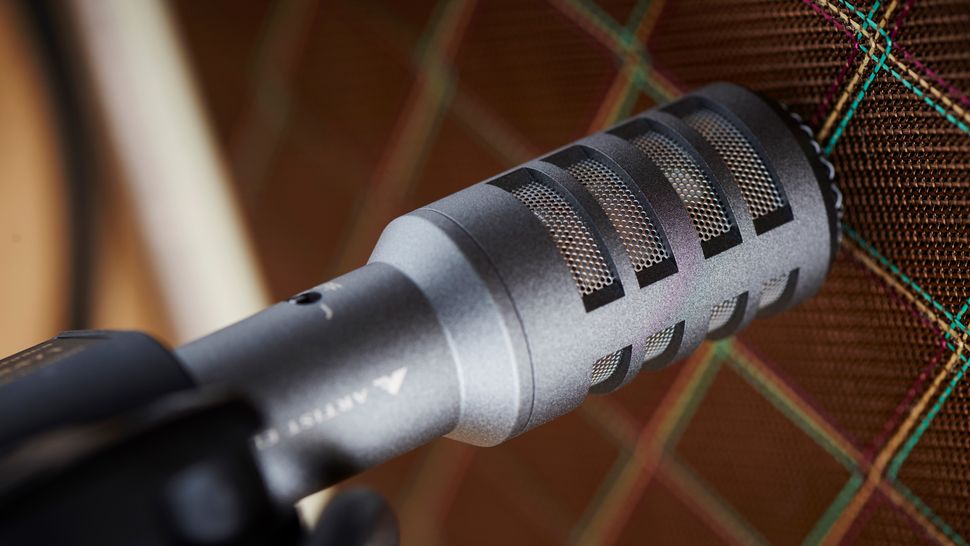 The AE2300 is a broad-application high-SPL cardioid design, so should be ideal for percussion, drums, guitar amps and brass. It's also pretty compact (less than 10cm long), so is perfect for discrete use in a live environment.
During testing, we found that the weighty brass casing and top grille felt robust, and the screw-tight rubberised clip should see off any wandering drumsticks while providing some mechanical isolation.
Overall, it's a beautifully designed and manufactured mic. The proprietary double-dome diaphragm improves high-frequency and transient response. The off-axis frequency response is also reasonably linear up to 120 degrees, and not bad even at 180 degrees off-axis, which could certainly be beneficial when setting up a multi-miked drum kit.
Read our full Audio-Technica AE2300 review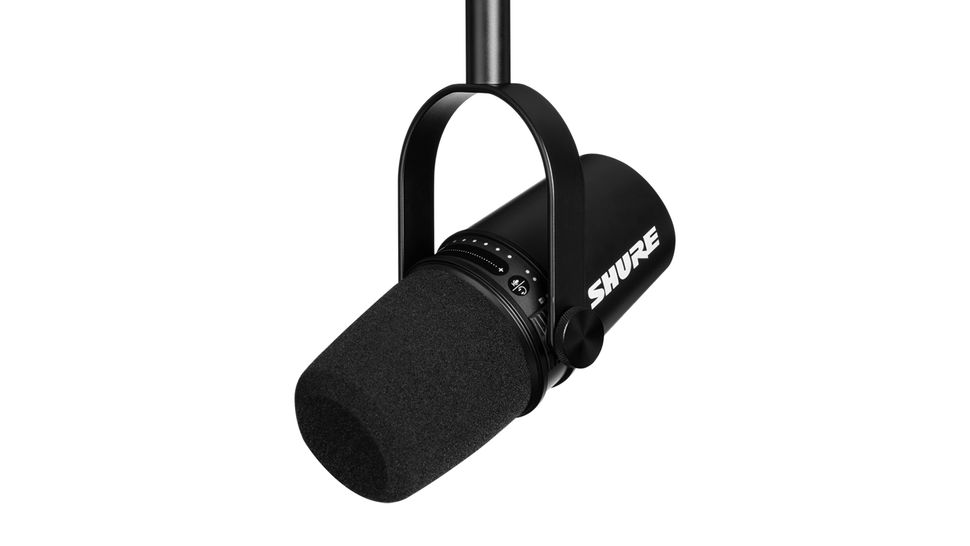 Shure have long been one of the first names pro musicians look to for their microphones. Shure's range doesn't just cover those options for musicians, however - as the MV7 is a great option for those looking to record crisp speech on a budget.
The MV7 is ideal for these applications, with a few neat tricks on hand to make the recording experience as simple and rewarding as possible. We particularly like the complementary MOTIV app, which allows you to choose specific vocal presets to give your sound a professional sheen.
This isn't going to be the mic musicians or singers will look to. Sure, it can handle these applications at a push, but this is a speech-specific microphone and, at that, the MV7 is a highly capable option indeed.
Read the full Shure MV7 review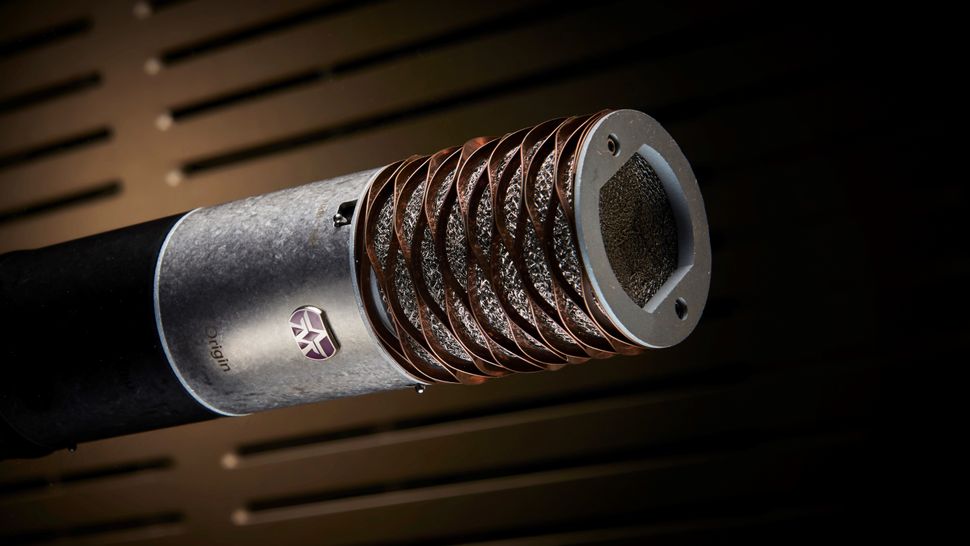 The Aston Origin may be competitively priced, but it possesses a degree of originality that is uncommon in this range. The Origin is a fixed pattern (cardioid) condenser and is the smaller of Aston's two mics: the larger Spirit is a multi-pattern condenser with an extra 10dB of pad available. There are two switches on the stainless steel casing: 10dB pad and 80Hz low-cut filter.
We found that the Aston Origin sounds pretty pure and clean. It's not a wholly characterful microphone, but that's one of the things we liked so much during our testing. If you want a solid, safe-sounding reproduction of your sound, then the Origin is one of the best,
The XLR connection is on the underside of the mic, as is a mic stand mounting socket (5/8-inch with a 3/8-inch adaptor included). This latter feature means there's no need for a mic clip, though this does limit angle choices to the capabilities of the stand. The wave-shaped outer spring/mesh acts as a shock absorber for the capsule, and behind it sits a stainless steel wire mesh shielding.
Read our full Aston Microphones Origin review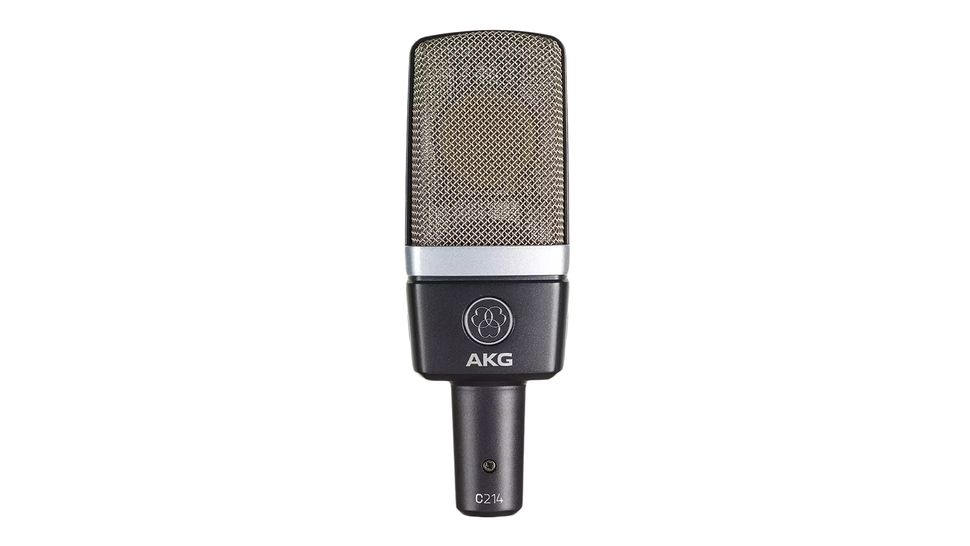 While some of the mics we feature in this guide serve one specific purpose, there's always room for a good all-rounder. The AKG C214 is a large diaphragm condenser which will excel at everything from guitar amps to acoustic instruments, pianos and vocals.
We found the C214 to deliver a pretty vast frequency range, and while the higher frequencies of your sound can be accentuated a little more with this microphone, this means that the common issue of muddy, mushy-sounding low end is a thing of the past.
Build quality is exceptional, with an all-metal body and pleasing heft, while there's in-built attenuation thanks to a switchable 160 Hz bass roll-off. For home studio owners keen to invest in a solid, general-purpose studio microphone, the AKG C214 represents excellent value for money.
Read the full AKG C214 review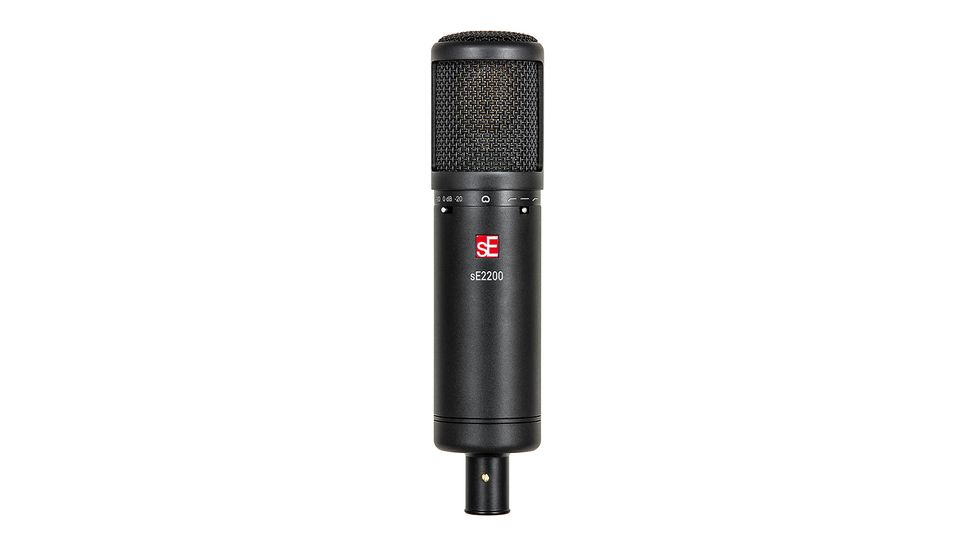 Like many large capsule condensers, omni mode on the sE2200a II is unlikely to be this mic's forte, and the MkII's response shows a noticeable dip (6dB) around the 5kHz mark. However, in use this wasn't that obvious, and is possibly compensated slightly by the gentle boost above 7kHz. Either way, both patterns are useful inclusions, and save you the trouble of buying or setting up another mic, should you want to try out different patterns.
Overall, sE's upgrade is a success, and combined with the multi-pattern option, the 2200a MkII is more desirable than ever. OK, the multi-pattern capability has pushed up the price a bit, but there's always the fixed cardioid version if your budget's tight. If you're budget doesn't stretch, check out our guide to the best cheap microphones.
Read our full sE Electronics sE2200a II review
Best microphones for recording: $/£401-800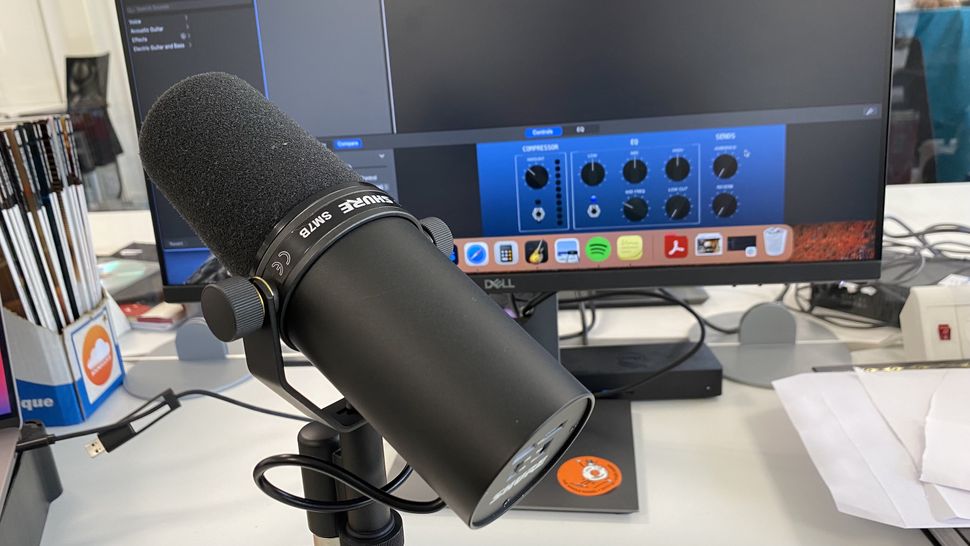 If you watch vloggers on YouTube you'll see this sturdy black mic pop up again and again. For many, it's the de facto mic for content creation, and for good reason.
Firstly, for close miked applications, it sounds wonderful. Bring your laughing gear right up to this baby and you're going to sound fantastic – rich and warm, yet with clarity aplenty. Trust us, you're going to sound just like you, only better.
Second, it makes even untreated rooms sound great. Or, put another way, those awful reflections that haunt poorly treated rooms – you know, like your home studio – won't intrude on your recordings. Wherever you are, every day with the SM7B is a good day.
Finally, it's been designed for pro use, which is why it includes some nifty additions such as switchable EQ settings, a built-in pop filter, electromagnetic shielding, a suspension mount and a windscreen. It's built like a tank too, so will easily shrug off the inevitable knocks, scrapes and probably the occasional drop.
It loves broadcast applications but is commonly found perched in front of vocalists, guitar amps, bass amps, kick drums and horns too.
Read our full Shure SM7B review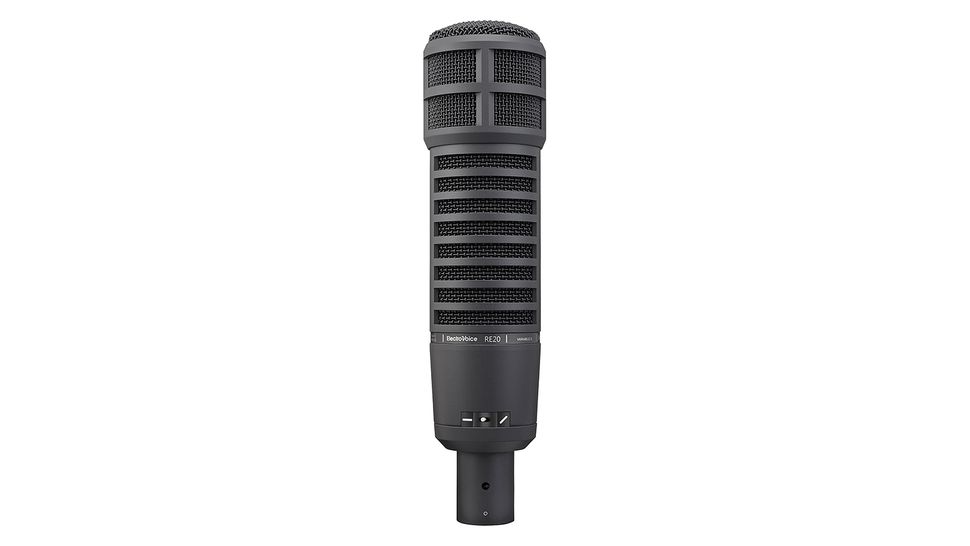 The RE20 was originally developed to rival the extended frequency range of a good condenser mic, using a clever take on cruder dynamic technology. In our opinion it fell a little short, physics is physics after all, but Electro-Voice succeeded in producing an altogether more interesting product.
It uses what Electro-Voice calls Variable-D, which is essentially a perforated pipe placed behind the diaphragm that brings some distinct advantages. Most significantly, there is little to no proximity effect. Some mics sound muddy when close miked, while others do manage to successfully combine warmth with clarity. Nevertheless, good or bad, the proximity effect does colour the original sound source, which is not always desirable. The RE20 sounds completely natural, even when used at close quarters.
Another potential issue with the proximity effect is that humans are pretty hopeless at consistently speaking into a microphone from the same distance. As we get distracted we tend to move in, out and generally shake it all about, causing our voice to fluctuate in tone. The RE20 has a consistent frequency response up to 180-degrees off-axis, which means there's zero colouration to contend with, regardless of how fidgety your talent is.
Finally, although the RE20 can't match condenser levels of top-end sparkle, it really does have an extended frequency response, which makes it a good choice for vocals and instruments as well as voice applications. It exhibits a tight low-end too, which is perfect for taming guitar cabs, kick drums and low-frequency instruments such as double bass.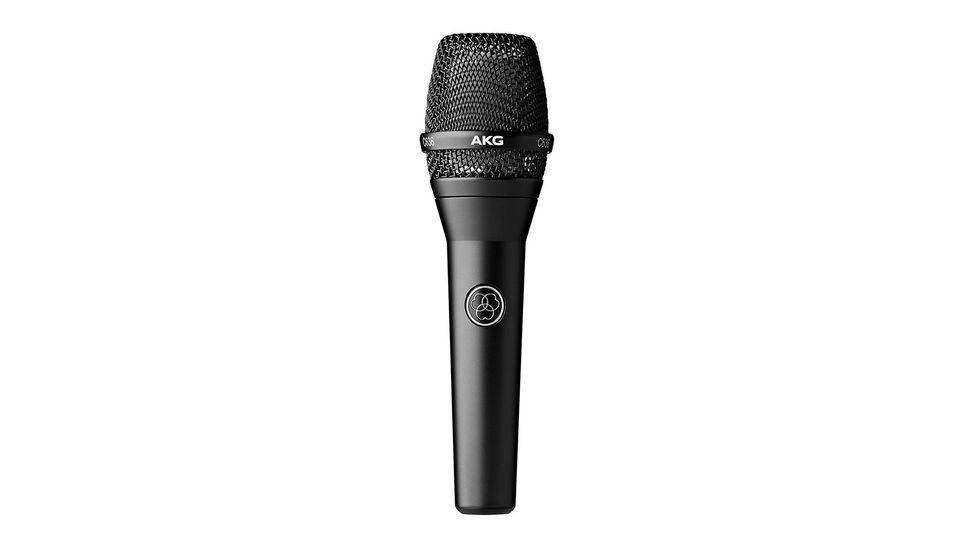 As a condenser mic, the C636 is inherently more complex than its dynamic siblings, a complexity that comes at a cost in both R&D and production. Issues with feedback rejection and handling noise have to be balanced against tradeoffs in sound quality.
Behind the simple black exterior and lightness in hand, the C636 boasts serious design chops to give it the 'Master Reference' moniker, but is it deserved? In short, yes. The sound is clear and full, far more linear and 'real' than its dynamic mic counterparts.
The high frequency range is present and well defined, without the harsh hype and phase-shift peakiness that some (cheaper) condenser mics either display or attempt to mask with an overall HF pull-down.
Read our full AKG C636 review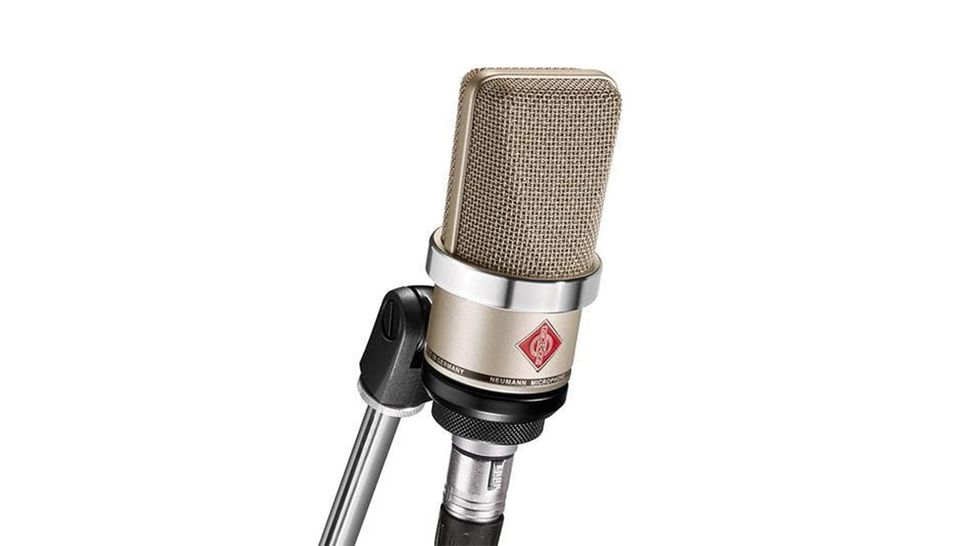 As one of the best-respected names in recording microphones we were expecting good things from the Neumann TLM 102. This large diaphragm condenser promises superlative performance for vocals, and it does not disappoint.
We found that the TLM 102 offers crystal clear reproduction across the frequency range, with a nice bump around the 6 kHz mark, and is a specialist mic which will do wonders for your mixes.
That's not to say it can't do other applications though. It features a relatively high sound pressure threshold, so recording loud sources like drums and guitar amplifiers isn't out of the question. All told this is an ideal investment for anyone looking to upgrade their recording gear and take their tracks to a new level.
Read the full Neumann TLM 102 review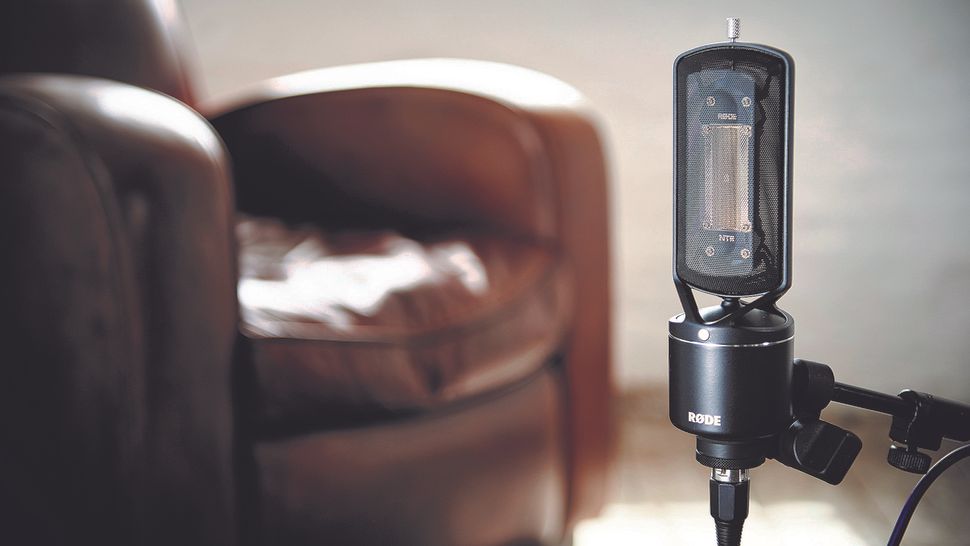 Electronically, the NTR is active, running from 48V phantom power and has a built-in transformer that offers a high output so that the mic is not so finickity about preamp requirements as other ribbon mics and can, a fact borne out by our tests, be used with a wide range of preamps without having to turn the gain up to noise-generating levels.
Internal shock mounting results in there being no need for an external suspension cradle, which helps with placement and, even though this is quite a heavy mic, the included compact mount which attaches to its base works great at holding it at any angle on a mic stand with little pressure needed to firm it up.
On a variety of sound sources we found the mic to deliver a very natural representation of whatever was put in front of it with plenty of low-end and a clear top with a natural roll off, rather than the often overdone brightness designed into some condensers.
Read our full Rode NTR review
Best microphones for recording $/£801+
Combining the sound of the past with the forward-thinking utility of the future, the Lewitt Pure Tube condenser mic takes a vintage tone and adds some clever touches to bring it into the realm of the modern musician.
One of the drawbacks of tube microphones is they can be pretty noisy, but that isn't the case here. Thanks to its dedicated power supply and some clever internal trickery, the Lewitt Pure Tube delivers incredibly quiet performance in terms of noise, even with softly spoken takes or voiceovers. We'd say it works best on vocals, but it can be used on instruments too.
The dedicated power supply connects via a 7-pin XLR to the mic but includes a converter to the traditional 3-pin XLR so you can hook it up to your audio interface. With a shock mount and a carrying case, it's a very complete offering for the money.
Read the full Lewitt Pure Tube review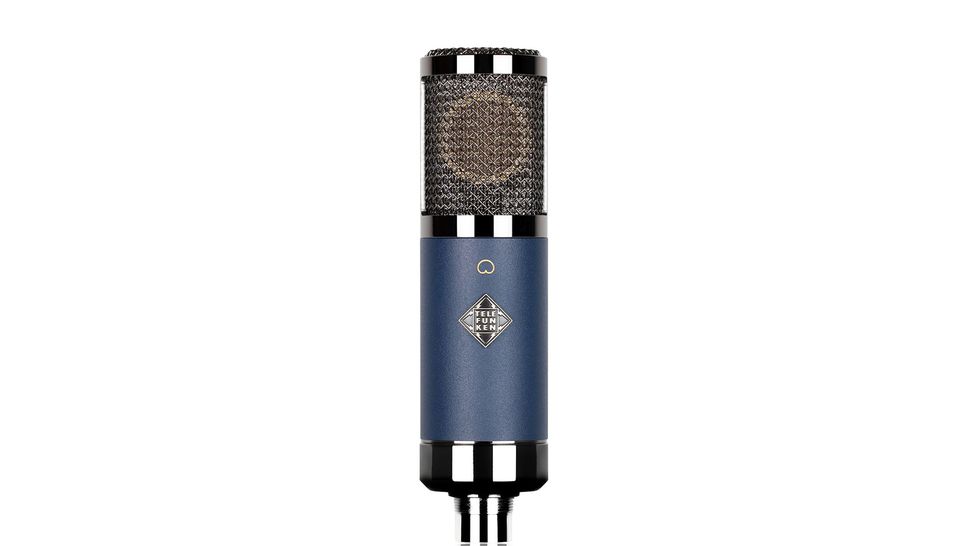 This is the lovely large diaphragm condenser mic that picked up a prestigious TEC award at NAMM 2022. It's been developed to revive the sound of the legendary AKG C12 capsule, the CK12, which was a favourite of everyone from Frank Sinatra to George Martin in the 1950s and '60s.
The CK12's smooth, flat frequency response imparted a silky tone that provided plenty of airy detail in the high end, without the (slight) shrillness of the presence boost that characterised its competitors.
If you're thinking, 'hold on, doesn't Telefunken already make a C12 reissue?', you'd be right. It does, the imaginatively named C12. There are a few notable differences though.
The TF11 relies on contemporary FET technology rather than the valve driven power of the C12 (old or new). This gives it a slightly different tonal colour, a little cooler but with a faster transient response, higher SPL handling capability, even more detail and less self-noise. It's a superb mic for vocals, and arguably a better proposition for instruments than the original.
The FET circuitry also brings the price down considerably. The TF11 FET isn't cheap but it's an absolute bargain next to the Telefunken C12, which currently retails for about $9,000. The TF11 maybe a tenth of the price, but it's still hand-made in relatively small quantities to a very high standard. It's a boutique mic for the masses.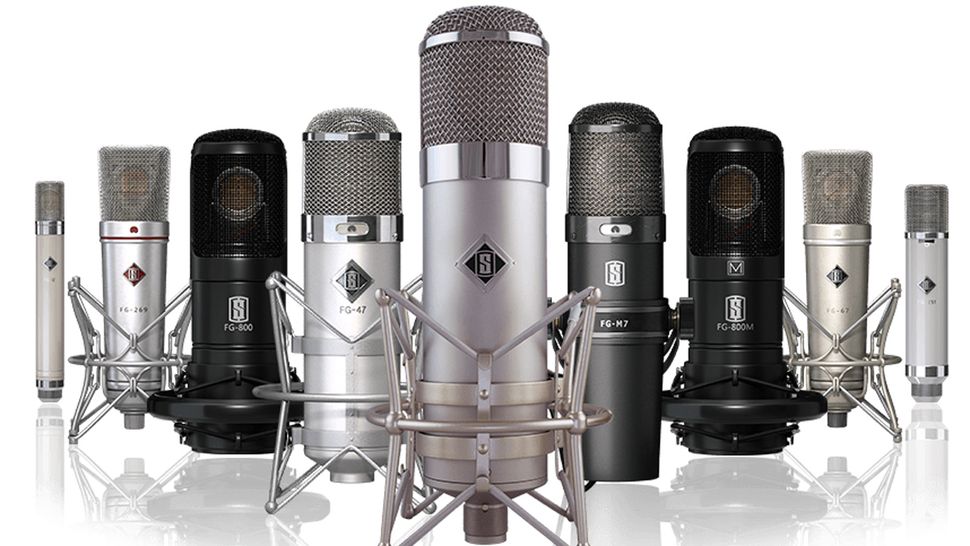 Classic large capsule condenser microphones are without a doubt amongst the most sought-after and expensive items on anyone's wish list. With an original Neumann U47 commanding up to $10,000, most of these mics are out of reach for the average studio owner, and certainly only possible for a tiny minority of home studios. So in theory, if you can emulate them with software then you should be on to a winner.
There have been a few plugs over the years which have claimed to give one mic the character of another but, given the limitations of the original mic, coupled with any number of mic pres that could have been used, plus the quality of the interface that recorded it, most of them have been pretty disappointing. Slate Digital have taken that idea and built a complete system which removes as many of those variables as possible.
What you get with the VMS is a high-quality, large capsule condenser mic, a dedicated 'ultra linear' mic pre and a plug-in which contains the modelled mics. The only variable is that you have to use your own A/D converter to get it into your DAW.
Read our full Slate Digital VMS review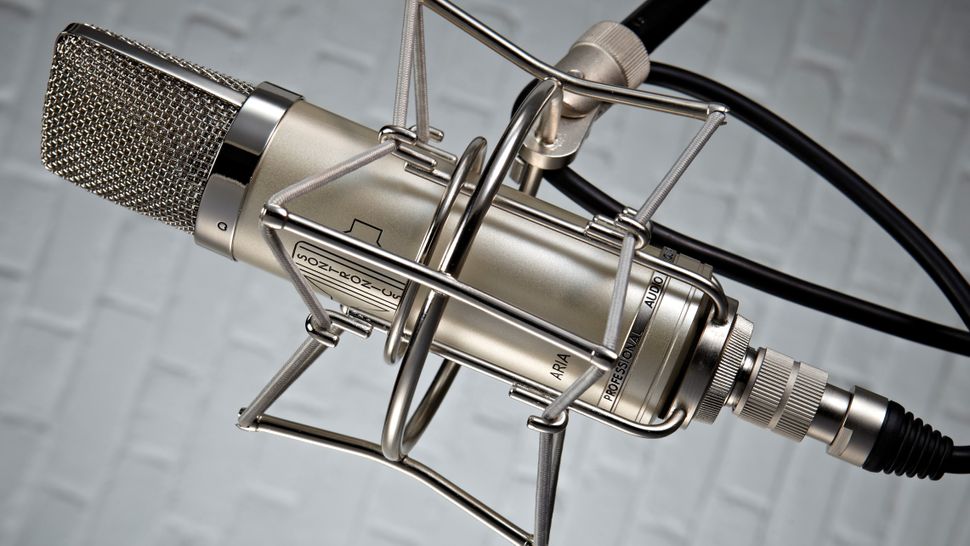 With everything plugged up, the first thing that's obvious with the Aria is just how natural it sounds. There's definitely a slight presence lift, but this is in the upper mids rather than right into sibilant territory. Beyond this there's no high frequency hyping, or the brittleness that plagues mics of that ilk. So, one's attention is drawn to the lows and low mids. These feel solid and although there is a small proximity effect, it's not at all overbearing.
In use we feel the cardioid polar pattern is pretty broad both in horizontal and vertical directions. So the sweet spot is large, which is particularly useful for vocals and acoustic guitars. As a vocal mic the Aria delivers a faithful sound, and when you dig in with more forceful delivery it responds very well. With acoustic guitar it's easy to capture a non-boomy sound, and once again the non-hyped sound is great. The smooth response also lends itself to complex sounds such as guitar amp, strings and percussion.
Read our full Sontronics Aria review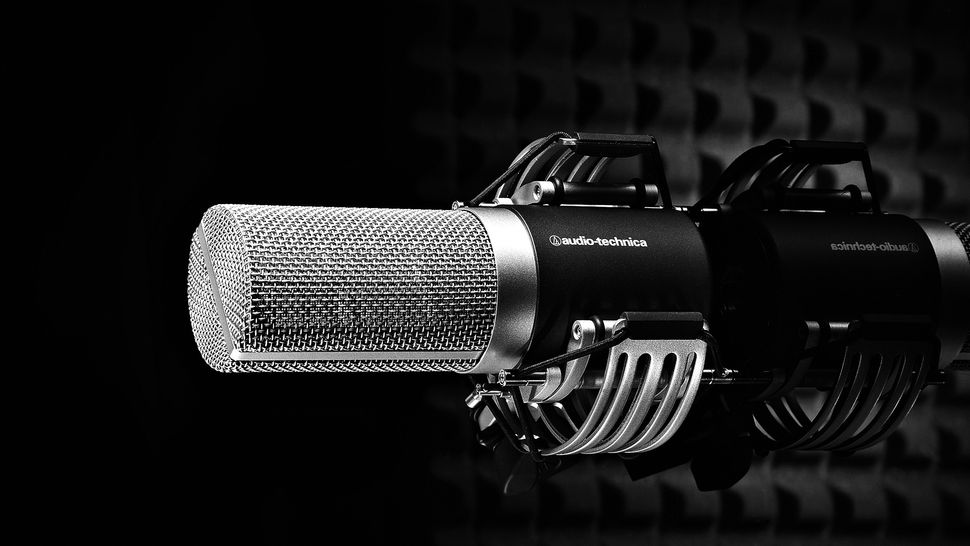 With a new large diaphragm condenser mic there's rarely anything unusual to discuss. After all, the focus is typically on the general frequency response, pick up pattern, build quality and sound. Audio Technica's AT5040 ticks all the boxes of a typical high end phantom powered condenser mic with its discrete component design, low noise, high SPL handling and decent shock mount. Look closer, however, and you will find some special touches. The noise figure is exceptional and the quick release cradle beautifully designed (more later).
Also worth mentioning is the advanced internal capsule decoupling mechanism and the fact that it's 100 percent hand built and inspected. The really big deal here – bigger than that whopping price tag – is the capsule: a four-part rectangular design delivering over ten square cms of surface area (roughly twice that of a one inch capsule). Put into perspective, a circular design with roughly the same area would have a diameter of 3.6cm.
Read our full Audio Technica AT5040 review
Best microphones for recording: Buying advice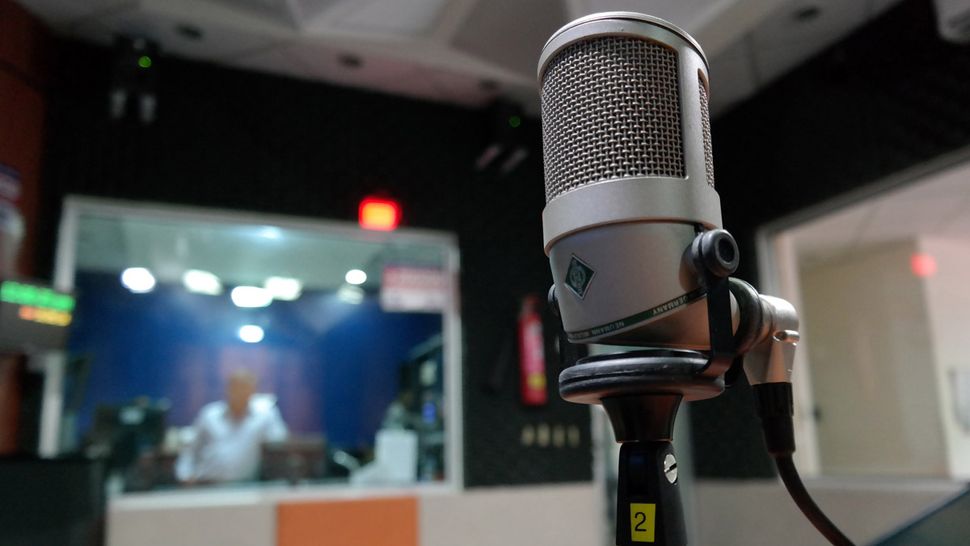 As with any piece of audio gear, the first question you need to ask yourself is, 'what sound am I looking for here?' Establishing your sonic objectives early on in the production process will enable you to choose the right kit for the job, including microphones. It's unlikely you'll have a precise notion of how the final recording will shape up, but even a vague idea of the direction you want to take will enable you to make a good start, which is half the battle.
How do microphones work?
To fully understand how to choose between one recording microphone and another let's take a quick look at how they work. Essentially, sound waves generated by a vocalist, an acoustic guitar, a flute, a pregnant elephant or whatever else you're trying to record will hit a flexible diaphragm inside your microphone. As the diaphragm moves it generates an electrical signal that travels down a cable to your amplifier, desk or recording interface. Nine times out of ten this signal will end up at a studio monitor, or pair studio headphones, where it causes a speaker cone to fluctuate. These movements cause the air pressure to change, generating sound waves that match your original source. Yes, it still seems like magic to us too.
OK, there's a bit more to it than that, but if you think about it the microphone and speaker work in a very similar way. The mic's diaphragm and the speaker's cone are doing pretty much the same thing but in reverse. One is converting sound into an electrical signal and the other is converting it back again.
The way in which a mic's diaphragm handles the conversion will impact the characteristics of our sound, so we need to make sure our microphone choice aligns with the sonic ambition we set out in step one. Three types of diaphragm, and their associated electrical gubbins, account for the vast majority of microphones found in studios today – the dynamic mic, the condenser and the ribbon. Let's take a closer look.
Dynamic vs condenser vs ribbon: what's the difference?
Life is pretty darn simple for the dynamic mic. It's little more than a conductive coil, sat in a magnetic field, that's attached to the rear of a diaphragm. As sound waves enter the microphone the diaphragm flexes, moving the coil which generates an electrical signal. The process is crude and insensitive but it works surprisingly well.
Dynamic mics are just the ticket for live use. Their no-nonsense build means there's little to go wrong and, in order to support the coil, they're equipped with relatively hefty, robust diaphragms. They're also passive devices, which means that, unlike condenser mics, they don't need phantom power in order to operate. These attributes make them well-suited to the rough and tumble of life on the road.
Their insensitive nature, a product of the thick diaphragm and robust coil, does limit their frequency response, but that's not entirely bad news for live use or for recording in untreated rooms such as the typical home studio. The last thing you need is a mic so sensitive that it picks up every bit of background sound, every reflection and handling noise. They also excel at miking loud sound sources that would damage most condenser mics.
Passive ribbon mics were all the rage in recording and broadcast studios a century ago or so. In fact, they were the microphone of choice, with condenser mics only finding favour from the 1950s onwards. As the name suggests, they feature a ribbon-like diaphragm to record sound, which imparts a gradual but pronounced top-end roll-off that just happens to mirror the way that humans hear.
This gives them a beautifully smooth, natural tone that's perfect for vocals and many other studio applications that don't benefit from an extended top end.
They fell out of fashion because the ribbons are both delicate and require a high-impedance, high-gain preamp. Frankly, back in the 1950s, the then-new-fangled active condensers were a lot less hassle for engineers, despite potentially sounding less characterful.
Now, as producers finally begin to appreciate that inherent smoothness, ribbon mics are making a comeback. They still need to be handled with a modicum of care, but the advent of onboard active technology in some models, such as the sE Electronics VR2 Voodoo and Rode NTR, has solved the requirement for an expensive preamp.
Condenser microphones are far more sensitive and substantially more complex because they rely on capacitance to generate an electrical signal. Two conducting plates are needed to generate the signal, so the condenser mic features a rigid backplate in combination with a thin diaphragm, which acts as the second conducting plate. As the diaphragm moves the distance between it and the backplate alters, which causes a variance in electrical charge or capacitance, resulting in a signal.
The diaphragm can actually be incredibly fine, a quality that enables it to vibrate very freely, very fast. This gives condensers a wide, relatively colourless frequency response, which is perfect for reproducing sounds extremely faithfully.
They are especially good at picking up delicate sounds higher up the frequency spectrum, areas that dynamic mics just cannot reach. That's why you'll find condensers miking up acoustic guitars, hi-hats and vocals.
Due to their complexity, condenser mics tend to be much pricier than dynamic mics. Generally speaking, they're also less robust and better suited to life in a warm dry studio than the back of a damp Transit van. They need phantom power in order to operate but this does give them higher output levels, so they don't need as much potentially noisy gain at the preamp to generate a decent signal.
Large diaphragm condensers, especially the tube variety, have a reputation for warming up vocals in the most delightful way. In contrast, small diaphragm condensers are usually very transparent, making them the go-to mics for strings, hi-hats, drum overheads and any other instrument where colouration isn't desirable.
Neither type of mic is better overall, but a dynamic will be best suited to some applications and a condenser more appropriate for others. Every mic model has a unique frequency response curve, which defines whether it will colour the sound source dramatically or barely at all. If you're lucky enough to own a few mics, recognise their characteristics and learn to use them to your advantage.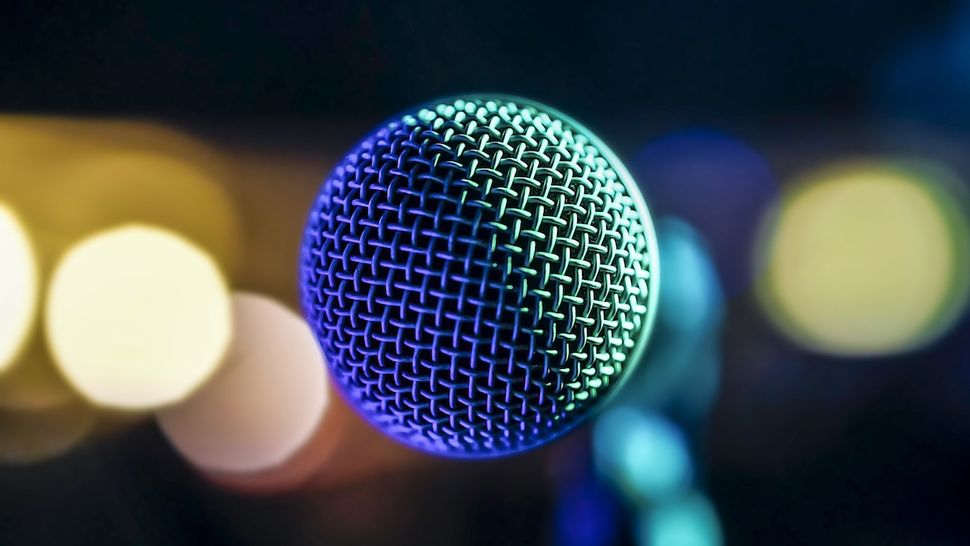 Valve vs FET
MusicRadar's got your back Our team of expert musicians and producers spends hours testing products to help you choose the best music-making gear for you. Find out more about how we test.
Back in the day, valve (aka tube) technology ruled, but in truth this was because it was the only solution available. Then, from the 1950s onwards, small semiconductors known as transistors began to take over because their technology was more efficient, more reliable and more cost effective. But not necessarily better, just different.
If you see a microphone labelled as FET, then it relies on transistor technology, which is valued for its accuracy and high transient response. A valve microphone, on the other hand, may lack that high-end response but should more than make up for it in warmth.
Generally speaking, FET mics are fantastic for recording hi-hats and the like, while valve mics excel at vocals. In reality though, their purpose is not so tightly defined, which means you'll still get great results recording a vocalist with a FET mic.
FET mics tend to be less expensive, and more commonplace, than valve mics.
Understanding polar patterns
Types of mic
The area or direction from which a microphone captures sound may be very wide or extremely narrow. This directivity, known as a polar pattern, is useful when you need to include or exclude certain sounds. It also affects tone too, so you can use different mics to experiment with what is captured and how it's coloured.
Omnidirectional mics, or omnis, pick up sound from all directions. They sound open, with a gorgeous bass response, which makes them a wonderful choice for vocals. Unfortunately, they are susceptible to room noise and prone to feedback, which makes them a poor option for live use.
Cardioid mics are most sensitive to sounds in front of the mic, and capture very little from the rear. This makes them very popular for semi-isolating vocals or other sound sources, both on stage and in the studio. They are susceptible to the proximity effect, which is a boost in bass frequencies as the mic is brought closer to the action, but this can be desirable depending on the result you are trying to achieve. Radio DJs and voice-over artists often favour the proximity effect because it can make them sound smoother, but some instruments just end up sounding muddy.
Supercardioids and hypercardioids have increasingly narrow patterns, which makes them perfect for isolating vocalists on stage, provided the talent doesn't move outside the pickup area! The proximity effect is even more evident but feedback risk is almost non-existent.
Figure 8 microphones have a bidirectional pattern that picks up sound from the front and rear but rejects it from the sides.
They can be used to record two vocalists singing into the same mic or a vocalist and an instrumentalist, but they are most commonly used with an additional mono mic to record in a very effective stereo configuration called mid/side (MS).
USB vs XLR connections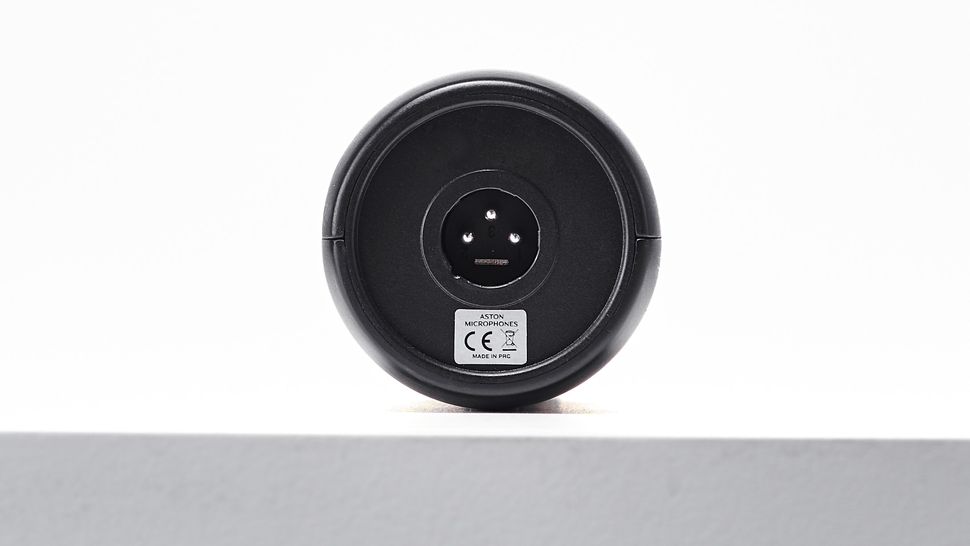 USB is ubiquitous, most of us probably have a box full of USB cables of one sort or another lying about the house, and all modern computers will feature some flavour of USB. It's the convenient choice.
XLR cables and connectors are less commonplace for domestic appliances but they are the mark of pro audio equipment. XLR connectors are superior because they are 'balanced', which means they offer protection against unwanted noise. They can also carry 48v of phantom power and are built to take some serious abuse.
In short, there's nothing very wrong with USB, but an XLR mic is the pro's choice.
How much should I spend on a recording microphone?
The old adage 'you get what you pay for in life' holds true when it comes to investing in the best microphones for recording, but with some important caveats.
Dynamic microphones can be substantially cheaper than condensers, and yet they can perform better for some applications such as capturing live performance. If you have limited funds then you may be better spending your money on a really decent dynamic mic, like a Sontronics Solo at circa $135/£99/€111, rather than a 'cheap' condenser. There's nothing to stop you using a good dynamic mic in the studio.
Iconic condenser mics are a sight to behold and objects of desire to covet. We'd have a mic locker full of them if we could, but they can cost thousands and thousands. We've found that for most 'bedroom' producers something like an Aston Origin at circa $299/£199/€299 really isn't that far behind in terms of recording quality. So, if you're working out of a home studio you may be better off spending your hard-earned cash on sound treatments and training rather than lusting after a famous mic. The law of diminishing returns means that you'll need a really good studio space in which to hear the subtle difference between a good condenser and a really good condenser.
Controls
Many microphones don't feature any controls whatsoever, but some will have a number of curious little toggle or slider switches. Here's what they do.
EQ. Possibly the most common (and useful) control will be a bass roll-off switch or high pass filter. This reduces your mic's sensitivity to traffic rumble, HVAC noise and other sources of low end hum. Some mics may also feature a presence boost for bringing out more clarity in vocals.
PAD. Engaging the PAD will attenuate the input signal so that your preamp doesn't clip or get overdriven. This is a very useful control to have if you're using a condenser to mic up a loud sound source.
Pattern selector. A few microphones have selectable patterns that you can change on the fly. Flicking this switch will do the trick.
Volume/mix. Some microphones, typically USB, enable you to plug in a set of headphones for monitoring. They often have a volume control, and sometimes a mix control so that you can hear both the sound source and what's emanating from your laptop/DAW.
How we test recording microphones
We test recording microphones in a variety of ways and with a lot of different material to test their strengths and weaknesses. Obviously if a mic is designed with a certain instrument in mind then we focus on that type of recording. It may be that a mic has been designed with a specific frequency response for vocals, for example, so we obviously won't use it to record kick drums but, where possible, will try it on similar material if appropriate.
We compare the recordings we make with those made with some of the standard reference microphones we have in our studio, being sure to have them set up in the same way and distance from the source being recorded. We will always try to be fair by comparing like with like – ribbons, condensers, dynamics and those with similar polar patterns – and models of a similar price. That said, it's often interesting to compare a cheap mic with some vastly more expensive microphones to hear just how close they can get. You'll be surprised at how good some cheaper models are against classic and vintage microphones as, just like every other music gear category, technology has also improved in microphone design.
Some microphones, condensers in particular, are sold as good all-round studio mics, jacks of everything if you like, and if that is the case we will test them on as much material as possible explaining in our tests where they particularly excel or fall down. Finally we look at overall build quality, polar pattern responses, any software bundle options and alternatives within price categories.
Read more about how we test music making gear and services at MusicRadar.
Related buyer's guides