If you're planning on starting your own podcast and taking the airwaves by storm then you're going to need one of the best podcasting microphones to ensure you capture every last word. Podcasting is an absolutely huge medium now. The simple act of voices telling stories, conducting interviews or teaching weird and wonderful things has made it one of the most important – and fastest-growing – means of communication of the 21st century.
Search any of the providers (like Apple Podcasts, Spotify etc) and you will find podcasts about pretty much anything you can think of, including some pretty amazing podcasts about music. It also helps that actually making podcasts isn't anywhere near as difficult, or expensive, as you might think, both in terms of technical know-how and the minimal equipment you'll need to pick up to get started. Forget expensive cameras or exotic locations. All you need is a solid podcast mic, something to record it into (ie. a laptop or PC) and a way of editing the audio later. Oh, and don't forget you'll need something to say.
If you need more specific guidance before you decide which podcasting mic is right for you, head to our dedicated buying advice section at the bottom of the page for everything you need to know. If not, keep scrolling to check out our writer Chris Corfield's top choices. We've tested everything from budget options and mobile-friendly podcast microphones, to pro level studio mics, plus USB and XLR options.
Best podcasting microphones: Our top picks
There's one microphone on our best podcasting microphones list that stands out over the others, and for a number of clear reasons. The Shure MV7 is one of the newer names on the podcasting mic block, but it has certainly made an impression on us. By combining the dual benefits of USB and XLR recording – and allowing them to be used at the same time should the situation call for it – Shure has made one of the best podcast mics you can lay your hands on right now.
A mic we've really grown to love is the Rode Procaster. It's not the most versatile podcast mic in this guide as it's designed purely for recording vocals - with a particular penchant for speech - but it's great at recording crystal clear audio, however much ambient noise there is. So, if you record away from the studio environment on a regular basis, this is the mic to beat.
A special nod must also go to the Blue Microphones Yeti which still, to this day, offers the perfect blend of versatility, ruggedness and great quality. It might have been around for years now, but Blue has found the sweet spot of making an affordable podcasting mic range which is more than the sum of its parts. We're yet to find a Yeti user who regrets their purchase.
Best podcasting microphones: Product guide
Look a little further down this list and you'll see Shure's venerable SM7B microphone. It's a true powerhouse in the podcast world (and beyond), and worthy of the high levels of respect it gets. Not that you'll catch Shure sitting on its hands, not when the podcasting landscape is changing as quickly as it is. Which is why we've welcomed the Shure MV7 into the fold, which takes everything good about its older brother and adds in a direct-to-computer USB connection. Best of all? It can function with both methods - USB and XLR - simultaneously.
The versatility this offers makes the MV7 a very exciting mic indeed. We found it to be equally at home being taken out with a laptop as a portable rig as it was taking centre stage in our home studio environment connected to a PC. When you factor in compatibility with Shure's excellent MOTIV app, which helps add some professional sheen to your recordings in real-time, you've got a package which is pretty hard to beat amongst all the options on this list.
Of course, you'll pay a little more for this level of quality and functionality, but in our experience product at this level is worth the investment and will deliver more long-term performance.
Read the full Shure MV7 review
The Blue Yeti has become synonymous with a number of different applications. From Twitch gaming to YouTube tutorials, this mic is perhaps the best known and most-recognisable out there, and for good reason. In our tests we found it easy to use, it sounds superb thanks to its three condenser capsules, and doesn't cost the earth.
The multiple pattern selection feature is particularly neat. You can choose to either have the mic pick up the sound being directed straight into it, which is great for podcasting, or you can set it to pick up audio from a wider angle. This makes it the perfect choice for recording group sessions, where a single mic is placed in the middle of a table.
Over time, Blue has expanded its range to include higher-spec models capable of dual USB/XLR output (Blue Yeti Pro), a smaller scale version (Blue Yeti Nano), and even a model with functionality specific to game streamers (Blue Yeti X). And that's our only real gripe with the standard Blue Yeti - if you need an XLR connection you'll need to fork out for the Blue Yeti Pro which is currently $120/£130 more than the standard Yeti. That's said, whatever your creative requirements, you'll find a Yeti to suit you.
Read the full Blue Microphones Yeti review
Some of the mics on this list are equally happy recording vocals, guitars, streams or Skype chats. Not so, the Rode Procaster. The first of two Rode mics on this list is built specifically for vocal recording, and more specifically for speech. It's pitched as a broadcast microphone, which means it could feasibly be used for TV, radio or other high-pressure situations.
From our tests we found the way the Procaster copes with ambient noise was the real stand out; its tight polar pattern means that no matter how noisy the environment, what you record will sound extremely focused and clear.
In practice, we found the mic to have a pleasing weight to it; enough that you'd definitely want a desktop mic stand on hand for longer sessions, but also robust enough that you know it will withstand years of recording.
Read the full Rode Procaster review
As a well-respected name in audio production and recording, you can reasonably expect the Audio Technica AT2035PK to perform well in the podcast arena.
Thankfully, during our tests it certainly did not disappoint. This cardioid patterned condenser mic reduces pickup of sound from the sides and rear, making for superb isolation of the voice. So yea, it's perfect for podcasting or streaming.
For the completist, the addition of podcast-friendly headphones, a boom arm to connect to a desk, and an XLR cable to the bundle makes the Audio-Technica AT2035PK a great starter package too.
Read the full Audio-Technica AT2035 review
Australian brand Rode has genuine pedigree in the world of microphones. Hence why we were drawn to the Rode NT-USB. As a specialist USB desktop mic, you're not likely to be taking it out in the field very often, but as a set-and-forget desktop option for podcasting it's an ideal choice.
Included in the pack is everything you need, including a 6 metre USB cable, so if you were required to move away from the desk and into the music studio it could comfortably work its magic on acoustic guitars, for example. For less demanding requirements, there's also the neat Rode NT-USB Mini, which boasts many of the same features only using a smaller footprint.
For our tests we used the NT-USB to record into Logic on a Mac and Garageband on an iPad (check out our guide to the best iPhone microphones) and found it very straightforward to use - just plug in and crack on. There's nothing to adjust apart from the recording level on your connected device and your preferred monitoring level and mix.
During recording we were taken by how little there was in the way of self-noise and that the built-in headphone amp was loud and clear. Spoken voice recordings were delivered with no lack of bottom-end warmth or top-end clarity and no obvious tonal anomalies. The supplied pop shield also does a good job, allowing you to get close in and exploit the low-end from the proximity effect.
Read the full Rode NT-USB review
Launched in early 2020, the Sontronics Podcast Pro is a dynamic microphone which has, as you may have worked out from the name, the world of speech recording in mind. This unique-looking broadcast mic is designed and built in the UK, and is geared entirely towards the spoken word. In practice, its supercardioid pickup pattern does a great job at rejecting pretty much everything that isn't spoken directly into it, although this does work against it when trying to record multiple voices at once.
With many podcasts now doubling up and offering video alongside the traditional audio, you could do a lot worse than inviting one of these stylish mics into your studio. There's substance to its charms too, however, and it comes at a very reasonable price.
Read the full Sontronics Podcast Pro review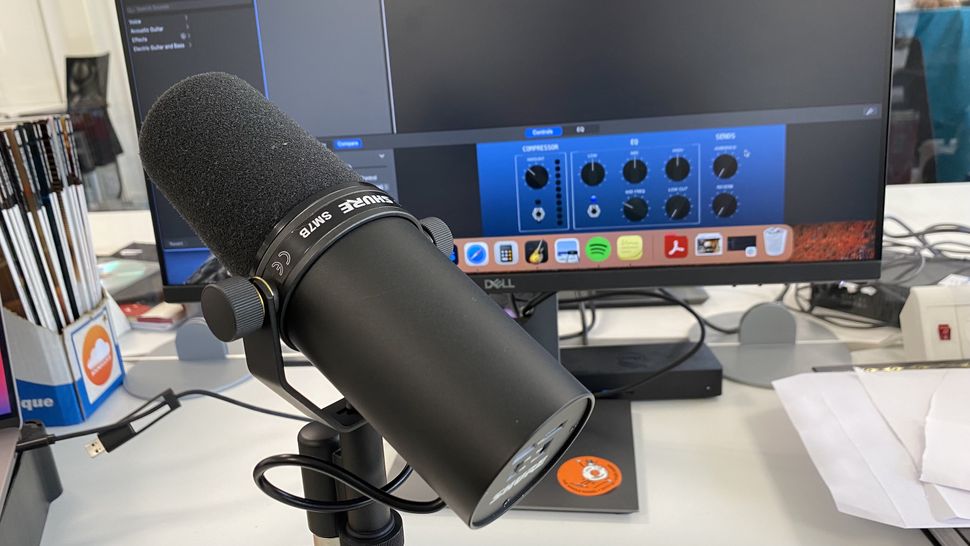 If you've ever been in a recording studio, or ever watched a band play live, you'll have seen Shure microphones. Simply put, they are the standard against which all other recording microphones are judged. The Shure SM7B adds to this reputation by doing one thing really, really well: making the audio it records sound brilliant.
There's no USB connection, no bundled gear other than a windscreen. Nope. This dynamic microphone is designed simply to deliver clean, clear audio. As one of the only dynamic mics on the list, we should point out the ease with which the SM7B copes with loud environments too.
It's the flat frequency response we were most taken with during our tests, though; essentially, none of the frequencies it receives are emphasised in any way. This means that when you come to process the audio – e.g. add compression, EQ – it sounds as natural as when it was recorded. A top-tier microphone, no two ways about it.
Read the full Shure SM7B review
IK Multimedia was at the forefront of creating tools for people to unlock the recording potential of their phones and tablets. The Italian brand has a huge legacy in recording software and apps, but its iRig range brought portable device recording to the masses.
The IK Multimedia iRig HD 2 is an all-in-one USB-connected microphone that includes a built-in pre-amp, so it can be connected directly to mobile devices. The sound quality is good too, making it a solid choice for on-the-go producers with a limited budget, while we also like the bundled suite of apps to record and process your audio.
The all-metal housing is reassuring and gave us the confidence it would survive years of recording duties. In action, this mic produced pleasing clarity and punch whether we were recording into our smartphone or DAW. If you're on a budget, this is definitely a mic to consider.
Read our full IK Multimedia iRig Mic HD 2 review
There are plenty of parallels between streaming and podcasting. Gamers, in particular, are largely behind the rise of simple plug and play USB mics so it makes sense that the big gaming brands are beginning to muscle their way into audio technology. The Razer Seiren X is a great example; you notice from its aesthetic that it's clearly aimed at a certain type of user, but it has plenty to offer podcasters too.
In our tests we particularly liked the super-cardioid pickup pattern, which did a creditable job of rejecting sounds we didn't want in our recordings like footsteps outside our studio, while the neat adjustable base which allowed us to find the ideal angle for recording is a nice design touch.
Read the full Razer Seiren X review
While we often fill these articles with top choices from big brands, we're always pleased to find great quality options from lesser-known manufacturers too. The MAONO AU-PM421 (catchy name, huh?) landed in front of us one day and we were blown away by the build quality and simplicity on display. The PM421 comes as part of a kit, including an adjustable boom arm and pop filter, and is perhaps the quickest and easiest way to get the pro-studio look at home.
MAONO claims the PM421 can record at exceptionally high levels of audio quality – 192kHz/24-bit – and the all-metal construction gave us confidence it will last the course. So while it can be perilous buying from brands you're not familiar with, there are definitely bargains to be had if you know where to look.
Read the full MAONO AU-PM421 review
Best podcasting microphones: Buying advice
Choosing the best podcast microphone for you
Why you can trust MusicRadar Our expert reviewers spend hours testing and comparing products and services so you can choose the best for you. Find out more about how we test.
When researching podcast mics, whether it's to replace an old studio workhorse or as your first foray into this world, there are a few questions you should ask yourself. While microphones all largely carry out the same function, there are some differences which can make certain types better suited to specific applications. Allow us to explain.
Start your own pod
How to start a podcast: a beginner's guide to podcasting
If your podcasting career revolves around recording one person in a static location, like a bedroom or kitchen studio, using a laptop or tablet as your hub, then this will affect the type of mic you'd choose. Likewise, recording multiple people or sound sources means your horizons will need to broaden in order to achieve this. Choosing the best podcast microphone for your needs will depend entirely on how you plan to use it. When it comes down to it, however, the choices you'll need to make come down to just two; the type of microphone you'll need, and how you'll connect it to a recording device.
XLR vs USB microphones – which is best for podcasting?
A good place to start involves looking at the way the microphone will connect to something in order to record. In one corner you have USB; mics using USB are predominantly plug and play, and require very little knowledge of sound. You plug it into your laptop, hit record in your podcast recording software of choice and you're good to go. You'll tend to find decent quality USB microphones are inexpensive enough to make them a viable first choice for newcomers, and their inherent simplicity makes them an attractive choice for many different kinds of setup.
What might potentially cause an issue is if you're a Windows PC user. For all that it does well, Windows isn't brilliant at handling multiple audio sources over USB. Mac users have no such problems, thanks to them being able to create 'aggregate devices' which combine multiple audio interfaces into one, but no such joy if you're on Windows. Admittedly, this is only an issue if you have another USB audio source connected, like an audio interface, but is worth considering. That being said, for small-scale pods requiring only one voice, you can make use of the headphone socket found on most USB mics to monitor while you record.
For more advanced scenarios, you'll want to use mics with an XLR connector, and either a podcast mixer or audio interface. This enables you to use multiple microphones at the same time, with tactile control over sound levels. Whether the recorded audio is of a higher quality depends largely on the microphone itself, and the mixer or audio interface, but the potential is certainly there. Going down the XLR microphone route does mean you'll need extra equipment however, so if you're aiming to keep your setup lean and cabling down to a minimum, then our recommendation would be to go down the USB route.
Which microphone type is best for podcasting?
There are an increasing number of microphones marketed as being dedicated podcast microphones; underneath the buzzwords you'll find they're almost exclusively condensers or dynamics, and either XLR or USB connected. Condenser mics are perhaps better suited to studio locations as they bring out a richness in voices, however the trade-off is that they can be more sensitive to ambient noise. You'll also need to factor in 48V phantom power if you're using an XLR condenser – USB versions take care of this via the computer connection.
Dynamic microphones, on the other hand, are a bit livelier, and are ideal for outdoor recording or in environments with lots of loud noise. They also don't require any external power, so can be plugged into any mixer or audio interface and will work immediately.
Additional podcast mic features to consider
Make your pod pay
How to make money from podcasting (opens in new tab)
Microphones are, generally, quite simple devices however most will come with a couple of options which affect the recordings you'll get. Each microphone has a pickup pattern, which dictates where it receives audio from. A cardioid pickup pattern, for example, will receive audio from a specific location, i.e. at the front of the mic, and reject noise which does not come from that axis. This is really useful for speech as it means the mic works with you to reject unwanted ambient noise like computer fans or doors closing.
Many mics, particularly USB powered ones it seems, offer the user multiple different pickup patterns to suit different situations. If your pod involves the classic 'mic in the middle of the table' setup, then an omni-directional pattern will allow the mic to receive audio from all angles.
Many modern mics also allow you to remove unwanted frequencies directly on the microphone, via a high-pass filter. This is useful to remove low-level rumbling or humming from the recorded sound, giving you cleaner audio to process in post-production.
Which are the best podcasting microphone brands?
Most pro microphone brands have stepped into the podcasting mic world in recent years - understandable considering the massive rise in people podcasting and streaming. Thanks to a sterling reputation in the pro audio world, you can rely on the usual suspects like Shure, Audio-Technica, Sontronics and Rode to produce gear you can trust.
Another big player in the podcast microphone world is Blue Microphones. They first emerged in 1995 and are best known in the podcasting and streaming world for the Yeti microphone range – of which there are currently four models. The Yeti was first launched in 2009 and has become a staple of the reliable, affordable podcast mic sector.
IK Multimedia is another brand who has built a very strong reputation for quality audio gear at affordable prices.
How much should I spend on a podcasting microphone?
Investing in one of the best podcasting microphones doesn't need to break the bank. The most expensive mic we recommend in this guide is the Shure SM7B, which comes in at around the $/£399 mark. That's no small investment, but you get what you pay for and both the audio and build quality of this podcast mic speaks for itself. If you're serious about podcasting (or if you need a great vocal mic, for that matter), you should think seriously about buying the SM7B.
That said, our top pick in this guide is another from Shure, the USB-equipped MV7. For this one you'll pay around $249/£199 and the results will blow you away.
If this is still beyond the top end of your budget, anywhere between $/£100 and $/£200 will bag you a budget podcasting microphone edging towards pro quality. It'll be no frills, but it will reliably get the job done.
Search for one of the best podcasting microphone under $100/£100 and you'll be in the realms of less well-known brands and gear best suited to the mobile user. They'll do the job, but you will notice a drop in build quality and audio reproduction compared with the more expensive models here.
How we test podcasting microphones
USB microphones have a very different role to play compared to most other recording microphones in that they are designed more for the recorded voice than any other instrument and to plug directly into a computer. It's obviously best to focus on voice recording quality, then, often comparing these often cheaper microphones with similarly spec'd studio vocal microphones or standards in the podcasting arena.
When focussing on vocals we take into account how microphones handle artefacts like sibilance and what has been provided to cut down such an occurrence – a pop shield might well come with the microphone, either separately or built into it, for example. Podcasting mics also tend to come with other items like software designed to get you up and running in the world of podcasting, a desktop mount to place the mic firmly next to your computer and (usually) some kind of carry case, so these are all taken into account when we look at value for money.
While podcasting mics are generally aimed at vocal recording, it's always good to stretch them a little in our tests to see whether they are any good at recording acoustic guitar or, more likely, singing. Having a flexible microphone that can be used for studio tasks as well as broadcasting your opinions can't be sniffed at, and some podcasting microphones are surprisingly adept at recording other instruments.
Obviously the final factor is price. USB mics tend to be cheaper than their studio equivalent so we take this into account with our overall findings and balance up whether it's worth paying more for a studio vocal mic and interface to get 'proper' BBC radio vocals for (sometimes) not that much more outlay.
Read more about how we test music making gear and services at MusicRadar.
Related buyer's guides