Quick menu
1. The quick list
2. Best overall
3. Best on a budget
4. Best compact option
5. Best for monitoring
6. Best for budget connectivity
7. Best for streaming
8. More options...
9. Buying advice
10. How we test
Adding one of the best audio interfaces to your studio setup is one of the most important buying decisions you can make as a music producer. The audio interface is a key device in any rig as it is literally the interface between what you record and what you hear playing back. If you spend any time making music on a PC or Mac, owning one of the best audio interfaces will enable you to get high-quality audio in and out of your computer, and to connect other essential studio gear and instruments during your recording sessions.
Once you've decided on the right audio interface, you can then easily record gear like electric and acoustic guitars, synths and any other musical equipment straight into a DAW of your choice. You'll also be able to record singing or speech via a microphone connected to one of the interface's inputs.
There are many audio interfaces available on the market, so how do you choose which is the best one for you and your studio? We'll tell you everything you need to know, what you need and why you need it towards the end of this buyer's guide. We've also included some expert buying advice and information about how we test audio interfaces. If you'd like to learn more we recommend you start there.
But if you just want to read about the best audio interfaces out there right away, keep scrolling. First we reveal our top recommendations with some of the best audio interfaces you can buy right now. We have options covering everything from multi-input options to great entry-level interfaces. Then we look in detail at each of the interfaces on our full list, including full reviews if you want to know more. Whatever your interfacing needs, there should be something here for you.
Andy has been writing about music production and technology for more than 30 years having started out on Music Technology magazine back in 1992. He has also edited Future Music, Keyboard Review and Computer Music magazines. He owns way too many synthesizers and has tested more audio interfaces than he can remember.
Best audio interfaces: Quick list
Want to cut to the chase and find out exactly which we think are the best audio interfaces on the market right now? Below, you'll find a round-up of our top choices. You can jump to a more detailed review of every pick, along with our price comparison tool to help you find the best deals.
The best audio interfaces in 2023
MusicRadar's got your back Our team of expert musicians and producers spends hours testing products to help you choose the best music-making gear for you. Find out more about how we test.
Below you'll find full and detailed write-ups for each of the best audio interfaces in our list. We've tested each one extensively, so you can be sure that our recommendations can be trusted.
Best interface overall
In a welcome move that brings it in line with UAD rack mount interfaces, the Universal Audio Apollo Twin X has some incredibly powerful features that will offer a serious upgrade to anyone's home recording experience. It comes in two formats, Duo and Quad which are named for the amount of DSP processing chips they possess.
There are two hybrid XLR/jack inputs on the back with an instrument input on the front that overrides one of the back connections. This isn't too different from any other desktop-based interface here, however, the clever bit is how the Unison preamps are matched with DSP processing. This means you can load in a vintage Neve channel strip which will modify the behavior of the analog input for some uncanny recreations of proper recording studio channels.
The front face of the Apollo Twin X features a huge knob that can be used for volume control of monitors, headphones, and input gain, as well as some handy buttons for phantom power, muting, and various other features. It's an incredibly fleshed-out and powerful recording experience using one of these and combined with the portable size, it's the perfect interface for taking to and from recording sessions, with the connectivity to grow with you should you choose to invest further in the UA ecosystem.
Read the full Universal Audio Apollo Twin X review
Best budget interface
Arguably the best audio interface you can buy for less than $200, The iD4 MkII is a simple two-input/two-output offering featuring a mic preamp – complete with phantom power for using condenser mics – as well as an instrument level DI for plugging in your guitar or bass, plus a smart scroll wheel enabling you to tweak settings in your software. On top of this, there's a main output for your speakers and dual headphone outputs.
The whole thing is powered via USB-C and, with Apple's camera connection kit, it can also work with an iPhone/iPad. However, for us the studio devilry is in the detail: Audient has really thought about everything with value and usability in mind, making what is a budget solution feel anything but inexpensive in use. The Audient iD4 MkII is, quite simply, the best USB audio interface we've tried at this price for a long time.
Read the full Audient iD4 MkII review
Best compact interface
The compact Evo range was launched a couple of years ago to much acclaim. You'll find two combi mic/line inputs around the back of the EVO 4, and one instrument level input at the front for connecting guitar or bass (which then overrides the first input around the back). The more expensive EVO 8 doubles the inputs to four. Two speaker-outs complete the connections.
A central main dial controls the level of the output, plus a number of other levels determined largely by which buttons on the top of the panel you press. These are 1 and 2 (for the input levels), and output (bottom right) plus a final button that means the dial adjusts the mix between the input and DAW. Using the headphone socket means the main dial controls this level. EVO 8 allows two people to monitor with studio headphones.
The one-dial solution is beautifully implemented and designed to help make both the EVO 4 and 8 clever, compact desktop solutions that sound great. These are great value too, and the simplest and cleverest solutions we've come across.
Read the full Audient EVO 4 review
Best for monitoring
A compact interface with pro features and connectivity, the SSL2+ promises an affordable version of 'the SSL sound', bringing the feel of a gazillion recordings made in 7-figure recording studios within reach of everybody.
This is the big brother to the standard SSL2, the main difference being that the 2+ adds two outputs to the 2-in, 2-out configuration of the 2, MIDI In/Out plus an additional independent headphone out (with both being able to monitor different mixes). There's also the 4k button which adds some extra presence and high-end zing (and, more importantly, makes you feel that little bit more 'pro').
There are two combi mic/line inputs with Hi-Z (impedance) options for switching between guitar and bass signals or those from synths or drum machines. A +48v option also allows the connection of both condenser and dynamic mics.
With great monitoring and recording quality and a flexible I/O configuration, the SSL 2+ comes highly recommended.
Read our full SSL 2+ review
Best for connectivity
In our experience, Focusrite's Scarlett USB interfaces have traditionally combined excellent sonics and audio flexibility at affordable price points, and the third generation units keep up the good work.
All units in the range have received physical and technical upgrades, with improved preamps (now up to 56dB gain), balanced connectivity throughout, and the inclusion of Focusrite's ISA transformer preamp emulation option (Air). On the bus-powered Scarlett 4i4 you get two mic/line/instrument inputs with gain, two line-level TRS inputs and four TRS outputs.
The 4i4 supports Focusrite's Control application, which means that a number of settings can only be made in the software. The app also handles low-latency monitoring.
As we've come to expect from the Scarlett series, in practice the sonics are neutral and the drivers reliable. The Air option tilts the frequency response towards high frequencies, and this can be great for taming undesirable proximity or adding high frequency lift.
With a decent software bundle included, this is a solid upgrade and a great affordable audio interface.
Read our full Focusrite Scarlett 4i4 3rd Gen review
Best for streaming
There are audio interfaces that aim to support specific musical disciplines such as, for example, guitarists (check out our best guitar audio interfaces guide for more of that). And then there are jacks-of-all-trades, which try to do a bit of everything, from speech to music. The Presonus Studio 24c is firmly in the latter camp, offering exceptional quality regardless of what you're trying to record or produce.
We particularly like the included Universal Control software, which enables the interface to 'loop back' on itself virtually. This provides great flexibility for routing audio between different applications without requiring extra cables, making it ideal for streamers and musicians alike. Build quality is solid, and the MIDI connectivity to the back of the unit is a great touch.
Bundled software includes Presonus Studio One Artist and Studio Magic Software Suite, Ableton Live Lite.
Read the full PreSonus Studio 24c review
More options
So those are our top picks, but there are may more great options to choose from that offer something a little different in terms of features and performance. We've selected some more of our favourites below.
Audient is gradually upgrading its original generation iD units, and the latest one is the iD24, which replaces the iD22.

iD24 is a 10in/14out interface with two of Audient's highly-respected 8024 Class-A mic preamps. It also has a front-mounted JFET-based instrument input, which when plugged up replaces mic input 1. For outputs, you have two stereo pairs which can be assigned as Main and Alt monitors. There's also one headphone output, but with two sockets that you can use simultaneously. Completing the I/O are a pair of ADAT connectors.
The iD24 has overhauled electronics which means improved signal to noise ratio, better dynamic range and improved headphone output.
Overall, the iD24 brings this unit in line with other 2nd generation iDs, offering an attractive balance of features, with heavy focus on a genuinely audiophile front end – which we love. It has well-designed software for additional features like cue mixes and signal routing. All in all it is a flexible interface delivering good value for money.
Read the full Audient iD24 review
The SSL 12 is the bigger, new relation to the SSL 2 and 2+ interfaces. It has extra connectivity but the same option to inject some classic SSL character – inspired by the SSL 4000 console – into your recordings.

SSL 12 is a 12-in/8-out interface, with four XLR combo mic/line inputs with high gain 'SSL-designed' mic preamps (including +48v option for using condenser mics). Two inputs at the front can be poached for recording hi-Z instruments like guitars, bass or vintage instruments. You get four balanced outputs and two sets of headphone outs. The extra eight inputs come by way of an ADAT connection.

The sound of the 12 is crystal clear and with very low noise. The 4K effect is very subtle but you can detect it more with vocals and acoustic guitar, where it very gently lifts the mix. Overall, 12 is a robust, feature-packed and great value interface that will slot nicely into a variety of recording situations.
Read the full Solid State Logic 12 review
While Audient's EVO 4 and 8 are compact interfaces, 16 definitely ramps things up in terms of size and connectivity, but still retains their best features and ease of use. EVO 16 is a 24 in/24 out up to 24-bit 96kHz design, with eight mic/line inputs and eight balanced TRS outputs. The remaining I/O uses two pairs of optical connectors offering 16 I/O channels. Rounding things off are two headphone outputs.
EVO 16 is designed to work in tandem with the EVO software app, and this offers deep control of the unit. Many of EVO 16's parameters can also be accessed from the front panel using the parameter buttons and main volume, which doubles as an encoder. This is made much simpler thanks to EVO 16's LCD display. This tiny display is not only crystal clear but easy to view even when you're way off axis.
EVO 16 includes Smartgain, the automatic gain setting option found on other EVOs. With eight inputs this really comes into its own and is one of our favourite features. We also particularly like the talkback mic system.
Audient's EVO 16 offers a powerful combination of hands-on and software control, coupled with great connectivity and a plethora of innovative features. It's incredibly easy to use, sounds great, comes complete with software including Steinberg Cubase, Cubasis LE and Retrologue, GForce M-tron Select plus a Loopcloud subscription and more, and at $/£400 is fantastic value.
Read the full Audient EVO 16 review
Komplete Audio 2 is a two-input, two-output design with two identical mic/line/instrument inputs. Connections are on space-saving combi XLRs with individual selector switches to select between line and instrument. 48V phantom power, meanwhile, is engaged globally via a single switch.
In addition to the inputs, the front panel includes a hardware monitoring balance knob (Input/Host) and headphone output with independent control.
The main output level is controlled from a large output level knob on the top panel. Here you'll also find the input meters, alongside phantom and USB indicators. Round the back you've got the USB B connector, a pair of balanced outputs on TRS 1⁄4-inch jacks and a Kensington Security slot.
This one makes our best audio interface list because in action the performance of the Komplete Audio 2 is as slick as its looks, and though the features are basic, it does its job admirably. And when you consider the excellent software bundle, it's great value.
Read our full Native Instruments Komplete Audio 2 review
The original iD44's primary strength was always the superb quality of its mic pres and converters. This version ramps up the performance even further and adds a handful of nifty new features.
Audient has also managed to improve the iD44's Analogue to Digital Converter (ADC) THD+N figure by an impressive 9dB to a class-leading 112dB. The Digital to Analogue Converters (DACs) are similarly pristine, with imperceptible noise and 126dB of dynamic range. The four mic pres are exactly the same as you'll find in Audient's pro-level consoles.
The ADAT ports let you expand the total number of inputs and outputs by 16 (20 x in, 24 x out, hence 44) but part of us wishes there was more onboard analogue I/O. Still, at least there's the provision for sizable expansion.
Of the new features, we especially love Audio Loop-back, useful for podcasters and live streamers. In essence, Loopback lets you record audio from a computer on separate channels to your mics, providing a lot of versatility when mixing.
Audio quality is where ID44 MkII really shines; everything else is icing on the cake, but that icing is layered deep and tastes exceptionally sweet.
Read the full Audient ID44 Mk II review
Universal Audio used to focus on the high-end market with interfaces that boasted both a quality signal flow and also acted as hosts and accelerators for the company's very well regarded plugin range. That changed with the Volt range, a set of four units that eschew the plugin hosting in favour of value and more standard features. The more expensive 176 and 276 are reviewed later in this buyer's guide, but the Volt 1 and 2 offer most of what they deliver bar their extra 1176-style compression.
Both Volts 1 and 2 are plug-and-play USB-C interfaces that offer UA's excellent preamps on their combi inputs, with one input available on the Volt 1 and two on the Volt 2. These offer a great vintage tube sound on your inputs, giving recordings a richness rarely heard in this price range.
The Volts are a radical departure for UA, offering an affordable taste of the brand's key ingredients. They're incompatible with plugins from the UAD store but they absolutely deserve to shake up the sub-$200/£200 interface market with a great design, a plug-and-play workflow and hard-to-beat audio conversion.
Read the full Universal Audio Volt 1 & 2 reviews
MiniFuse is Arturia's super compact interface range and we have the mid-sized MiniFuse 2 on test. It's a 2-in/2-out, USB powered unit with mic/line/instrument options for both inputs, MIDI I/O and a headphone output. It also incorporates a USB hub, although the power draw must be 250mA or less.
MiniFuse 2 has its own Control Centre software and is bundled with an Intro version of Arturia's excellent Analog Lab, four effects, Native Instruments Guitar Rig LE and Ableton Live Lite, plus three month trial subs to Splice Creator and Auto-Tuner Unlimited.
The MiniFuse 2 sounds pretty good, with nice clean main outputs and plenty of volume from the headphones. The instrument inputs sound great and it's good to see two identical mic/line/instrument inputs. But it's the overall functionality that wins through, with plenty of backlit buttons and illuminated controls so it's obvious what's going on.
There are cheaper 2-in/2-out options, but MiniFuse 2 is a feature-rich device with extras that you don't always get at this price. Factor in the impressive software bundle, generous five-year warranty and a choice of colours and you have a pretty decent package for the money.
Read the full Arturia Minifuse 2 review
M-Track Solo and Duo are entry-level, USB-powered, audio-only interfaces with 2-in 2-out connectivity. Their feature sets are slightly different but underlying specifications are very similar. Solo includes one mic/line channel with switchable phantom power and one line/instrument channel. The main outputs are on unbalanced RCAs and the front headphone output is on an 1/8" mini-jack. Duo has a pair of mic/line/instrument inputs with switchable phantom power. Outputs are on balanced 1/4" TRS jacks, the headphone output is a 1/4" jack, and there are separate headphone/output level controls.
A decent bundle of software includes the AIR Music Tech Xpand!2 synth, Eleven Lite guitar amp sim and 20 Avid plugins, as well as Pro Tools First M-Audio Edition and MPC Beats. Despite the amazingly low price, both units look well made and the black finish, recessed rubberised knobs and functional selector switches feel solid.
Both interfaces use M-Audio's Crystal Preamp design, and this provides you with plenty of clean neutral gain, great for lower output dynamic mics or weedy passive guitars. Both can sound pretty nasty when they're overloaded, and so we kept well away from the red clip LED.
M-Audio's no-nonsense interfaces are simplicity itself, and weighing up the options, for the sake of an extra tenner we'd definitely go all out for the more flexible M-Track Duo.
Read the full M-Audio M-Track Solo and Duo review
Clarett is Focusrite's premium USB range with three models and a decent bundle of software including Focusrite's Red 2 and Red 3 plugins and Plugin Alliance's bx_console Focusrite SC. Clarett+ focuses on improving audio performance rather than expanding that feature set.
The Clarett+ 2Pre on test has two mic pres with combo mic/line/instrument inputs, four balanced outputs, MIDI I/O and ADAT for a total of 10 ins and 4 outs. It is USB 2.0 compatible, with connection via a USB-C port that supports bus powering but from a device that provides 15W (or use the included PSU instead). Focusrite's Control software is easy to use and also available as a simplified iOS app, so you can control levels, including your low latency monitoring mix from your phone.
Clarett+ has improved independent A-D and D-A converters, slightly better noise figures throughout, and improved dynamic range. The mic inputs are silky smooth and have plenty of headroom, and the outputs are crystal clear and suitably noise-free. If you want to add some life to your input, the Air option does just that. Also excellent are the two JFET instrument inputs, substantially better than a regular instrument input.
The Clarett+ 2Pre is a reasonably simple interface with some very handy features, that offers subtle yet welcome improvements over its predecessor.
Read the full Focusrite Clarett+ 2Pre review
The Volt range has the affordable market in its sights, and here we're looking at the Volt 176 and 276. These look very different to other UA interfaces and have a very different remit. There's no plugin hosting, onboard software processing nor Console software. These are plug-and-play, with UA's excellent preamps and, in the case of the two units here, the benefit of onboard analogue processing.
Each has combo XLR/TRS inputs on the front (just one for the 176), phantom power, instrument switches and a headphone port. Round the back you'll find stereo outputs, the USB connector and MIDI In/Out ports. Both interfaces are bus powered with an external option and bundled software that includes Ableton Live Lite, Melodyne Essential and assorted instruments and effects like LABS from Spitfire Audio.
With the 76 Compressor you choose 1176-style Vocal, Guitar, Fast or Off one-button compression, each delivering a characteristic flavour without going overboard. The Vintage option provides the tube emulation, gentle saturation, and top-end lift of UA's classic 610 channel.
The Volts are a radical departure for UA, but they deserve to shake up the budget interface market with a great design, a plug-and-play workflow and hard-to-beat audio conversion. It's bad news for other affordable interface makers: these are great!
Read the full Universal Audio Volt 76 series review
Steinberg has pimped-up its UR range of audio interfaces, introducing USB 3.0 models for PC, Mac and iOS. The UR22C, on test here, is the most affordable of these.
Each of the interfaces offers USB Type-C connectivity (or USB 3.1 Gen 1 SuperSpeed, to give it its official title) and operates at 32-bit/192kHz audio resolution. There's MIDI I/O, too, as well as DSP that provides zero-latency effects that can be used when monitoring. These can be accessed via the dspMixFx mixer.
Unsurprisingly, the UR22C is a 2-in/2-out audio interface. You get a couple of balanced Neutrik combo inputs, each of which sports a Yamaha D-PRE mic preamp, and two balanced line outputs.
With its rugged metal casing, the UR22C is the best audio interface for you if you want something that can be slung in a backpack without fear.
Read the full Steinberg UR22C review
AudioFuse is an attractive and portable Mac, PC and iOS-compatible interface with a raft of features. Despite its compact frame, we found there to be plenty of connectivity on offer. Along the front edge, you'll find combi inputs and two fully independent headphone feeds. In turn, these can accommodate both mini-jack and 1/4-inch plugs.
At the back, there are speaker outputs for two pairs of monitors, line level connectors, MIDI In/Out ports (which, due to size restrictions, have been replaced by mini-jack connectors, which you'll find in the box) and - for digital interfacing - both S/PDIF and ADAT In/Out. There are also inserts for inputs 1 and 2, allowing you to track through hardware compressors or channel strips.
AudioFuse connects via USB 2, but USB connectivity goes further; Arturia has built a USB hub into it, providing three extra USB ports. AudioFuse provides a beautiful and contemporary approach to USB audio interfacing with a great design, compatibility with a huge range of possible audio sources, a great sound and a highly tactile control set.
Read our full Arturia AudioFuse review
Best audio interfaces: Buying advice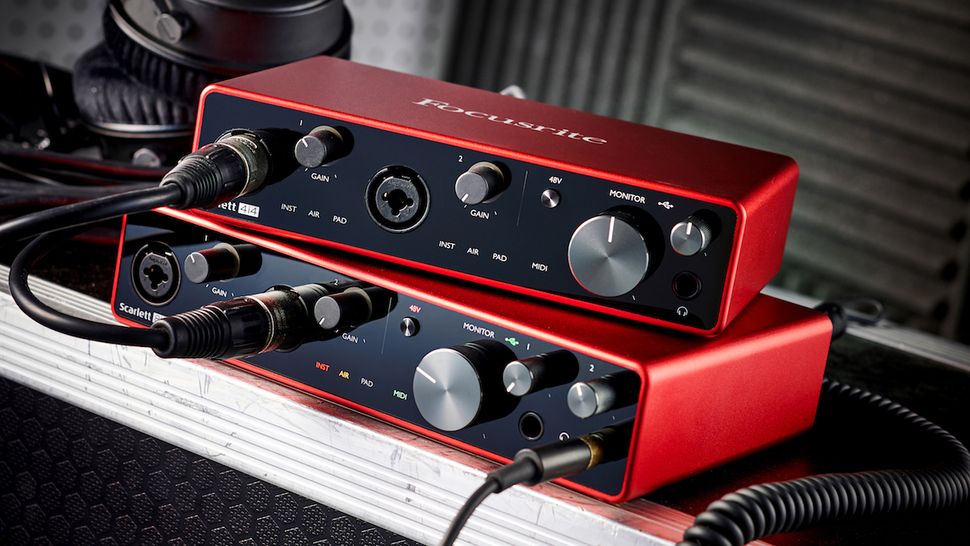 Do you need an audio interface?
If you are a musician who wants to make great quality recordings and listen back to them on decent speakers, then you really need an audio interface. They allow you to record any audio into your computer or smart device – from strumming guitars and your singing through to a complete band or orchestra – and then mix that audio into a song in your DAW and hear the results back through pro-grade speakers.
How many inputs and outputs do I need?
When choosing the best audio interface for home studio and beyond, the first thing you need to work out is the number and type of inputs and outputs you need. If you only want to plug in one microphone or instrument at a time – if you're a solo producer who generates most of their sounds inside the computer, this is probably you – just one or two inputs will be plenty, but if you want to record a live band, you'll need to think about much more than that. Multiple outputs can also be useful if you want to set up separate headphone mixes (if you're a DJ, for example) or send audio elsewhere for further processing.
What types of inputs and outputs do I need?
On most audio interfaces you'll typically find both XLR and 1/4-inch inputs, often combined into combo connectors so that you can plug mics, guitars, synths and the like into the same input. Many interfaces also offer a phantom power option, which is required if you want to use certain microphones.
Some audio interfaces also have MIDI I/O on them, which could save you from having to buy a separate interface for external MIDI gear. If you only intend to use a MIDI keyboard, though, remember that this could plug into one of your computer's other USB ports, so MIDI I/O might not be an essential requirement.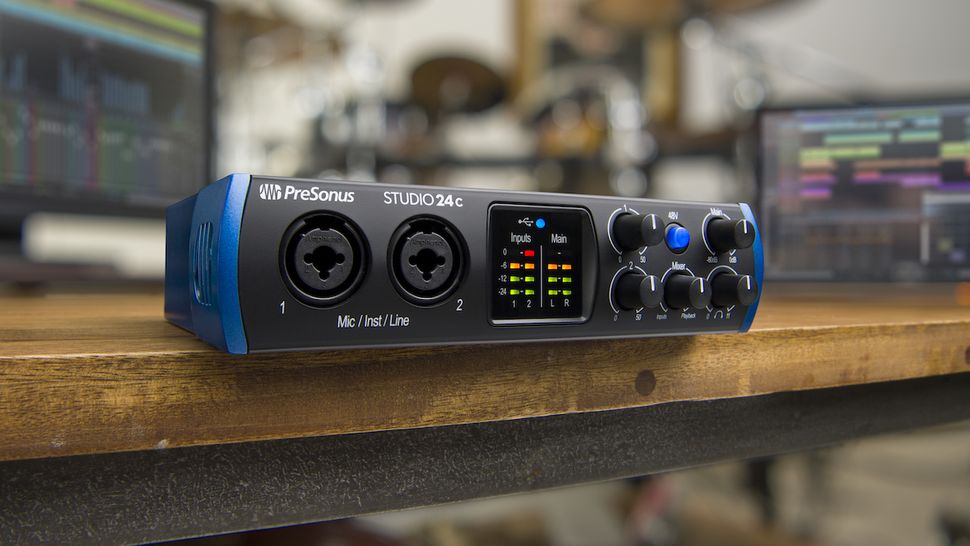 How do I connect my audio interface?
Most audio interfaces connect to your computer by USB or Thunderbolt or by using a Lightning adaptor with iOS devices. The cable required for connectivity usually ships with the interface but not always with Thunderbolt 3 and Lightning, so do check what you get in the box.
Most interfaces are class-compliant, so will work out of the box – just plug them in and start using them straight away. Some come with extra software you will need to access some of their more detailed functions and routing. Many, especially mobile interfaces, are bus-powered so you don't have to plug a mains power supply into them.
Specs always include the numbers of audio inputs (as XLR or 1/4-inch jack or a combination of the two) and audio outputs. Inputs indicate the number of instruments or microphones you can connect up to record simultaneously. Check the interface has a phantom power option if you want to connect up a condenser mic which requires external power. The number of outputs refers to the number of connections available to your studio speakers or other hardware boxes, including outboard effects.
What is low latency recording?
You'll find that most contemporary audio interfaces offer a low-latency recording option, which means you can stay in time with your project when you're adding more tracks. Some interfaces also promise latency levels that are low enough to use effect plugins in 'real-time' on the input as you record, while others have their own DSP processing built into them.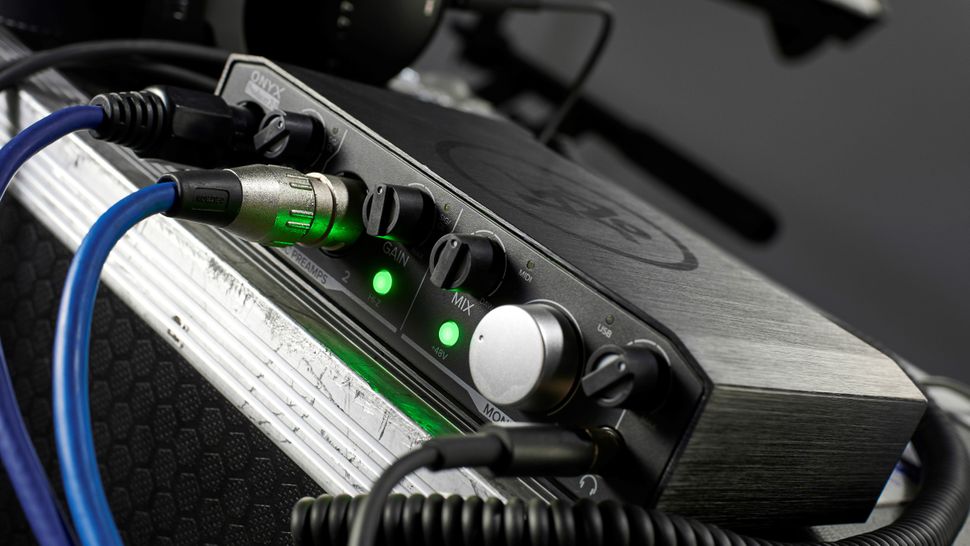 What should I expect to pay for an audio interface?
In the end, the best audio interface for you will at least partly come down to price, so you'll be pleased to know that our list of recommendations in this guide covers a broad range from beginner to pro. We'd also recommend reading our guide focused specifically on the best budget audio interfaces if you have less to spend.
Interfaces are serious pieces of kit that should keep the audio signal quality high throughout the recording process, but you needn't pay serious money for them. If you are an in-the-box producer, you might only need one input at any one time to record, plus a couple of outputs to your speakers. Even a singer/guitarist can get away with just two inputs, and a decent 1 or 2-input/2-output audio interface only costs from around $/£50 up to $/£200. Add more inputs and better quality preamps on these – which will give you a better quality audio recording – and you could pay anything from $/£200 to $/£700 for a medium-sized interface capable of recording all of the outputs from a band, for example.
Pro grade interfaces with fast connectivity, the ability to power software (see Universal Audio) and digital inputs and outputs can tip into four figures – sometimes up to $/£2,000 – but you might not need any or all of the extras they offer. Many interfaces support an array of digital ins and outs like ADAT and S/PDIF, for example, two digital standards you only need to take into consideration if you have other audio gear with these inputs and outputs included.
What are the most popular audio interface brands?
There are many companies making audio interfaces but some brands that score consistently well in our reviews and we stand by in terms of build quality, features and value for money are Apogee, Audient, Focusrite, Native Instruments, Steinberg, SSL and Universal Audio.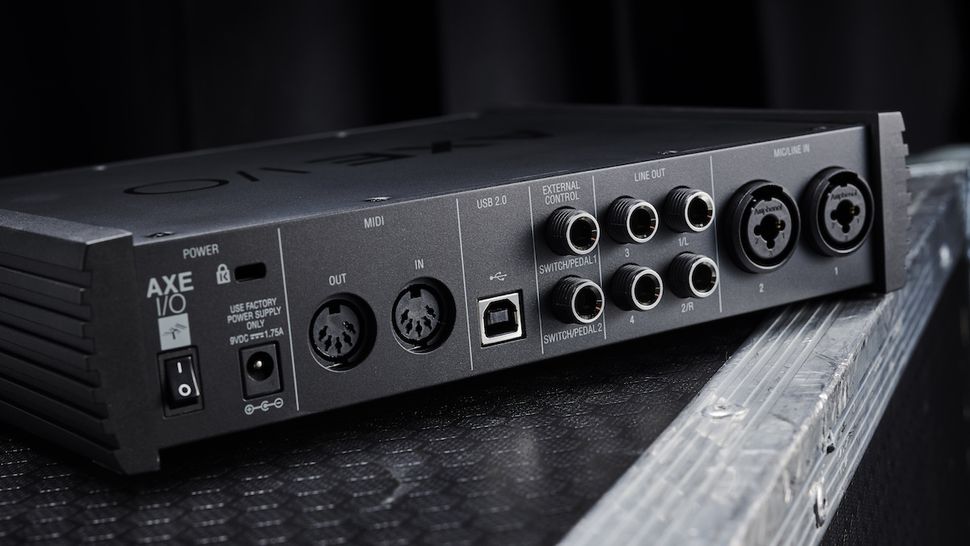 How we test audio interfaces
Audio interfaces are essentially devices designed to record audio into your computer DAW, and play it back out. The key factors when testing them are how easily they do this and the level of audio quality they are capable of delivering while doing so.
Many audio interfaces are 'plug n play' so will automatically be picked up by your computer and DAW when you first connect them, so setting up should be easy. Your DAW should then list all of the audio interface's physical inputs and outputs, often as selectable options on its input and output channels.
Sound quality is determined by an interface's A-D/D-A convertors, sample rates and frequencies quoted in their specs (24-bit/96kHz, for example). We test for sound quality by recording several sources via the interface's mic and line inputs, and judging the playback quality against that expected from the specs. We also compare the same material recorded with our reference audio interfaces that we use on a daily basis.
Some audio interfaces come with extra bespoke software that lets you select input and output configurations and might also add other routing options or even effects. How easy this extra software is to use is also an important factor.
We also consider latency when testing interfaces. This is the time it takes for audio to go into and out of your computer DAW via the audio interface. If this is slow, the latency figure is high so can result in a delay between you playing a note and then hearing it. This is obviously not practical if you are recording some playing and attempting to be in time with your DAW playback.
Read more about how we test music making gear and services at MusicRadar.
Related buyer's guides