An audio interface is pretty much an essential piece of kit for your studio setup if you spend any time at all making music on a PC or Mac. Taking things back to basics, the best audio interfaces enable you to get high-quality audio in and out of your computer, and to connect other essential studio gear and instruments during your recording sessions.
Once you've decided on the right audio interface for your needs you'll be able to connect everything from microphones and electric guitars, to synthesizer and other instruments – perhaps even MIDI equipment, too – and you'll have no problem hooking up a pair of studio monitors or plugging in your studio headphones.
Right now there are loads of audio interfaces on the market, all offering different features to grab your attention. So, how do you choose the best audio interface for you and your studio? Well, you start with this guide, of course! Here, we'll tell you everything you need to know, and recommend some of the best audio interfaces you can buy right now - with options covering everything from multi-input Thunderbolt options, to great entry-level USB audio interfaces, plus great audio interfaces for Mac users.
If you want to get straight to our top picks, keep scrolling. If you need more guidance, hit the 'buying advice' button above.
Best audio interfaces: Our top picks
If you want a great audio interface but you have a limited budget, you can't go wrong with the Audient iD4 MkII, a 2-in/2-out USB device that looks, sounds and feels great. It enables you to plug in microphones and instruments, and offers great value for money. It might be cheap, but the quality is truly excellent.
If you need a bit more I/O, take a look at the third-generation version of Focusrite's Scarlett 4i4, a USB-C audio interface that gives you double the number of inputs and outputs and sounds great.
Also consider the SSL 2+, a new 2-in/4-out audio interface that gives you at least a flavour of that magic 'SSL sound' at a remarkably low price.
At the top end, consider Universal Audio's UAD Apollo Twin MkII, a 2-in/6-out audio interface that also enables you to use UA's range of excellent DSP-powered plugins.
Best audio interfaces: Product guide
Image 1 of 3
Image 2 of 3
Image 3 of 3
Arguably the best audio interface you can buy for less than $200, The iD4 MkII is a simple two-input/two-output offering featuring a mic preamp – complete with phantom power for using condenser mics – as well as an instrument level DI for plugging in your guitar or bass, plus a smart scroll wheel enabling you to tweak settings in your software. On top of this, there's a main output for your speakers and dual headphone outputs.
The whole thing is powered via USB-C and, with Apple's camera connection kit, it can also work with an iPhone/iPad. However, the studio devilry is in the detail: Audient has really thought about everything with value and usability in mind, making what is a budget solution feel anything but inexpensive. The Audient iD4 MkII is, quite simply, the best USB audio interface we've seen at this price for a long time.
Read the full Audient iD4 MkII review
Image 1 of 2
Image 2 of 2
Compact interfaces with pro features and connectivity, the SSL2+ promises an affordable version of 'the SSL sound', bringing the feel of a gazillion recordings made in 7-figure recording studios within reach of everybody.
This is the big brother to the standard SSL2, the main difference being that the 2+ adds two outputs to the 2-in, 2-out configuration of the 2, MIDI In/Out plus an additional independent headphone out (with both being able to monitor different mixes). There's also the 4k button which adds some extra presence and high-end zing (and, more importantly, makes you feel that little bit more 'pro').
There are two combi mic/line inputs with Hi-Z (impedance) options for switching between guitar and bass signals or those from synths or drum machines. A +48v option also allows the connection of both condenser and dynamic mics.
With great monitoring and recording quality and a flexible I/O configuration, the SSL 2+ comes highly recommended.
Read our full SSL 2+ review
SSL 2 vs Focusrite Scarlett 2i2 3rd gen: head-to-head
Explore the best SSL 2 and SSL 2+ deals
Image 1 of 3
Image 2 of 3
Image 3 of 3
Focusrite's Scarlett USB interfaces have traditionally combined excellent sonics and audio flexibility at affordable price points, and the third generation units keep up the good work.
All units in the range have received physical and technical upgrades, with improved preamps (now up to 56dB gain), balanced connectivity throughout, and the inclusion of Focusrite's ISA transformer preamp emulation option (Air). On the bus-powered Scarlett 4i4 you get two mic/line/instrument inputs with gain, two line-level TRS inputs and four TRS outputs.
The 4i4 supports Focusrite's Control application, which means that a number of settings can only be made in the software. The app also handles low-latency monitoring.
As we've come to expect from the Scarlett series, the sonics are neutral and the drivers reliable. The Air option tilts the frequency response towards high frequencies, and this can be great for taming undesirable proximity or adding high frequency lift.
With a decent software bundle included, this is a solid upgrade and a great affordable audio interface.
Read our full Focusrite Scarlett 4i4 3rd Gen review
Image 1 of 4
Image 2 of 4
Image 3 of 4
Image 4 of 4
Still a desktop-format 2-in/-6-out interface with 24-bit/192kHz capabilities, the Apollo Twin MkII would be almost indistinguishable from the original were it not now black rather than silver. It connects to your Mac or PC via Thunderbolt (there's no cable in the box), but it has to be powered from the wall. The back panel and front edge house the inputs and outputs, while the top panel centres on a satisfyingly oversized knob.
Also a DSP box for powering UAD plugin effects (you can choose from Solo, Duo and Quad options), the Apollo Twin MkII features the same game-changing Unison preamps as its predecessor, fed by the Mic/Line and Hi-Z ins. These enable a gradually expanding subset of UA's classic hardware emulation plugins to be inserted directly into each input path.
This is a musically empowering hardware/software hybrid that's capable of elevating even the humblest of home and project studios to genuinely professional-quality heights, and certainly one of the best audio interfaces you can buy.
Read our full Universal Audio Apollo Twin MkII review
Image 1 of 4
Image 2 of 4
Image 3 of 4
Image 4 of 4
Komplete Audio 2 is a two-input, two-output design with two identical mic/line/instrument inputs. Connections are on space-saving combi XLRs with individual selector switches to select between line and instrument. 48V phantom power, meanwhile, is engaged globally via a single switch.
In addition to the inputs, the front panel includes a hardware monitoring balance knob (Input/Host) and headphone output with independent control.
The main output level is controlled from a large output level knob on the top panel. Here you'll also find the input meters, alongside phantom and USB indicators. Round the back you've got the USB B connector, a pair of balanced outputs on TRS 1⁄4-inch jacks and a Kensington Security slot.
It makes our best audio interface list because the performance of the Komplete Audio 2 is as slick as its looks, and though the features are basic, it does its job admirably. And when you consider the excellent software bundle, it's great value.
Read our full Native Instruments Komplete Audio 2 review
Image 1 of 2
Image 2 of 2
The compact Evo range was launched at the NAMM Show 2020 to much acclaim.
You'll find two combi mic/line inputs around the back of EVO 4, and one instrument level input at the front for connecting guitar or bass (which then overrides the first input around the back).
Two speaker outs complete the connections and a central main dial controls the level of that output plus a number of other levels determined largely by which buttons on the top of the panel you press, these being 1 and 2 (for the input levels), and output (bottom right) plus a final button that means the dial adjusts the mix between the input and DAW. Using the headphone socket means the main dial controls this level.
The one-dial solution is beautifully implemented and designed to help make EVO a clever, compact desktop solution that sounds great.
Read the full Audient Evo 4 review
Image 1 of 2
Image 2 of 2
With high-quality Onyx mic pres, balanced analogue connectivity and operation up to 24-bit/192kHz, the bus-powered Onyx Producer 2.2 audio interface is more than capable of getting clean signals in and out of your DAW. There are two identical mic/line inputs with combination XLR/jack connectors. Each has a manual green backlit switch to select a Hi Z instrument, and there's a global backlit switch for 48V phantom power.
Input signals can be monitored with zero latency using the Input/DAW Mix knob, and rounding off the front panel are a large Monitor level knob and headphone output with level knob. Round the back you'll find a pair of 1⁄4-inch jacks for the monitor output, and also a pair of MIDI connectors (In and Out), which is very handy. Throw in the robust metal case and you've got a compact workhorse device that should last for years. You also get a DAW, Tracktion T7, in the box.
Read our full Mackie Onyx Producer 2.2 review
Image 1 of 4
Image 2 of 4
Image 3 of 4
Image 4 of 4
Steinberg has pimped-up its UR range of audio interfaces, introducing USB 3.0 models for PC, Mac and iOS. The UR22C is the most affordable of these.
Each of the interfaces offers USB Type-C connectivity (or USB 3.1 Gen 1 SuperSpeed, to give it its official title) and operates at 32-bit/192kHz audio resolution. There's MIDI I/O, too, as well as DSP that provides zero-latency effects that can be used when monitoring. These can be accessed via the dspMixFx mixer.
Unsurprisingly, the UR22C is a 2-in/2-out audio interface. You get a couple of balanced Neutrik combo inputs, each of which sports a Yamaha D-PRE mic preamp, and two balanced line outputs.
With its rugged metal casing, the UR22C is the best audio interface for you if you want something that can be slung in a backpack without fear.
Read the full Steinberg UR22C review
Image 1 of 2
Image 2 of 2
The follow-up to the original iRig Pro Duo, the new version offers two analogue combo inputs so that you can connect and simultaneously record your favoured combination of instruments and mics. These inputs come with updated Class-A preamps, adjustable gain (increased for this model) and phantom power. There's MIDI I/O, too, along with two balanced 1/4-inch outputs and a headphone output.
You can engage the direct monitor switch for latency-free monitoring of the incoming signal, and the iRig Pro Duo I/O comes with a USB-C cable for easy compatibility with modern devices (Lightning and USB-A cables are supplied, too). There are new dedicated PC drivers as well, along with a refreshed rubberised finish.
The iRig Pro Duo I/O can be bus-powered or run on two AA batteries and ships with a large bundle of software. It's compatible with iOS, Android, PC and Mac so could be just the thing if you need to record on the move and in your studio.
Read the full IK Multimedia iRig Pro Duo I/O review
Image 1 of 4
Image 2 of 4
Image 3 of 4
Image 4 of 4
AudioFuse is an attractive and portable Mac, PC and iOS-compatible interface with a raft of features. Despite its compact frame, there's plenty of connectivity on offer. Along the front edge, you'll find combi inputs and two fully independent headphone feeds. In turn, these can accommodate both mini-jack and 1/4-inch plugs.
At the back, there are speaker outputs for two pairs of monitors, line level connectors, MIDI In/Out ports (which, due to size restrictions, have been replaced by mini-jack connectors, which you'll find in the box) and - for digital interfacing - both S/PDIF and ADAT In/Out. There are also inserts for inputs 1 and 2, allowing you to track through hardware compressors or channel strips.
AudioFuse connects via USB 2, but USB connectivity goes further; Arturia has built a USB hub into it, providing three extra USB ports. AudioFuse provides a beautiful and contemporary approach to USB audio interfacing with a great design, compatibility with a huge range of possible audio sources, a great sound and a highly tactile control set.
Read our full Arturia AudioFuse review
Image 1 of 3
Image 2 of 3
Image 3 of 3
Antelope Audio is one of a small group of manufacturers that produces premium audio interfaces with onboard processing. In 2019 it launched an improved architecture, Synergy Core, that uses both FGPA and DSP chips to deliver near-zero latency onboard processing during recording or mixing.
Zen Tour is its 8-in/14-out compact desktop-style interface and this has now been upgraded to Synergy Core with 2 FGPA and four DSP chips delivering up to 256 FX instances.
On the front you get four DI inputs (switchable to line level if required), two individually configurable HP outs and two handy transformer-based re-amp outputs, so you can send your DI back to a guitar amp input.
On the back are four combi XLRs for mic/line ins, one pair of monitor outputs on 1/4" TRS jacks, S/PDIF in/out, ADAT in/out and eight line-outs on 25-pin D-type.
Zen Tour Synergy Core comes bundled with 36 effects, including preamps, EQs, compressors, guitar amps and support for Antelope's Edge and Verge modelling mics. The design of these is first class, with some classic hardware emulations.
It also delivers fantastic fidelity, with discrete ultra-linear preamps and premium clocking courtesy of Antelope's acoustically focused clocking.
Zen Tour Synergy Core is an incredibly capable unit that is pretty easy to use and sounds fantastic.
Read our full Antelope Audio Zen Tour Synergy Core review
Image 1 of 2
Image 2 of 2
Steinberg has entered the Thunderbolt audio race with the the AXR4, a rack-mountable interface aimed at professional producers and engineers. This 28-in/24-out box offers latency-free DSP-powered monitoring and effects, stacks of I/O and plenty of routing flexibility. Up front you'll find four Neutrik combo inputs and two headphone outputs, while the back panel houses eight TRS line inputs, eight TRS line outputs and two sets of ADAT I/O doubling as S/PDIF.
The second pair provides an alternative AES/EBU Sub-D connector. MIDI I/O sits alongside word clock I/O, while two Thunderbolt 2 ports enable computer connection and daisy-chaining of up to three interfaces. The four hybrid mic preamps benefit from refined transformer circuitry and Rupert Neve Designs SILK processing, while DSP effects include the VCM 276 compressor, VCM EQ601, the Sweet Spot Morphing Channel Strip and the REV-X reverb.
The Steinberg AXR4 oozes quality from every pore, making it a serious contender in the pro audio interfacing arena.
Read our full Steinberg AXR4 review
Best audio interfaces: Buying advice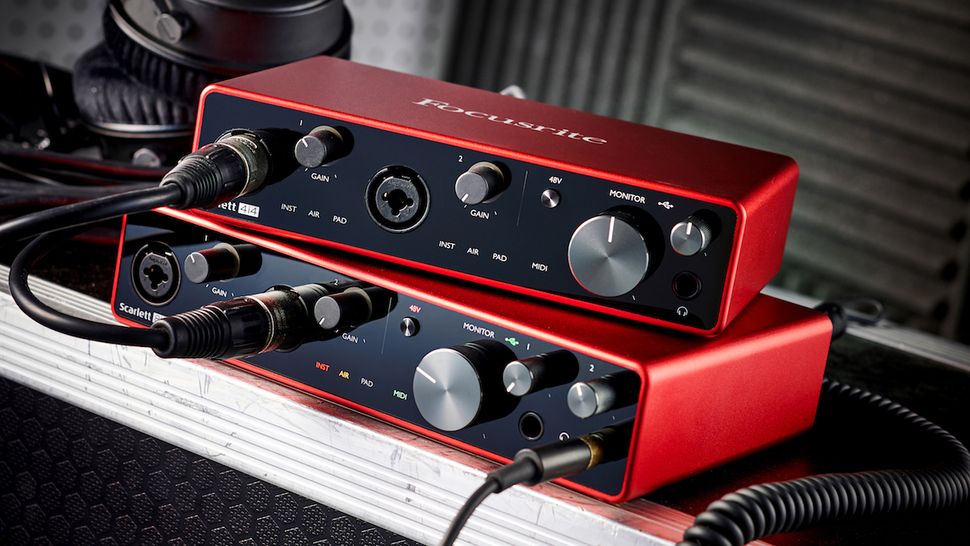 Inputs and outputs
When choosing the best audio interface for your studio, the first thing you need to work out is the number and type of inputs and outputs you need. If you only want to plug in one microphone or instrument at a time – if you're a solo producer who generates most of their sounds inside the computer, this is probably you – just one or two inputs will be plenty, but if you want to record a live band, you'll need to think about much more than that. Multiple outputs can also be useful if you want to set up separate headphone mixes (if you're a DJ, for example) or send audio elsewhere for further processing.
On most audio interfaces you'll typically find both XLR and 1/4-inch inputs, often combined into combo connectors so that you can plug mics, guitars, synths and the like into the same input. Many interfaces also offer a phantom power option, which is required if you want to use certain microphones.
Some audio interfaces also have MIDI I/O on them, which could save you from having to buy a separate interface for external MIDI gear. If you only intend to use a MIDI keyboard, though, remember that this could plug into one of your computer's other USB ports, so MIDI I/O might not be an essential requirement.
Connectivity
Audio interfaces typically run over USB or ThunderBolt, and you first need to make sure that the one you choose is compatible with the connections on your computer. We're now starting to see more interfaces with USB-C connectors hit the market, but it's not too big a problem if your machine still has older USB ports as there are plenty of cable or adapter options out there.
Many interfaces are class-compliant, which means you can just plug them in and start using them straight away. Bus-powering is a feature to look out for, too, as it means you don't have to plug a mains power supply into your audio interface. It's also worth checking to see if your interface has iOS compatibility, if making music with your iPad or iPhone is something that's important to you.
Low latency recording
You'll find that most contemporary audio interfaces offer a low-latency recording option, which means you can stay in time with your project when you're adding more tracks. Some interfaces also promise latency levels that are low enough to use effect plugins in 'real-time' on the input as you record, while others have their own DSP processing built into them.
In the end, the best audio interface for you will at least partly come down to price, so you'll be pleased to know that our list of recommendations in this guide covers a broad range from beginner to pro. We'd also recommend reading our guide focused specifically on the best budget audio interfaces if you have less to spend.