Quick Menu
When you begin your music production journey, your 'studio' might consist of little more than a laptop and a pair of headphones, and buying one of the best studio desks might seem like a pretty low priority. However, as your skills improve and your demand for gear increases, your setup will inevitably outgrow your kitchen table, and then it's time to put some thought into how best to situate it.
True, you could just buy an off-the-peg work desk from your local flatpack furniture store, but comfort is often conducive to creativity, and that's where a bit of furniture that's specifically designed for music producers can really help you out.
This round-up of the best studio desks demonstrates how many options there are - for all budgets, and for every usage type - to help you get your studio organised. To help you navigate the article we've listed our choices in price order so you can browse more easily. For those of you who are new to the world of studio desks, head down to our buying advice section before purchasing to ensure you're fully armed with the knowledge. Otherwise, keep scrolling for our top picks...
Chris Corfield is a journalist with over 12 years of experience writing for some of the music world's biggest brands including Orange Amplification, MusicRadar, Guitar World Total Guitar, and Dawsons Music. Chris loves getting nerdy about everything from guitar and bass gear to synths, microphones, DJ gear, and music production hardware.
Best studio desks: Product guide
Getting the perfect studio desk for your particular space is an important step in becoming an efficient music producer. Having all your gear laid out in an ergonomic and intuitive way takes away the pressure to perform when a deadline is tight, and ensuring you're comfortable in your space - and that your gear is positioned with optimal performance in mind - is just as critical as having that fancy outboard compressor.
Thankfully there are lots of different options for studio desks, whether you're just starting out in the box or running a full-time recording studio.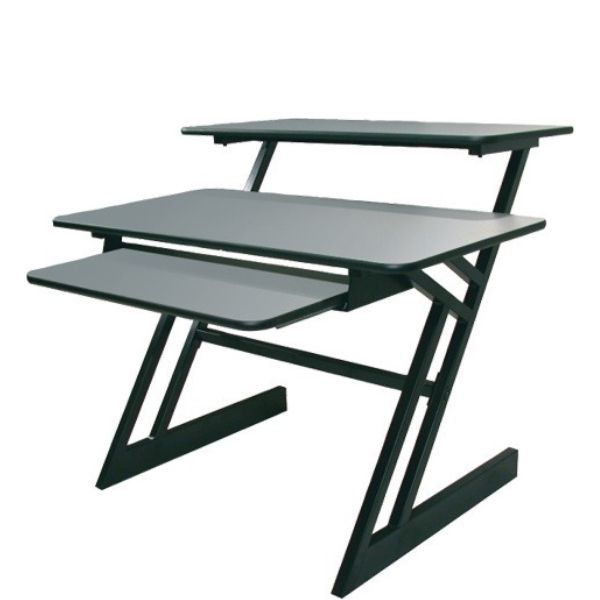 Best for beginners
Dimensions: 44 x 36 x 22"
Features: Slide-out keyboard shelf, raised tier for monitors
+Studio features
+Compact size
-Easy to outgrow
Many of you may be working away in your bedroom or spare room, and when music production gear is squeezed in along with other bedroom furniture, this can make for a pretty cramped studio space and can impact your workflow.
The Quik-Lok Z250 makes an ideal desk for anyone in this situation. Why? Because it's a superb music-specific desk with features designed for the typical home studio. Combine that with a low price and you've got the perfect entry-level desk.
There's a raised shelf for screens and nearfield monitors, a large main desk for controllers and keyboards, and a pull-out shelf for computer keyboards. Basically, everything you need and nothing you don't, and all for a very reasonable price.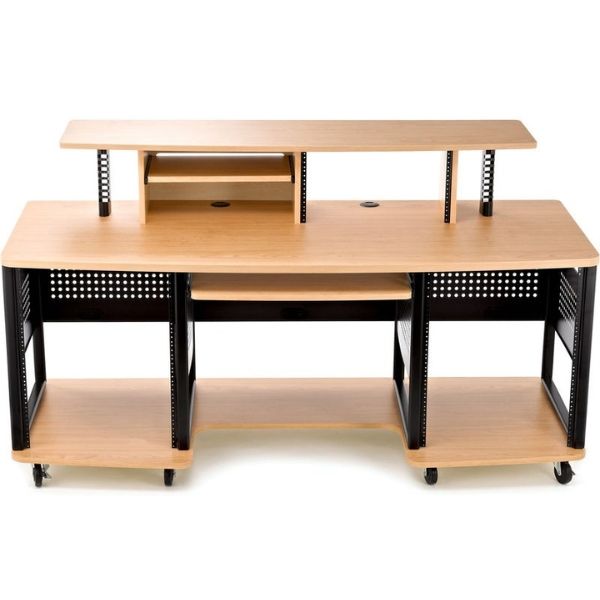 Best overall
2. StudioRTA Producer Station
Dimensions: 72 x 41 x 30"
Features: Slide-out keyboard shelf, dual rack spaces
+ Versatile design
+ Plenty of space
- Finish is a bit '90s
The Studio RTA Producer Station is still one of the best studio desks around for the non-pro market and it's incredibly well-priced considering what you get for your money. The looks might be plain, but it's an incredibly versatile studio desk.
Packing in a series of useful appointments like rack-spacing, slide-out shelving, and a raised section for monitors, this generously sized studio desk will fit the bill for those who have a decent amount of room and gear.
As one of the bigger names in studio furniture, Studio RTA has naturally thought of the small details here, too. We particularly like the sheer amount of space on offer, which is particularly useful if you have a dual-screen setup.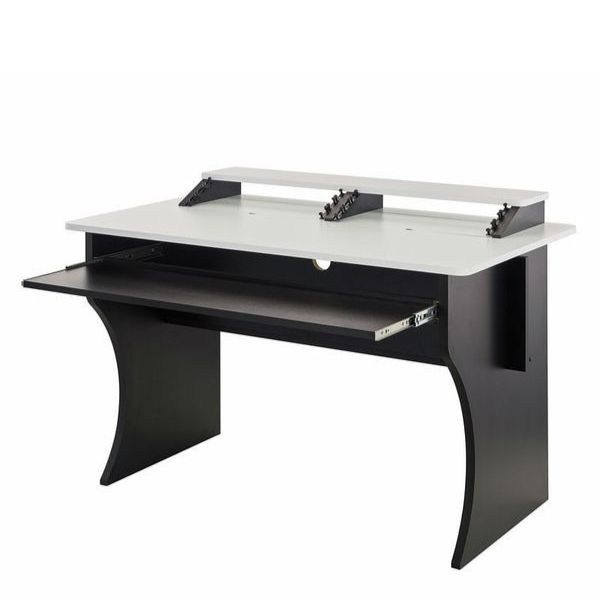 Best value
Dimensions: 1250 x 406 x 773mm
Features: 2 x 3U 19" racks, Pull-out keyboard shelf
+ Clever design
+ Cable management
- Some sharp edges
If you've been using an old desk or table, and are looking to invest in your first studio desk, then the Thomann ComboDesk is a superb option. It's only available online via Thomann, so remember to measure twice before ordering.
Designed by the good folk at Zaor, this collaboration features a bunch of musician-specific fixtures, like a pull-out keyboard shelf and space for rack-mounted gear, without skimping on the overall look and aesthetic.
It's perhaps more than you'd spend if you went to a certain big-name Swedish furniture retailer, but then sometimes it's worth splashing out on something specialist. Plus that Swedish furniture brand doesn't have built-in rack spaces!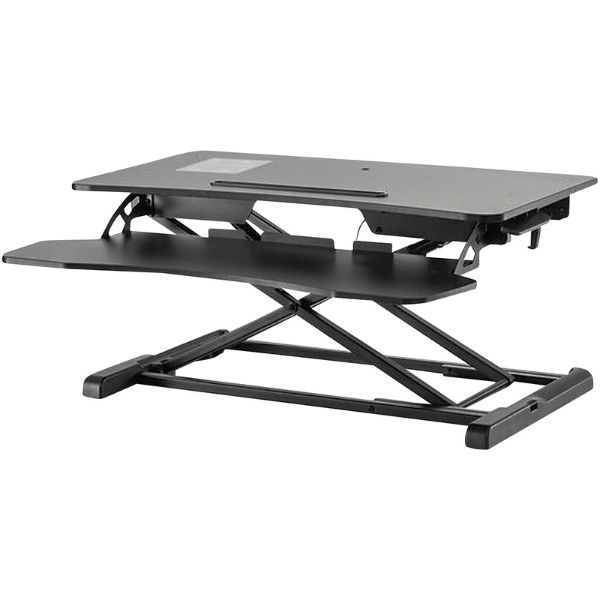 Best for standing
4. BK Media Height Adjustable Work Station
Dimensions: 31.5 x 4-19 x 24.2"
Features: Adjustable height
+ Improves your posture
+ Boosts your health
- Issues with lots of gear
Height adjustable desks (aka standing desks) are growing in popularity as they give users a chance to find a height that suits them. It raises up from 4 inches to 19 inches high, a superb option for those who want to get out of their studio chair.
In a studio environment, where lots of work is done sitting down, the chance to stretch your back and work standing up is beneficial to your overall health. If you suffer from 'tech neck', then this is the desk for you.
There are two tiers so you can have your monitor and keyboard separated and the whole thing is ruggedly built to last. Make sure you check what's plugged in before you raise it up though, the last thing you want is expensive gear hitting the floor.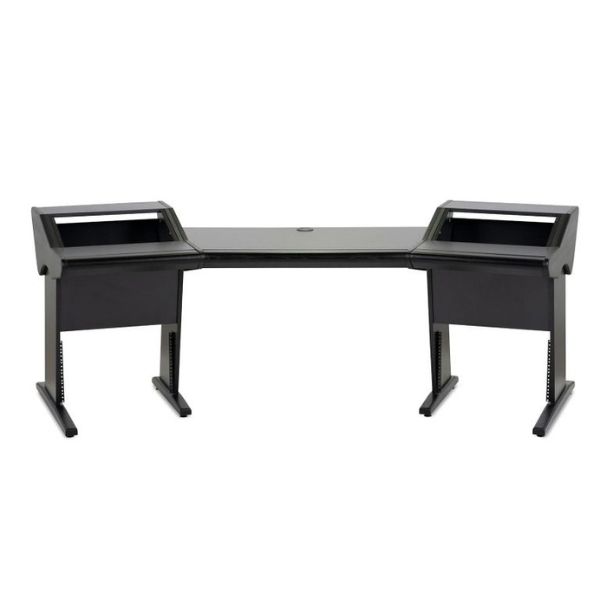 Best for professionals
Dimensions: 1250 x 406 x 773mm
Features: 2 x 6U 19" racks, pull-out keyboard shelf
+ Cable storage
+ Oak construction
- Not easy to move
If you've reached the stage in life where your studio needs, nay deserves, something large to house all your gear, then the Zaor Onda Angle is a worthy option to consider. Designed for professional engineers, this is a premium-level studio desk.
At its peak, the Onda is over 2.3 meters wide and weighs a whopping 66kg, so you'll need to be fairly certain where you plan on situating it once it's built. It's made from solid oak, making it one of the sturdiest options available.
We particularly liked the amount of built-in 19" rack space available - enough for 12 'regular' modules - so you can go crazy with your vintage reverbs and compressors. You also get a vast surface to place your midi-controllers and synthesizers on.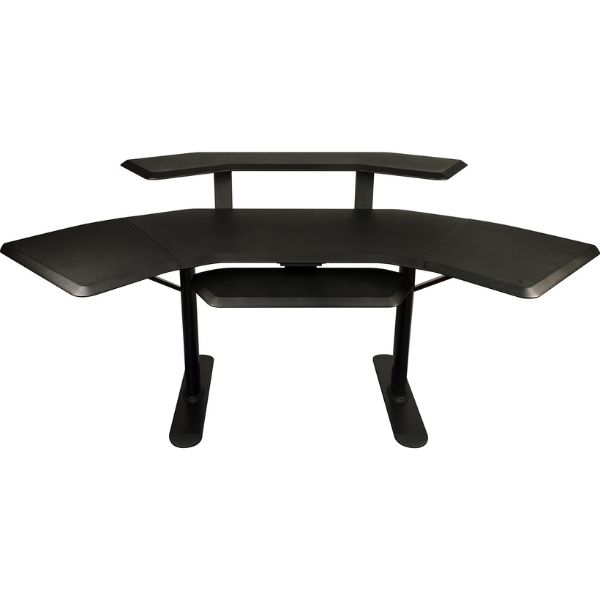 Best for complex setups
6. Ultimate Support Nucleus 2
Dimensions: 84 x 39 x 44"
Features: Extended work surface, two-tier design
+ So much space
+ Improves workflow
- May not work for all rooms
There's a practice in the field of manufacturing called 'lean', which essentially involves cutting out all unnecessary effort that impacts your work. Efficiency is the name of the game here and the Ultimate Support Nucleus 2 embodies this ethos perfectly.
By providing a huge workspace to operate from, but with two extension units that bring the sides of this studio desk around you. This should cut out plenty of chair-spinning and leaning, thus making for an improved workflow.
Its odd shape means it won't fit in every space, but for those with complex setups or lots of gear, this studio desk is up to the task. Add in a retractable keyboard shelf and you've got a studio desk that will shave hours off your usual workflow.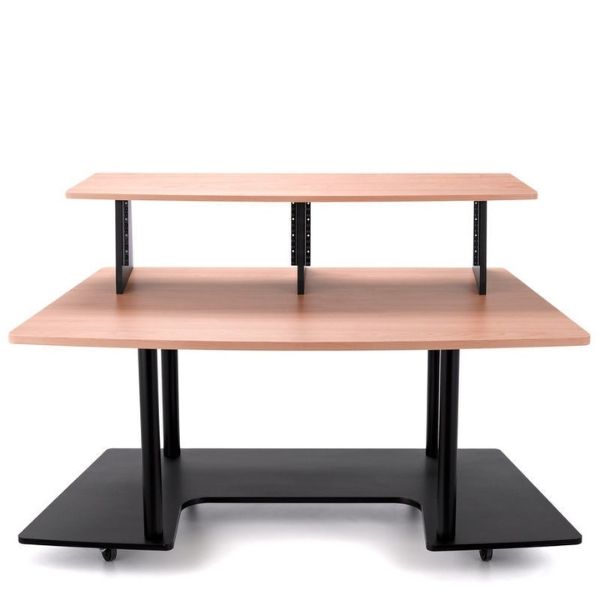 Best medium sized
7. StudioRTA Creation Station
Dimensions: 59 x 30 x 37"
Features: Raised tier for monitors, dual 19" rack bays
+ Versatile
+ Lots of space
- No keyboard shelf
The Studio RTA Creation Station is a great all-around desk for anyone looking to step up from a more basic 'flat surface' type arrangement. It's excellent value for money and won't take up too much room.
Lots of producers will have a studio setup within a band's rehearsal space for capturing demos on the fly. The creation station is an ideal desk for this as it packs in space for rack-mounted gear, along with a raised tier for your speakers.
It's not enormous, so won't dominate a smaller space, but it does contain enough space for controller keyboards and studio mixers. We also found the Creation Station ideal for anyone for whom recording isn't the sole use of the desk.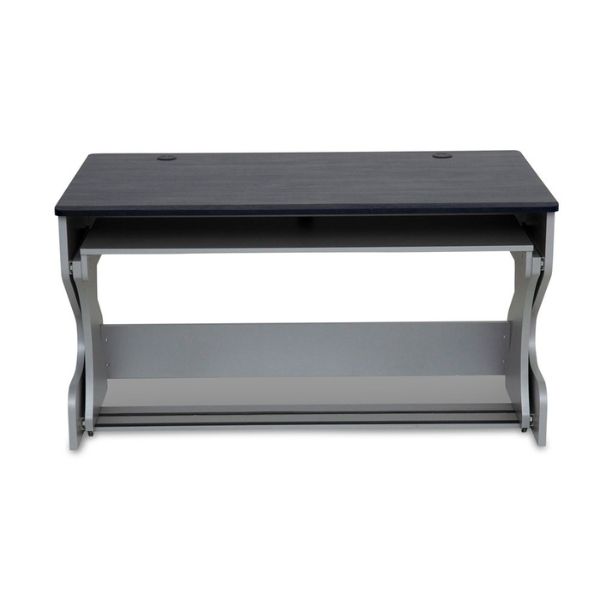 Best for composers
Dimensions: 61 x 32 x 30"
Features: Large slide-out keyboard shelf
+ Perfect for keys
+ Acres of desk space
- No monitor stand
If your studio revolves around a single keyboard, synth, or arranger workstation then you probably don't need masses of space for rack gear or computer towers. Maybe you're a composer who needs enough room to house a larger stage piano.
You're still going to want something well-built and long-lasting, though, and we're happy to recommend the Zaor Miza M in that case, even if you're not specifically a keyboard player. It's sturdily built and looks nice and sleek.
This well-proportioned workspace features a space-saving drawer that can house a 55-inch-wide keyboard and keep it tucked away when not in use. It's also got plenty of space up top for housing effects, controllers, and other studio gear.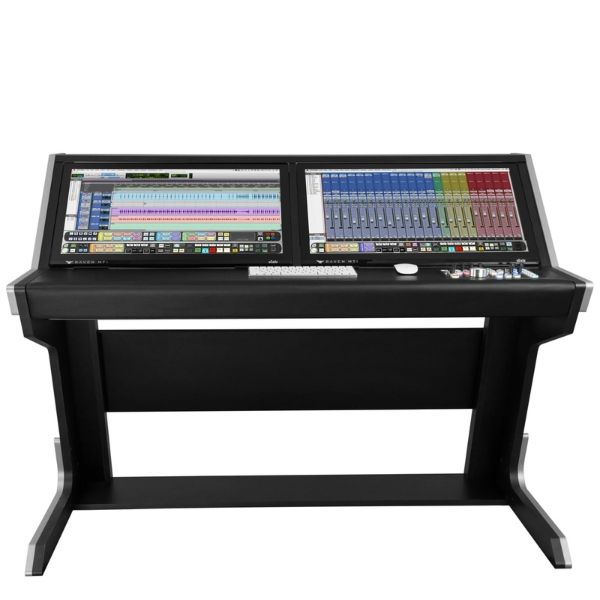 Best premium option
9. Slate Media Technology Raven MTi Core Station
Dimensions: 56 x 42 x 32"
Features: Optional Dual DAW and software controllers
+ Very futuristic looking
+ Touch workflow
- No space for monitors
Less a studio desk and more the control panel of a spaceship, the Slate Media Raven MTi Core Station is a glorious sight to behold. Clearly, this studio desk won't be suitable for everyone, but it's perfect for pro-level producers.
The main attraction here are the two optional embedded 27-inch touchscreens, which house your favorite DAW and make everything controllable using multi-touch gestures. It's a high-end desk and it looks and feels the part.
Give it time and we can reasonably expect units like this to be more common (and hopefully cheaper) in the not-too-distant future. Until then, if you've got the money then this is a phenomenal addition to your studio workflow.
Best studio desks: Buying advice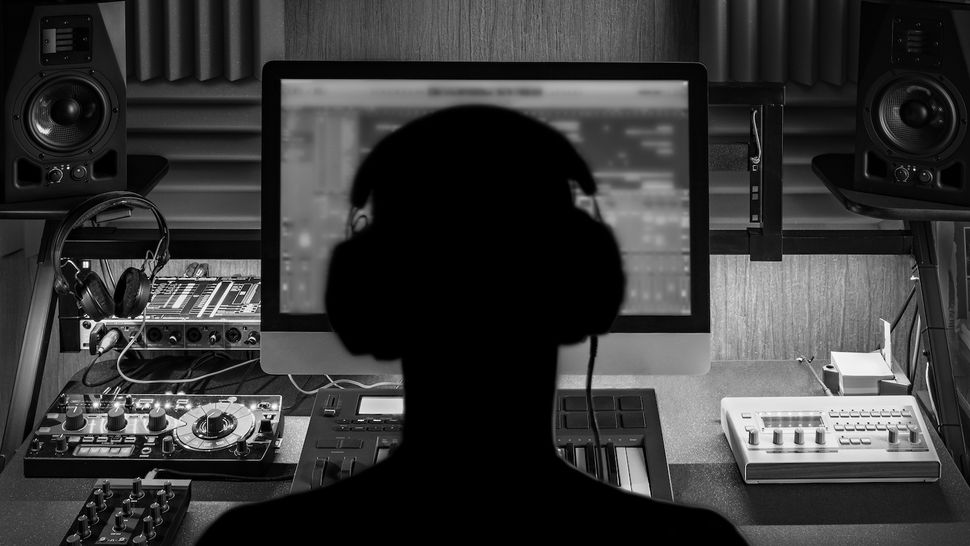 Do I need a studio desk?
Right now, you may have a battered old computer workstation overflowing with gear, or you may be rocking something far more palatial. Either way, a studio desk is a crucial part of almost any recording equation, and somewhere you can neatly lay out all your equipment.
We often underestimate how much impact the right studio desk can have: not only do they add valuable extra real estate for your stuff, but they can also reignite your creative fire by putting all of your kit within arms reach and inspiring you to work in new ways. If your gear is always set up and ready to go, then you can create the moment an idea hits you.
How do I choose the best studio desk for me?
As a music producer, having a dedicated studio desk can make all the difference in your workflow and creativity. With a desk designed specifically for music production, you can streamline your setup, enhance your comfort and improve your overall productivity.
If space is an issue, studio desks are designed to be compact and efficient, allowing you to fit more gear into a smaller footprint. This means you can have all your gear, from keyboards to rackmounts, within arms' reach without having to waste valuable studio space on a sprawling setup.
This reduction in space doesn't come at the expense of organisation, either. If anything, with a dedicated studio desk you can neatly organise all your equipment, reducing clutter and ensuring that everything is easily accessible. This could even improve your workflow, by enabling you to focus on your creative process rather than wasting time searching for - or setting up - the right gear.
We also the like the customisation options you unlock by opting for a proper studio desk. Many come with space, fixtures and fittings for installing 19" rackmounted gear directly into the desk, so that fancy 24-input audio interface you've had your eye on will be easily accessible, along with your other effects gear.
Don't underestimate the importance of comfort, either. Many studio desks are designed with ergonomics in mind, so you can work comfortably for extended periods of time. Features such as adjustable height, wrist supports and cable management can both help alleviate fatigue and add to the 'tidy desk/tidy mind' philosophy you get from having a dedicated, tidy space.
How to get the best value from your studio desk
MusicRadar's got your back Our team of expert musicians and producers spends hours testing products to help you choose the best music-making gear for you. Find out more about how we test.
Price-wise, at the entry-level end of the best studio desks market you'll find compact models with minimal extra functionality. It's not unreasonable to expect certain space-saving features here either. For example, a sliding drawer to keep synthesizers tucked away, or a dual layer design to keep your monitor screen elevated and free up space for MIDI pad controllers or the like. These desks won't be made from the best materials or represent the most stylish options, but they'll do the job as intended.
Higher up the price ladder, you'll discover studio desks with superior construction quality, ergonomic design and space for bespoke equipment that can be installed directly into the unit.
Room to grow
When a desk is in its 'right' place, it won't usually be moved, so it's important to make sure your chosen studio desk is the right size for the space you're going to be working in and contains everything you need. Keep in mind potential future expansion, too – your playing may require new equipment down the line, which may, in turn, require more space. Therefore it's advisable to buy the biggest studio desk you can afford or find space for – it's not something you want to be replacing when you buy that new synth or upgrade to a double-screen setup, for example.
How we choose the best studio desks
Here at MusicRadar, we are experts in our field, with many years of playing, creating and product testing between us. We live and breathe everything music gear related, and we draw on this knowledge and experience of using products in live, recording and rehearsal scenarios when selecting the products for our guides.
When choosing what we believe to be the best studio desks available right now, we combine our hands-on experience, user reviews and testimonies and engage in lengthy discussions with our editorial colleagues to reach a consensus about the top products in any given category.
First and foremost, we are musicians, and we want other players to find the right product for them. So we take into careful consideration everything from budget to feature set, ease of use and durability to come up with a list of what we can safely say are the best studio desks on the market right now.
Find out more about how we test music gear and services at MusicRadar.
Related buyer's guides