There is an argument to be made that mixing desks are something of an anachronism in modern home studios. After all, an audio interface equipped with a decent number of ins and outs will allow you to handle all of the duties of a classic console from within your DAW – such as adjusting levels, EQing, compressing or bus processing.
There's certainly still something to be said for incorporating a mixer into your setup though. On the one hand, some of the best home studio mixers – particularly analogue ones – can impart unique character while recording.
Even transparent digital mixers can encourage a more tactile and creative workflow too, as you get hands on with your audio tracks, riding faders and EQs as you bounce parts down. Many mixers let users record directly onto an internal drive too, effectively removing the DAW from the equation entirely. From a simple cost vs connectivity position too, a mixer often allows for home studio users to manage a higher volume of recording inputs than a similarly-priced audio interface.
Here we will run through a selection of the best home studio mixers - both analogue and digital - and mixing desks to ensure you can record multiple sources at once. Some favour traditional simplicity, while others incorporate ingenious tricks to unlock the full potential of your gear. Let's take a look at our round-up of the best home studio mixers around today.
Best home studio mixers: Our top picks
In our option, SSL's BiG SiX is the high point of home studio mixers right now. It ticks a lot of boxes: it boasts genuine analogue heritage, which translates to characterful recordings and bus mixing, but also enough digital flexibility to act as a convenient hub for a home or project studio. That all comes at a cost though, which will likely put the SiX above the reach of many intermediate or cash-strapped home musicians.
At a far more accessible price point, the Allen & Heath ZEDi 10FX is a mixer that hits a nice balance between classic mixing capabilities and modern ways of working. The mic preamps sound great for the price, and the USB connectivity means it will have a good few years in it yet.
Special mention must also go to the Rode RodeCaster Pro; while podcasting itself is still relatively niche, in the RodeCaster Pro there is a specialist mixing desk which offers up a few neat tricks specifically for those users.
Best home studio mixers: Product guide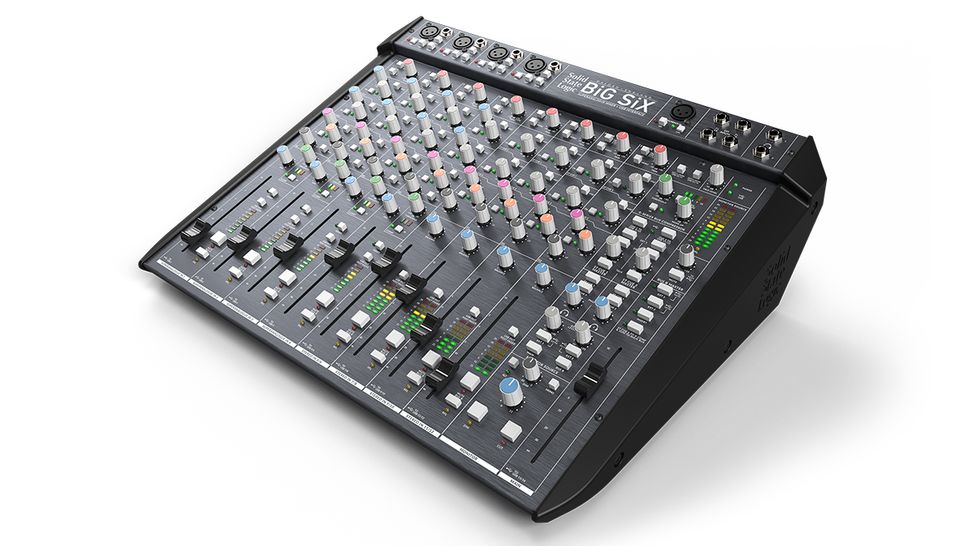 As its name implies, BiG SiX is the larger sibling of SSL's equally impressive SiX (see below). As with that mixer, BiG SiX builds on the heritage of SSL's legendary, large-format studio consoles, but does so in a way aimed primarily at home and project studios.
This model ups the ante by offering a full 16-channel analogue mixer. These include four mono channels that feature SSL's SuperAnalogue mic preamps, each offering mic/line/Hi-Z inputs, a high-pass filter, SSL Channel Dynamics, an updated three-band EQ and a fully balanced insert point. These are joined by four stereo inputs with dual mono switching.
The analogue appeal is rounded out with three compressor flavours, one of which is an 'Essential' version of the classic SSL G-Comp Bus Compressor that features the well-known auto release option. SSL compressors are a sought-after choice for their ability to 'glue' sound sources together and add punch to drums – and having that access to that in your home studio is a major draw here.
Crucially, BiG SiX also improves on the SiX's biggest weak spot by adding a 16-channel USB 24-bit/96kHz audio interface.
This is certainly not a cheap option, but the blend of analogue heritage and digital convenience makes this a fantastic device for small studio setups.
Read the full SSL BiG SiX review
The latest update to A&H's long running analogue ZED series bundles 4x4 USB interface alongside GSPre boutique preamps and onboard effects for a powerful studio ready solution. You get four mono mic/line channels (with phantom power) plus three stereo inputs. The first two channels include a high impedance DI mode, while the four mono channels feature separate balanced/unbalanced TRS and XLR inputs, with the stereo inputs on TRS jacks.
The GSPre preamps are super quiet and have bags of headroom, and all mic inputs include a 100Hz low cut filter alongside 3 band fixed frequency EQ. USB operation is also sensible, with 3 routing configurations. Finally, an onboard FX send and processor rounds things off. The ZEDi 10FX is well designed, well built, well equipped and is great value for money.
Read the full Allen & Heath ZEDi 10FX review
We liked the previous 'Pro' version of Roland's Go:Mixer, but this latest update is a significant improvement across the board. The Go:Mixer Pro X features 11 audio input channels (two more than the previous Pro version) and three output channels (one more than the Pro).
This is configured through two (L/mono, R) 1/4 inch jack inputs, two 3.5mm stereo line inputs, 1/4 inch Guitar/Bass input, a TRRS smartphone In/Out (stereo, CTIA) and a combo XLR/1/4 jack input. There's also a headphone or headset jack (stereo, CTIA) and the obligatory micro USB socket to round off the I/O.
There's also the much needed guitar/bass pad to help tame any high levels from active pickups etc. Further switching on the unit includes phantom power, on/off and the Loop Back function.
If you're primarily looking for a mixer/interface to work with a smartphone or tablet (along with a few other devices), the Pro X might be the best option out there.
Read the full Roland Go:Mixer Pro X review
Korg's SoundLink mixer series comes with some impressive names attached to it. Any musician with an interest in mixing technology will likely recognise Greg Mackie's name, and the fact that he and equally-notable, former Trident designer Peter Watts have had input into the design here gives Korg's latest consoles some serious pedigree.
Korg describes the SoundLink range as being 'hybrid' mixers, implying a balance of analogue and digital tech, although that doesn't quite pan out how you might imagine. The analogue side is very strong here, with excellent pre-amps and classically-styled channel strips that are easy and very satisfying to use. There are plenty of strong, musician-friendly touches too, such as smart monitoring features and handy mute groups.
There's some decent digital technology onboard too, primarily in the form of Korg's excellent DSP effects. However, its major downside compared to some other mixers on this list is a lack of audio interface – there is a single stereo streaming channel, but this is more aimed at recording from a digital source than true studio integration.
As a result, as good as the SoundLink mixers are, they excel in band or live situations more than they do home studio ones. That said, for those looking for a more old school, analogue workflow, who can cope without onboard recording or multi-channel streaming, these are still quality desks.
Read the full Korg SoundLink MW-1608 review
Art's 5 channel mini mixer includes 2 mic, 2 line and 1 Hi-Z instrument input with optional amp simulator effect. The mixer's tube credentials are via an assignable 12AX7 tube stage, which can serve either the pair of mic inputs, or the single instrument input. There are 4 mixer strips (3 mono and 1 stereo) and all include 3 band EQ, 2 auxiliary sends and pan.
USB connectivity is 2 in / 2 out with a dedicated USB Return level. Meanwhile either the USB output or main mix can be switched to the rather nice VU meters. Finishing off this very retro styled mixer are wooden end panels. All told it's a stylish desk and an ideal all-in-one solution for small studio set ups.
The SSL SiX is the smaller forebear of our top pick, the Big SiX. It's a more compact home studio mixer that still exudes classic analogue quality just like its bigger sibling, although as a home studio mixer it lacks several key features by comparison.
The main downside is the lack of audio interface, meaning that users will need to route the outputs into an external audio interface in order to get audio into a DAW. It also has fewer mixer channels, with just two preamp-equipped mono channels and two stereo line inputs – which isn't much, considering the price point.
Does this write SiX off as a mixer for home studio use? Absolutely not. The real appeal here is the quality SSL components such as the SuperAnalogue preamps and G Series Buss compressor. It's also handier than it first appears for summing, with an additional six 'ALT' inputs on rear. As a tool for bus mixing, and a way to add analogue glue and punch in a small studio environment, SiX is a great choice despite its apparent drawbacks.
Read the full SSL SiX review
A slight detour away from traditional 'home' studios brings us to rehearsal spaces. We've included this because garages count, right? Regardless, it's likely bands will require something more substantial for recording full performances, demos or jam sessions. We've all done the classic 'one mic in the middle of the room' recordings at some point, and dreamt of being able to exercise more control. In the Zoom LiveTrak L-12, there is a solution.
This 12-input digital mixer combines the best of both worlds. As a pure mixer, you can record up to 12 sources at the same time with complete control over levels, panning, effects and routing. This can then be output either as one summary source, or as individual tracks to a computer over USB for editing and post-production.
Alternatively, the LiveTrak L-12 also acts as a self-contained multitrack recorder, with the ability to record, mix and master full tracks which can be exported via SD card. For bands on a budget, the Zoom LiveTrak L-12 is a pretty compelling proposition.
This mid-range configuration from Mackie's well established analogue range, includes 10 Onyx mic pres, 2 stereo group buses, 4 auxes with dedicated stereo returns and a host of rear panel connectivity, all at an amazing price. You get 16 inputs in total arranged as 8 mono and 4 stereo channel strips. The mono channels get 3-band EQ with swept mid, while the stereo channels have 4-band fixed frequency EQ.
All channel strips can route to the 2 stereo group buses (the pan pot allows you to blend between them) as well as main the stereo mix bus, and the first 8 channels also include a post fader direct out, which is available on the back panel. Further options include selectable pre and after fade solo, two studio headphone outputs and a stereo in/out tape loop on phono connectors. The 1642 VLZ4 is a traditional analogue desk with no DAW interfacing, but delivers a clean signal path, solid Mackie build quality and is ideal for recording small groups.
The latest entrant into the growing podcaster realm is Portastudio creator Tascam. Mixcast 4 is an SD-based multiple input, multiple output multitrack recorder with USB interfacing. It lets you balance and record the audio of your project as either a stereo mix or in multitrack format, then transfer this via USB to an assortment of devices.
One of Mixcast 4's strongest points is its broad range of connectivity. There are four phantom-powered mic inputs (the first four faders), and one stereo line input on either ¼" TRS jacks or minijack. Outputs include four headphones (headphone 1 is paralleled to a front mounted minijack), and the main stereo output.
USB interfacing provides 14-out/2-in communication, with the faders routed to individual USB streams. The final three stereo faders carry a Bluetooth input, USB input from the connected USB device and audio from the trigger pads (which can be assigned with sounds via a software application).
Read the full Tascam Mixcast 4 review
The X32 Producer is the cheapest of Behringer's three X32 digital mixers, but it still packs a serious spec. With 16 Midas designed mic pres, 17 100mm motorised faders, 32 channel USB DAW I/O and onboard effects, you're getting lots for your money and in a pretty compact footprint. What's more, despite its potential complexity, the X32 Producer's simple layout incorporating global physical controls for channel strip gain, dynamics and EQ make it easy to use.
Channel LED metering complements the screen driven parameter visuals, and rounding things off are 8 effects slots, 8 DCA groups, input expandability via the two AES50 connectors and flexible routing via the physical outputs and monitoring. All told the X32 Producer is a supremely powerful tool at an excellent price.
Quality analogue design, Soundcraft heritage EQ and familiar layout form the basis of this surprisingly affordable recording desk. Add in multitrack USB interfacing on the MTK version (24 in 22 out) and things step up quite considerably. You get 22 inputs arranged as 14 mono and 4 stereo channel strips. These incorporate 16 Ghost preamps, Soundcraft's 4-band Sapphyre EQ and dbx limiters on the first 8 channel strips.
Four of the inputs can also handle Hi-Z instruments. There are 5 auxiliaries and dual engine Lexicon effects hardwired to Auxes 4 and 5. Meanwhile channel routing incorporates 2 stereo buses plus the stereo mix output. All channel strip outputs are sent to the USB interface and USB DAW outputs can be selected on each channel strip using the USB return button. Long throw 100mm faders help if feel like a professional desk, and overall the Signature 22 MTK is ideal for tracking multiple mic set ups such as bands.
To show that not every home studio recording setup involves music, we present to you the Rode RodeCaster Pro. Podcasting is, as we know, an ever-growing area of creativity, yet its technical needs often overlap with the needs of music and audio production. In a real sign of the times, we have in the RodeCaster Pro a dedicated podcast mixing desk with plenty of tricks of its own.
We particularly loved the eight programmable pads, which can be used to instantly fire off sound effects or jingles, while the visual interface on top shows clearly how the audio input levels are performing. It's perhaps not going to find its place in many music studios, but the Rode RodeCaster Pro is a quality choice for podcasters.
Best home studio mixers: Buying advice
Choosing the best home studio mixer for you
MusicRadar's got your back Our team of expert musicians and producers spends hours testing products to help you choose the best music-making gear for you. Find out more about how we test.
It's not uncommon, when you think of mixers and mixing desks, to picture those breath-taking analogue desks you see in pro studios. An avalanche of faders, knobs and dials, all ready and waiting to take your audio and do magical things with it. Unfortunately, as we know, when you add the words 'vintage' and 'audio gear' together you can sometimes end up with 'expensive and sometimes unreliable'. That said, there are desks and mixers which try to emulate some of the features seen in high-end studio spaces.
When you're looking for a mixer or mixing desk for a home studio, it's likely because you face a fairly common musical predicament; too many audio sources, not enough places to send them. This could be because you're a solo producer, with loads in the way of instruments, samplers, microphones and otherwise, or because you're a band looking to record multiple things at the same time. If you're the former, it's possible you're looking for a way to ensure all your gear is plugged in, and ready to go, at any given moment. In an ideal world, you want to push a fader up and be ready to record. If you're the latter, then you potentially have multiple band members all looking to perform at the same time.
The best home studio mixers will facilitate this, providing you choose the right one for your needs. Think about how many inputs you are likely to require, and exactly how much control you want to have over the audio before it reaches your digital audio workstation. More complex setups may require bus channels or higher sample rates, while a decent set of mic pre-amps can be the difference between good and great-sounding recordings.
Commonly, you'll find USB connectivity included in modern mixers, removing a step from the process; without the need to go from the mixer into a separate audio interface, you're lessening the chances of audio artefacts appearing in your recordings.
At the high end, you might favour motorized faders – which recall channel strip settings instantly – or high-quality built-in effects. Whatever you're looking for, we can help. Our list of the best home studio mixers and mixing desks will highlight the options available to you today, whatever your budget or requirements.
Find out more about how we test music gear and services at MusicRadar.
Related buyer's guides