Okay, we are well aware that interfaces aren't the most exciting devices in the world of guitar-related tech, but if you want to digitize your audio signal and get it into your laptop, you're going to need one. In this guide to the best guitar audio interfaces, we've made sure to include single input options for purely recording your six-string - with no messing around - as well as multi-input devices in case you also want to capture your dulcet tones, at the same time.
Now, there certainly isn't a shortage of options out there for guitarists looking to record, and let's be honest, it can get very confusing when trying to work out which is the correct interface for you. Well, you don't need to worry, that's what we are here for. We've put together this list of our favourite guitar-based audio interfaces from industry leaders such as IK Multimedia, Focusrite, Universal Audio and many more.
So, let's not delay the recording of your magnum opus any further and dive into the best guitar audio interfaces on the market right now. We've included some in-depth buying advice at the end of this guide, so if you'd like to read it, click the link.
Best guitar audio Interface: Our top picks
Every audio interface here is a worthy product, but IK Multimedia's Axe I/O is among the best. Featuring two instrument inputs (plug your electric guitar or bass guitar in here!) and dual phantom-powered combo inputs (for use with condenser mics and line-level signals), the Axe I/O offers plenty of, er, I/O for recording your, erm, axe. Simple!
The ace in IK's pack is the included Amplitube 4 Deluxe amp/FX modeller – the not quite flagship but still impressively featured plugin/app you can use in place of your 'real' gear. Even if you're dead set on using hardware, the potential for tonal experimentation before recording is worth the price of entry alone.
Best guitar audio Interface: Product guide
Tone is an essential consideration for every recording guitarist, and the Axe I/O comes with bucketloads of options, thanks to the inclusion of IK Multimedia's Amplitube 4 Deluxe amp/FX modeller which features digital amplifiers, cabinets and stompboxes, as well as an eight-track recorder and looper.
If you prefer 'out of the box' recording, the Axe I/O has you covered with twin mic/line connectors for stereo recording and a reamp option to re-record DI'd parts through a favourite amplifier.
And with phantom power for condenser mics, MIDI/expression pedal connections to control Amplitube, as well as an onboard tuner, the Axe I/O proves to be one of the best equipped audio interfaces available for guitarists. If it's good enough for Joe Satriani…
Read the full IK Multimedia Axe I/O review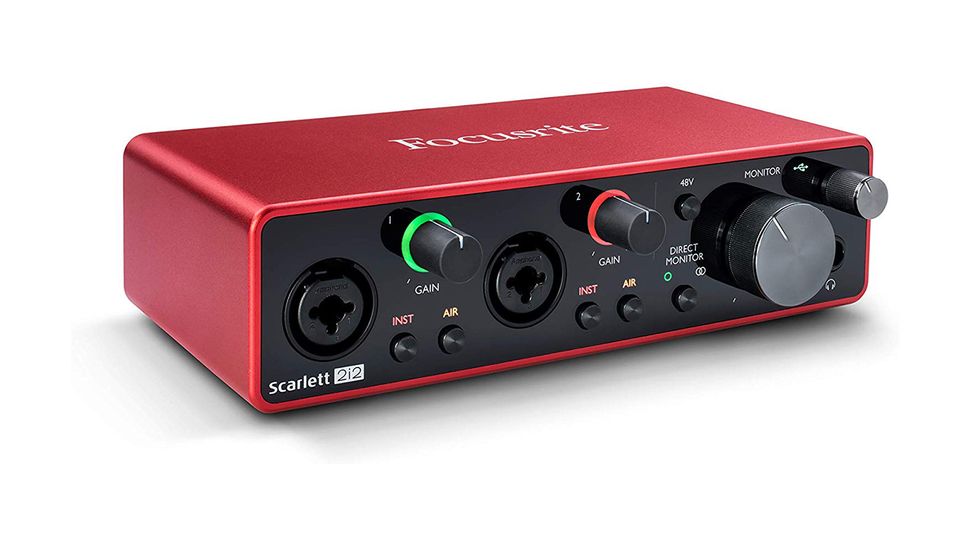 Focusrite has an enviable reputation for high-quality preamps and digital converters – quality which can be found in their latest Scarlett 2i2 (3rd Gen) model. The dual inputs feature Focusrite's 'Air' effect for a taste of the company's classic ISA preamps. They also act as Hi-Z connections for guitar and bass, line-level ins for jack or XLR cables and can supply 48v phantom power for condenser mics.
Standard line level and headphone outputs are onboard, and, though there's no digital connectivity, it'd be churlish to complain at this price point.
Included into the bargain are Pro Tools | First and Ableton Live Lite DAWs and plenty of guitar-oriented plugins. More than enough to get any recording guitarist underway.
Presonus have cannily delivered an impressive package in the Audiobox 96 USB thanks to the inclusion of their Studio One DAW and Studio Magic plugin suite. Just install the software to your computer, connect up, then plug your guitar into the Hi-Z input and start recording in one of the most respected DAWs on the market.
The interface is bus powered, which means you can take it anywhere and run it direct from USB. Mobile laptop recording, anyone? Yes indeed! And, with 48v phantom power, dual mic/line inputs and MIDI I/O for use with external controllers and expression pedals, it's fair to say that Presonus' robust little box delivers everything a guitarist could need without any unnecessary extras!
There's a saying that quality doesn't come cheap. Well, one look at this interface suggests the folks at Audient are not living by that old adage. A simple two-in/two-out USB interface, the iD4 includes class A mic preamps from the company's high-end consoles, and high performance digital converters too – all wrapped up in a robust all-metal casing.
There's no stereo connectivity, but the all-important Hi-Z guitar and bass input is present, as is a 48v phantom powered mic/line in for condenser mics. The tactile iD knob controls on screen switches and faders in your DAW and there's iOS support for recording on the go.
Factor in the dual headphones (handy if you're recording another musician) and you have a tidy package for only a little of your hard-earned!
Read the full Audient iD4 review
There's so much to love about this interface. Its extensive feature set, albeit without MIDI I/O, is impressive, and the intuitive and tactile layout coupled with its metal casing and touchscreen interface make Antelope Audio's Zen Tour that rarest of beasts: an audio interface you can actually get excited about!
Antelope Audio clearly have guitarists in their sights too; the built-in DSP effects include amp and cab models as well as a raft of classic studio gear emulations for honing your mixes.
Add to that high quality digital conversion, plentiful I/O (expandable via ADAT or S/PDIF), talkback, dual-reamp outs and dual-headphone connections and you have a genuinely useable interface both at home or in a small project studio.
Read the full Antelope Audio Zen Tour review
A 'light' version of UAD's flagship Apollo 8 and 16 models, the Twin MKII Solo brings a taste of pro quality audio to any home or project studio.
As for guitarists, at this price point it's a tad feature-light, including the requisite Hi-Z instrument input but lacking reamping or much in the way of amp models compared to many rivals. Marshall Plexi (guitar amp) and Ampeg SVT-VR (bass amp) models are included, either to record through or to run in your DAW during mixdown, alongside compressor, limiter, preamp, distortion and reverb plugins.
Mic up a cabinet, acoustic guitar, or anything for that matter, and you'll hear where your money's been spent! The Unison preamps and A/D conversion offer a taste of the high end at a reasonably affordable price.
Read the full Universal Audio Apollo Twin MKII Solo review
Positive Grid - the company behind the insanely popular Spark practice amp - has entered the world of recording interfaces with their latest guitar-focused product, Riff. This slimline USB audio interface is developed with guitar and bass players in mind and can be fully integrated with the award-winning amp and effects software, Bias FX 2.
Positive Grid has stripped back the Riff to its bare essentials, giving you only one control on the front of the unit. This oversized control knob allows you to adjust various parameters of the Riff, from the input and output levels, direct monitoring level - for zero-latency tracking - and even switch between three preamp emulations. This knob is also fully customizable and can be assigned to perform tasks such as changing amp models within Bias FX 2.
The rugged metal enclosure houses a single 1/4-inch instrument input as well as a 1/4-inch line-level out and 1/8-inch headphone output, so it's perfect for guitarists just starting out with recording at home.
Read our full Positive Grid Riff review
One of the simplest and most affordable interfaces in this guide, the iRig HD 2 is perfect for guitarists taking their first steps in recording. With no complicated setup, it's a case of just 'plug in and play', sending your signal digitally to your Mac, PC or iOS device, or from the HD 2's analogue output to an amplifier – the latter can add effects from Amplitube (provided you're connected to a device running the program) or send an unprocessed signal. There's also a headphone output and a clip to attach the iRig 2 HD to a mic stand.
Simple? You bet! But with Amplitube 4 for Mac and PC as well as Amplitube for iOS included in the deal, you get a whole lot of interface here.
Read the full IK Multimedia iRig HD 2 review
Never recorded a thing in your life? Apogee's Jam+ may be all you need to ease you into capturing your creative endeavours thanks to its stripped back feature set and simple 'plug in and play' functionality.
The diminutive device features just one input – a 6.3mm jack which accepts guitar, bass and line level signals from keyboards and synths. Keep it clean or dial in a dirty sound with the Jam+'s overdrive mode.
For outputs there's a 3.5mm headphone socket (which can also drive powered monitors), and a micro USB port for connection to Mac, PC or iOS devices. And, once you're up and running, you can explore amp and FX models in Positive Grid's included BIAS FX Jam software. There's a lot to like in this small package.
Read the full Apogee Jam+ review
Combining a 12AX7 valve preamp and three-band tone controls with Two Notes Torpedo power amp modelling and cab simulation, Audient's Sono is aimed squarely at guitarists. The valve offers analogue warmth and you can drive it harder with both gain and tone controls – just like a real amp! Dial in one of Torpedo's 20 included amp/cab models and there's enough heft for medium gain rock and blues tones.
The clear layout makes the Sono one of the best guitar audio interfaces to use out of the box, and the virtual recording space, power amp and mic models of the Torpedo interface feel intuitive to use. And, with connections for DI'd guitar/bass, reamping and high quality stereo mic preamps, including 48v phantom power, the Sono proves to be a versatile interface.
Read the full Audient Sono review
Best guitar audio Interface: Buying advice
What is an audio interface?
MusicRadar's got your back Our team of expert musicians and producers spends hours testing products to help you choose the best music-making gear for you. Find out more about how we test.
So, you've been riffing and writing away on your guitar, and now you're ready to lay down your killer new track. Well, first things first, you're going to need a recording interface. Simply put, an interface is a device used to turn your instrument's sound into ones and zeros for your laptop or PC to process. The newly digitized audio is then routed back through the headphones or studio monitors plugged into the device so you can hear it.
Some audio interfaces also allow you to plug in a microphone via an XLR input, power condenser mics via phantom power, and some even offer MIDI capabilities.
So, in short, if you want to record at home, you need an audio interface to make it possible.
What types of inputs and outputs do I need?
Well, assuming you're recording at home, your requirements are likely to be pretty basic, at least in terms of the inputs you'll need – and the good news with this is that you don't need to spend considerable sums to start recording.
All of the interfaces we've recommended in this guide include a Hi-Z instrument input which accepts the low output of passive bass and electric guitar pickups – just plug in your guitar cable as you would into your guitar amp and flip the Hi-Z button if there is one.
If you plan on mic'ing up one of the best acoustic guitars, pianos or hooking up a vocal mic, then you'll need an interface with more than one input. You'll most likely use an XLR cable, so look for XLR - or even better, combo XLR/jack - connectors. While one is useful, two would mean you could record in stereo for wider dispersion in your mix.
It's also worth noting that, if you've splashed some extra cash on a snazzy condenser mic, your interface will need to supply phantom power - 48V - or your fancy new microphone won't work.
What software do I need?
Now, to record, you'll need some form of recording software - or digital audio workstation. Luckily most interfaces come bundled with software, so you can get started tracking right away, but if you want to learn more, it's worth exploring our comprehensive guide to the best DAWs out there right now.
For guitarists, you can't beat amp modelling and FX plugins. You may be happy with your pedalboard, but it's super handy to be able to chop and change the plugins at mixdown. There are a wealth of options out there so, be sure to check out our guide to the best guitar VSTs, to read more about options from Positive Grid, IK Multimedia and Native Instruments.
Find out more about how we test music gear and services at MusicRadar.
Related buyer's guides