BEST PLUGINS 2023: EQ is the most important mix process you will use for music production and can be employed for anything from subtle frequency adjustments to full-on dynamic effects. EQs can be used as tools for repairing, mixing, creating, and mastering - they really are that flexible. In this buyer's guide, we detail the best EQ plugins and reveal which ones you need for your music-making.
No matter what kind of music you make, getting the right type of EQ is essential. There are as many different types of EQ plugins as there are applications, and hundreds of available EQ plugins vying for your cash.
The main types of EQ include graphic, dynamic, parametric, mid/side, and linear phase. In our Buying Advice section at the bottom of this feature, we detail each one and what the different EQ types will mean for your music mixing.
In this best EQ plugins guide, we have what we consider to be the 13 best options available, covering all budgets and all types. There's everything from simple but effective EQs that deal with tweaking particular frequencies in your mix, to dynamic EQs that do the job depending on how much signal is thrown at them. We also cover modern, intelligent EQs that enable you to speed up the EQ process by applying preset EQ curves to your audio or matching its EQ character with target audio.
It's perhaps worth noting that we've consciously avoided including too many vintage EQs modeled on classic hardware, electing instead to focus on more progressive, state-of-the-art designs that deliver more flexible EQing. Those vintage EQs are great but tend to do one job very well, and if you are after that classic sound, there are plenty of EQs available that emulate vintage EQ hardware from Universal Audio, SSL, Softube, and more.
If you want to know more about EQs and get some buying advice, skip to the end. Right now, we're going to reveal our top EQ picks and then get to our in-depth round-up of the 13 best EQ plugins you can buy right now.
Best EQ plugins: Our top picks
It's best to choose your EQ plugin depending on how you are going to use it. You can broadly split EQs into mix, creative and intelligent categories, although some EQs in our buyer's guide have feet in more than one camp.
For 'standard' mixing very little comes close to Fabfilter's Pro-Q 3. This beautiful EQ has been at the top of the tree for a while, and now includes a dynamic mode for extra flexibility. If there's an industry standard EQ, this is it.
Oeksound's Soothe2 has feet in both the mix and intelligent camps, being able to brilliantly analyse anomalies in audio in real-time and process accordingly. It works as smoothly as it looks.
For more creative options, we are big fans of Minimal Audio's Morph EQ which uses its dynamic morphing feature to take the art of creative EQing to new heights. And while Eventide's SplitEQ does 'standard' EQ-ing very well, it too can get amazingly creative, applying its processing power to both the transient and tonal components of the audio signal.
Finally, newcomers to EQ could do worse than investigate both Focusrite's FAST EQ and Mastering The Mix's Mixroom, both of which suggest EQ settings for you. They take the strain and educate at the same time, enabling you to save your time and brain power for other mix tasks.
Best EQ plugins: Product guide
Having become an industry standard over the last decade or so, FabFilter's comprehensive but approachable equaliser reached new heights with the release of v3 in 2019.
Pro-Q 3 added to what was already an admirably flexible and superb sounding EQ with a handful of welcome new features, the headlines being Dynamic mode and mid-side options on every one of its 24 bands, and the ability to view the spectrum analysers for all running instances of the plugin in each, making it easy to identify masking issues.
If we could only have one EQ in our locker, it would probably be this one.
Read the full Fabfilter Pro-Q 3 review
Fast becoming as ubiquitous as Pro-Q 3, oeksound's "dynamic resonance suppressor" uses spectral processing to detect harshness and general frequential unpleasantry in the source signal, then counteracts it by automatically notching it out in real-time.
Version 2 introduced Soft mode, making adjustment tolerances and ranges less extreme for easier workflow; full frequency range coverage from 20Hz to 20kHz; much more in the way of EQ band parameters; and envelope controls for fine-tuning the global response.
Unique in its approach to dynamic EQ, and miraculous in its ability to improve instruments, busses and mixes, soothe2 is a must-try.
Read the full oeksound soothe2 review
A fastidiously coded emulation of Kush's fabulous boutique rackmount hardware, Clariphonic DSP MkII is entirely dedicated to enhancing high frequencies.
Each of its two channels (configurable as Dual Mono, Stereo, or Mid-Side) houses two boost-only EQ modules: Focus and Clarity. Focus can operate as a wide bell or shelving EQ cornering at 800Hz or 3kHz, while Clarity delivers a shelving boost cornering at 4, 8, 18, or 34kHz.
The switch-driven selection system is a bit bloody-minded in its mirroring of the original hardware, but the beautiful top-end transformation this quirky plugin brings to the mixing and mastering table has to be heard to be believed.
Read the full Kush Audio Clariphonic DSP MkII review
While dynamic EQs automatically adjust their filter gains in response to incoming signal amplitude, SurferEQ 2 tracks the pitch of a monophonic input signal and shifts the frequencies of its filters up and down to maintain a consistent cut or boost of specific notes as the melody progresses.
It's very clever stuff, and the addition of MIDI triggering and sidechain input (enabling one source to 'surf' the EQ applied to another) in v2 addressed our only major issues with the original release, while the Spectral Gate function brought a dynamics-based angle into play.
Niche, certainly, but no other EQ can do the things that SurferEQ 2 can do.
Read the full SoundRadix SurferEQ 2 review
This supremely classy plugin from French developer Eiosis sounds as good as any EQ - hardware or software - we've ever heard and is blessed with a range of specialist controls that give it a personality all its own.
The seven main bands are incredibly versatile, with independent processing of left/right or mid/side channels, and Bell, Steep Bell, and Shelf options. However, the Fire/Water Character slider and extra Earth/Air bands are the pièces de résistance, the first influencing the overall response, and Earth and Air being wonderfully effective ultra-high and -low shelves.
Posh, powerful, and surprisingly affordable.
Read the full Eiosis AirEQ review
Another highly individual 'automatic EQ', Gullfoss (named after a waterfall in Iceland) is completely bewildering on first sight, with its weird 'Recover', 'Tame' and 'Bias' controls.
Once you've got your head around the dominant/dominated-balancing concept at its core, though, it actually turns out to be quite intuitive and quickly becomes a go-to problem solver.
Updating its frequency response curve 300 times a second, and intelligently applying a proprietary "computational auditory perception model" that 'knows' which sounds should be suppressed or emphasised, the transparency with which it smoothes out and improves everything from single instruments to full mixes is astonishing.
Read the full Soundtheory Gullfoss review
One of the jewels in the crown of Utah-based studio hardware manufacturer Mäag Audio, the lunchbox-format EQ4 occupies a seat at the, er, top table of equalisation systems - and Universal Audio's emulation puts it in the virtual hands of UAD-2 and Apollo systems owners for a fraction of the price of the real thing.
Five fixed-frequency bands (10Hz, 40Hz, 160Hz, 650Hz and 2.5kHz) offer up to +15/-4.5dB of cut or boost apiece, while the legendary Air band dials in up to 20dB of boost at 2.5, 5, 10, 20 or 40 kHz.
Ridiculously easy to use and positively transcendental in its high-frequency lifting, Mäag EQ4 is a modern classic.
Read the full Universal Audio Mäag EQ4 review
DMG's peerlessly flexible plugin was described in our review as "definitely revolutionary" and "utterly essential".
A modular construction playground, EQuilibrium genuinely enables the construction of your dream equalizer, be it a vintage-style 'musical' model, a high-precision contemporary example, a CPU-intensive mastering setup, or a hybrid of all three.
Up to 32 bands can be created, each delivering up to 36dB of cut or boost; mid-side and surround routings are supported; and the FIR DSP processing mode lets you dive deep, adjusting phase response, window size, and more. Truly extraordinary.
Read the full DMGAudio EQuilibrium review
Morph EQ can be used for morphing effects as well as more typical EQ duties. You get seven filter types, series or parallel signal flow, optional gain-dependent filter width, and an output limiter. There are unlimited filter bands with independent channel assignment and a whole bunch of very handy global controls.

For morphing, a master knob controls active morph pathways. Each EQ node can be morphed using its halo. Click on a filter point and the halo will appear. Then drag from the halo to another point to create a target and connect the two with straight or curved lines. These can be added to as many filters as you like, which ultimately makes for some incredibly complex outcomes.

100 presets cover standard and morphing effects, with the latter delivering diverse filtering effects as you move the Morph knob. You can, of course, automate EQs like this with your DAW, but Morph EQ takes that concept and makes it easier and more fun, and we think you'll love this wonderfully creative EQ.
Read the full Minimal Audio Morph EQ review
SplitEQ works very well in standard operation - its tilt shelving and flexible slopes go beyond what most EQs have to offer, and the Q characteristics are very flexible - but it's not just a conventional equalizer. It decomposes the incoming signal into transient and tonal components and processes each individually.

The process opens up a whole new dimension in the art of EQing, and also creates a layer of sound tweaking to get lost in. SplitEQ delivers a new way to sidestep many common EQ compromises and really comes into its own during mastering, enabling tonal problems to be fixed that would otherwise require the whole mix to be redone.

SplitEQ is easily among the most versatile and capable EQs out there, and worth every penny of its very reasonable asking price.
Read the full Eventide SplitEQ review
Brainworx's Amek EQ 200 takes its inspiration from the classic GML 8200 5-band parametric EQ. The analogue layout and gorgeous photo-realistic interface deliver a truly old-school user experience and include five parametric bands with additional high- and low-pass filters. EQ 200 also embraces M/S processing, and when switched to this mode, the left channel controls the mid signal and the right channel the sides.
EQ 200 is a slick-sounding EQ. The curves are gentle and musical and, even at narrower Q and max gain settings, you'll struggle to produce brittle or harsh results. Brainworx has also done a good job making EQ 200 look and feel like an analogue mastering EQ. We know this won't appeal to everyone, but if that's what you like and you can stomach the rather steep price tag, it does sound awesome and is a joyous plugin to use.
Mixroom is an eight-band EQ that uses a vertical layout with high frequencies at the top of the window and low frequencies at the bottom. Each band is represented by a coloured box. The height is the bandwidth and the vertical position defines its frequency. Each sits in a 3D space, so change the box size to give the impression it's nearer for gain boost and further away for cut.

If you're confident enough at EQing then Mixroom makes for a pretty decent experience. Its true power, though, lies in its intelligent EQing capability and this has two aspects. The first part is a target curve, sourced from more than 100 instrument and mastering presets or by loading up a reference audio file. The second part is the analysis of your audio, which takes a few seconds when you start playback.

We tried Mixroom on a number of individual tracks, sub-mixes and mixes and, for the most part, the results were very good. Overall, it provides a fresh approach to EQing that is both informative and can save you time.
Read the full Mastering The Mix Mixroom review
FAST EQ is part of a plugin range from Focusrite, developed with smart plugin pioneer Sonible. It uses an analysis-based platform for quick results, with informative feedback and further editing via a two-tier (FAST and Detailed) user interface. Essentially, the plugin does the heavy lifting for you by examining your audio and suggesting EQ solutions.

You start by selecting a specific instrument profile - Drums, Bass, Vocals, and so on - and you play your track to analyze its content. The analysis generates three graded processing flavors to choose from and there are plugin-specific ways to apply the results. You then get the option to enter Detailed View to tweak within the 7-band EQ with resonant high and low shelves and adjustable high and low-pass filters.

FAST EQ is very well executed and, whatever your abilities, the intelligent features will speed up your workflow. For novice or intermediate users, the outcome can also be educational.
Read the full Focusrite FAST EQ review
Best EQ plugins: Buying advice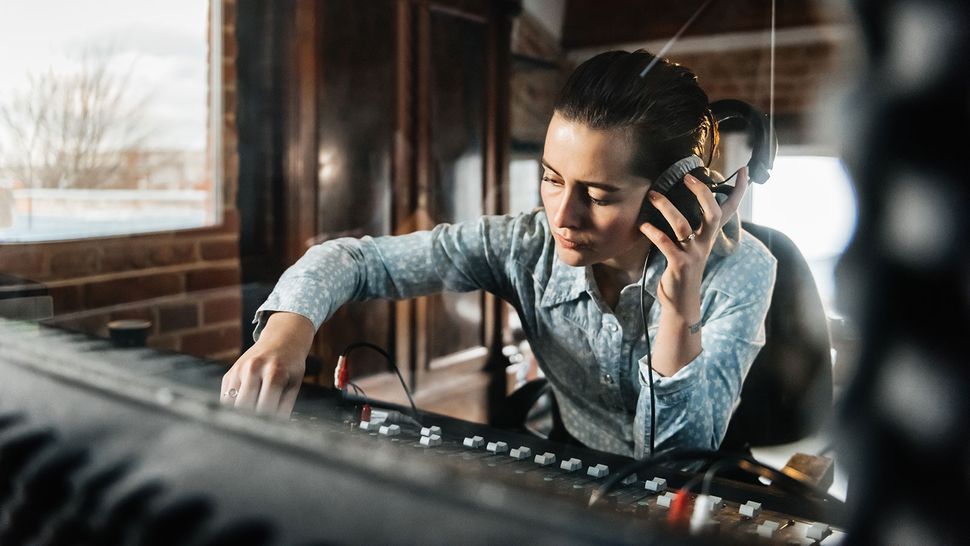 What is an EQ?
Put very simply, EQs enable you to cut and boost certain frequencies of your music, either track by track (typically when mixing), or across the entire mix (when mastering). They are probably the most important mix processor you can turn to, and many producers and engineers advocate setting an EQ on every channel. You can use DAW templates to automatically load them in when starting a project.

You'd typically use an EQ to reduce the harshness of cymbals, take away bass muddiness from a mix by cutting the bass out of every instrument rather than the bass and kick, or reduce sibilance in a vocal (with precise EQing). But really, there are as many EQ applications as there are EQ types, which we'll deal with now.
What are the main EQ types?
Graphic EQs look like the multiband EQs on your dad's old hi-fi, with faders boosting and cutting frequency bands and, ironically, are not as graphic as parametric EQs (see below). They have a simple design and are often modelled on classic hardware. The frequency ranges the bands cover are fixed, but the number of bands can increase up to around 30, so as they increase so the bandwidth of each decreases, allowing for more precise EQing.

The shape of the faders matches the frequency response curve so it's easy to see what you are doing, and the simplistic design means there's not a great deal that can go wrong. They deliver a natural sound and are good for getting into a mix and quickly shaping your tone.

Parametric EQs are the most common EQs - indeed, most of the EQs we cover above are parametric. They enable you to control the frequency, amplitude and width of your EQ action graphically and can be very precise. They usually have attractive visual spectrum displays showing the whole frequency range from left to right. You select a number of bands as points on the screen - from half a dozen upwards - and click and drag the bands to adjust the amount of the centre frequency up and down.

You can adjust the Q - the width and slope of the frequency range applied. A high Q results in a narrow and dramatic EQ boost or cut, and these are great for making surgical cuts and boosts. You can also apply different filter shapes to each, so low-pass, notch, high-pass and so on. They tend to be clean and precise but don't tend to add colouration or character to a signal.
Shelving EQs are usually part of a parametric EQ. You can use them to boost or reduce large bandwidth frequency ranges in a natural way; maybe tilt a whole mix up or down to make it brighter or darker, for example.
Parametric and other EQs often feature extras such as left/right or mid/side EQing where you can home in on particular channels or parts of the mix to apply EQ. Left/right processing obviously lets you home in on the wider sides of the mix while mid/side EQing lets you process the middle of your stereo mix independently of the sides. These processes are particularly good for giving a mix more of a three-dimensional feel and for making space in busy mixes.
Many standard EQs are what are known as minimum phase EQs. These can cause phase issues with the input audio thanks to latency. It's known as 'phase smear' and can be an audible distortion or colour which may or may not be wanted.
Linear phase EQs are designed to EQ without phase issues as the phase relationship of the input is not altered because the latency is reduced. Often they do this at the expense of CPU power, so can be weighty on your processor. In all honesty, if you are new to EQing, don't worry too much about these EQs as they tend to divide opinion in the engineering community, but they are useful when EQing multiple mic'd sources or for parallel processing where phase issues are more likely to occur.
Dynamic EQs enable you to make the amount of processing on each band dependent on the amount of the input signal – the EQ only works when the input signal reaches a certain level. One of the easiest ways to understand this is to think of these as compressors, and the way a compressor might tame a wild bassline by reducing the volume of louder notes as they are played. Here, you might use a dynamic EQ to reduce the harshness of an erratic snare by cutting frequencies above a certain level. They are also great for controlling de-essing in a vocal or simply keeping the levels of bass in a guitar consistent. They also negate the need for automation because they are working dynamically, according to the input signals.
Intelligent EQs, sometimes called AI EQs, automatic EQs or whatever; these EQs do the work for you by 'listening' to your audio and suggesting processing, EQ curves and more according to presets based on genre or musical feel. You can even load your own audio files in and make these your target audio, so the intelligent EQ will match your new audio's EQ characteristics to the imported audio. Got a favourite piece of music that is incredibly well produced? Load it in and set your intelligent EQ to 'copy'! That's the theory, anyway.
Finally, there are many freeware EQ plugins out there and our favourites include MEqualizer by MeldaProduction, Ignite Labs PTEq-1A and Tokyo Dawn Labs Nova. You can read more about our favourite freeware titles here.
Read more about how we test music making gear and services at MusicRadar.
Related buyer's guides