It seems that interest in keyboards has skyrocketed in recent years - hardly surprising when you consider quite how much exceptional content is available for aspiring keyboardists and pianists online - it really has never been easier to start playing. Of course, to get started, you're going to need a reliable beginner-friendly keyboard, but with so many options out there, it can be difficult to know where to start. Luckily we've put together this handy guide to the best keyboards for beginners and kids to help you get started.
If you or your child is considering learning the keys, you'll find a vast array of choices out there, from all singing all dancing home keyboards to more basic piano-like instruments and everything in between. To avoid confusion, we've selected some of the best keyboards for beginners to help you choose an instrument that will kickstart their musical journey and will hopefully lead to many years of enjoyment.
If you just want to check out our top picks, you can head straight to the full round-up below. If you need more guidance to help you select the right beginner keyboard for your needs, keep scrolling to get to our comprehensive buying advice section.
Best keyboards for beginners: Our top picks
When it comes to choosing the best beginner keyboard for you - or the budding pianist in your life - you have two obvious options. The first of which is the Yamaha Piaggero NP-12. This streamlined instrument may not provide the frills of other home keyboards, but what the NP-12 lacks in features, it makes up for in its excellent piano-like feel and stellar sound.
On the other end of the scale, we have the Casio CT-S300, which features 61 velocity-sensitive keys, a whopping 400 sounds and even comes complete with a 60-song songbook! It's everything a beginner player needs to get started and so much more.
Best keyboards for beginners: Product guide
Available in two sizes – the NP12 has 61 keys while the NP32 has 76 – the Piaggero series of Yamaha keyboards are no-frills, lightweight piano-style keyboards that sound fantastic and really look the part. These excellent beginner keyboards are compact and supremely portable, feature built-in speakers, a velocity-sensitive keyboard and sounds sampled from a Yamaha concert grand piano.
Easy to play, they're limited to just ten different sounds, but these are all very high quality and just the job if your primary focus is learning piano without distractions such as one-finger chord accompaniment and animal sound effects. There's a simple onboard recorder that can be used to record and playback your performances to evaluate your progress.
All-new Yamaha keyboards now include a free, three-month Flowkey Premium membership, and this particular 61-key model is also available bundled with a 12-month Playground Sessions subscription, headphones, sustain pedal and USB cable from the playgroundsessions.com online store.
Read our full Yamaha Piaggero NP12 review
In 1980 Casio released a revolutionary entry-level keyboard, that for the time, offered state-of-the-art sounds, full-sized keys, and eight-note polyphony - not to mention it was incredibly affordable. The original Casiotone was a monumental success, but it hardly holds up to today's standards. Well, luckily, Casio has brought the Casiotone into the modern-day, with the release of the CT-S1.
Building on the legacy of the original Casiotone, the CT-S1 is a fully portable keyboard with 61 built-in voices, 61 full-size, touch-sensitive keys and now 64 note polyphony. The simplified control layout results in a sleek, uncluttered look, while the range of colours - red, white or black - means you can find a keyboard to fit your personal style.
At the heart of the Casiotone is the AiX Sound Source. This sound engine delivers dynamic and expressive tones, perfect for beginners and professionals alike.
Read our full Casio Casiotone CT-S1 review
This compact, 61-key digital keyboard from Roland features Bluetooth connectivity so it can communicate wirelessly with online piano tuition apps and stream audio through its built-in speakers so you can play along. It can also be battery-powered if you're on the move, contains a huge variety of over 500 piano, electric piano and organ sounds and comes with a music stand for supporting a tablet on the top.
Throw in a digital metronome, an onboard Loop Mix function and a recording facility to capture your practice sessions and you've got almost the perfect partner for your online lesson plan.
Read the full Roland GO:Keys GO-61K review
Casio has a solid pedigree when it comes to portable beginner keyboards, and their current lineup doesn't disappoint. We've chosen the CT-S300 for the way it balances features and price. With a full-size, velocity-sensitive 61-note keyboard, convenient built-in carrying handle and three colour options (black, white or red), plus a library of over 400 sounds, 77 rhythms, built-in reverb, dance music mode, aux input and compatibility with Casio's Chordana teaching app, there's more than enough here to keep newcomers busy – you even get a 60-song songbook thrown in!
If you don't need a velocity-sensitive keyboard, you can go for the slightly cheaper CT-S200 model instead, or you can plump for the top-of-the range LK-S250 version which has the illuminated key teaching function.
With its 37 mini keys for little hands to get to grips with, Yamaha's highly-portable PSS-A50 is great for the younger aspiring pianist. Although it's often easy to dismiss keyboards of this size merely as toys, the A50 manages to appeal to the younger student while also offering sounds of sufficient quality to actually be of some use to older, more advanced players, so it will continue to be useful as your learning progresses.
The velocity-sensitive keyboard is derived from Yamaha's Reface series of reimagined classic synths, feels great and is easy to play. The 42 sounds definitely favour quality over quantity, and there's a USB MIDI port, headphone socket, motion effects, a phrase recorder and a built-in arpeggiator with 138 patterns to keep you interested. Alternatively, if you're looking for something even more kid-friendly, you could also check out the A50's sister keyboard models, the PSS-E30 and PSS-F30.
If the thought of learning on a basic, plasticky keyboard doesn't inspire you, then the Korg B2N might be just the ticket. This thing looks, feels and – most importantly – sounds like an instrument from a different planet compared to other beginner digital pianos. For a start, its 88 semi-weighted keys offer a level of response and feel that invites you to keep coming back, and while there aren't a large amount of included sounds the ones that are here sound immense.
This is, it must be said, a large instrument and one that demands a certain commitment in order to extract all its magic, but if you buy into its charms the Korg B2N is a digital piano you'll treasure for years to come.
If it's bang for your buck that's driving your purchasing decision, then the Alesis Harmony 61 MkII is a solid choice. For a shade under $/£200 you get over 300 included sounds - with everything from pianos, keys and synths to sound effects and strings – a large selection of rhythms to practice along to and a bundle of accessories to complete the package. It has 61 piano style keys, which will allow the learner to grow and develop their playing, while a dedicated headphone input allows for silent practice sessions.
The Harmony 61 MkII won't win many prizes for tonally accurate sounds, but as a tool to spark the imagination of a younger player it's a pretty compelling package.
Yamaha's PSR-E363 delivers everything you need to start your musical journey, offering 574 instrument sounds and 165 backing accompaniment styles. The grand piano voice is as good as you'd expect from a mid-range Yamaha instrument, but it's the breadth of onboard tuition features that make it easy to see why this keyboard is a top choice for education centres everywhere.
The Yamaha Education Suite makes it easy to learn the built-in songs, while the 'Keys to Success' feature provides short and easy step by step lessons. The Touch Tutor function helps learn expressive playing and there's a downloadable songbook available to complement the lessons.
On top of all this, a duo mode splits the keyboard in two halves so that students can copy what the teacher is playing. Overall, the PSR E363 offers a great balance of quality and quantity in terms of sounds and features, ideal for any beginner.
By their very nature, arranger keyboards do come with a level of complexity that puts them in a league above 'regular' pianos and keyboards. By allowing the user to layer up sounds, rhythms and melodies from different instruments, they can be thought of more as a portable band. That said, the Casio WK-6600 does a pretty good job of making this multi-layered workflow accessible for players of any ability thanks to it being remarkably simple to use.
You have access to a monstrous sound bank, for starters, with over 700 to choose from. There's also an onboard mixer, effects and a sequencer to help sketch out your ideas. It's a lot of functionality, and a great way for a beginner to learn the art of arrangement and composition for not a lot of money.
When you first sit down at an 88-key piano or keyboard, it can be intimidating. Put simply, they're huge, especially to younger learners or those with smaller hands. A more welcoming route may be to look at something with smaller keys, like the Yamaha Reface CP. The Reface has just 37 keys – and mini ones at that – but focuses its attention more on the included sounds.
For our money, there are few keyboards in this bracket which sound as good as the Reface models, especially when you factor in the onboard effects which help shape your tone. It also has plenty in the way of connectivity, so you could feasibly continue to use its sounds by hooking it up to a larger MIDI-enabled keyboard in the future, making the Reface something you're unlikely to grow out of any time soon.
Read the full Yamaha Reface CP review
If you're taking out a Playground Sessions membership, why not consider a keyboard specifically designed to be used with the service? This 61-key, five octave keyboard has semi-weighted keys, built-in speakers for practicing and an audio input so you can connect your computer or tablet's headphone output and hear the app's sound through the speakers as you progress through the lessons.
With a slot for a tablet built into the top panel, a USB connector, sustain pedal input and five of its own onboard sounds, it comes bundled with membership to Playground Sessions starting at $160 for a month's subscription, rising to $400 for a lifetime membership. Since it's been designed with online lessons in mind, it'll not only work brilliantly with Playground Sessions, but with any other online lesson provider too.
Best keyboards for beginners: buying advice
How many keys do you need?
Keyboards come in numerous sizes, with the standard being 88 keys. Smaller keyboards are available with 76, 61, 49 and even 25 key options out there. When starting out, it's best to go for something that can accommodate two-handed playing straight away, or you'll be wanting to upgrade sooner than you think. For this, you'll need at least 49 keys or four octaves.
For this reason, we've made sure all of the beginner keyboards in this guide have a minimum of 49 keys, except for one – the Yamaha PSS-A50, which has 37 mini keys making it suitable for small children or players with small hands.
As a general rule - bigger is always better. Go for as many keys as you have room for, or your budget will allow. Buying a full-sized keyboard at the beginning means your new instrument has room to grow with you as you progress on your keyboard-playing adventure.
Keyboard action explained
The action describes how easy or hard the keys are to actually press down to produce a note. Real pianos have weighted keys and, therefore, quite a heavy action, so for beginners, a more lightly-sprung 'synth action' keyboard is more likely to fit the bill to start with.
A light action is often better for small hands in particular, but don't be too tempted by mini-size keys – little hands can quite easily handle full-size keys as long as the action isn't too heavy, and learning on full-size keys will remove the need for switching from mini to full-size at a later point, which can be difficult once you've got used to small keys.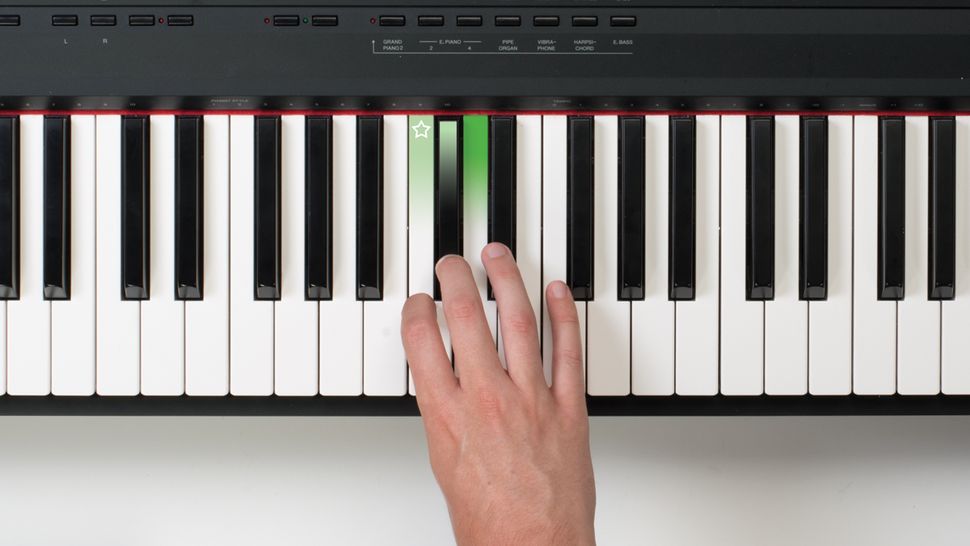 Number of sounds
The number of sounds that your beginner keyboard should have comes down to what you want to use it for – you don't necessarily need hundreds of sounds if your main interest is simply learning piano. There are plenty of options out there that offer little more than 10 high quality sounds.
That said, if you're buying a keyboard for kids to learn to play their favourite songs on, a wide variety of tones is arguably more likely to keep them interested in the long term, plus it will make the keyboard more entertaining for when they're playing it outside of lesson time.
Keyboard vs digital piano
So what is the difference between a keyboard and a digital piano? Dedicated digital pianos are aimed more at people who want an alternative to an acoustic piano, with full 88 weighted keys. Keyboards, on the other hand, are generally loaded with extra features and sounds. Keyboards are also more portable, with some having the option to be battery powered.
Some sort of acoustic piano sound is nearly always top of the list of sounds that a beginner keyboard comes with. Still, the quality of this sound will be an important consideration – generally, the cheaper the keyboard, the less realistic the piano sound is likely to be.
Keyboards will usually have some sort of rhythmical accompaniment section with preset drum rhythms built-in, and many even feature onboard tuition features such as illuminated keys, a metronome and built-in songs to play along with.
Velocity sensitivity
Velocity-sensitive keyboards respond to how hard you hit the keys while playing, emulating the response of an acoustic piano - the harder you hit a key, the louder the note that comes out. It's important to learn how hard to press the keys from the off if you're seriously considering making any kind of progress as a player, so velocity sensitivity is an important item on your wishlist. It will also give you more accurate feedback for monitoring the development of finger strength and independence when practising.
Sound quality
When you're starting out, your first keyboard probably isn't going to sound as good as the ones the professionals use – after all, you wouldn't shell out hundreds on a top-end keyboard if you're not 100 percent sure that you or your budding pianist are going to persevere beyond Frere Jacques. Because of this, keyboards for beginners and kids can often skimp on sound quality, promising hundreds of tones that are all really just endless variations of one or two basic sounds.
Our advice would be to go for keyboards with fewer, better quality tones. This will help you to achieve a better sound right from the start, inspiring the confidence to help you progress with your lessons. In our opinion, if it actually sounds like you're playing a piano while you're learning, you're much more likely to stick with it!
What's the best way for a beginner to learn the keyboard?
Traditionally, if you wanted to learn the keyboard, your first port of call would be a stack of sheet music, books and one to one lessons. Now, this is still a valuable way to start your musical journey, but with giant leaps forward in technology, there are certainly more convenient ways to learn.
There are a wealth of piano learning apps out there that can show you everything from how to sit at your instrument, how to play scales and chords and even how to master your favourite songs. Most of these apps will charge a monthly subscription fee to access a full course of lessons, with nearly all offering a free trial of some description. To find out more, check out our in-depth guide to the best online piano lessons.
What's the best age for a beginner to start learning the keyboard?
Really, there is no optimal age for learning the keyboard - if your child shows an interest in learning, it's worth giving it ago. That said, there are a few things to consider.
Very young players can have problems with overly large keyboards, so it's worth sticking to 49 or 61 keys and progressing to the full 88 notes when you feel they are ready. Similarly, children can find it challenging to navigate fully-weighted piano keys, so they should start on semi-weighted or synth-like keys. Older beginners won't have this issue, so they can learn in any keybed.
What accessories do I need for my keyboard?
So, once you've decided on the best beginner keyboard for your needs, the next step is to kit yourself out with all the essential piano accessories that will make your learning experience a lot easier.
Keyboard stand: One of the first and most crucial accessories to grab is a sturdy keyboard stand. Make sure the stand you go for is appropriate for the size and weight of the keyboard you have. For non-weighted keyboards, you will most likely get away with a single braced stand, but for instruments with weighted keys, you are better with a double-braced stand for added security.
Bench: A solid and high-quality bench will not only ensure you are comfortable while sitting for hours and hours practising, but it will also ensure you play in the correct position, with the optimal posture.
Now, benches come in various styles, and which you choose is dependant on your specific needs. The most popular types are adjustable benches, which allow you to set a particular height to ensure the player is comfortable and storage benches with a hidden compartment for housing your books and learning materials.
Headphones: A good set of studio headphones will go a long way to helping with your practice. Not only will you be able to practice in relative silence, but you'll also get to hear your new keyboard in all its glory.
Sustain pedal: While some keyboards come with a sustain pedal, they aren't always the best. We highly recommend upgrading to a piano style pedal. If your keyboard didn't have a pedal included, then it's worth investing in one - you can't play modern pop songs without it.
Music Stand: Got lots of books and sheet music? Well, it's worth picking up a good quality music stand to keep all your pages in order.
Which brands make the best beginner keyboards?
You can't go wrong with the big guns, such as Yamaha, Casio, Roland and Korg. These brands not only make some of the best beginner keyboards in the world, but they also produce professional products that the biggest names in music use on tour and in the studio. So if in doubt, go with one of the big four, and you're sure to get a great keyboard that will last.