While lots of us dream of having a beautiful looking acoustic piano in our home, in reality, they aren't always the most practical option - especially for beginners. There are several inconveniences with traditional pianos to consider, from the back-breaking weight, high cost to the regular tuning and maintenance of these instruments. So it's no surprise that smaller, lighter, and cheaper digital pianos have become such a popular alternative. So whether you're just starting out or looking to upgrade from a regular keyboard, we've got you covered with the best digital pianos for beginners.
It's all well and good for your new piano to be beginner-friendly, but remember your new instrument needs to be good enough - with enough engaging features - to keep inspiring you when the going gets tough. That's why we've rounded up ten of the best beginner digital pianos available right now that not only provide a great foundation to build your skills on but will also keep pace with you as you progress along your musical journey.
We've also included a handy 'buying advice' section, so if you need further guidance, simply hit the button above. Then, when you're ready to invest, our price comparison widgets have found today's best prices to ensure you bag a bargain.
Dave is an expert in all things keys, from beginner keyboards, to digital pianos, synths and beyond, and has been a music technology writer and product tester since 2007, contributing to the likes of Computer Music, iCreate, MusicRadar and Attack Magazine. Dave has also programmed and played keys on recordings by a range of world-renowned artists including George Michael, Kylie and Gary Barlow.
Daryl is a Senior Deals Writer at MusicRadar, and is responsible for writing and maintaining buyer's guides on the site as well as testing out products for reviews. Before writing for MusicRadar, Daryl worked for many years in music retail, helping musicians of all ages find the best gear for them. Whether it was a beginner's first keyboard or a top-of-the-range digital piano for the pros, Daryl was there to help steer players in the right direction.
Best digital pianos for beginners: Top picks
While all our choices are broadly suitable for beginners, we found that the digital pianos we checked out fell into three main price brackets – sub-$/£500 portable, sub-$/£700 portable and sub-$/£1,000 home digital pianos.
In the sub-$/£500 category, the Roland FP-10 came out on top due to a killer combination of that peerless PHA-4 keybed and SuperNatural sound engine.
Jump up to the price bracket above and the Casio PX-S1100 edges it, with its innovative design, ultra-slim profile and superb sound from the updated AiR processor.
Meanwhile, in the home piano sector, we'd opt for the Casio Privia PX-770 as it represents the best value overall in this guide.
Best digital pianos for beginners: Round-up & reviews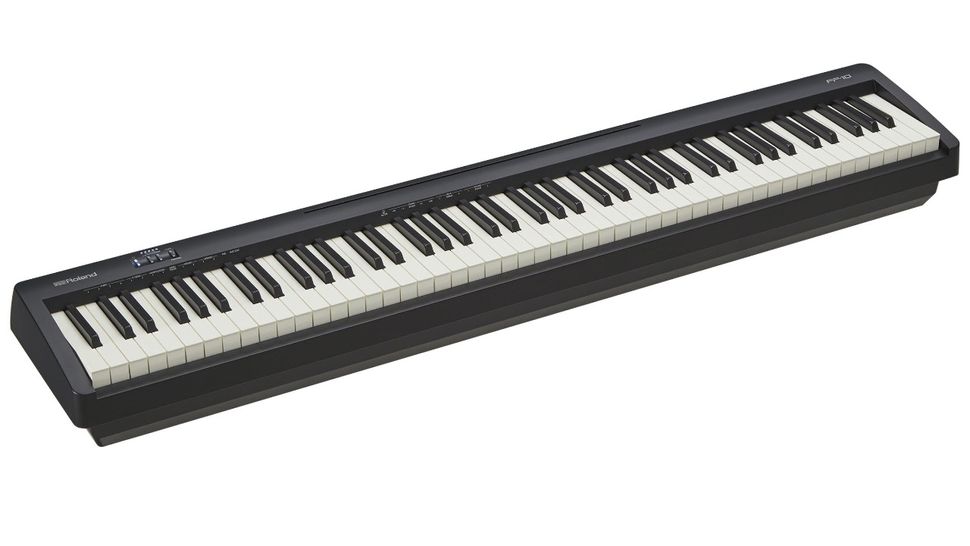 As Roland's newest entry-level, full-size digital piano, the standout feature on the FP-10 has to be its class-leading PHA-4 keyboard. Beautifully responsive and representing staggering value, it's exactly the same action found on the pricier FP-30 model.
All 88 keys are individually weighted with different weights, as you'd find on an acoustic piano, delivering one of the most authentic-feeling keybeds in this price bracket.
Roland's patented SuperNatural piano technology delivers an amazingly detailed and nuanced sound, while split mode gives you a four octave piano at each end of the keyboard, great for teaching. Unfortunately, we found that the speakers could be pretty weak-sounding to our ears at times - but for the money, there had to be at least one flaw.
MIDI via both USB and Bluetooth means that the FP-10 plays nicely with Roland's excellent Piano Partner 2 app, and also makes a great MIDI controller keyboard.
Read the full Roland FP-10 Digital Piano review
The eagerly awaited upgrade of the S1000, the new PX-S1100 builds on its predecessor by adding the modern features today's budding pianists demand. This 88-note fully weighted keys piano is perfect for aspiring players looking for an affordable instrument that doesn't scrimp on quality.
New for the S1100 is the ability to stream audio and MIDI wirelessly via the included WU-BT10 USB adapter. This handy new feature is sure to revolutionize your practice routine - allowing you to play along with your favourite songs and even take advantage of popular online piano lessons.
Although during testing we found that the sleek, glossy fascia attracted a lot of fingerprints, this digital piano looks just as good as it sounds - and as the PX-S1100 comes with an upgraded speaker system, which really is a marked improvement over the already great previous model - this piano sounds great too. So if you are looking for an affordable, well-built piano with smart connectivity, then look no further than the Casio PX-S1100.
Read our full Casio PX-S1100 review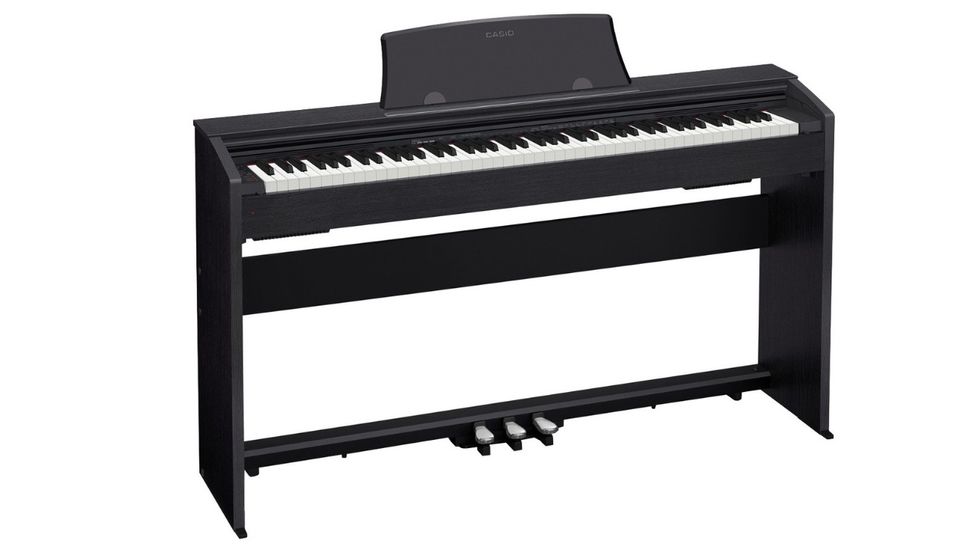 Part of the Compact Living range, the Privia PX-770 is Casio's most affordable console-style home digital piano, and as such includes a self-assembly, wood-effect, furniture-style stand complete with triple pedalboard and sliding lid.
It features Casio's Tri-Sensor Scaled hammer action II keybed with simulated ivory & ebony key surfaces to deliver a natural, non-slip playing feel that we really loved. Meanwhile, the multi-dimensional morphing AiR sound engine produces an authentic tone which was rich to our ears, with five acoustic piano variations included amongst the 18 available sounds.
The Concert Play function provides a built-in library of ten classical pieces to learn and play along to, featuring backing recordings of a symphony orchestra, and the PX-770 is also compatible with Casio's Chordana Play app via a USB connection.
Read our full Casio PX-770 review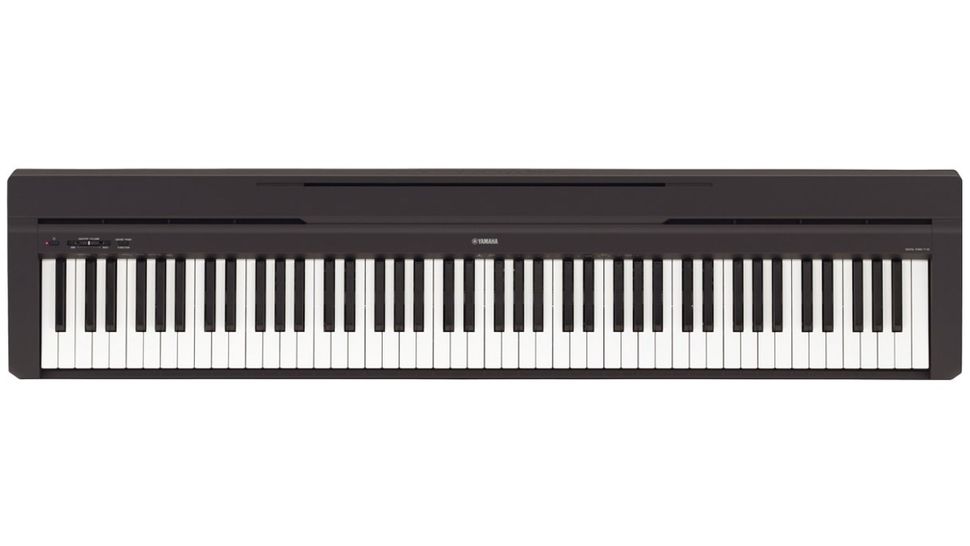 Yamaha's P-45 digital piano has been top of the bestseller lists for a long time now, for good reason. You get the reassurance of the Yamaha's fine musical pedigree (and experience in the world of Yamaha keyboards), combined with the brand's tried-and-tested Advanced Wave Modelling (AWM) sampling technology.
Add in the excellent Graded Hammer Standard keyboard, weighted heavier from left to right like an acoustic piano, and you have a great all-rounder, perfect for beginners.
True, it may be a little light on features compared to some of its peers, and Yamaha's AWM technology may be getting on a bit now, but as an entry into the world of Yamaha digital pianos, the P-45 still represents great value for money, backed up by a peerless heritage.
Read our full Yamaha P-45 review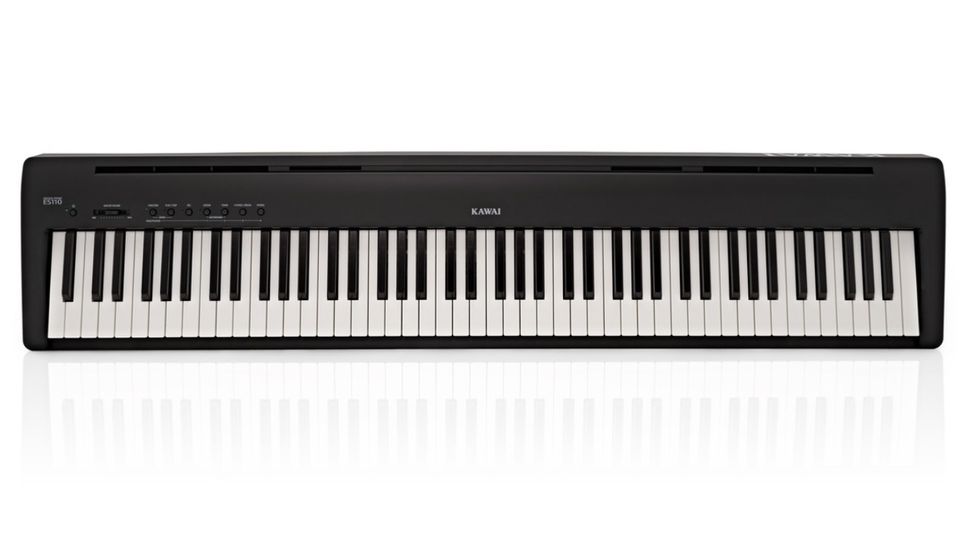 Kawai is another heavy hitter from the acoustic piano realm, and the ES 120 is their contender for the beginner digital piano crown. It features 25 tones, with the main acoustic voices being a recreation of the magnificent Shigeru Kawai SK-EX concert grand piano and the tones are also powered by their Harmonic Imaging technology for increased realism across the dynamic range of the samples.
The ES110 benefits from Kawai's Responsive Hammer Compact action, which employs the same principles as the higher-end RHIII action but is redesigned to fit into the more compact case of the ES120.
There are 100 different drum rhythms on board to make practice sessions go with a swing, and you also get MIDI and audio over Bluetooth for wireless communication with iOS and Android devices, plus Kawai's own Virtual Technician app for tweaking advanced parameters such as temperament and touch response.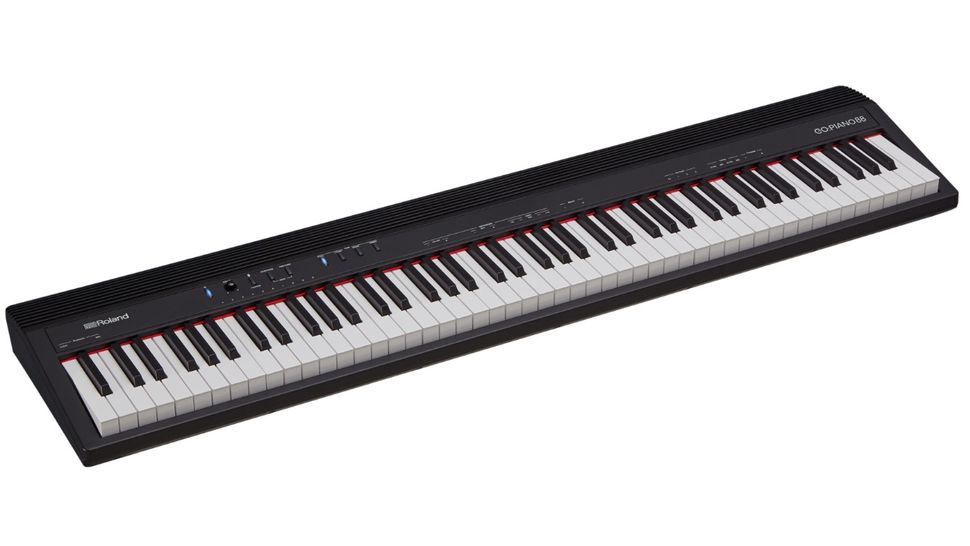 A full-size 88-note piano weighing in at a paltry 7kg that can be set-up anywhere and run off batteries, Roland's GO:PIANO 88 is great for beginners and buskers alike. The downside of this portability is that the keyboard is only semi-weighted rather than fully-weighted, but it's a compromise we found we were happy to make.
The GO:PIANO 88 has fewer sounds than the smaller GO:PIANO 61 – only 4 – giving you a more focused piano experience. For us, it's a case of quality over quantity here though, as the sounds that the 88 has are better overall/ During our testing, the GO:PIANO 88's speakers also proved to be impressively powerful - the second most powerful speakers on our list.
Bluetooth audio and MIDI connectivity means you can play along with tunes streamed from your smartphone, and record your playing into the Roland Piano Partner 2 app over Bluetooth too.
Read our full Roland GO:PIANO 88 review
The Korg B2 is a beginner piano that sacrifices scores of sounds in favour of a handful of top-quality voices and comfortable key action. Employing Korg's Natural Weighted Hammer Action (NH) keyboard, this piano provides a natural response that's a joy to play - whether you're a beginner or a seasoned pro.
The 12 unique voices cover a myriad of styles, and better yet, every sound onboard is usable. Included are five fresh piano voices - courtesy of the new piano engine - meaning you have more than enough sounds to inspire you.
Like the other pianos on this list, the Korg B2 comes with a headphone output for silent practice, audio in for jamming with your favourite songs and a piano-style sustain pedal.
Read our full Korg B2 review
In our view, there are two main ingredients that make a great digital piano - an excellent keyboard and superb grand piano tone, and both of these are fully addressed in the brilliant Yamaha YDP Arius YDP-S55.
At this level, your extra investment gets you the GH3 keyboard and the upgraded speaker system, the sampled sound of the flagship Yamaha CFX concert grand piano, 192-note polyphony and a lidded cabinet stand with a three-pedal setup that will take you through the ABRSM Grade 4 lessons and beyond.
Available in black or white with a 3-month Flowkey online lesson membership included, the extra responsiveness of the GH3 keyboard and the upgraded speaker system make the S55 a worthwhile choice over the S35 for those who don't have the space for a full-size model.
Read our full Yamaha Arius YDP-S55 review
As the entry-level digital piano from Casio, the idea behind the CDP-S110 is to bring a decent, fully-weighted, hammer-action 88-note keyboard down to an affordable level, a task it pulls off with aplomb.
Employing a new sound engine, the acoustic piano sounds, of which there are 3 onboard, improve greatly on those found in previous CDP range pianos, and are more than decent enough for beginners, while textured keytops further enhanced our playing and testing experience.
Although while testing the CDP S-110 we found the low-end to get a little bit muddy and jumbled-sounding, this digital piano does have many bonus points. The CDP S-110 can be run on battery power and features a useful audio input jack for plugging in an external sound source to play along to, rounding off what amounts to an excellent beginner piano at a price that can't really be argued with.
Read our full Casio CDP-S110 review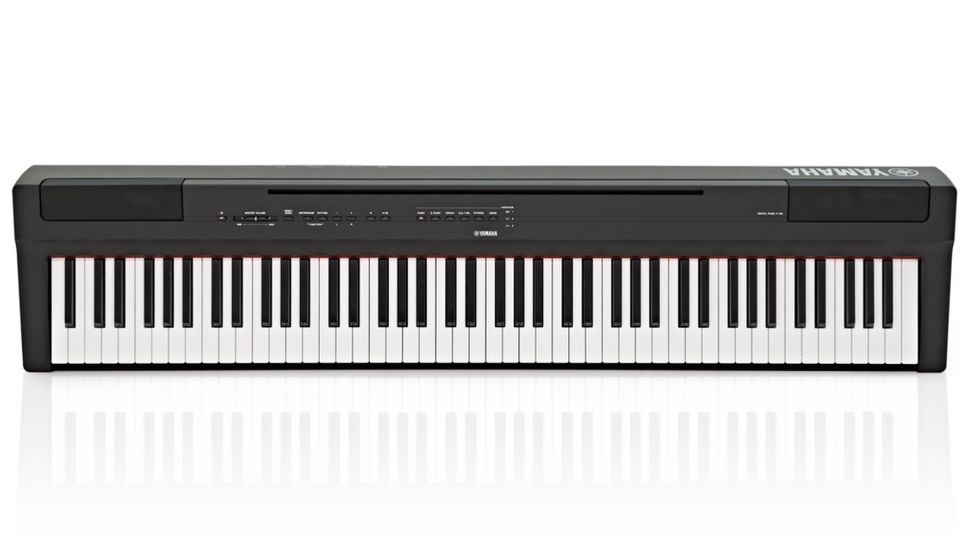 A step up in quality from the P-45 brings you the Yamaha P-125a. Featuring the same Graded Hammer Standard keyboard as its stablemate, the P-125a ramps things up a notch in terms of sound quality and breadth of features.
The Pure CF sound engine with a maximum polyphony of 192 notes delivers an exceptionally realistic piano tone. Plus, you get more sounds, an additional 20 onboard rhythms as an alternative to the regular metronome, control over EQ and damper resonance and a one-song, two-track recorder.
Dual headphone outputs make it a winner for teachers and students.
Best digital pianos for beginners: Buying advice
What is a digital piano?
Simply put, a digital piano is a keyboard that replicates the feel and sound of an acoustic piano through digital sampling technology. Unlike a traditional keyboard, a digital piano has full-sized weighted keys and isn't concerned with excessive banks of sounds but instead focuses on a few great piano voices.
Is it worth buying a digital piano?
Going digital has many advantages, from not having to tune your new instrument to the ability to move it around more easily, the option of plugging in digital piano headphones for silent practice, as well as the space-saving nature of these pianos.
While beginner digital pianos can come with a varying amount of keys - 61, 76, or 88 - we would highly recommend you opt for an 88-note model. This is especially important if you're planning on learning classical piano, as it's the closest you'll get to an acoustic piano in terms of size, feel, and response.
Most major manufacturers now keep costs manageable by dispensing with large onboard displays, opting instead for the ability to control your piano's sounds and settings via a remote mobile app. This not only means you can get a better-sounding, more feature-laden piano for less cash, but it also opens the digital gateway to use your instrument with the many educational and online lesson services compatible with your device.
The majority of the pianos featured in this guide are of the slimline, compact, and more portable type, rather than the traditional cabinet style, although many can be transformed into a more traditional piece of musical furniture with the addition of an optional stand, which may or may not feature a full set of three pedals as found on an acoustic piano.
All the instruments in this guide were chosen because they provide the full range of essential features you need to look for when buying a great digital piano for a beginner. They all also come complete with a detachable music stand, basic sustain or 'damper' pedal, and power supply.
Need to know more? Check out our feature on the differences between digital pianos and keyboards.
Digital piano keybed, action and weighting
MusicRadar's got your back Our team of expert musicians and producers spends hours testing products to help you choose the best music-making gear for you. Find out more about how we test.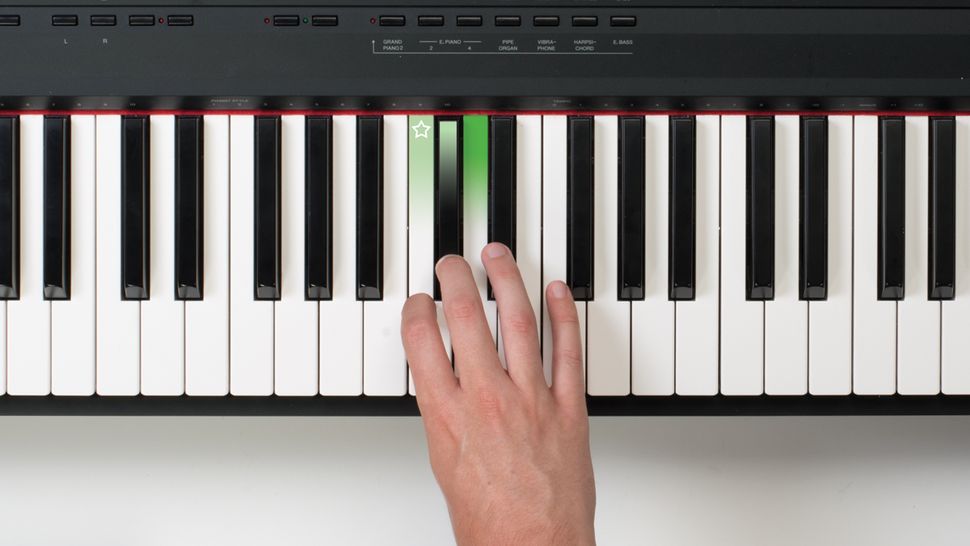 The way the keyboard feels and responds as you play is known as the 'action'. Each manufacturer has its own method for replicating the feel of a real piano, resulting in differing levels of weight in the keys. Whether you prefer the feel of a light key-action or a heavy one, it's a matter of personal preference - play whichever you feel the most comfortable on.
Most crucial, in our opinion, is the keyboard itself. All pianos listed here feature 88 full-size, touch-sensitive keys, just like an acoustic piano, and many include a hammer-action. The keys will be weighted so that the feedback feels right, and an authentic amount of pressure from your fingers is required to produce the notes. Ideally, they'll also be graded in weight from left to right so that higher notes require a lighter touch.
Do digital pianos have different sounds?
It's safe to say if you're looking for a great beginner digital piano, a realistic acoustic piano tone is essential - if it doesn't sound and respond like the real thing, it won't be as inspiring to play.
For digital pianos, quality rather than quantity is the focus. On the other hand, keyboards tend to offer a million different voices, from strings to synth leads, drums to pads, and everything in between. Now, while these sounds can be fun, they aren't necessary for learning the piano.
These days the sampling technology is better now than ever, and with increased polyphony, digital pianos can sound almost indistinguishable from the real thing. So as long as the main piano sound works for you, there's no real need for more than a few variations on the primary piano tone, especially if your main reason for buying is learning the piano!
That said, most digital pianos will include a few different tones, such as stings and electric pianos, which can often be layered alongside the piano sound so that they play simultaneously or applied as a split so that you can play a different sound from each hand.
Do beginner digital pianos come with pedals?
Acoustic pianos can feature up to three foot pedals, but only one of them is absolutely essential when starting out, and that's the sustain or 'damper' pedal. For this reason, all of the pianos on our list offer a sustain pedal input, with a basic pedal or footswitch included in the purchase price. Some pianos even offer the opportunity to add an optional three-pedal board with metal footplates, as you'd find on an acoustic piano at a later point should you need one.
Do beginner pianos have a built-in metronome?
It may sound boring, but a metronome is a useful tool to help keep things in time, particularly when practicing scales and arpeggios. Luckily every beginner piano has one built right in. A couple of our choices also feature built-in drum patterns to play along to, and many offer basic performance recording and playback features to monitor your progress.
Can I use headphones with a beginner digital piano?
Yes! One of the biggest advantages of going digital is the ability to practice with a set of headphones. As well as built-in speakers, a headphone output is absolutely crucial so that you can practise confidently to your heart's content while the rest of the family does their own thing. All of our contenders sport at least one headphone socket, and a couple provide a second, extra socket for your teacher or proud parent to listen in!
Other beginner digital piano features
Other common features you'll find on a quality beginner digital piano include extra keyboard modes such as duo, dual, or split. Duo mode creates a four-octave keyboard at each end of the piano so that students and teachers can play together on the same instrument.
Aside from advances in sound generation, technology has enhanced the digital piano experience even further recently, with some models featuring Bluetooth MIDI/Audio capability.
Together with companion smartphone apps, these functions allow you to edit sounds remotely, stream music to play along with from your mobile device through the piano's speakers, or record MIDI data of your performance for evaluation and editing. We've created this handy guide showing you how to connect your digital piano to a computer.
How we test the best digital pianos for beginners
When testing the best digital pianos for beginners, we start by taking a look at the key action. As you've seen from this guide, some digital pianos have unweighted, semi-weighted or fully-weighted keys, so we take the time to see how each digital piano feels to play, as well as how responsive it is to different dynamics and playing styles.
We then cycle through the different sounds that are available, making sure to take note of how the speakers react and cope with each sound at different areas of the keyboard. Some speakers will handle lower frequencies better than others, and other speakers will have more detailed high-end. The best speakers are ones that can do both - so we make sure to test thoroughly to ensure we can give you a comprehensive review. We then do the same test with headphones.
After we've checked all of the core factors of a digital piano, we'll go through the extra features such as the sustain pedal, the range of outputs available and any connectivity options such as Bluetooth, USB etc. If a digital piano is aimed at beginners or those who are likely to spend most of their time learning, we'll also look out for the learning tools like backing tracks, a metronome and in-built rhythms, to ensure that they're up to scratch for someone who'll be using them often.
Read more about how we test music making gear and services at MusicRadar.
Related buyer's guides