Ask anyone on the street to name three piano manufacturers and you can almost guarantee that Yamaha will be the first one that most people think of. The Japanese company have been at the top of the piano tree for decades, building a reputation as producers of some of the finest acoustic pianos in the world since their debut in 1900 - the flagship Yamaha CFX concert grand retails for £140,000 and is revered by professional concert pianists the world over. With a pedigree like that, you'd expect them also to know a thing or two about making great digital pianos, and you'd not be wrong, with a number of distinct model ranges, including the Clavinova, Arius, Portable Grand and P-Series pianos on their roster.
Having decided on one of the best Yamaha digital pianos means you've already made a great decision, but once you've arrived at that point, where next? Such a wide range of products can be a bit bewildering when you're looking for the perfect instrument, so we've put together this buyer's guide to help you navigate Yamaha's densely-populated digital piano line-up.
We've got some handy buying advice further down the page, too, to help you understand the nuances of each series.
Best Yamaha digital pianos: MusicRadar's Choice
All the pianos on our list are terrific instruments, but for sheer value for money, the Yamaha P-45 (opens in new tab) is still a safe bet for those wanting a solid portable piano on a tight budget, despite its age. Perhaps because it has been around for so long, it's now more affordable than ever and although relatively basic, with a great sound and a superbly playable keyboard, it ticks all the boxes required for those just starting out.
For the home, we'd definitely recommend the Arius YDP-145 (opens in new tab) as a brilliant starter piano. It looks great, sounds great and has enough advanced features to keep new starters and returning pianists happy for years to come, all in a compact frame that won't dominate your living space.
Best Yamaha digital pianos: Product guide
Bridging the gap between Yamaha's P-series portable digital pianos and their costlier Clavinova range, the best-selling YDP-145 hits the sweet spot between affordability and advanced features.
Simple enough to appeal to beginners, yet versatile enough to deliver a rewarding experience for more advanced players, the YDP-145 is popular with piano teachers and students alike because of its fabulous CFX grand piano sound, dual headphone jacks and wonderfully playable GHS keyboard.
Available in a choice of White, Rosewood and Black finishes, the YDP-145 delivers an authentic piano-playing experience in a stylish and compact package that won't dominate your living room.
Read our full Yamaha Arius YDP-145 review
The Yamaha P-45 portable digital piano has been around almost as long as the wheel, but although it's getting a little bit long in the tooth now, it still sounds good enough to satisfy most beginners and is available from a lot of retailers for an absolute steal.
It's been a best-seller for a long time due to a number of reasons - excellent sound, thanks to the AWM (Advanced Wave Modelling) sound engine, portability, the excellent GHS keyboard and price. It's also incredibly easy to use thanks to its minimal interface and high 'turn on and play' factor.
To sum up, it's a great basic piano for not a lot of money - it doesn't have fancy features like Bluetooth audio or Smart Pianist compatibility, but if all you want is a decent-sounding portable piano with a great-feeling keyboard and that signature Yamaha sound, please collect your P45 on the way out.
Read our full Yamaha P-45 review
Yamaha's Arius range of console-style digital home pianos is designed to offer an elegant musical centrepiece for domestic spaces at an affordable price. The S models in the range are the slimline versions of the regular YDP instruments, featuring a shallower front-to-back profile to enable them to fit into an even smaller environment.
The S55 is the slimmed-down version of the YDP-165, and to all intents and purposes is the same piano in a smaller cabinet. This means that it benefits from the same upgraded feature set that the 165 has over the 145, namely a superior GH3 keyboard and a more powerful 20W speaker system. The other main difference between the full-size Arius models and the S-series models is that the slimmer instruments feature folding keyboard covers rather than ones that slide back into a recess in the cabinet.
What you get with the S55 then is a supremely playable key action, the same great CFX sound engine and a more powerful sound tailored to the smaller space. It's also compatible with Smart Pianist via Bluetooth for an enhanced experience.
Read our full Yamaha YDP-S55 review
As the flagship model of the P-series lineup, the P-515 is the only portable Yamaha digital piano to benefit from the NWX wooden keyboard with escapement - the keyboard usually found on the company's high-end Clavinova models.
The 515 also gets the CFX and Bosendorfer Imperial grand piano sounds, as well as 38 more top-notch electric piano, organ, keyboard and string sounds, together with 40 different drum and bass accompaniments, plus a 16-track MIDI recorder with 250-song capacity.
As befits a quality portable piano, there's plenty of connectivity and a powerful speaker system, a clear perspex music desk and full compatibility with the Smart Pianist app. To make it a more permanent addition to your home, an optional L515 keyboard stand and LP-3 pedal unit are available separately, giving the P-515 more of a traditional look and functionality.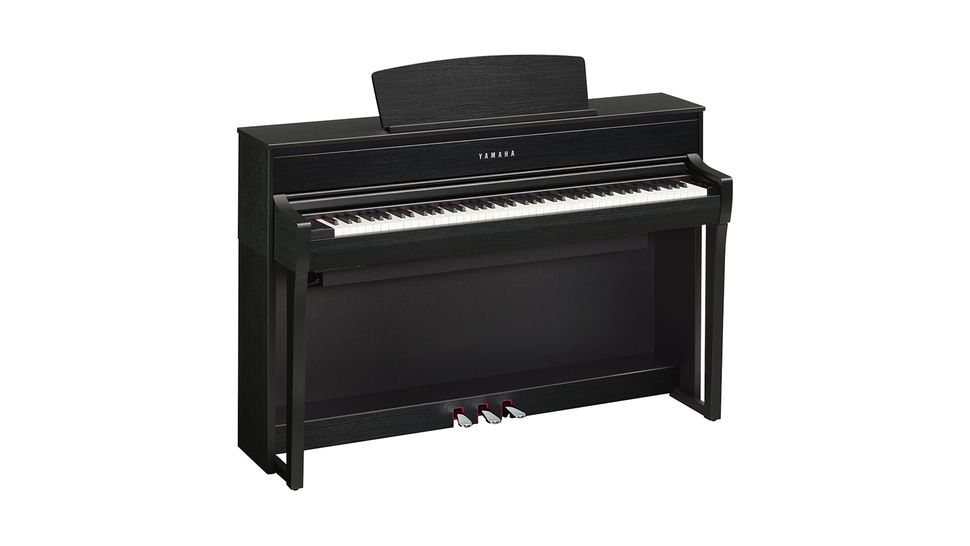 Occupying an upper-mid slot in the current CLP-700 range, the CLP-775 is a compact console model that looks every inch the classic home piano, resembling a cut-down upright piano but sounding like a concert grand.
The grand experience is perpetuated by the inclusion of Yamaha's GrandTouch keyboard action with individually calibrated wooden keys which, together with the Grand Piano Response damper pedal, makes the 775 a joy to play whatever your level of ability.
If you're in the market for a high-quality, great-sounding digital piano for the home that's as close as you can get to the feel of an acoustic grand, we'd recommend the CLP-775 in a heartbeat.
Read the full Yamaha Clavinova CLP-775 review
Besides being a fully-specced, great-sounding digital piano, the big selling point of the CSP 'Smart' Clavinovas is the StreamLights guide system that uses a strip of LEDs across the width of the piano to tell you what notes to play and when. A genuinely useful educational aid when coupled with the Smart Pianist app, this makes the CSP range an attractive proposition for beginners looking for an innovative way to learn piano.
Bristling with advanced features, the CSP-150 offers a fully automated backup band that generates chords and bass parts according to what you're playing, rather than having you follow what it's doing. The system will also analyse tunes from your music library and generate a score to play along with, complete with guide lights.
Of the two Clavinovas in the CSP family, the CSP-150 is significantly more affordable than its stablemate the CSP-170, which for an extra few hundred quid benefits from the premium NWX action with real wooden white keys, more powerful amplifiers and an upgraded speaker system. Aside from this, the two models are practically identical, with the same onboard features, number of voices and accompaniment styles, making the 150 quite exceptional value.
Imagine taking one of the world's finest acoustic upright pianos, removing the strings and soundboard and replacing them with a digital sound generator, leaving only the keyboard mechanism and hammers intact. What you'd be left with is essentially the N-1X AvantGuard hybrid digital piano.
In a slightly unusual design that resembles the cut-off front end of a grand piano, the N-1X promises grand piano performance in the body of an upright, with a high-performance speaker system designed to ensure that the sound is projected in a manner virtually identical to that of an acoustic instrument.
The ace up its sleeve though, is that authentic grand piano action, identical to that of an actual Yamaha grand, which when coupled with the fantastic CFX and Bosendorfer sample sets and advanced features like dual headphone outputs, Bluetooth audio streaming capability and compatibility with Smart Pianist, makes the N-1X an absolute joy to play.
If you ever wished you could have all the features of Yamaha's CSP-range in a more portable package, your wait is over, as that's exactly what the new P-S500 delivers.
In a smooth blend of traditional and retro design, an angled section above the top of the keys houses the shiny black LCD StreamLights display panel that runs the entire width of the instrument. In standalone mode, this displays the normal array of controls for selecting the sounds and various options. However, connect a tablet and the on-screen controls disappear, handing over control to the SmartPianist app.
With a GHS keyboard, the P-S500 has all of the tricks offered by the CSP series, including audio to score with StreamLight guides, over 300 accompaniment styles and more than 600 voices available via the SmartPianist app. For a more permanent setup, you can add the optional L300 stand and LP-1 three-pedal unit.
Strictly speaking, the CP-88 is a stage piano, meaning that it's designed to be used on stage at a gig, and thus has no speakers. It does offer plenty of connectivity however, and is portable enough to be chucked into the back of a Transit van without slipping a disc.
We've decided to include it in this list because, despite its lack of speakers, it is technically a digital piano and provides a brilliant solution for pro and semi-pro gigging musos. The only downside is that you'll need to connect it to a PA speaker system or a set of headphones to hear anything.
Sound wise, the CP-88 more than has you covered, featuring three premium concert grand pianos: the Yamaha CFX, Yamaha S700 and the Bösendorfer Imperial 290, as well as two Yamaha uprights, the U1 and the SU7, together with a wide variety of incredibly usable electric piano, organ, clavinet, synth and string sounds.
Read our full Yamaha CP-88 review
Looking to all intents and purposes like an acoustic baby grand piano, the CLP-795GP sits at the top of the Clavinova CLP range. The difference is that this grand has literally no strings attached - in place of an acoustic grand piano's soundboard and strings there is a beautifully finished polished wooden housing containing a number of shiny round speakers, laid out in what Yamaha call a Grand Acoustic Imaging array.
The CLP-795GP receives all the grand piano accoutrements from the CLP features list, namely the GrandTouch keyboard with wooden white keys and an increased length from the tip of the key to the fulcrum, to the GP response damper pedal that closely tracks the continuous pedal depression behaviour of an acoustic grand.
The signature 700-series touch sensor control panel effectively maintains the traditional look, and there's full Bluetooth functionality, with Bluetooth audio built in and wireless compatibility with the Smart Pianist app via Bluetooth MIDI. This all adds up to a beautiful-sounding instrument that's not only rewarding to play but will add elegance to any home that has the space for it.
Best Yamaha digital pianos: Buying advice
What is a digital piano?
Most people would acknowledge that acoustic pianos, traditionally made of wood with iron frames, felt hammers and steel strings, are wonderful-sounding and beautiful-looking instruments, but they do have a few drawbacks. They're very heavy items, they require regular tuning to sound their best - they can be affected by humidity and extreme temperatures, but most of all they're quite loud, so if you have thin walls, sensitive neighbours or both, you can run into problems if they take umbrage with you practising at different times of the day.
In contrast, a digital piano produces its sound electronically, so can be hooked up to a pair of digital piano headphones and played as loud as you like without disturbing anyone. Digital pianos are much lighter and easier to maintain than their acoustic counterparts, don't require tuning, aren't affected by humidity or temperature and can produce a variety of sounds besides just piano tones. Being electronic, they also feature cutting edge technology such as Bluetooth connectivity, which makes them a breeze to use with the wide selection of currently available online piano lesson services and apps such as Flowkey, Skoove, Pianote (opens in new tab) and Playground Sessions.
A great digital piano will have an authentic-feeling 88-note keyboard with weighted keys that respond just like those on an acoustic instrument, and at least one exceptional grand piano sound that can be played either through onboard speakers or through a set of connected headphones. Yamaha provides a wide range of digital piano model families to suit a variety of use cases, all of which satisfy these two basic criteria.
What are the main Yamaha digital piano series'?
P Series
The portable P-series are great for travelling pianists who want a piano they can gig with or for beginners to set up to practise in a small bedroom or apartment.
Arius
The Arius range of compact home console-style pianos are designed to enhance smaller spaces without being overbearing. They're brilliant for beginners, particularly families with kids who want to start learning.
Clavinova
The Clavinova line represents the more upmarket home digital pianos, with more sophisticated speaker systems, upgraded keyboards and other more advanced features.
Portable Grand
The Portable Grand range currently consists of just one model, the DGX-670, which is more of a piano/arranger keyboard hybrid instrument with multiple sounds and auto-accompaniment styles.
AvantGrand
At the upper end of the scale are the AvantGrand hybrid pianos, which feature stringless acoustic actions mated to digital sound modules for the ultimate blend of acoustic and digital technology.
What is Yamaha Smart Pianist?
The majority of instruments in Yamaha's digital piano family are compatible with the company's Smart Pianist mobile app, so no buyer's guide covering Yamaha digital pianos would be complete without mentioning this incredibly useful companion. Smart Pianist is a single app that senses which model of piano you've connected it to and makes available the features that are compatible with that model. These include selecting and editing the piano sounds, accessing extra voices, performing with a built-in backup band or orchestra, playing along with built-in songs or recordings from your favourite bands and artists and helping to develop your skills with extensive interactive lesson programmes.
Using Smart Pianist on a connected mobile device such as an iPad or Android tablet can significantly enhance how you use your Yamaha piano, adding what is effectively a large touchscreen colour display to your instrument that makes it even more of a joy to use.
Read more about how we test music making gear and services at MusicRadar.
Related buyer's guides
Why you can trust MusicRadar Our expert reviewers spend hours testing and comparing products and services so you can choose the best for you. Find out more about how we test.