Memorial Day 2023 has arrived with a bang! We've spied loads of great deals from your favorite music retailers, with low prices on everything from laptops for music production right through to condenser microphones and fresh plugins for your DAW. We've been scouring the web for the last few days to find the best deals for musicians from all the major retailers, saving you time and money.
Some highlights for us include Guitar Center's Memorial Day deals where you can grab up to 35% off a huge range of musical instruments and accessories. Over at Musician's Friend there's a hefty 40% discount off big-name guitar brands, as well as special coupons that give you 10% off when you spend over $49, and 15% off when you spend more than $99 - just use the code MEMDAY when you checkout.
If it's music software you're after, Waves has dropped the majority of its plugins to just $29.99, while the Native Instruments Summer of Sound sale sees up to 50% off a huge range of plugins, upgrades and select hardware until 6 July.
If you can't wait until Black Friday, these are the best discounts you'll see on music gear for a few months now.
Take a look at our round-up of the places to shop below.
Best Memorial Day sales: Quick links
Want to get straight to the Memorial Day sales? These links will take you straight to the good stuff. Not all of these are Memorial Day-related exactly, but a good deal is a good deal, right?
Best Memorial Day sales: Sales & coupons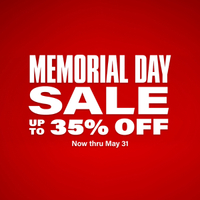 Guitar Center Memorial Day: Up to 35% off
With up to 35% off a whole range of music gear, it doesn't matter whether you're a guitarist, producer, drummer, or pianist, there's a great deal to be had at Guitar Center this Memorial Day. These offers are only available until May 31st so make sure you move quickly to avoid missing out.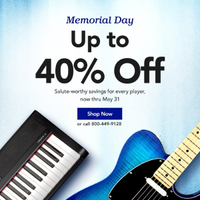 Musician's Friend Memorial Day: Up to 40% off
This Memorial Day, Musician's Friend is offering an astounding array of savings with discounts of up to 40% available. Explore a wide selection of electric, acoustic, and bass guitars as well as save substantial amounts on amplifiers, effects, pedals, studio equipment, and numerous other music essentials.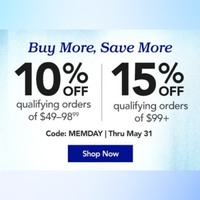 Musician's Friend Coupon: Up to 15% off
Musician's Friend also has a superb coupon offer for Memorial Day with a 10% discount on purchases of $49 or more, or a generous 15% discount on purchases over $99. Just use the coupon MEMDAY when you checkout to take advantage of this brilliant discount.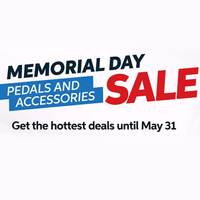 Sweetwater: Huge pedals and accessories sale
Save big on a wide range of effects pedals and accessories this Memorial Day at Sweetwater. All the biggest names in music gear are represented with the likes of Ernie Ball, D'Addario, Line 6, J Rockett Audio, Catalinbread, Supro, and more on offer.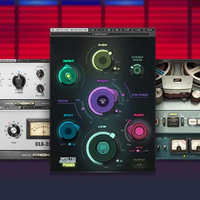 Get free Waves plugins when you spend $50
All plugins are down to $29.99 right now, plus get one free plugin when you spend $50, or get two free when you spend $100 in this excellent Memorial Day sale over at Waves. Make sure to do separate orders to get more free plugins if you've got more to spend.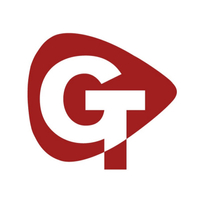 Guitar Tricks: Get your first month for just $1!
Enjoy your first full access month of Guitar Tricks for just a single dollar using this exclusive MusicRadar link. Guitar Tricks delivers loads of great content for beginners, while intermediate and pro players can dive into over 11,000 expert videos and lessons across the site.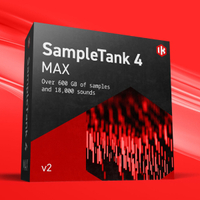 IK Multimedia Memorial Day Sale: Massive savings!
Right now, you can get yourself money off a bunch of different IK Multimedia products, including the ever popular Amplitube 5, the brand new Tonex software, SampleTank 4, and great deals when you create your own T-RackS bundles.
Best Memorial Day sales: Guitars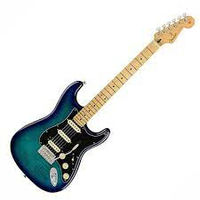 Fender Player Stratocaster Plus Top: $859.99, $699.99
There isn't much a good quality Strat can't do - especially when you have a high-output humbucker in the bridge position. This Fender Player Stratocaster takes the iconic guitar in a modern direction with the addition of an eye-catching flame maple top and a unique blue burst finish.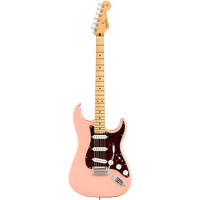 Fender Player Stratocaster: $824.99, now $679.99
We absolutely love a shell-pink Strat - and we love them, even more, when they are on sale! Right now you can save a whopping $195 off the amazingly popular Fender Player Stratocaster at Guitar Center.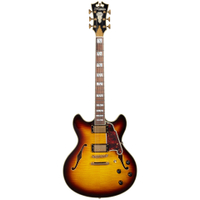 D'Angelico Excel Series DC: 10% off with MEMDAY
D'Angelico sure knows a thing or two about hollow-body guitars, and the Excel Series proves this old-school jazz brand can make a modern guitar for contemporary players. The Seymour Duncan 59 humbuckers provide a wealth of tones from full-on rock n roll to expressive blues and warm jazz tone, this stunning guitar can do it all.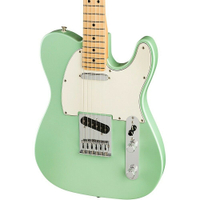 Fender Player Telecaster: Was $849.99, now $699.99
One of our personal favorites is the Fender Player Telecaster, seen here in stunning Surf Pearl. Now, don't let the retro finish fool you. This gorgeous Tele is designed to cover as much sonic ground as possible. And the $149 saving makes this guitar all the sweeter.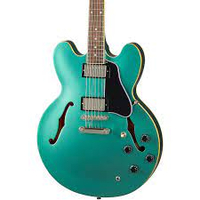 Epiphone ES-335: Was $599, now $479
Feast your eyes on this classy-looking Epiphone ES-335 in Inverness Green. With $120 knocked off the price at Guitar Center you can now get your hands this modern take on a classic for less than 500 bucks.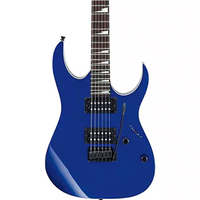 Ibanez GRGR120EX: was $199.99, now $179
Ibanez makes some of the most playable and affordable beginner electric guitars on the market, and here's a great example. Despite its price tag, this Ibanez boasts an impressive spec sheet, with a poplar body promising brilliant sustain, a 24-fret New Zealand Pine fretboard with eye-catching sharktooth inlays.
Best Memorial Day sales: Laptops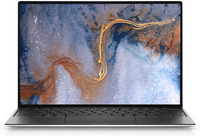 Best Memorial Day sales: When is Memorial Day 2023?
Memorial Day is an American holiday that falls on the last Monday in May. Memorial Day was introduced to honor the men and women of the US military who have died while serving their country. This year, Memorial Day falls on Monday May 29. But the Memorial Day sales will kick off in advance of this date.
Best Memorial Day sales: More great deals