Black Friday keyboard deals: Quick menu
1. Quick links
2. Editor's picks
3. FAQ
4. Shopping tips
5. Deals to look for
6. How we choose
7. Last year's highlights
Okay, so Black Friday isn't for a couple of months yet, but trust us, it'll be here before you know it. To ensure you bag yourself the best possible bargain, you'll want to be as prepared as possible - and that's where we come in.
We spend a lot of our time scouring music retailers for fantastic deals on our favourite keyboards, pianos and accessories. Not only is it our job to research and recommend the best gear in our buyer's guides and reviews, but we're also dedicated to helping musicians get the best deals on the stuff they need, too.
We cover a lot of the big sales events throughout the year, including Memorial Day, 4th of July sales and Amazon Prime Day, and we have a good view on which products are likely to receive the biggest discounts and when.
So, whether you're a budding pianist looking for the best keyboards for beginners, a producer looking for savings on MIDI keyboards, or a dance fanatic looking for a quality synthesizer, you're in the right place to find a bargain on a new set of keys.
Black Friday keyboard piano deals: Quick links
Editor's picks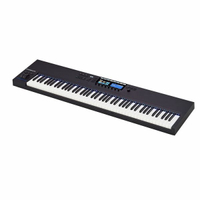 NI Komplete Kontrol S88: was $1,099, now $899
Got a DAW full to the brim with NI plugins? Well, take control of them with this stunning fully weighted MIDI keyboard. Right now you can save a mammoth $200 off the price at Sweetwater. We're unlikely to see a better deal on this keyboard come Black Friday.
Casio Privia PX-S3100: was $879, now $779
Casio's Privia range is one of our favourites when it comes to affordable beginner-friendly instruments, so naturally, we get very excited when we see one with a healthy discount. Right now you can save $100 at Sweetwater.
Black Friday keyboard deals: FAQ
When is Black Friday 2023?
Black Friday 2023 starts on Friday 24 November. Well, that's the official start date anyway, but the Black Friday keyboard piano deals seem to get earlier every year. We predict we'll start seeing early offers landing from around mid-October.
That doesn't mean we won't have some humdingers before then, however - we've seen in past years that some retailers simply can't help themselves and fire off all manner of killer deals over a series of weeks.
Black Friday, of course, is the day after Thanksgiving in the States, and is the day when tens of thousands of retailers, both online and bricks and mortar stores, kick-start their holiday shopping sales. That includes all these cheap Black Friday piano deals we're keeping an eye on for you.
Cyber Monday is the Monday that directly follows Black Friday and often sees further discounts on thousands of products with online exclusive sales. This year, Cyber Monday 2023 takes place on Monday 27 November and will last for that day only, so if you see a Cyber Monday keyboard piano deal you like the look of, you have to be quick and bag it before it's too late.
Are pianos on sale during Cyber Weekend?
In short, yes! From Black Friday through to Cyber Monday you are highly likely to see a myriad of deals on digital pianos, stage pianos and even acoustic pianos. Last year was a bumper affair for jaw-dropping savings on some of the biggest names in keys.
You can expect all the big-name musical instrument retailers to get involved, with the likes of Guitar Center, Sweetwater, Musician's Friend, Amazon and others all firing out their best Black Friday piano deals to tempt you. We're hoping to see great deals on gear from Casio, Moog, Arturia, Roland, Yamaha and many more.
Wondering what makes a good deal, or how you can prepare to shop these sales without getting overwhelmed (or spent out)? Keep reading…
What's the best value digital piano?
When recommending any piece of musical equipment - it's very difficult not to recommend Yamaha. If we had to choose one digital piano from their range that offers the best value for money, we'd have to go for the Yamaha P-145. Benefiting from Yamaha's world-famous build quality, this is a seriously good piano for beginners and gigging musicians alike.
If you are looking for a digital upright, we'd suggest looking at the Casio AP-270. This entry-level digital piano punches well above its weight, and in our tests, we found that it offered outstanding sound quality for its wallet-friendly price.
Black Friday keyboard deals: Shopping tips
Black Friday sales can be overwhelming, especially if you're shopping at one of the big retailers as these can often have thousands of products on sale in the space of just a few days. Trust us, it's easy to feel intimidated by the sheer volume of offers available, so where on earth do you start?
To prepare for the incoming avalanche of Black Friday keyboard piano deals, do your research. Think about exactly what type of instrument you want: keyboard, synth, MIDI, piano, etc, and find out which are the best in that category. Next, set some boundaries around how much you're willing to spend. It can be easy to get caught up in the moment and overspend. Luckily, you can often search within a specific price bracket at many retailers, so the temptation to blow your budget is less.
If you have no idea of what brand or model you want to buy, and you aren't constrained by any specific budgets right now, feel free to use our expert buyer's guides to help you figure out what you need or what to buy for someone else. We recommend starting with these:
Where to find the best Black Friday keyboard and piano deals
This is super-easy: bookmark this page as we'll be regularly updating it with the biggest and best Black Friday keyboard piano deals, including the top digital piano offers and cheap synthesizer discounts. Beyond that, we'd advise sticking to well-known musical instrument retailers, as they will have robust delivery and returns policies, so you know you'll be in safe hands.
If you know in advance which products you want to buy if you spot them among any Black Friday piano deals, jot down their RRPs in advance. That way you can clearly see whether a product is on sale for a good price, and just how much of a saving you're making. Handily, retailers display the 'before' and sale price, giving you an at-a-glance look at the various discounts.
The Black Friday digital piano deals to look out for
Black Friday sales move fast, so it pays to go into them with an idea of what you're looking for. On that note, we've curated some top-rated models that, if you see them on sale among the incoming Black Friday keyboard piano deals, you really should jump on, they're that good.
Best playing-action
As Roland's newest entry-level, full-size digital piano, the standout feature of the FP-10 has to be its class-leading PHA-4 keyboard. Beautifully responsive and representing staggering value, it's exactly the same action found on the pricier FP-30 model.
Read our full Roland FP-10 review
Best piano over-all
The eagerly awaited upgrade of the S1000, the new PX-S1100 builds on its predecessor by adding the modern features today's budding pianists demand. This 88-note fully weighted keys piano is perfect for aspiring players looking for an affordable instrument that doesn't scrimp on quality.
Read our full Casio PX-S1100 review
Best for portability
A full-size 88-note piano weighing in at a paltry 7kg that can be set-up anywhere and run off batteries, Roland's GO:PIANO 88 is great for beginners and buskers alike. The downside of this portability is that the keyboard is only semi-weighted rather than fully-weighted, but it's a compromise we found we were happy to make.
Read our full Roland GO:PIANO 88 review
How we choose the deals
Here at MusicRadar, we are experts in our field, with many years of playing and product testing between us. We live and breathe everything music-making, and we draw on this knowledge and experience of using products in live, recording and rehearsal scenarios when selecting the products we recommend.
First and foremost, we are players and creators, and we want to match like-minded folk with the right products for them, at the best prices.
For us to recommend a deal on guitars or anything else it has to be a product we rate that's a genuinely great price or part of a truly fantastic bundle. It's also important that we only recommend retailers where you will have a positive shopping experience.
The best Black Friday keyboard piano deals last year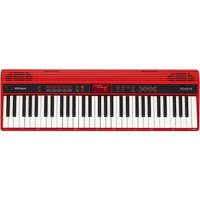 Roland GO:KEYS: $399.99, $299.99
Here at MusicRadar, we are massive fans of the Roland GO: Keys, giving it a glowing 4-star review. And while we love its lightweight and portable frame, as well as its 550+ sounds, we like it even more with $100 slashed off the price!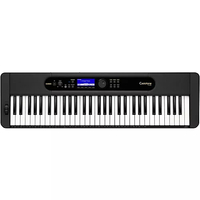 Casio Casiotone CT-S410: Was $249, now $199.99
Many see Casio as the king of beginner keyboards, and with affordable options such as this Casiotone CT-S410, it's easy to see why. Coming with 600 AiX-powered sounds, as well as 200 rhythms this is a brilliant instrument that makes learning to play fun!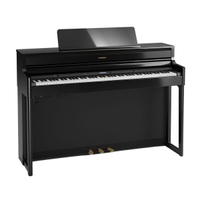 Roland HP704: Was £1,949, now £1,883
Last year you cou save £66 off the Roland HP704, which features in our best pianos buyers guide. This stunning home piano features Roland's celebrated SuperNatural sound engine, and as the name suggests, it gives this instrument a very realistic and natural tone, which we believe is streets ahead of the rest at this price point.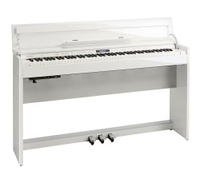 Roland DP603: Was £2,179, now £2,041
For those looking for a slimmer option, the Roland DP603 upright digital is one of the best around. The DP603 utilises the same SuperNatural sound engine as its big brother but instead uses a slim, stylish linear cabinet design which means it will fit in even the smallest of rooms.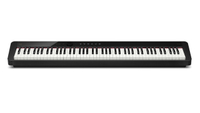 Casio PX-1100 Privia Digital Piano: $858, now $779
Casio doesn't just make funny noises these days, in fact, they're quite quickly garnering a reputation for their properly good digital pianos. The Privia is a stunning-looking instrument thanks to its red top panel and its super slim design means it will fit in pretty much any room of your house. It doesn't just look good either, the Smart Scaled Hammer Action Keyboard gives you the true feel of a full-size grand piano, where the feel of the keys changes as you move across the keybed.

Behringer Model D: $87.25 off, now $261.75
They don't come more legendary than the Minimoog and Behringer's Model D is often lauded as a worthy reimagining of this iconic monosynth. Not least for its small footprint and added modular connectivity. The only downside is the lack of a keyboard, still, you've probably got a controller keyboard already.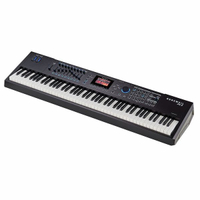 Kurzweil PC4 Workstation: $2,499, now $1,999
The Kurzweil PC4 Workstation is a total powerhouse! This do-it-all synth features a modern 6-operator FM engine, a 16-track sequencer, 256-voice polyphony and powerful DSP all crammed into a portable performance controller - and better yet you can score $500 off right now!
Find more epic deals on a range of music gear below