Cyber Monday is over, but you can still pick up a few of the best Cyber Monday keyboard piano deals. There are still decent discounts to be had on the best keyboards for beginners, as well as savings on MIDI keyboards for home studio use, and an array of synthesizers. 
Sweetwater is still offering up to 80% off a selection of keyboards and pianos, while the beginner-friendly Alesis Melody 61 MkII bundle is currently remains just $119.99 at Amazon.
As we reveal in our guide to the best pianos, you can pick up a quality digital piano for as little as $250, or a beginner keyboard for a little over $100, while acoustic pianos are more expensive. The Cyber Monday keyboard piano deals here offer great savings on all three, while there's money to saved with Cyber Monday MIDI keyboard and synth deals too.
So, whether you're looking for a beginner bundle for a Christmas gift, or something geared up for recording or live performance, you'll find loads of great Cyber Monday keyboard piano deals here.
If you're new to playing, don't forget to take a look at our guide to the best online piano lessons too.
Cyber Monday keyboard piano deals: The best deals
Cyber Monday keyboard piano deals: Beginner keyboards
Cyber Monday keyboard piano deals: Digital pianos
Cyber Monday keyboard piano deals: Keyboards
Cyber Monday keyboard piano deals: MIDI keyboard controllers
Cyber Monday keyboard piano deals: Synths
Cyber Monday keyboard piano deals around the web
The Cyber Monday digital piano deals to look out for
Cyber Monday sales move fast, so it pays to go into them with an idea of what you're looking for (read 'How to prepare'). On that note, we've curated some top-rated models that, if you see them on sale among the incoming Cyber Monday keyboard piano deals, you really should jump on, they're that good. Starting with this funky Yamaha keyboard…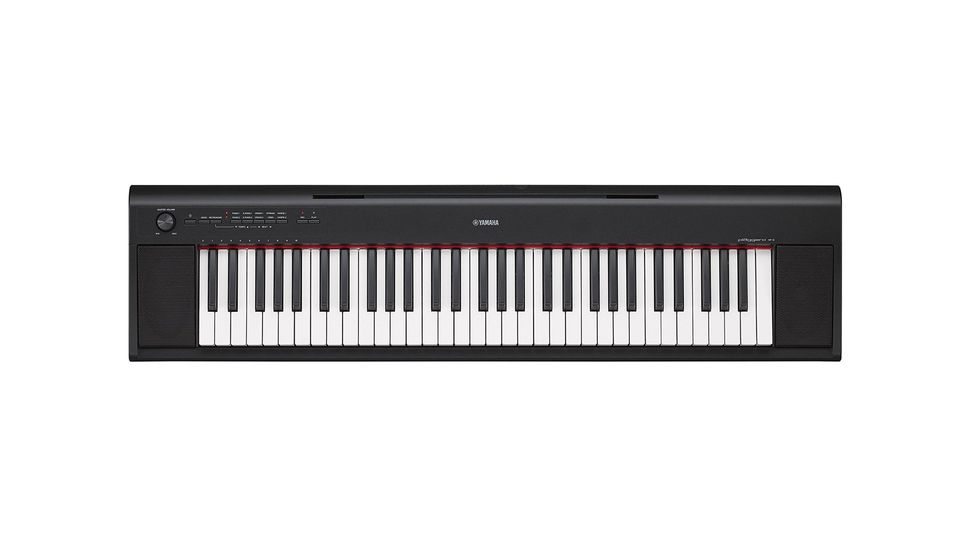 This portable piano-style digital keyboard is brilliant for beginners of all abilities. It's compact and lightweight, making it easy to carry from room-to-room if you don't have a permanent spot for it. With 61 keys, there's plenty of scope for you to develop your playing. Keep it juiced with mains power or batteries.
If you see the Yamaha Piaggero NP-12 popping up among the Cyber Monday keyboard piano deals, don't hesitate to jump on it as you'll be getting a great model for less.
Wanna make music on the go? Then grab hold of the Nektar SE25 MIDI, which is dinky enough to fit in your bag for proper portability. It's fantastic value for money, and boasts Nektar DAW integration for a raft of programs including Cubase, Garageband, Reason and plenty more.
The Nectar 25 is super-cheap anyway, so if there happens to be a Cyber Monday discount on this little beauty, it would almost be too good to be true. Worth keeping an eye out for this one if you enjoy making music while traveling. 
Teeny hands will have fun making sounds with this dinky, 37-key mini keyboard. It's cheap, fun and simple to use, and could be the ideal entry into the world of piano for any little ones in your family. It's designed with a USB MIDI port and a headphone socket, so your little one can practice without causing a racket.
We can guarantee that you'll find plenty of Yamaha keyboards on sale among the Cyber Monday digital piano deals, and this is one of the models to go for if it's on sale. Fingers crossed, people.
When is Cyber Monday 2020?
Cyber Monday takes place on 30 November this year, and is the Monday directly after Black Friday, bookending a deals-packed weekend of holiday shopping. While it was originally devised as a one-day event to celebrate online shopping, it's now the finale to a much bigger affair and usually involves some pretty spectacular deals itself. 
That's why we'll be keeping our Cyber Monday keyboard piano deals coverage rocking right through Cyber Monday 2020 so that you don't miss a single epic offer on a new keyboard, synth or piano. If you have a smaller budget, or you're just starting out, we'd recommend going for a digital piano as these are cheaper. Catch one of the Cyber Monday digital piano deals and they'll be even cheaper.
Cyber Monday keyboard piano deals: what to expect
Last year was a bumper affair for jaw-dropping savings on cheap keyboards and pianos, so we're hoping that this year will be no different. In fact, from the early Cyber Monday keyboard piano deals we've seen so far, this year's sale should be utterly stacked. 
We're expecting all the big-name musical instrument retailers to get involved, with the likes of Sweetwater, Sam Ash, Musician's Friend, Amazon and others all firing out their best Cyber Monday piano deals to tempt you. We're hoping to see great deals on gear from Moog, Arturia, Roland, Yamaha and more.
There were hundreds of dollars in savings up for grabs last year, so we have our fingers crossed for similar unmissable discounts among 2020's crop of Cyber Monday keyboard piano deals. Wondering what makes a good deal, or how you can prepare to shop these sales without getting overwhelmed (or spent-out)? Keep reading… 
Cyber Monday keyboard piano deals: How to prepare
Cyber Monday sales can be overwhelming, especially if you're shopping at one of the big retailers as these can often have thousands of products on sale in the space of just a few days. Trust us, it's easy to feel intimidated by the sheer volume of offers available, so where on earth do you start? 
To prepare for the incoming avalanche of Cyber Monday keyboard piano deals, first think about exactly what type of instrument you want: keyboard, synth, MIDI, piano, etc. Next, set some boundaries around how much you're willing to spend on new kit.
Why are we saying this? Because it's easy to get distracted by the hottest Cyber Monday digital piano deals and blow your budget. Luckily, you can often search within a specific price bracket at many retailers, so the temptation to overspend is less. 
If you have no idea of what brand or model you want to buy, and you aren't constrained by any specific budgets right now, feel free to use our expert buyer's guides to help you figure out what you need or what to buy for someone else. We recommend starting with these:
Where to find epic Cyber Monday keyboard piano deals
This is super-easy: bookmark this page as we'll be regularly updating it with the biggest and best Cyber Monday keyboard piano deals, including the top digital piano offers and cheap synthesizer discounts. Beyond that, we'd advise sticking to well-known musical instrument retailers, as they will have robust delivery and returns policies, so you know you'll be in safe hands. 
If you know in advance which products you want to buy if you spot them among any Cyber Monday piano deals, jot down their RRPs in advance. That way you can clearly see whether a product is on sale for a good price, and just how much of a saving you're making. Handily, retailers display the 'before' and sale price, giving you an at-a-glance look at the various discounts.