When it comes to choosing the best piano for your budget and needs, it can be quite a challenge to pinpoint the right product for you. The huge range of fantastic quality digital pianos and acoustic pianos available right now can feel overwhelming when you start to scratch beneath the surface with your research. And there are plenty of options for both experienced pianists and for those just starting to learn, too – if that's you, also check out our guide to the best online piano lessons and the best keyboards for beginners and kids.
If you or a family member is just starting out and you're on the hunt for the best piano for beginners, there are plenty of budget-friendly options to get you started. If you're closer to the pro end of the spectrum, there are some beautiful high-end pianos out there, aimed at use on the stage – this includes uniquely crafted acoustic pianos and versatile digital emulations. In fact, there's never been a better time to buy one of the best pianos.
We've researched this guide to help pianists find the best piano for their playing style, their budget and the situations in which they'll be playing. Whether you want to play piano songs at home, record piano in the studio, or even take your piano to the stage, in this list you'll find home, studio and performance-ready pianos.
Before we unveil our full list, let's take a look at our top picks for the best pianos overall.
Which are the best pianos right now?
The best piano for you really depends on what type of piano you're after, what playing level you're at, and how you're looking to use it. Our top choice for the best acoustic piano is the Yamaha U1. Although its high price may place it beyond the reach of many musicians, it's a truly beautiful instrument with a stunning sound. It would make a fabulous centrepiece in your home.
In the digital piano realm, Yamaha wins again with its NP-12 portable piano – there's simply nothing else that compare in this price range for sheer, simple 'piano-ness'. Meanwhile, nearer the top of the budget and performance tree, there's the jaw-dropping Nord Piano 4, which is the professional's choice for stage use. For playing piano at home, we'd heartily recommend the great-sounding and great-value Casio Privia PX-770.
How to choose the best piano for you
Price is often a significant factor for many when trying to select the best piano for their needs, but it's not the only consideration that needs to be made. Once you've set your budget – remembering you may also need to factor in budget for additional accessories, such as a piano stool, or a pair of headphones – you need to establish where the piano is mostly going to be used, and whether you want a real acoustic upright piano or a digital piano.
Acoustic pianos: what you need to know
If you go for an acoustic piano, there are several important factors to take into account. The obvious payoff is the weight – most acoustic pianos are made of wood and contain a solid iron frame, and are usually incredibly heavy as a result. Then you need to bear in mind the cost of regular tuning and whether or not the atmosphere in your home might adversely affect the tuning (moisture and damp/cold can affect the components).
You can have the best piano in the world, but if it isn't maintained and housed properly then it won't perform to its full potential. Plus, you need to make sure that you have good access for delivery and that, if the piano is to go up or downstairs, you have strong enough floors (and strong enough help; pro piano movers are a must). Once it's in, the lack of a headphone socket means that you'll need a tolerant audience/neighbours while you practice!
These concerns aside, if you can afford it and have the space, there's no substitute for a good-quality acoustic upright or grand piano, either sonically or feel-wise.
Digital pianos: what you need to know
Thanks to advances and refinements in sampling and software emulation technology, digital pianos generally sound and feel great these days, but there's still lots to consider. Firstly, for the home, you want something that fits in with its surroundings, isn't too heavy (if you want to move it around), sounds realistic and projects its sound nicely. Digital pianos for the home normally come with built-in speakers so you shouldn't need to worry about connecting any extra kit. You might need a pair of headphones though.
Realistic hammer action keyboards are desirable, but if you're buying for kids to learn on, the keyboard shouldn't have too heavy an action. You also need to decide whether you want just sounds, or sounds with effects, MIDI and auto-backings for practicing/playing along with too.
Finally, there are stage pianos, which are the best option for gigs and live performance. Most of these don't have built-in speakers, as they're designed to be connected to a PA or mixing desk, but they're more portable (though moving them can be a two-person job) and frequently come with a lot more sounds and effects than home digital pianos.
Ready to find the best piano for you? Then here's our roundup of the top acoustic pianos and digital pianos available now...
The best pianos to buy right now
The best digital pianos
Image 1 of 2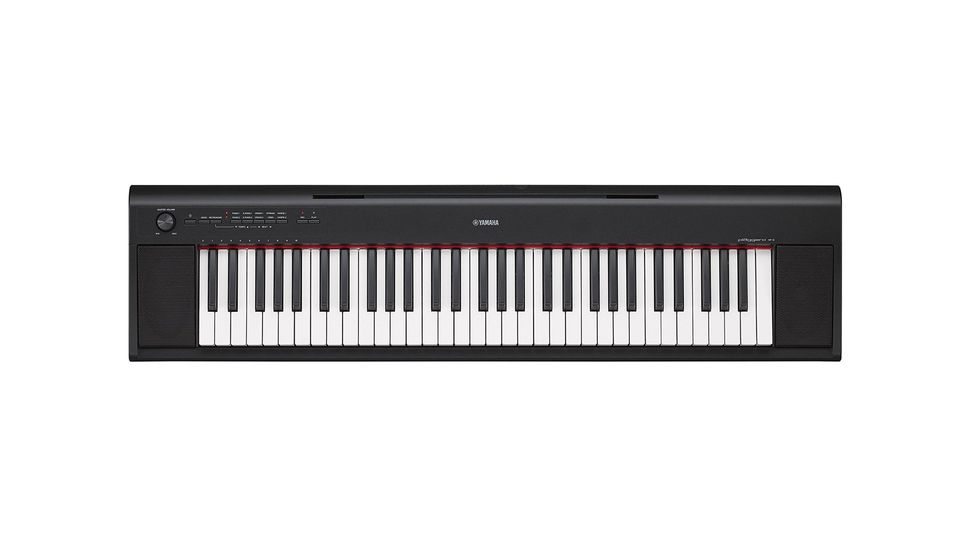 Image 2 of 2
1. Yamaha Piaggero NP-12 portable keyboard
The best piano for a pedigree sound on a shoestring budget
Launch price: $199/£199/€202 | Piano type: Portable keyboard | Keys: 61 synth-action | Sounds: 10 | Effects: Yes | Speakers: Yes | Connectivity: Headphones, sustain pedal, MIDI I/O, USB | Power: Mains or Batteries (6xAA) | Dimensions (mm): 1036 x 259 x 105 | Weight (kg): 4.5
Compact, lightweight and portable
Excellent sound
Brilliant for kids
Possibly too basic for some
A scaled-down, portable piano-style digital keyboard, the NP-12's lifelike AWM Stereo Sampled piano sound and compact footprint make it a perfect choice for kids to learn on, or for more mature pianists who have downsized and no longer have room for a full-size piano. Despite having a lightweight, synth-action keyboard, the 61-key NP-12 really looks the part thanks to its classic styling, red trim and full-size, waterfall-fronted keys.
Slim, lightweight and strictly no-frills, the NP-12 can be powered by the included mains adapter or by 6 x AA batteries. With a selection of 10 sounds, 2 of which are acoustic pianos, and 4 basic reverbs, if all you want is simply something with a great pedigree that sounds like a piano to just sit down at, switch on and play, you need look no further.
The 'B' here stands for the colour Black, (it's also available in White), and if you're after an even more piano-like experience, the NP-12 has a bigger, 76-note sibling in the shape of the NP-32.
Image 1 of 2
Image 2 of 2
2. Casio Privia PX-770
A great mid-priced digital piano for the home
Launch price: $749/£599/€649 | Piano type: Home | Keys: 88 hammer-action | Sounds: 18 | Effects: Yes | Connectivity: Headphones, USB | Power: Mains | Dimensions (mm): 1357 x 833 x 299 | Weight (kg): 31.5
Sounds and feels pretty good
Good value
Quality build
Limited connectivity
If you're looking for the best mid-range digital piano, this could be the model for you. The Privia PX-770 features a triple-sensor graduated hammer-action which gives nuanced control over the onboard sounds. The PX-770 features hammer and damper resonance and has three foot pedals like an acoustic piano: damper, soft and sustain. It also features half-damper pedalling and comes with a built-in library of ten classical pieces, giving you the opportunity to play along with recordings of a live symphony orchestra!
Considering the low price, the piano sounds and feels surprisingly good, although the number of onboard sounds is fairly limited compared to a stage piano (no synth leads), and the distinctive looks won't appeal to everyone.
There are no audio outputs (only two headphones ports), and no standard MIDI outputs for connecting to other keyboards/modules (although MIDI can be sent and received via a computer over USB). At this price, though, these are minor quibbles, and overall the PX-770 represents an excellent mid-range choice for the home pianist.
Image 1 of 2
Image 2 of 2
3. Roland RD-88 stage piano
A more affordable stage piano for gigs or home use
Launch price: $1,199/£1,049/€1,149 | Piano type: Stage | Keys: 88 hammer-action | Sounds: 3000 tones, 300 programs | Effects: Yes | Speakers: Yes | Connectivity: Main out (L/Mono, R) 1/4-inch main out jacks, Mic input 1/4-inch jack, Stereo minijack line input, Pedal (Damper, FC1, FC2), MIDI (Out), USB to host,USB Memory port, Headphones | Power: Mains | Dimensions (mm): 1284 x 258 x 159 | Weight (kg): 13.5
Lightweight and compact design
Huge sound selection
Onboard speaker system
Possibly overkill if you just want a piano
One of this year's hot announcements at NAMM, Roland's RD-88 is a compact, lightweight stage piano, bristling with features, that's a bit more affordable than some of the competition. At around half the price of the flagship RD-2000, the RD-88 combines Roland's acclaimed PHA-4 hammer action keyboard and Ivory Feel keys with their exceptional-sounding SuperNatural Piano and E.Piano sound engines.
Throw in an easy-to-use interface optimised for performance, literally thousands of tones and a powerful, room-filling set of onboard speakers, and you have the perfect solution for both stage and home use. And with its super-slim profile weighing in at only 13 kilos, it won't require a team of burly weightlifters to help you move it around!
Image 1 of 2
Image 2 of 2
A solid workhorse stage piano
Launch price: $2,499/£1,499/€1,490 | Piano type: Stage | Keys: 88 hammer-action | Sounds: 80 | Effects: Yes | Connectivity: Unbalanced L/R, Aux In, Foot Pedal 1, 2, 3, Phones, Midi In/Out/Thru, USB host, USB device, Bluetooth | Power: Mains | Dimensions (mm): 1330 x 372 x 135 | Weight (kg): 17.5
Good MIDI connectivity
Portable for a weighted keyboard
We've heard better electric pianos
Not as premium-looking as some
Nicely portable for an 88-note stage piano, the Vivo S7 has a great-feeling weighted keyboard that works well for both piano and synth/organ sounds. Speaking of which, there's a broad range of sounds onboard to cover most styles and situations. You'll find acoustic and electric pianos, organs, strings, bread-and-butter synth sounds and more.
The S7 looks a little quirky and dated, and its electric pianos perhaps aren't the strongest when compared to the competition. There is some menu diving involved for tweaking effects and other deeper parameters, so it's not quite as hands-on/intuitive as some other stage pianos.
However, The S7 is priced right, it's pretty portable and well-built, sounds great for the all-important acoustic pianos and has decent effects and connectivity. Home users should also take note of the recently-launched Vivo S7 Pro M version, offering two 35W onboard speakers.
Read full Dexibell Vivo S7 review
Image 1 of 2
Image 2 of 2
5. Korg SV-2 / SV-2S
Long-awaited update to a beloved stage piano
Launch price: (SV-2 73S) $1,999/£1,749/€2,049 | Piano type: Stage/home | Keys: 73 RH3 Graded-Hammer Action | Sounds: 72 | Effects: Yes | Connectivity: L/R audio out, audio input, phones output, USB, Midi In/Out, Damper pedal input, 2 x pedal inputs | Power: Mains | Dimensions (mm): (SV-2 73S): 1143 x 347 x 157 | Weight (kg): 18.3
Excellent sounds
Great looks and playability
73 or 88-note versions available
Not cheap
It's been over 10 years since Korg first wowed buyers with the SV-1's blend of authentic acoustic piano and retro keyboard tones and way-out styling. Fresh from NAMM comes a newly-updated version, the SV-2, that delivers more of everything - more sounds, more polyphony, more tweakability, more memory slots for your favourite presets, and even more sonic authenticity.
Like its predecessor, the new board is available in 73 or 88-note versions, both with or without a built-in array of full-sounding speakers - the one with the speakers is known as the SV-2S. The addition of the speakers makes the SV2-S viable both as an on-stage companion and a home piano, and it's the acoustic piano sounds that really shine here, with soundsets including leading German, Italian, Austrian, and Japanese instrument makers. With the SV-2, Korg looks set to continue the well-deserved success of the SV-1, and then some.
Image 1 of 2
Image 2 of 2
A classy sounding (and looking) stage piano
Launch price: $2,199/£1,913/€1,998 | Piano type: Stage | Keys: 88 hammer-action | Sounds: 500 | Effects: Yes | Connectivity: L/R main, L/R balanced outputs, Phones, damper, switch, pedal, MIDI In/Out, USB MIDI and USB for storage media | Power: Mains | Dimensions (mm): 1311 x 359 x 140 | Weight (kg): 20
Versatile solution for stage and home
Excellent sounds
Keys not so great for synth playing
Takes a while to boot up
Offering sounds from Korg's flagship Kronos, with intuitive operation and solid build, the GrandStage can cover a wide range of uses including acoustic/electric pianos and synth sounds too. It looks great at home as well as on stage, so is a strong contender if you want a piano that can perform in a variety of situations.
The RH-3 weighted action keybed works great and is mated to an intuitive, gig-ready interface. The synth sounds are warm and present, the pianos lush and realistic, the electric pianos authentic and characterful, the FX musical and complementary and the range of sounds on offer will cover just about everything you could want in a stage piano/synth. If you're after a versatile stage piano, then the Grandstage is a class act!
Read our full Korg GrandStage 88 review
Image 1 of 2
Image 2 of 2
When it comes to the best pianos, this is excellent value for money
Launch price: $2,499/£2,220/€2,079 | Piano type: Stage | Keys: 88 hammer-action | Sounds: 57 | Effects: Yes | Connectivity: Line Out, Headphones, foot controller, MIDI I/O, USB, Aux input | Power: Mains | Dimensions (mm): 1298 x 364 x 141 | Weight (kg): 18.6
Versatile, high-quality soundset
A straightforward interface
Organ and synth sections are lacking compared to some rivals
Offering high-quality acoustic piano, electric piano, organ and other (including synth/string) sounds, the CP88 is a well-equipped stage piano that benefits from a clean, retro-inspired interface that offers one-to-one access to all of the instrument's main features. The 88-note hammer-action keyboard looks and feels fabulous, responding superbly and handling fast runs with ease.
There are some fine, tweakable effects, particularly the analogue and digital delays, and you can build some massive, stacked sounds using the Live Sets feature. Admittedly, the organ and synth sections are lacking in comparison to the Nord Stage - you don't get any drawbars, for example - but even though it isn't red, we think the CP88 has a bright future ahead of it.
Read our full Yamaha CP88 review
Image 1 of 2
Image 2 of 2
8. Nord Piano 4
The professional pianist's stage piano of choice
Launch price: $2,999/£2,332/€2,435 | Piano type: Stage | Keys: 88 hammer-action | Sounds: 400 locations | Effects: Yes | Connectivity: Audio outputs (L/R), monitor input, headphones output, piano pedal input, volume pedal input, MIDI In/Out, USB for transferring sounds and USB-MIDI | Dimensions (mm): 1287 x 121 x 340 | Weight (kg): 18.5
Tried and tested technology
Sounds awesome
Looks distinctive
No pitch or mod wheels
The Nord Piano 4 comes with a wide range of solid, tried and tested acoustic and electric pianos onboard. These sound just fantastic, and if you've watched any music TV or been to a gig or two recently, the chances are that you'll have seen one or more of them on stage. The nicely-balanced, 'grand-weighted' action is playable for pianos and synth sounds alike, and there are some wonderful vintage-styled effects onboard, including phasers/flanger/chorus, reverb, delay, EQ and amp emulation.
There's sample memory for user samples, pedal noise and string resonance. There are no pitch or modulation wheels onboard, which limits the expressiveness when using the synth sounds or user samples (and also limits the Nord Piano 4's potential as a MIDI controller).
A solitary pair of audio outputs means that you can't route the synth section to its own outputs for independent processing. The red case is certainly a statement, but it's one that we like, and the fact that the Nord Piano is practically an industry standard stage piano suggests that many others agree.
The best acoustic pianos
Image 1 of 1
1. Yamaha U1 acoustic upright piano
An acoustic piano that will last
Launch price: From $11,399/£8,994 | Piano type: Acoustic | Dimensions (mm): 1530 x 1210 x 610 | Weight (kg): 228
10 year warranty
Solid investment
Great for learning and performing
Incredibly heavy
This is a truly professional upright piano that looks, feels and sounds the part for the home or as a recording instrument, while also holding its value particularly well. The U1 is built like a tank and available in a number of finishes. It comes with a 10-year warranty, three pedals (soft, mute and damper), and is great for learning or serious performance.
On the downside, high quality comes at a price, and this puts it out of reach for many. What's more, it's an acoustic so only has one sound; piano! As it weighs in at a massive 228 kilos (almost a quarter of a tonne!) it's impossible to move without professional help, and that also can be very costly! Get it in your home, though, and you'll never want to take it out. Yamaha makes some of the best pianos around, and the U1 demonstrates this superbly.
Image 1 of 1
2. Cavendish Contemporary acoustic upright
A high-quality acoustic piano made in the UK
Launch price: £6,995 | Piano type: Acoustic | Keys: 88 hammer-action | Sounds: Piano only | Effects: No | Dimensions (mm): 1530 x 1210 x 620 | Weight (kg): 150
A fairly-priced acoustic piano
Built to a high standard
Looks great
Heavy
Buying one of these beautiful pianos helps keep UK piano manufacturing alive; Cavendish is the UK's only acoustic piano manufacturer. The pianos are hand-built to a very high standard, are priced very fairly, and come in several different styles (including various uprights and grands).
Thanks to longer keys, a larger area of soundboard, and longer, hand-made bass strings, the Contemporary produces an impressively rich sound. Once again, (although it's obvious to say!), because it's an acoustic piano, you only get one sound – piano! Rest assured, though, that even the best emulation won't come close to the real deal. On the downside, these are heavy pianos, so make sure you have strong floors and strong help (and you'll also need to factor in the cost of regular tuning).
Digital Piano Basics
To help you choose the best piano for you, our useful Digital Piano Basics series could help. Here we cover everything from explaining what a digital piano is, to key features and sounds, to setting up your new piano and connecting it to a computer. We also look at useful accessories any budding pianist should consider, such as headphones, a piano stool, foot pedals and more.