Black Friday Andertons Deals: Quick Menu
1. Quick links
2. Editor's picks
3. FAQ
The biggest sale of the year may be over but the Black Friday Andertons deals keep on rolling, with the UK-based outfit continuing to offer massive savings on thousands of products. It's great news for those who missed all the sales action yesterday, with loads of big discounts still alive and kicking.
On Monday we expect to see a deluge of fresh deals, with the Cyber Monday sale set to arrive. This should mean loads more discounts on fresh gear, perhaps with an emphasis on digital products and music tech. We'll be keeping track of everything over on our Cyber Monday Andertons deals page, which will have the biggest and best savings as soon as they go live.
In the meantime, there are some fantastic savings of up to 35% off Alvarez acoustic guitars, up to £180 off Focusrite audio interfaces, and some nice £50 reductions on Adam Audio studio monitors live on the Andertons site at the moment. Our favorite deal has to be £200 off a Fender FSR Player Plus Stratocaster, which features a Shawbucker in the bridge position, two Pure Vintage '65 single coils, and a Roasted Maple neck - that's a premium spec at a super low price!
Keep scrolling to see quick links to all the major categories in the Andertons Black Friday sale, as well as some handpicked items from the expert writing team here at MusicRadar.
Black Friday Andertons deals: Quick Links
Editor's picks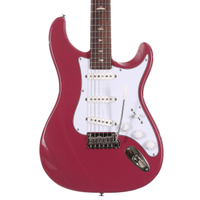 PRS SE Silver Sky: Was £895, now £499
The original PRS Silver Sky caused quite a stir when it first launched and the SE version has become insanely popular among fans looking for a more affordable way to get their hands on this modern classic. Right now, Andertons has slashed the price of this Dragonfruit coloured Silver Sky by a gigantic £396, making it a fantastic deal on one of the most popular mid-price electric guitars around.
Price check: Gear4Music £749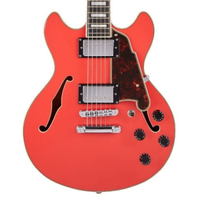 D'Angelico Premier Mini DC: was £799, £349
This beautiful semi-hollow body guitar just got even more tempting with a massive £450 reduction. Coming in a fiery Fiesta Red, the body is smaller than your average semi-hollow guitar, giving a much more comfortable playing experience.
Price check - Thomann £666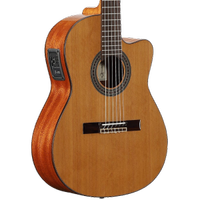 Alvarez guitars: Up to £220 off
If you're looking for a seriously good-value acoustic guitar then Alvarez is a great brand and there are some fantastic early deals here. For a limited time, you can score a massive up to £220 off a wide range of Alvarez acoustic guitars.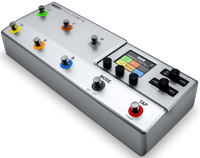 Line 6 HX Stomp XL: Was £649, now £579
Whether you're looking for a standalone, do-it-all all rig in a box, want to supplement your existing pedalboard, or need a home recording solution, the HX Stomp XL can absolutely do it all. It's got a rare £70 discount at Andertons at the moment, a great saving on one of the most versatile multi-effects pedals available right now.
Price check - Thomann £689 | Gear4Music £599
Black Friday Andertons deals: FAQ
Do Andertons do Black Friday?
They absolutely do! Like most retailers for 2023, the Black Friday Andertons deals will officially arrive on Friday, November 24 - the day after Thanksgiving and just over a month before Christmas. As usual, the deals will extend across that weekend before the Cyber Monday music deals finish the event with a bang on Monday 27 November.
Typically Black Friday Andertons deals will emerge in the weeks leading up to the big day, some as early as mid-October - and better yet, many deals stick around well after the event and into December, helpful if you need to wait till the end of the month for payday.
Of course, Black Friday at Amazon is one of the biggest online sales for stuff like headphones and TVs, but it's by no means the place to shop if you're a muso. For big savings on musical instruments, the Andertons Black Friday sale is where you should be looking - we'll be rounding up all the best deals here.
What deals should I expect?
We'll be keeping a close eye on the big music retailers throughout October and November, and we'll be paying close attention to Andertons.
In the UK, this family-run, Guildford-based music shop, turned online giant is up there with the best of them, offering guitarists, bass players, drummers, and pianists almost 400 brands to choose from. So with that in mind, you are likely to find everything you could ever need to make music at Andertons this Black Friday.
Last year we saw lots of guitar gear on sale, as is the norm for Andertons but there were also select choices for home recording, drums, and live sound. The headline-grabbing deal was a massive 40% off PRS SE Hollowbody guitars, as well as a huge sale on Walrus Audio pedals, also 40% off.
How to prepare for this year's Black Friday Andertons deals
1. Create a wishlist early - There will be a million different deals on Black Friday, so focusing on what you really want and need will be crucial. Making a list ahead of time is the perfect way to stay on the ball.
2. Work out what you actually need - Establishing what you already have in your gear collection is a useful way to see what you need going forward. Rather than buying yet another overdrive pedal, consider whether it actually adds anything to your rig or not first.
3. Consider your music-making goals - Whether you want to play more shows or just release more music by yourself, taking into account your music-making goals for the next year is a brilliant way to focus the mind come sale time. Buy something that will serve your goals rather than the thing that just looks the most attractive.
4. Make some room - Most of us musicians are guilty of hoarding gear and we say this with twenty-plus guitars and multiple pedalboards worth of pedals in the room with us! Having a clearout is not only good for the soul, but it also frees up cash for better gear. So ahead of the Black Friday sales get rid of that phaser pedal that's gathering dust and your spare, spare guitar amp.
How we choose the best Black Friday Andertons deals
We're all music lovers here at MusicRadar, and it's quite literally our job to review and recommend gear to other musicians. All of us own tonnes of music gear, whether its electronic drum kits, synthesizers, or electric guitars.
To make sure you get the best gear possible, we judge everything based on our own experience, so you'll only find the best deals here. We would never recommend a piece of gear that we wouldn't use ourselves, it has to be genuinely useful to make the cut here.
We've purchased many items from Andertons over the years, so we can personally attest to their excellent customer service, great value, and wide variety of gear.
Why you can trust our choices
We may be talking about the Black Friday weekend here, but we cover deals from Andertons year round so we've always got one eye on what's happening. It's our job to research gear for our buyer's guides and reviews, but we also focus on sales throughout the year.
Andertons Summer Sale is always a big event, with the last one featuring some massive savings including £1,800 off ESP, £500 off select PRS guitars, and £330 off Chapman guitars. Last year's early Black Friday deal was also a cracker, with up to £730 off D'Angelico guitars landing a few weeks before the Black Friday weekend.
Last year's Black Friday Andertons deals highlights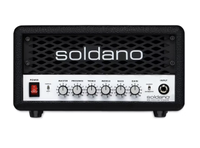 Soldano Slo-mini 30w £219, £199
We couldn't believe the Soldano Slo-Mini had already gotten a discount for Black Friday, despite having only been recently released. It was only £20 but every little helps! This incredible little amp delivers the iconic Soldano SLO tones enjoyed by legendary players at a fraction of the cost.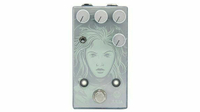 Walrus Julia V2 Platinum: £199, £119
Last year we saw one of the best chorus pedals out there with a very rare 40% off saving and in a limited edition Platinum finish – what a combination. Lush analogue chorus and vibrato tones aplenty and this latest V2 version also offers momentary switching for quick bursts as required.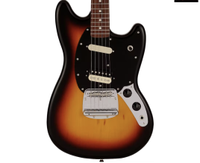 Fender MIJ Mustang £1,249, £999
Fenders that combine a humbucker in the bridge with a single coil in the neck are massively overlooked by the company in our opinion. But here it's realised for a hugely versatile guitar. With a hefty £250 off in last year's Black Friday Andertons deals, it was amazing value for money too.