Black Friday drum deals: Quick menu
1. Quick links
2. Editor's picks
3. FAQ
4. Shopping tips
5. How we choose deals
6. Why you can trust us
7. Last year's highlights
If you're in the market for some new drum gear and you're planning on waiting until late-November to take advantage of this year's Black Friday drum deals then you'll want to keep this page bookmarked. This will be your place to find all the latest information, shopping advice and early deals as they happen - all curated by experts who have been covering this event for years.
We know all the best places to look and which deals represent genuine value for money for drummers, whether you want to stock up on sticks, or invest in a full kit. We've also kept tabs on how prices have changed over the years so we can tell the good offers from the too good to be true ones.
For the uninitiated, Black Friday is an event where the biggest music shops and brands on the planet get busy dropping fantastic deals and discounts on drum gear, from accessories to acoustic drums and electronic kits. If there's something you've been lusting after all year, Black Friday is your best chance to grab it at a great price.
Keep reading for all the latest info.
Black Friday drum deals: Quick links
Below you'll find all the latest percussion sales ahead of this year's Black Friday drum deals being announced:
Black Friday drum deals: Editor's picks
Black Friday is a while away yet, but there are some great offers floating around already. These are our current top picks.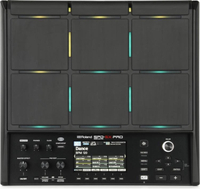 Roland SPD-SX Pro: Was £1,039, now £777
Roland's all-powerful new sample pad is still pretty new, but already it's discounted at Thomann! This new version includes increased trigger inputs and audio outputs, enhanced audio compatibility, some brilliant visual features, and even sequencing capabilities. For on-stage power and creativity, this is one of the best electronic drum pads around.
Black Friday drum deals FAQ
When do the Black Friday drum deals start?
2023's Black Friday drum deals will officially come to fruition on Friday November 24th - the day after Thanksgiving. With less than a month between Black Friday and Christmas, stocking up on Christmas presents is how most people utilise their Black Friday and Cyber Weekend - with Monday 27th November seeing a slew of Cyber Monday drum deals for you tub thumpers out there. If you want more inspiration we have a drummers gift guide right here.
Last year's festivities would imply that Friday 24th won't be the only time to pick up some killer deals on drum gear. Most of the best Black Friday drum deals will start popping up from around the middle of October, some even earlier. Many of the deals will remain valid until the end of the year, too.
Obviously, we all want bargains - so during this Black Friday/Cyber Monday period, we'd keep our eyes peeled, looking to strike on a great drum deal. It's worth noting that as Black Friday is now a global event, discounts and sales may start and end at random times of the day (or night) - so watch your favourite retailers and bookmark this page too. We'll be keeping you up to date with the cheapest prices on the gear you want!
What deals should I expect?
MusicRadar's got your back Our team of expert musicians and producers spends hours testing products to help you choose the best music-making gear for you. Find out more about how we test.
Throughout the next couple of months, we'll be keeping an eye on the biggest drum retailers. Last year we saw our Guitar Center Black Friday deals and Musician's Friend Black Friday deals hubs going wild, with a huge influx of drum gear bargains. This year, we're expecting to see some deals of equal measure on everything from cymbals and drum sets to accessories, sticks, and more.
Black Friday is one of the best-ever opportunities in the year to grab a great drum bargain. Last year, we were blown away by the incredible savings at Guitar Center. On offer was massive savings on gear from Roland, Alesis, Tama, Gretsch & more as well as 15% off qualifying purchases with the code blackfriday15.
Musician's Friend were also slashing up to 15% off qualifying items with the discount code BLACK FRIDAY and Sweetwater were knocking an almighty 70% off select drum equipment.
Electronic drum kits are always hot ticket items on Black Friday, and we've compiled this feature covering 5 reasons to pick up an e-kit on Black Friday. We also have a dedicated Black Friday electronic drum set deals page for all things e-drums.
In terms of the types of deals to look out for, Black Friday bargains come in four main flavours:
Single item - A single product with a great discount
Site-wide discounts - A single discount percentage on a large range of products across a site
Discount codes - Load your basket to a certain value and redeem a discount code for money off your basket contents
Added value deals - These include multi-buy discounts, or additional products or software for free when you buy certain items
Shopping tips
Here's a few pointers - based on personal experience - that will help you bag the best percussion bargains when the time comes.
1. Create a wishlist early - The most sensible way to take advantage of this year's Black Friday drum deals is to know in advance what you're looking for. This will make searching much easier, rather than having to trawl through loads of deals you don't want to find the ones you do, or pondering title you don't need.
2. Work out what you actually need - Check out your favourite brands, see what you need and will genuinely use - don't waste your cash on features you'll never use. Has there been any new gear launched lately? If so, perhaps the old version will be massively discounted for Black Friday?
3. Consider your drumming goals - What do you want to achieve with your playing for the next 12 months? Do you want to record more? Practice more? Start a function band? Now could be the time to invest if the right gear comes up.
4. Streamline your current gear - Something else you should consider ahead of time is whether you have enough space in your collection for a new kit or set of cymbals. Could you offload some gear you don't use to make room and generate funds for some new gear?
5. Sign up to mailing lists - In addition to bookmarking this page, we'd recommend signing up to mailing lists of your favourite retailers now to get the jump on the best deals when they do come around.
How we choose the deals to cover
Here at MusicRadar, we are experts in our field, with many years of playing and product testing between us. We live and breathe everything music-making, and we draw on this knowledge and experience of using products in live, recording and rehearsal scenarios when selecting the products we recommend.
First and foremost, we are players and creators, and we want to match like-minded folk with the right products for them, at the best prices.
For us to recommend a deal on drum gear or anything else it has to be a product we rate that's a genuinely great price or part of a truly fantastic bundle. It's also important that we only recommend retailers where you will have a positive shopping experience.
Why you can trust us
We spend a lot of our time scouring retailers for fantastic deals on our favorite drum products. Not only is it our job to research and recommend the best gear in our buyer's guides and reviews, but we're also dedicated to helping musicians get the best deals on the stuff they need, too. After all, the only thing better than new gear day is a hearty discount.
We cover a lot of the big sales events throughout the year, including Memorial Day, 4th of July sales and Amazon Prime Day, and we have a good view on which products are likely to receive the biggest discounts and when, the prices they've been in the past and which deals are genuinely worth a look.
Black Friday drum deals: What happened last year?
Last year's Black Friday drum deals were nothing short of spectacular, with electronic drum sets especially doing a roaring trade. We saw some tasty discounts, with Sweetwater slashing hundreds off the excellent Roland TD-07KV and Guitar Center knocking a tasty amount off a Special Edition Alesis Nitro Mesh.
We're expecting to see many more drum deals like these come around for Black Friday 2023, as well as deals on drumsticks, accessories and more. Here are a few more offers from last year to give you some idea of what you can expect this time round.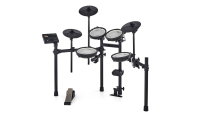 Roland TD-07DMK: Was $799.99, now $699.99
With mesh snare and tom pads, acoustic-style hi-hat mounting, Bluetooth connectivity, USB and 25 excellent kit presets, the TD-07DMK is the top of its range. you didn't need to settle for a generic electronic set last Black Friday, this was the best e-kit deal we saw.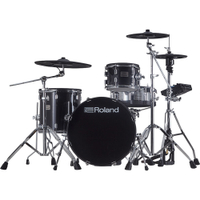 Free throne worth $224.99: with select Roland kits!
Drumming is only as comfortable as the throne you park your behind on, which is why we loved this particular deal at Sweetwater. If you bought one of four select Roland kits at Sweetwater - TD-50KV2, TD-50K2, VAD506 or TD-27KV - you got a Roland Hydraulic saddle drum throne with lush velour top, for nothing!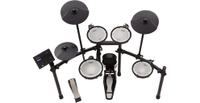 Roland e-kit bundles: Save up to $225
Bundles are a great way to get everything you need to start playing. In addition to the kit, bundles can include everything from sticks and a throne, to headphones, a personal monitor, upgrades bass drum pedal, drum rug and more. Last year, Roland's Sweetwater bundles were awesome, including $225 off the Roland TD-27KV bundle, which includes an additional PDX-100 pad and mount.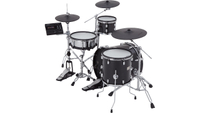 Roland VAD504: Was £3,777, now £3,190
Roland make some of the best electronic drum sets available today, but the quality and the name comes at a premium price, which is why we love to see e-kit deals on Roland gear, particularly the top-end models. The VAD504 comes complete with full size drum pads (20" kick, 14" snare, 10" and 14" toms, plus ultra dynamic digital hi-hats and ride, all powered by the TD-27 module.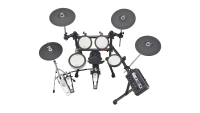 Yamaha e-kits: Get free lessons with any purchase
There were no Yamaha discounts last year, but if you purchased any kit in the Yamaha electronic drum set range from Sweetwater you receiveed access to drum lessons via a free 3-month subscription to Yamaha's Melodics app. What better way to kickstart your playing journey!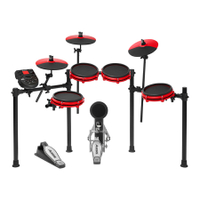 Alesis Nitro Mesh SE: Was $449, now $349
This special edition Alesis Nitro Mesh proves that it's possible for great e-kits to be affordable. You get tunable mesh heads here instead of cheap-feeling rubber, which feel closer to playing an acoustic drum set, while keeping the noise down to a minimum. This already affordable e-kit had $100 off as part of the Musician's Friend Black Friday sale.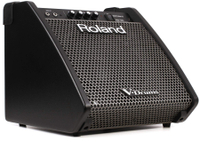 Roland PM-100 80-watt monitor: $369.99, now $269.99
Sure, headphones are great for quiet practice at home, but sometimes you've just got to be heard. That's where the portable yet powerful 2-channel personal monitor comes in. It dishes out 80-watts of power and you can have indepent control of your drums and an independent sound source such as your smartphone.
More places to shop this Black Friday