Black Friday audio interface deals: Quick menu
1. Quick links
2. Editor's picks
3. Black Friday audio interface deals FAQ
4. Shopping tips
5. How we choose deals
6. Why you can trust us
7. Last year's top deals
It probably seems a little premature to talk about Black Friday when we're still months away from the actual date, but trust us, the big event will be here sooner than you think. If you're after a Black Friday audio interface deal in late November, this is the place to find up-to-date information, early deals, and shopping advice.
Here at MusicRadar, we've been covering Black Friday for years, so we know the best places to look and whether or not a deal is actually value for money. We track prices of all the best gear throughout the year, so our recommendations will let you know whether that deal is too good to be true.
As we get closer to the main Black Friday sale this page will be the best place to find a great deal on audio interfaces whether you're recording at home or wanting to expand your professional studio. We'll be keeping a close eye on all the big brands like Universal Audio and Focusrite, as well as tracking any early deals that come up before Black Friday itself so make sure you bookmark this page for all the biggest savings.
Whether you want a smaller interface for mixing and recording on the go, or you're after an 18-in, 20-out behemoth for full bands, you'll find all the best value interface deals right here. We've also got a handy FAQ section packed full of expert advice to help you get the best out of your Black Friday shopping.
If you're looking for a bargain right now, we've got some quick links below that will take you to current sales at the majority of the big music retailers. Our current favorite is the sale over at Sweetwater, with loads of discounts on Universal Audio gear and some great bundle offers.
Black Friday audio interface deals: Quick links
Here you'll find all the latest audio interface sales ahead of the big Black Friday sales announcements:
Editor's picks
Black Friday isn't here just yet, but we've always got an eye on any audio interface offers. Here are our current top picks: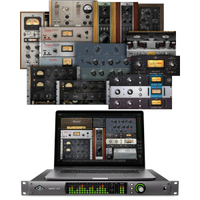 Universal Audio: Bundles deals and money off
Whether you're a newcomer to the world of home recording, or you're a pro producer who needs the best of everything, there is literally something for everyone in the Sweetwater Universal Audio sale. Whether you need a two-input compact interface or a studio-grade 18-in monster there are some amazing bundle deals and select price drops available now.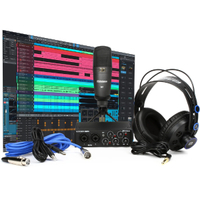 PreSonus AudioBox 96 Studio bundle: $199.99, $169.99
Perfect for budding producers, the PreSonus AudioBox 96 Studio bundle gives you all the hardware and software you need to start crafting your own recordings. It's currently got a nice $30 discount over at Sweetwater, making it even better value for your hard-earned cash.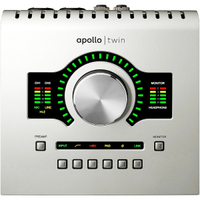 Universal Audio Apollo Twin: Was $999, now $899
Undoubtedly one of the best audio interfaces available today, the Universal Audio Apollo Twin features fantastic preamps and encourages an analog workflow, making it stand out from the pack. It's got a healthy $100 discount over at Guitar Center at the moment, giving you a pro-level interface for less.
Black Friday audio interface deals FAQ
When do the Black Friday audio interface deals start?
For 2023, the Black Friday audio interface deals will officially arrive on Friday, November 24 - the day after Thanksgiving and less than a month before Christmas Day. As always, the deals will extend across that weekend (also known as Cyber Weekend), before finishing with a final flurry of Cyber Monday music deals on Monday 27 November.
That said, the deals won't be isolated to this concentrated four-day period though. Many of the best Black Friday audio interface deals will emerge in the weeks leading up to the big day. And many deals stick around well after the event and into December.
Deals are launched at all sorts of random times – sometimes in the middle of the night – so savvy shoppers will need to keep a close eye on their favorite retailers to ensure they grab the bargains they're after. Some Black Friday audio interface deals may stick around for the whole of Cyber Weekend, while others may only be live for a matter of hours, or could be stock-limited. So, if you're looking for a bargain, you need to be ready to pull the trigger.
If you're using Black Friday to save money on Christmas gifts, our guide to the best Christmas gifts for musicians is great for inspiration.
What deals should I expect?
We'll be keeping a close eye on the big music retailers throughout October and November. Based on last year's evidence, the Guitar Center Black Friday deals, Sweetwater Black Friday sales, Musician's Friend Black Friday deals, and Thomann Black Friday deals will be the place to find the very best Black Friday audio interface deals.
In the past, we've seen offers on killer interfaces from Focusrite's Scarlett and Clarett ranges, and this year we're hoping to see discounts on the brand-new Scarlett 4th Generation. Last year's biggest highlight was money-off bundles, with both PreSonus and Universal Audio delivering fantastic value deals.
Talking of bundles, Black Friday is often the best time of year to save big on collections of recording gear, which usually comprises a quality interface, studio headphones, a condenser microphone, and possibly some software too. This is a really economical way of getting into recording. All you need then is a decent laptop for music production.
We've been covering the Black Friday music deals for years now, so you can rest assured our teams will be hunting down the best offers before anyone else and sharing them with you first.
Single item - A single audio interface with a great discount
Site-wide discounts - A single discount percentage on a large range of products across a site
Discount codes - Load your basket to a certain value and redeem a discount code for money off your basket contents
Added value deals - These include multi-buy discounts, or additional products or software for free when you buy certain items
Can I get free stuff on Black Friday?
Whilst there is unlikely to be any free audio interfaces going, most home recording hardware will come bundled with plugins. As part of the Black Friday deals manufacturers may offer a greater than usual set of free plugins with their interfaces to tempt you into purchasing, as you can see right now with many Universal Audio interfaces.
Retailers may also offer multi-buy deals, where if you add two separate items to your basket and get one of them for free, or at a reduced price.
How to prepare for this year's Black Friday audio interface deals
1. Create a wishlist early - To save you from scrolling endlessly through a list of discounted items, it's important to know what it is you both want and need before the big sales start.
2. Work out what you actually need - Perhaps you're looking to get your first audio interface, so an all-in-one bundle with an interface, headphones, and microphone might be handy. On the other hand, you might be looking to expand your current setup so an interface with a digital connector is a must. By working out what you want beforehand, you'll save yourself time and money when the big day comes.
3. Consider your music-making goals - Are you a solo producer making EDM? Do you want to record a rock album with your band? These are all great questions to ask that will inform your purchase, making sure it's the perfect match for your needs.
4. Make some room - Something else you should consider ahead of time is whether you have enough space on your desktop to account for additional gear. We're all guilty of hoarding items we never use, and having a clear-out can also open up more funds for a new purchase.
How we choose which audio interface deals to cover
At MusicRadar, we live and breathe music. We all own our own audio interfaces and use them to craft our own music whether it's solo productions or fully-fledged band recordings. We've got loads of experience using recording hardware, and we use all of our knowledge and experience when selecting the best deals to recommend.
Like you we're music lovers and creators, so we want to make sure you get the best possible bit of gear for your specific needs.
If we're recommending a product it has to be at a genuinely good price or as part of an excellent value bundle. We will only recommend retailers where you will have a positive shopping experience, as well as the best price.
Why you can trust our choices
Despite Black Friday only happening on a specific weekend, we actually spend all year looking for fantastic deals on audio interfaces, and many other bits of recording hardware and software. It's our job to research and recommend the best music gear for our and reviews but as gear hounds ourselves, we're also always on the look out for a great deal.
We cover loads of the big sales events throughout the year, including Memorial Day, 4th of July sales and Amazon Prime Day, so we've got our finger firmly on the pulse of what's going on in the music gear industry. We know the prices they've been in the past too, so we can tell you whether the deals we recommend are genuinely worth it.
Last year's Black Friday audio interface deal highlights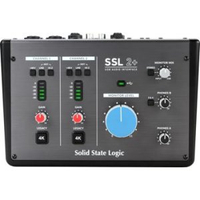 SSL2+ USB interface: $239.99, $219
With more connectivity and options for sending your sound out to various locations, the SSL2+ will fit into a huge variety of studio environments. You get four outputs, an increase on the two available with the SSL2, and last year saw a saving of 9% over at Amazon.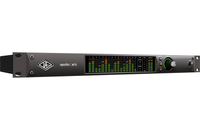 Universal Audio Apollo X16: $4,499, $3,999
If you're serious about your recording exploits then this incredible 16-channel interface will seriously beef up your creative endeavors. This powerful thunderbolt interface perfectly integrates into your existing setup, working beautifully with existing outboard gear to supercharge your productions. Last year's Black Friday sale at Guitar Center saw the Apollo X16 come with a massive $500 off, as well as a full complement of UA's award-winning plugins totally free, worth $2,400 when sold separately.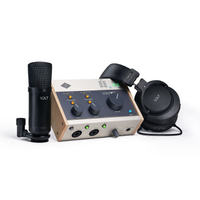 Universal Audio Volt 2 Studio Pack: £217, £195
When you're just starting out in the world of home recording, gearing up with everything you need can be an expensive affair. That's why bundles are often the best value way to go. This pack from UA includes one of our favorite budget audio interfaces, matched with a pair of studio headphones, a quality microphone, and loads of software to get you started. It was 10% off for Black Friday last year.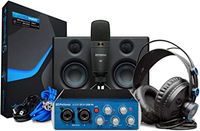 PreSonus AudioBox Studio Bundle: $329.99, $259.99
Don't know where to start with your home studio setup? Fear not because this brilliant bundle from PreSonus gives you everything you need to start doing your own production, mixing, and mastering. Last year saw a healthy $70 off at Guitar Center, giving you an audio interface, studio monitors, microphone, headphones, and PreSonus' Studio One software in one handy package. It even includes all the cables you need to connect everything up! How's that for convenience?
More places to shop this Black Friday
MusicRadar's got your back Our team of expert musicians and producers spends hours testing products to help you choose the best music-making gear for you. Find out more about how we test.