Black Friday monitor deals: Quick menu
1. Quick links
2. Editor's picks
3. FAQ
4. Shopping tips
5. How we choose deals
6. Why trust us
7. Last year highlights
No matter your studio's size, be it professional or in your own home, you can guarantee that there are monitors of all sizes to suit all spaces. If you're looking for a mega deal on a new pair of studio monitors this Black Friday then this is your page to bookmark.
While there's a while yet before the official Black Friday studio monitor deals land, it pays to do your research and prepare early. In our experience covering this huge event, the best deals aren't isolated to Black Friday itself, with many dropping as early as mid-October.
So, if you're looking to upgrade your home studio setup, or pick up a pair of portable monitors to take on the go, this time of year is definitely the best opportunity to grab a bargain on brands including IK Multimedia, PreSonus and Avantone. And we have all the advice and insight on this page to help you research your options.
If you're ready to shop now, currently the best place to find a bargain is Guitar Center where their Lay It Down recording sale is in full swing and you'll find money off recommended monitor brands including KRK and JBL.
Black Friday studio monitor deals: Quick links
Below you'll find all the latest studio monitor sales ahead of this year's mega Black Friday deals being announced:
Black Friday studio monitor deals: Editor's picks
Black Friday is a while away yet, but there are some great offers floating around already. These are our current top picks.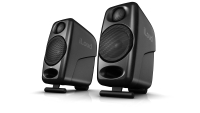 IK Multimedia iLoud Micro (pair): $349.99, $299.99
The iLoud Micros are IK's smallest reference monitors and for a limited time Sweetwater has slashed the price for a pair down to $299.99 – a cool $50 off the retail price. And don't worry, style-hounds, you can also get them in white.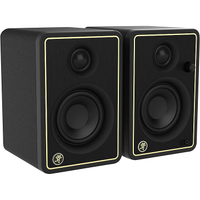 Mackie CR3-X 3" monitors: Was $109.99, now $87.99
These limited edition gold-trimmed, powered monitors from Macie are $22 off for the pair at Guitar Center right now. Promising studio quality, CR3-X monitors will fit in any desktop situation with ease.
Black Friday studio monitor deals: FAQ
When will the Black Friday studio monitor deals land?
For 2023, the Black Friday monitor deals will officially arrive on Friday, November 24 - the day after Thanksgiving and less than a month before Christmas. As usual, the deals will extend across that weekend (also known as Cyber Weekend) before the Cyber Monday music deals finish the event with a bang on Monday 27 November.
Now, we've covered Black Friday for long enough to know that many of the best Black Friday studio monitor deals will emerge in the weeks leading up to the big day, some as early as mid-October - and better yet, many deals stick around well after the event and into December. If a pair of monitors is a bit rich for someone's Christmas present, we have more affordable ideas in our guide to the best gifts for musicians.
What deals should I expect?
We'll be keeping a close eye on the big music retailers throughout October and November, scouring the internet for the very best Black Friday studio monitor deals we can find.
Based on last year's evidence, the Thomann Black Friday sale, Guitar Center Black Friday sale, Sweetwater Black Friday sale, and Musician's Friend Black Friday sale are the places to go if you are looking for a tasty deal on a new pair of monitors. Every year we see stellar discounts applied to all categories of monitors, from portable powered speakers, to high-end studio workhorses.
We've been covering the Black Friday music deals for years now, so you can rest assured our teams will be hunting down the best offers before anyone else and sharing them with you first.
Here's a flavour of the types of deals you can expect to see this year.
Single item - A single product with a great discount
Site-wide discounts - A single discount percentage on a large range of products across a site
Discount codes - Load your basket to a certain value and redeem a discount code for money off your basket contents
Added value deals - These include multi-buy discounts, or additional products or software for free when you buy certain items
How to prepare
Got your eye on a pair of monitors and wondering whether Black Friday is the time to buy? Here's a few tips from our personal experience that will ensure you're ready to strike if the gear you want is up for grabs:
1. Create a wishlist early - The most sensible way to take advantage of this year's Black Friday studio monitor deals is to know in advance what you're looking for. This will make searching much easier, rather than having to trawl through loads of deals you don't want to find the ones you do, or pondering things you don't need. To help you create your dream shopping list, take the time to explore our expert and up-to-date buying guides and reviews. In particular, we would point you to our guides covering the best studio monitors overall and the best budget studio monitors.
2. Work out what you actually need - Check out your favourite brands, see what you need and will genuinely use - don't waste your cash and fill your basket with stuff that will never truly see any action.
3. Consider your music goals - What do you want to achieve with your music over the next 12 months or so? Do you want to gig more? Learn a new instrument? Or finally record your songs? Now could be the time to invest in gear that helps you fulfil your musical aspirations.
4. Streamline your current gear - Something else you should consider ahead of time is whether you have enough space in your collection for new gear. Could you offload some gear you don't use to make room and generate funds for some new gear?
5. Sign up to mailing lists - In addition to bookmarking this page, we'd recommend signing up to mailing lists of your favourite retailers now to get the jump on the best deals when they do come around.
How we choose which deals to cover
Here at MusicRadar, we are experts in our field, with many years of playing and product testing between us. We live and breathe everything music-making, and we draw on this knowledge and experience of using products in live, recording and rehearsal scenarios when selecting the products we recommend.
First and foremost, we are players and creators, and we want to match like-minded folk with the right products for them, at the best prices.
For us to recommend a deal on music gear it has to be a product we rate that's a genuinely great price or part of a truly fantastic bundle. It's also important that we only recommend retailers where you will have a positive shopping experience.
Why you can trust our choices
We spend a lot of our time scouring music retailers for fantastic deals on our favorite music gear. Not only is it our job to research and recommend the best gear in our buyer's guides and reviews, but we're also dedicated to helping musicians get the best deals on the stuff they need, too. After all, the only thing better than new gear day is a hearty discount.
We cover a lot of the big sales events throughout the year, including Memorial Day, 4th of July sales and Amazon Prime Day, and we have a good view on which products are likely to receive the biggest discounts and when, the prices they've been in the past and which deals are genuinely worth a look.
What happened last year?
Last year's Black Friday monitor deals were some of the best offers we've ever seen, but we're hoping that the retailers go even bigger this year. These are some of the highlights from last year's event.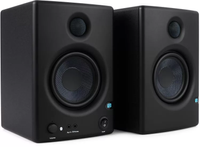 PreSonus Eris E4.5 BT: Now only $149 per pair
The compact Eris E4.5 BTs are perfect for content creators, gamers and producers alike with their small footprint, 4.5" woven composite woofer, 1" silk-dome tweeter, kicking 50w of class A/B power. Last Black Friday you could get hold of a pair at Sweetwater with $29.96 off.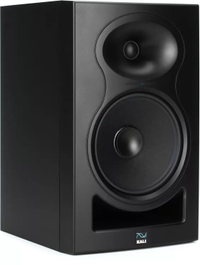 Kali Audio LP-8 V2 (single): $50 0ff
Kali Audio's Lone Pine series has been hugely popular the world over and for good reason. A lot of which is to do with the keen price point. Now the range has been improved in a variety of areas making them even better value. Combined with a further drop in price for last Cyber Weekend this was an unmissable deal. At Sweetwater, you could enjoy a saving of $50 on individual monitors leaving you shelling out just shy of $300 for a pair of these LP-8s.
Explore more Black Friday deal round-ups