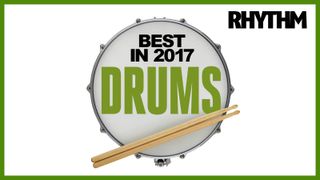 Best in drums 2017
As another year slowly draws to a close, it's time to reflect on what's dominated the headlines over the previous 12 months. While there's been more than enough bad news to make you want to move underground, in the drum world things have looked far brighter.
This year we've been treated to innovative playing, pioneering drum gear and brilliant new music from all corners of the drum universe. Now it's time to celebrate the best that drums had to offer in 2017.
We've drawn up shortlists of what we consider to be the players and the gear that made 2017 such an exceptional year for drummers. Now we want your help to crown the most deserving winner in each category.
Click through the gallery to browse the categories and to place your votes. We'll start announcing winners from the end of November. You know what to do…
The MusicRadar Best in drums awards are brought to you in association with Allianz Musical Insurance - the UK's Number 1 Specialist Instrument Insurer
Who is the best new drummer of 2017?
Just when you think you've seen everything that's possible behind a drum kit, a new wave of drummers comes through proving there are plenty more boundaries left to break in terms of style, technique and flair – and this year is no exception.
It's always a tough task to filter the wealth of emerging talent from the last 12 months into a best new drummer shortlist, but we reckon this line-up is pretty special, and we're extremely excited to see where things are going next.
The big question is, in your opinion which new name in drums has made the biggest impact behind the kit this year?
Who is the best British rock drummer of 2017?
MusicRadar is UK-based, as are our pals at top drum mag Rhythm (who we collaborate with on these polls), so we couldn't compile our end of year lists without celebrating all that's great about the rock drumming talent right here on British soil.
Every type of British rock drummer is represented on this shortlist; from UK legends responsible for inspiring countless others to pick up sticks, to the players behind the UK's new generation of festival headliners, plus a new breed of drummers breaking perceptions of how rock drumming should sound.
The bottom line is that the UK rock scene is buzzing and the future of the drum community is in good hands. So, who do you think has been the figurehead of the thriving British rock scene this year?
Who is the best metal drummer of 2017?
The heavy metal scene has always been a place to discover serious drumming talent. Many metal drummers make such a mark with their playing that they become just as celebrated as the bands they're a part of. And rightly so – the skills to craft unique and innovative metal beats are possessed by only a handful of the most creative drummers.
Whether you're metal tastes sit at the softer end of the spectrum, or you like your music rammed with blastbeats and double kick assaults, 2017 has been a vintage year for great metal.
Is your album of the year cut from heavier stuff? Did your favourite metal drummer get you going in the mosh pit this year? Let us know with a vote below.
Who is the best studio session drummer of 2017?
Some drummers are simply gifted with the skills and possess the work ethic to record perfect take after perfect take in the studio. These are the players who are first-call for big name producers and artists and who you almost certainly hear whenever you turn on the radio.
Many of these drummers are fantastic live players too, but here we are celebrating their ability to deliver brilliant beats and superlative sound on-demand, and with a feel that most drummers can only dream of.
So, which drummer on this list do you think brings their A game when the red light goes on?
Who is the best international rock drummer of 2017?
Rock music is in rude health right now, from veteran acts touring their hits around the globe to exciting new bands injecting their drum and guitar-fuelled fury into the genre's throbbing veins.
At the beating heart of every great rock band is an equally great drummer keeping the rhythm with style and delivering attitude and showmanship that would make Keith Moon proud.
Best international rock drummer is one of the biggest categories this year, and rightly so, as 2017 has delivered some spectacular tours and albums. But which rock drummer was part of your 2017 musical highlight? Get voting!
Who is the best jazz drummer of 2017?
It might have some of the longest history in drumming, but jazz is often the genre where we witness the greatest innovation and progression from behind the kit; from the icons of the instrument who are busy evolving existing styles, right through to the new contenders who are tearing up the rulebook completely.
On this list you'll find drummers who have single-handedly challenged the concept of jazz drumming, morphing it into a hybrid of multiple styles and producing some truly pioneering music. Plus, legendary drummers returning to jazz with explosive results, as well as players doing their bit to honour the originators.
Whatever flavour of jazz you're most partial to, it's fair to say this is an area where drumming gets really exciting. So, who gets your vote this year?
Who is the best prog drummer of 2017?
More than any other genre, the drummers of the prog world are constantly seeking new ways to push what's possible behind the drum kit, both on-stage and in the studio.
This shortlist consists of progressive drummers who have dedicated their lives to mastering their art and who continue to manipulate time, technique and feel to produce some of the most complex music around, and this year contributed to amazing recorded music and live shows. Who gets your vote?
Who is the best drum clinician/demonstrator of 2017?
2017 saw a boom in fantastic drum clinics, events and opportunities to have up close and personal encounters with your drumming heroes.
Drum clinics can be entertaining, inspiring and educational, or simply a great way to see new gear from your favourite brand being demoed by somebody with the chops to do it justice. Either way, it takes skill (and guts) to entertain a room full of drummers and inspire them to push their own playing.
Some of the drummers on this list have been performing clinics for years, while others are new on the scene. Have you been to many drum events or clinics this year? If so, who put in the most memorable performance?
Who is the best live session drummer of 2017?
Playing live with top-level artists in top-level venues requires skill that goes way beyond just being a phenomenal drummer. The work that goes into these huge shows is monumental and, not only do drummers put in long hours to learn sets from top to bottom, but major pop gigs often involve contending with swathes of electronic percussion technology too.
Commonly, drummers for arena-ready artists also act as Musical Director so, not only do they have to navigate huge set lists from behind the kit, but they're often responsible for getting the band together and working closely with the artist to ensure the fans leave happy.
It's testament to many of the drummers on this list that they've held the same gig for a number of years, and we're here to celebrate the best of the best.
What is the best drum album of 2017?
Watching drummers perform solo in clinics or on YouTube videos can be mightily impressive, but most drummers pick up sticks because they want to create music with other musicians and make people dance or play to their emotions.
Recorded music is a way to indelibly document those creative, musical moments, and it's often the place where drummers create their most defining musical moments. That's why this year we decided to introduce a new category – best drum album.
Shortlisted here is a collection of albums ranging from the biggest rock and metal bands on the planet, to solo drummers who have produced unique, musical albums that put the drummer firmly at the front. We've even included a drumless shed album, written by a supremely talented drummer that has proven incredibly popular this year.
The question is, which album has been a firm fixture on your speakers in 2017?
What are the best cymbals of 2017?
Every type of drummer was catered for in the cymbal department this year, again proving that we're spoiled for choice when it comes to great gear.
There are options on this shortlist to suit almost all playing styles and budgets, with some serious innovation to boot. Cymbal manufacturing traditions may go back centuries, but as trends come and go the cymbal brands are thinking steps ahead to ensure you have metals that are up to the job.
So, which of these pies got you most excited to play in 2017? Vote now!
What is the best snare drum of 2017?
The snare drum is an essential part of any drummer's set-up. The characteristics of your snare and the way you play it can define your sound, and that's why so many drummers own more than one!
This year's best snare drum category shortlist shows exactly how much choice drummers have when it comes to choosing the dominant voice in their rig. From unique shells made from recycled composite material or acrylic, to carefully-specced workhorse drums, right up to new classics given the nod by a session great, there were loads of great snares released this year.
Did any of these make their way into your set-up, or have you got your eye on one (or more) for your Christmas list? Show your snare drum love by placing a vote below.
What is the best electronic percussion gear of 2017?
Decades after the first seeds of electronic percussion were sown with drum machines and early electronic pads, the hardware that enables drummers to enhance their sounds in the studio and on stage continues to evolve; and 2017 was a particularly abundant year.
As well as the usual advancements made to electronic kit technology, this year we also saw new hardware aimed at the new breed of electro/acoustic hybrid drummers, premium triggers, groundbreaking drum production software and a brand new instrument that introduced us to the world of electro-organic percussion.
Things will obviously continue to evolve, but it's safe to say that drummers have never had it better. Which bit of electronic percussion gear have you added to your arsenal this year?
What is the best drum innovation of 2017?
It still blows our minds that, after decades of pioneering products from the drum industry, there are still enough new ideas and new technologies to draw from to create brand new concepts and products that are genuinely useful to drummers.
From utterly simple yet brilliant gadgets, to genuinely useable tech and gear that improves on old favourites, the products shortlisted here all deserve their place in any drummer's arsenal. The question is, what will the drum industry think of next?
What is the best drum kit of 2017?
This is the big one, your chance to crown the best drum kit of 2017. A lot of investment goes into making a new drum kit line. Regardless of whether a kit is aimed at beginner, intermediate or pro drummers, each drum company will have worked hard to produce a set-up that's the perfect blend of great sound, build quality and stage-ready looks, to ensure you get the most bang for your buck.
This year it's the big brands going head-to-head, proving that 2017 has been a bumper year for great drum kits. The question is, which new kit from which drum company ticks all the right boxes for you?