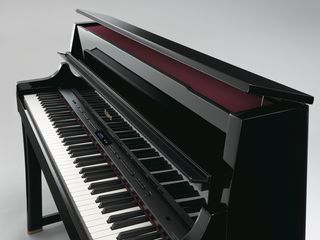 HP. DP and LX models
NAMM 2014: Digital pianos constitute a big part of Roland's business, so it should come as no surprise that the company will be launching a raft of new models at next week's Winter NAMM show.
Click through to get a closer look at all the new pianos, as we run you through their specs and prices.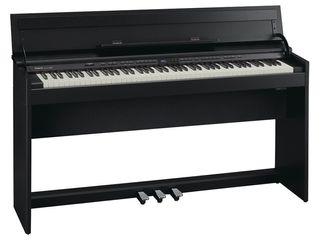 Roland DP-90e, from £1940
Enjoy beautiful, organic grand piano sounds and endless inspiration with Roland's SuperNATURAL Piano technology
Experience true grand piano touch with the new PHA-4 Premium Keyboard with Escapement and Ivory Feel
Fortissimo playing styles are fully expressed with the new Dynamic Harmonic feature, which provides both a unique tonal character and powerful sound
Find your perfect piano sound with Individual Note Voicing, which lets you adjust the pitch, volume, and tonal character of each note independently
Headphones 3D Ambience effect provides a rich, multi-dimensional sound experience while using headphones for private practice
Free Piano Partner app for iPad provides intuitive selection of DP90e tones and songs, and displays music scores for the onboard songs with DigiScore Lite
Play along with favourite songs in your iPhone, iPad, or iPod touch using the free Air Performer app
Large onboard song library covers piano classics as well as popular études such as Czerny 100 and Hanon
Metronome and recorder built in; recorder lets you capture your performances as MIDI or audio files (optional USB flash memory required for audio recording)
Integrated stand with built-in audio system for dynamic, resonant sound
Convenient features for daily playing, including a Volume Limit function and independent volume adjustment for headphones
Stylish, compact cabinet with closable lid; available in Contemporary Black finish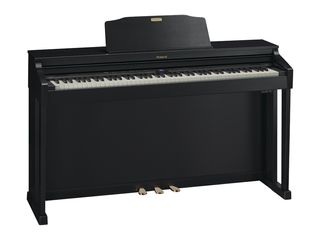 Roland HP504, £1529
Enjoy superior sound with SuperNATURAL Piano, which delivers the rich, complex tone of an authentic acoustic grand
New PHA-4 Premium Keyboard with Escapement and Ivory Feel features Roland's latest high-resolution touch-detection technology
Fortissimo playing styles are fully expressed with the new Dynamic Harmonic feature, which provides both a unique tonal character and powerful sound
Use new Individual Note Voicing to customise the sound to your taste by adjusting the pitch, volume, and character of each note independently
Headphones 3D Ambience effect offers a rich, immersive sound experience while using headphones for private practice
Free Piano Partner app for iPad includes the interactive Flash Card game for building music skills and provides an intuitive interface for selecting songs and tones in the HP504
Play along with favourite songs in your iPhone, iPad, or iPod touch using the free Air Performer app
Large onboard song library covers piano classics, as well as popular études such as Czerny 100 and Hanon
Built-in recorder lets you capture your performances as MIDI or audio files (optional USB flash memory required for audio recording)
Convenient features for daily playing, such as independent volume for headphones, Volume Limit function, and adjustable music rest
Available in Simulated Rosewood or Contemporary Black finishes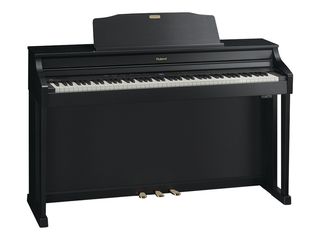 Roland HP506, from £1939
Enjoy superior sound with SuperNATURAL Piano, which delivers the rich, complex tone of an authentic acoustic grand
New PHA-4 Concert Keyboard with Escapement and Ebony/Ivory Feel features Roland's latest high-resolution touch-detection technology
Fortissimo playing styles are fully expressed with the new Dynamic Harmonic feature, which provides both a unique tonal character and powerful sound
Use new Individual Note Voicing to customise the sound to your taste by adjusting the pitch, volume, and character of each note independently
Headphones 3D Ambience effect offers a rich, immersive sound experience while using headphones for private practice
Four-channel Acoustic Projection audio system provides the organic, multi-dimensional sound field of an acoustic piano
Play along with favourite songs in your iPhone, iPad, or iPod touch using the free Air Performer app
Display music scores and select HP506 tones and songs with the free Piano Partner app for iPad Built-in recorder lets you capture your performances as MIDI or audio files (optional USB flash memory required for audio recording)
Convenient features for daily playing, such as independent volume for headphones, Volume Limit function, and adjustable music rest
Bold and elegant design; available in Polished Ebony, Simulated Rosewood, or Contemporary Black finishes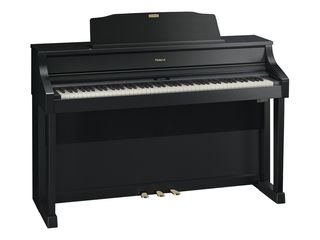 Roland HP508, from £2469
Enjoy superior sound with SuperNATURAL Piano, which delivers the rich, complex tone of an authentic acoustic grand
New PHA-4 Concert Keyboard with Escapement and Ebony/Ivory Feel features Roland's latest high-resolution touch-detection technology
Fortissimo playing styles are fully expressed with the new Dynamic Harmonic feature, which provides both a unique tonal character and powerful sound
Use new Individual Note Voicing to customize the sound to your taste by adjusting the pitch, volume, and character of each note independently
Headphones 3D Ambience effect offers a rich, immersive sound experience while using headphones for private practice
Six-channel Acoustic Projection audio system provides the organic, multi-dimensional sound field of an acoustic piano
Display music scores and select HP508 tones and songs with the free Piano Partner app for iPad
Play along with favorite songs in your iPhone, iPad, or iPod touch using the free Air Performer app
Built-in recorder lets you capture your performances as MIDI or audio files (optional USB flash memory is required for audio recording)
Convenient features for daily playing, such as independent volume for headphones, Volume Limit function, and an adjustable music rest
Bold and elegant design; available in Polished Ebony, Simulated Rosewood, or Contemporary Black finishes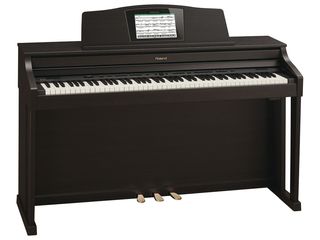 Roland HPi-50e, £2410
Experience the rich, complex tone of an authentic acoustic grand with SuperNATURAL Piano
New PHA-4 Concert Keyboard with Escapement and Ebony/Ivory Feel features Roland's latest high-resolution touch-detection technology
Fortissimo playing styles are fully expressed with the new Dynamic Harmonic feature, which provides both a unique tonal character and powerful sound
Customise the piano's tone to your taste with Individual Note Voicing, which lets you adjust the pitch, volume, and character of each note independently
Interactive DigiScore training programs include digital sheet music plus entertaining skill-building games and exercises
Large, high-resolution (1280 x 800) colour LCD built into the music rest
50 onboard rhythm accompaniments and nearly 400 internal songs, including popular études such as Czerny 100 and Hanon, plus classical masterpieces and popular songs
16-part SMF song recorder built in; records and plays WAV audio songs via optional USB flash memory
Innovative Acoustic Projection system for natural, multi-dimensional sound
Headphone 3D Ambience effect provides a rich, immersive sound field while using headphones for private practice
Convenient features for daily playing, including independent volume for headphones, Volume Limit function, and adjustable music rest
Progressive Damper Action pedal; wood cabinet with beautiful Simulated Rosewood finish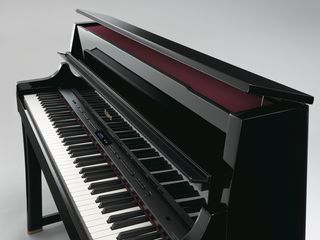 Roland LX-15e, £4585
Enjoy beautiful, organic grand piano sounds with Roland's SuperNATURAL Piano technology
Experience unparalleled touch response with the PHA-4 Concert Keyboard with Escapement and Ebony/Ivory Feel, the new flagship keyboard from Roland
New Dynamic Harmonic feature provides a unique tonal character and powerful sound for fortissimo playing
Find your perfect piano sound with Individual Note Voicing, which lets you adjust the pitch, volume, and tonal character of each note independently
Headphone 3D Ambience effect provides a rich, immersive sound experience while using headphones for private practice
Acoustic Projection technology reproduces the expansive, multi-dimensional sound field of an acoustic piano
Display music scores and select LX-15e tones and songs with the free Piano Partner app for iPad
Play along with favourite songs in your iPhone, iPad, or iPod touch using the free Air Performer app
Large onboard song library covers piano classics as well as popular études such as Czerny 100 and Hanon
Built-in recorder lets you capture your performances as MIDI or audio files (optional USB flash memory required for audio recording)
Convenient features for daily playing, including independent headphones volume, Volume Limit function, and 1/4-inch and 1/8-inch jacks to support a variety of headphones
Luxurious looks in a space-saving design; available in Polished Ebony or Polished White finishes