The early Black Friday music deals are kicking off with a bang this year, as Musician's Friend is offering up to 40% off a massive range of musical equipment from electric guitars to microphones, acoustic guitars to digital pianos and so much more. So, no matter what you are looking for, you'll be sure to find a bargain this holiday season - all without having to brave the dreaded Black Friday crowds.
We must say we're very impressed with what's on offer right now. There's a saving to be had on all the heavy hitters from the world of guitar, with the likes of $110 off the ever-popular Fender Player Telecaster Plus and $170 off the extremely versatile PRS SE Silver Sky. It's fair to say if you're a 6-string connoisseur, you'll be sure to find something to get excited about this holiday season.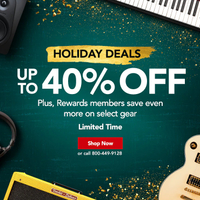 Musician's Friend Holiday Deals: Up to 40% off
The Musician's Friend holiday sale has landed and these deals are as good as any Black Friday offer we've ever seen. Right now, you can bag up to 40% off a range of big-name brands such as Fender, Epiphone, Akai, Shure and so much more.
However, it's not all guitar-related savings on offer, there are also deals to be had on the likes of MIDI controllers, with $20 off one of our favourites, the Akai MPK Mini MK3, as well as the best portable PA systems, which sees the Bose S1 Pro slashed by $200.
Of course, this is only a small cross-section of what's available, so we implore you to have a look through all the categories for yourself and see what other delights are on offer. The sale runs for a limited time, so be quick to ensure you don't miss out.
Check out more from the Musician's Friend Holiday Sale below
Find more epic deals on a range of music gear below