The 7 best drum innovations of 2018
7. Subpac M2X
The Rhythm Best in drums 2018 polls received an astonishing 100,000 votes, and we're now ready to roll out the winners.
DON'T MISS
The nominees were what we considered to be the drummers and gear that have excelled in 2018. Here, we present the best new drum innovations of 2018. First up we have the Subpac M2X...
We say: This wearable bass solution packs a serious punch, working well to enhance drum monitoring both on and off the stage.
Read the review: Subpac M2X review
The MusicRadar Best in drums awards are brought to you in association with Allianz Musical Insurance - the UK's Number 1 Specialist Instrument Insurer
6. ToneAlly Design 5
We say: Simplicity is often the key with developing an idea and the ToneAlly is exactly that - a great practice tool, which we expect will become more commonplace in the future.
Read the review: ToneAlly Design 5 review
5. Remo Aric Improta ArtBeat Artist Collection
We say: Remo's latest artist-meets-art collaboration is with back-flipping Night Verses and Fever 333 drummer Aric Improta. The drummer's unique moon and sun-inspired designs can be found on a cajon complete with Baltic birch tapa, 12" and 14" Acousticon-shelled djembes, 10" tambourine and 10", 12", 14" and 16" drumheads. Now your gear can stand out as much as your beats.
4. DW Drum Enhancer
We say: DW Drum Enhancer probably won't replace your established drum mixing chains, but for getting quality results with a minimum of user input, it's successful. And being so quick and easy to use, it's an empowering plugin that mixing novices should certainly check out.
Read the review: DW Drum Enhancer review
3. Roland TM-6 PRO trigger module
We say: The sounds, functionality and flexibility on offer will arguably see many current SPD-SX users switching in favour of a separate module-and-trigger setup.
Read the review: Roland TM-6 PRO trigger module review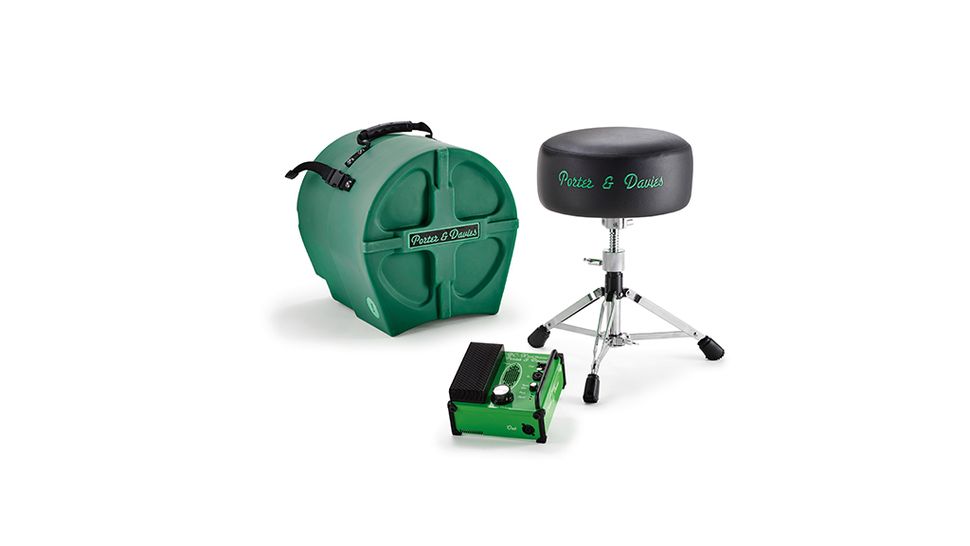 2. Porter & Davies BC-X
We say: It's still not mega cheap, but the BC-X brings the wonderful world of tactile monitoring further into the grasp of the everyday drummer. It needs to be tried to be believed.
Winner: British Drum Company Tomsprings
We say: Tomsprings are a simple yet effective answer to a common issue for some drummers. These smartly designed accessories are easy to fit and breathe life back into your stand mounted toms.
Read the review: British Drum Company Tomsprings review