Korg Volca FM
As 2016 draws to a close, we've been reflecting on the year in hi-tech music-making gear, asking you to vote for the best new hardware and software products to have been released over the past 12 months.
Now it's time to bring you the results of our polls. We drew up the shortlists, but the rankings and overall winners in each category have been decided exclusively by your votes.
Over the next 10 slides we'll be revealing what you've decided are the 10 best new hardware synths of 2016, counting down to your number one. We'll start with Korg's diminutive but delightful Volca FM...
We said: "Even just as a handy source of quality FM sounds for the studio, this is well worth the price, but if you start to push the capabilities of this tweakable, hands-on little synth, you'll find it's capable of some truly unique tricks."
BUY: Korg Volca FM currently available from:
UK: Andertons Music | Thomann | Gear4Music
US: Sweetwater
Dave Smith Instruments Sequential Prophet-6 module
We said: "This is a scaled-down, keyless version of the six-voiced Prophet-6 that was released in 2015 and became, according to Dave Smith, the most successful product launch in the company's history. Just like its bigger brother, the module features an all-analogue signal path and discrete VCOs, VCAs, and filters."
Make Noise 0-Coast
We said: "A fantastic way to get quickly immersed in the realm of modular synthesis without the hassle of lugging a huge case around."
Moog Minimoog Model D
We said: "While bringing back all the characteristic sound of the original Minimoog, Moog has simultaneously added some elegant modifications.
"The analogue craze notwithstanding, software simulations still pale in one respect or another to lighting up a true beast of an instrument like this. And while it's clear that Moog is trading on its heritage by reissuing this synth in the 21st century, the demand for the sound of the Model D has never really gone away."
Read Moog Minimoog Model D review
BUY: Moog Minimoog Model D currently available from:
UK: Andertons Music | Thomann | Gear4Music
US: Sweetwater
Moog Mother-32
We said: "Moog delivers an exciting entry point into the world of patchable analogue synthesis. Be warned though – buying one may lead you to purchasing another two, and then shelling out on a full Eurorack rig. It's a slippery slope..."
BUY: Moog Mother-32 currently available from:
UK: Andertons Music | Thomann | Gear4Music
US: Sweetwater | Full Compass
Teenage Engineering Pocket Operator 20 series
We said: "They may be fiddly, but the POs remain a great-value source of inspiring sounds and sonic fun. For all three, it's the effects that really bring the POs to life. The well-selected range of filters, distortions and rhythmic effects are perfectly calibrated to suit the built-in sounds and vastly multiply the potential of each.
Read Teenage Engineering Pocket Operator 20 series review
BUY: Teenage Engineering Pocket Operator 20 series currently available from:
UK: Gear4Music
US: Sweetwater
Yamaha Montage
We said: "The Montage is a uniquely powerful sound design and live performance machine, though beware of the often-overwhelming depth! It's an extremely powerful and versatile machine, and a worthy successor to the Motif."
BUY: Yamaha Montage 8 currently available from:
UK: Andertons Music | Thomann | Gear4Music
US: Sweetwater | Full Compass
Roland System-8
We said: "The Aira System-8 is an 8-voice polysynth that features not one, not two, but three Plug Out slots, two of which are used to host models of the Jupiter-8 and Juno-106. As with the rest of the Aira range and the latest crop of Roland's digital releases, the System-8 is powered by the company's Analog Circuit Behavior (ACB) technology."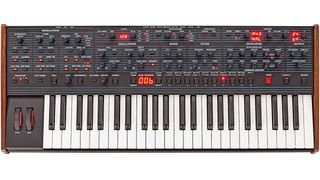 Dave Smith Instruments OB-6
We said: "Tom Oberheim has come back into the fold with a sonic boom with the help of old friend/competitor Dave Smith. The OB-6 has the essential Oberheim character/signature, crossed with DSI's sonic DNA. It sounds tight and modern with a nod to vintage Oberheim synths."
Read Dave Smith Instruments OB-6 review
BUY: Dave Smith Instruments OB-6 currently available from:
UK: Andertons Music | Thomann | Gear4Music
US: Full Compass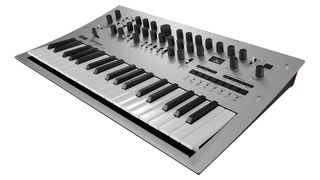 Winner: Korg Minilogue
We said: "We're not sure how Korg has pulled this off for the price but the company has nailed it. The Minilogue even gives more expensive synths a serious run for their money, and is pretty much an essential purchase."
BUY: Korg Minilogue currently available from:
UK: Andertons Music | Gear4Music
US: Sweetwater | Full Compass