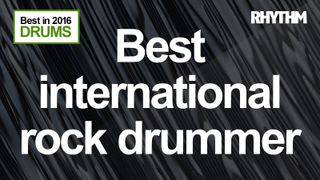 Who is the best international rock drummer of 2016?
Best international rock is by far the biggest category in our Best in drums polls each year, and for good reason. There are so many amazing rock drummers around today, all bringing their own brand of power, style and attitude to the kit. From masters of funk rock to pop punk legends, rock drummers come in all shapes, sizes and styles.
Who on this list played drums on your album of the year? Maybe one of these drummers was the highlight of your gigging calendar or festival season? Place your vote now!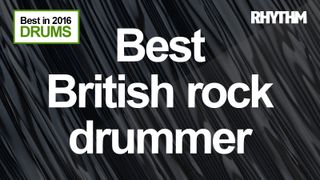 Who is the best British rock drummer of 2016?
British rock music is incredibly healthy right now and, because this poll is presented in association with the UK's best-selling drum magazineRhythm, it would be remiss of us not to celebrate the rock drumming talent that exists right here on British soil.
A quick scan of the list reveals ambassadors of the British drumming scene, fantastic emerging talents and chart-topping drummers who encapsulate what it takes to play musically.
Now the question is, with so much talent on the list, which way will you vote?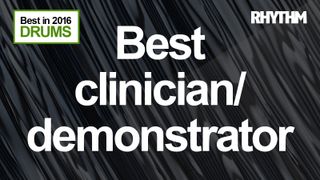 Who is the best clinician/demonstrator of 2016?
Drum clinics are a brilliant way to get up-close and personal with your favourite drummers and learn a thing or two at the same time. Some of the sticksmen on this list are veterans of the clinic scene, while others are new kids on the block, having quickly earned a fantastic reputation as premier educators and performers.
And for some of these drummers, their names have been built representing drum brands at music shows and events and putting products through their paces for the crowds.
Which drummer on this list has hosted the best drum clinic or product demo you've witnessed this year?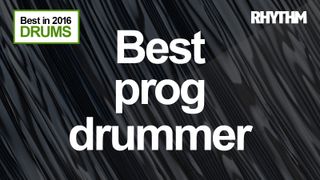 Who is the best prog drummer of 2016?
Prog is the true home of mind-bending, virtuosic drumming. Players in this field are masters of time - both straight and odd - and are responsible for some incredibly creative and forward-thinking beats.
The drummers on this shortlist are continually finding new ways to stretch what's possible behind the kit, through amazing recorded work and awe-inspiring live shows. Who gets your vote?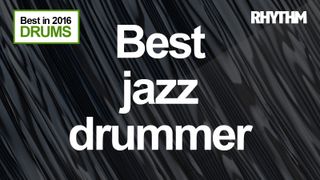 Who is the best jazz drummer of 2016?
Jazz drumming has morphed and evolved considerably over the years, reaching a point where the classic styling of jazz greats like Elvin Jones and Max Roach collide with the absolute cutting edge of improvisation and eclectic influences including hip-hop and electronic music.
The drummers on this list cover the full gamut of jazz, are all actively leading the way on the global jazz drumming scene - in many cases leading their own jazz groups amongst other projects too - and inspiring the next generation of players. Time to crown this year's king of jazz.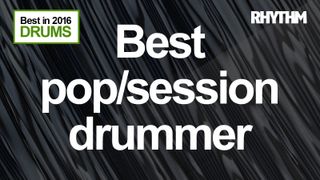 Who is the best pop/session drummer of 2016?
There are plenty of drummers out there who do a bit of session work here and there, or might do the odd pop tour, but there's just an elite few who are first-call drummers for major studio sessions or tours with the world's biggest pop artists.
These drummers are studio veterans, and more than comfortable delivering the percussive goods on the world's biggest stages too.
For your money, which drummer on this list makes it count when the studio light comes on and can hold it down on stage with pop royalty?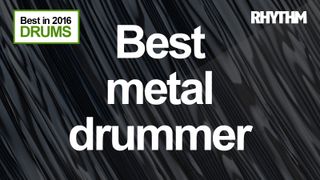 Who is the best metal drummer of 2016?
The international heavy metal scene has no shortage of amazing drumming talent. From radio-friendly heavy hitters, to drummers in bands at the extreme end of the spectrum who have garnered critical acclaim or cult status, every person on this list can lay claim to immense skills behind the kit.
Whether you're a fan of heavy grooves, frantic blastbeats, brain-busting polyrhythms or a combination of everything, there's a drummer here for you.
So, who has supplied the beats that kept your head banging all year?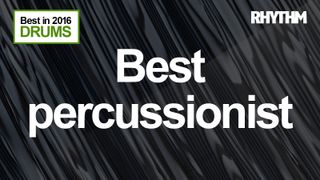 Who is the best percussionist of 2016?
Percussion is an ancient musical artform that has been around for centuries, and the rise in popularity of accessible instruments like the cajon has opened up a raft of new drummers and musicians to the world of percussion and the great spectrum of star percussionists.
Whether backing pop artists on stage, contributing to hit albums or performing more traditional music, the percussionists on this list are well versed in adding exotic, rhythmic spice to any musical situation.
Which percussionist on the list below has added extra flavour to your music listening this year?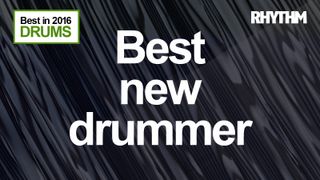 Who is the best new drummer of 2016?
The shortlist for the best new drummer category is always one of the hardest to agree on as the quantity and quality of great drummers bursting onto the scene each year is astounding. The progressive nature of drumming means new names will continue to push boundaries behind the kit or help establish new bands with their percussive magic, so there's always something for drummers to get excited about.
2016 is no exception, and the shortlist includes 11 new drummers from a wide spectrum of genres. So, which drum star of tomorrow gets your vote today?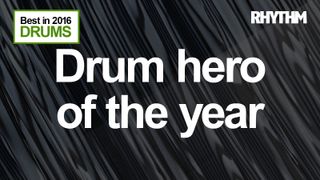 Who is the drum hero of 2016?
2016 has been a bittersweet year. On one hand we've had another 12 months of great music, experienced monumental drumming comebacks and one giant drum kit rollercoaster, but on the other hand the drum community has lost far too many well-loved artists and industry pioneers.
This category is your chance to celebrate the antics of some iconic drummers and the legacies of industry legends who are sadly no longer with us.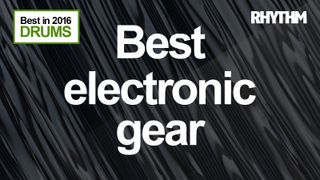 What is the best electronic gear of 2016?
The world of electronic percussion is still seeing major advances thanks to the constant evolution of technology. The capabilities of electronic drums today are considerable and, amazingly, these developments have only taken place in the very recent past - imagine where we'll be in the next 5-10 years?
With the increasing popularity of electro-acoustic hybrid set-ups, the possibilities are incredibly exciting, and this year we saw some great new products from established brands as well as innovative gear from a handful of new names too. What has been your 2016 highlight?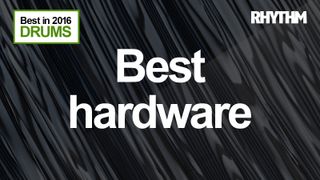 What is the best drum hardware of 2016?
We've added a new category to our Best in drums polls this year, and for good reason. 2016 saw a considerable explosion of drum companies turning their hand to exceptional hardware pieces - from bass drum pedals to entire new ranges, and we couldn't let that go unnoticed.
Hardware is such an important but personal thing for each drummer, so it's amazing that we have so much choice these days. Whether you prefer a sturdy, reliable bass drum pedal or lightweight stands that take the pain out of gigging, there's plenty to choose from on this list. So, what hardware caught your eye this year?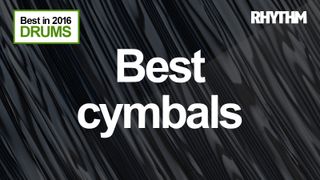 What are the best cymbals of 2016?
The cymbal world continued to innovate in 2016, offering drummers a sound for every genre you could imagine, and then some. Whether you're a classic rocker, an intricate jazzer or a budget-conscious newcomer, every type of sound and drumming style was catered for this year.
Cymbals can be a pricey investment, so it's good to know cymbal companies are still investing in producing the best metals for the job. But who did the most to secure your vote in the best cymbals of 2016 category?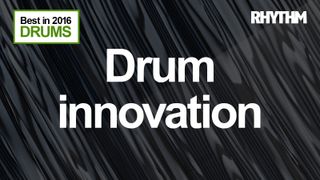 What is the best drum innovation of 2016?
Despite the drums having an incredibly long history already, it's amazing that there's still scope for companies to innovate, give players new ways to approach the drums or perfect their sound, and give us drummers new reasons to part with our cash!
From retro drumheads and portable percussion, to recording gadgets and reduced-volume cymbals, we've seen it all in 2016. But which brand do you think knocked it out of the park this year?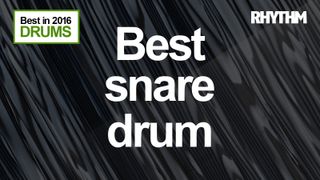 What is the best snare drum of 2016?
A big part of any drummer's sound is their snare drum. That's why so many drummers own multiple snares and have buying habits often verging on addiction! With snare drums coming in many sizes and materials and with so many fantastic models to choose from this year, it was hard to whittle the shortlist down to just this selection.
Here we have six examples of the very best snare drum craftsmanship, sound and playability to emerge in 2016. Did any of them find their way amongst your collection this year? Let us know which one tops your list by placing your vote below…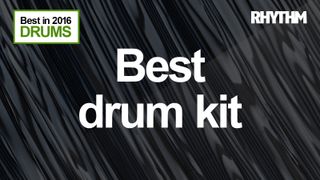 What is the best drum kit of 2016?
Best drum kit is a very prestigious award. The winning drum brand will have produced a kit that not only sounds and looks phenomenal and promises road- or studio-worthiness, but also hits the mark in terms of price. A kit of this calibre requires considerable research and development, testing and financial investment, which mustn't be underestimated when placing your vote.
This year we have brand new kits from the big brands, a handful of revamped classics and exciting new entries from the burgeoning custom scene. Which new kit from which drum company ticks all the right boxes for you and gets your vote?