Introduction
As we hurtle towards the end of 2019, we're taking a brief moment to pause and reflect on the players, music and gear that has caught our attention over these past 12 months.
Here we've put together a series of shortlists detailing a cross-section of what we feel is the best in guitars 2019. Music is not about competing, but there is merit in recognising the amazing accomplishments of our nominees. Your votes will decide the most deserving winner in each of our 14 categories.
Click through the gallery to browse the categories and place your votes. Voting closes at midnight on 27 November 2019 and we'll start announcing winners from the start of December. You know what to do…
Who is the best rock guitarist of 2019?
Who knocked your socks off in 2019? Our best rock guitarist category represents the best of those touring and/or releasing music in the last year.
This is a list that is always highly competitive and this year is no exception, with a bumper crop of players, including established icons and new names, all representing a healthy cross-section of rock's biggest and brightest guitar stars.
Who is the best metal guitarist of 2019?
This year has seen some metal guitar icons return to the fore. All of the nominees have been touring and/or releasing records in 2019.
They are all masters of the dark arts, but let us know which of this stellar line-up you feel represents the best of the world's heavy players in 2019.
Who is the best prog guitarist of 2019?
It takes a formidable blend of creativity, technicality and musicality to make it on to our shortlist of the world's best prog guitarists.
The players on this list represent just that – some of the most forward-thinking, expressive and, at times, astonishing guitar manipulators in the world today.
It's hard to pick between the varied talents of every prog nominee, but you can only pick one. So, who would you choose as your prog guitarist of the year?
Who is the best alternative guitarist of 2019?
Our alternative category encapsulates the best of a varied selection of guitarists who swing the axe in truly unique ways.
Stretching across the worlds of alt rock, psychedelia, indie and heavier corners of the musical world, these players say something far more truthful, diverting and sonically ambitious than your average rock riffers.
The shortlist below represents a small sample of the best alternative players to tour and/or release music in 2019. Who gets your vote?
Who is the best blues guitarist of 2019?
Blues music is in rude health in 2019. The list of talent overflows and it seems we're living in an era of modern icons in-the-making.
The players nominated below represent the finest blues guitarists to tour and release music in 2019. Some will be well familiar while other names will be soon. As the year ends, we want to know who gets your mojo workin'. Check out the list and place your vote below.
Who is the best bass guitarist of 2019?
How do you judge the best bass player in the world? Well, we'll admit it, you don't. Every player here may well deserve that title, but who do you feel is worthy of recognition in 2019?
This year's shortlist represents some of the finest four-stringers to tour and release music across the last 12 months. From virtuoso soloists to rock-solid backbone-of-the-band types, the names below offer a small cross-section of the increasingly diverse world of bass playing.
This award is presented in association with our sister publications Bass Player and Bass Guitar Magazine.
Who is the best 'new' guitarist of 2019?
We get as frothy-mouthed as any when it comes to the guitar icons of times past, yet there has been an absolute wealth of exciting new players coming to the fore in the past year.
The list below pulls together a small sample of the guitarists that we think are bringing something new, interesting and exciting to the craft. All of the players on this list have been active touring and/or releasing music in the last 12 months. Not all of them are on their first record, but this is about recognising those that have been breaking through and grabbing attention in 2019.
Below are some of the players who turned our heads this year. Who is your choice for best 'new' guitarist of 2019?
Who is the best online guitar personality of 2019?
There's an ever-growing wealth of brilliant guitar content online, but it takes a lot of work, perseverance and imagination to bring that material to people on a daily basis. We're taking a moment to recognise the efforts of the online guitar personalities that put their lives and livelihoods into that work.
Who's made you a better player? Who has helped you to understand your gear, or put it to better use? And who's made you laugh? There's a huge variety of media, mediums and people behind digital guitar content in 2019.
Vote now and help us to recognise the online guitar personalities that you liked best in 2019. And, if you're not familiar with any of those on the shortlist, give them a follow ASAP.
What is the best new electric guitar of 2019?
There has been a huge array of interesting, inventive and downright desirable new electric guitars hit the shelves in 2019.
These are the instruments that represent the finest that manufacturers had to offer across the last year, encompassing all the long-honed building know-how, research, testing and bold technical innovation required to break new ground.
This year's shortlist for best new electric guitar includes a host of instruments from legendary brands, as well as some worthy alternatives to the big guns, across a range of price points. So, which gets your vote?
What is the best new guitar amp of 2019?
The amp innovations continue apace in 2019, with a huge array of analogue and digital noise-makers impressing across the past 12 months.
It seems that combos have been the name of the game this year, with smaller amps dominating 2019's list. However, it is a broad definition and within that format we find an array of boutique-style tones, digital modelling and all sorts of bells-and-whistles innovation.
Let us know which amplifier you feel deserves the title of 'best of 2019' below.
What is the best new acoustic guitar of 2019?
The humble acoustic has continued to evolve in 2019, with the best new guitars showcasing stunning innovation in builds, materials tone and value for money.
This year's shortlist for best new acoustic draws-in guitars tells the story of the acoustic world over the past 12 months, from big name collaborations, to re-thinking bracing and some lesser-known brands who are taking a well-earned slice of the pie.
With so many options to choose from, which of these acoustics turned your head this year?
What is the best new guitar effects pedal of 2019?
The tones you choose and the way you use them are of near equal importance to your sound as your hand movements. Effects pedals have never been more crucial to guitarists' sound than in 2019.
Effects pedals have become more and more common, even fetishised, to the point that it's almost rarer to see a player without them. This year we've seen this recognised by a huge guitar brand entering the fray, plus innovations from enduring names and some exciting boutique stompboxes, to boot. Which one topped your list in 2019?
What is the best new signature guitar of 2019?
Signature guitars can divide opinion, but the best of them combine a pro's insight and innovation, while maintaining the character of the original instrument.
The aim with a signature is to appease fans and offer an appeal way beyond the name on the headstock. They are tricky beasts and, done well, often involve extensive R&D. Here we recognise the finest examples from the last year. So, which of our shortlist do you feel is the best of 2019?
Who is the best acoustic guitarist of 2019?
There have been some astonishing acoustic guitarists touring and releasing music in 2019 - from award-winning technical virtuosos, to talented singer-songwriters and heart-tugging instrumentalists.
The acoustic is simultaneously the most limited and freeing of all ways to approach playing the guitar and a look at this year's shortlist serves to remind us of the enthralling possibilities of this enduring instrument. But who is most deserving of your vote for the best acoustic guitarist of 2019? Let us know below.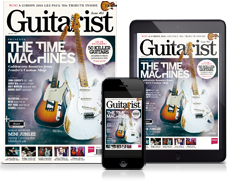 The magazine for serious players
Subscribe and save today!