The Telecaster design was born in 1950, and, although it's undergone a variety of changes and modifications in its 70+ years lifetime, it's still very much alive and well. There are loads of different versions on the market today which is why we've put together this guide to the best Telecasters out there right now.
Favoured by country and metal players alike, the Fender Telecaster is a versatile beast. Whilst its original design utilised single coil pickups, there are versions out there with humbuckers, and a combination of the two. There's a Telecaster for all budgets too - from entry-level Squier models made in the Far East, to professional, US-built Teles. Even without all the various Custom Shop models, there's a massive range of Fender Telecasters out there, so which one is the best Tele for you?
Read below to find out!
Best Telecasters: Our top picks
In terms of value for money, the Fender Player Telecaster is hard to beat. It's Fender's entry-level series and it gives you everything you know and love about those classic models for a great price.
If you've got a little more cash at your disposal, then take a look at some of the American models - either the Performer, or the Ultra Telecasters. Without further ado, here is our list of the best Telecasters on the market right now.
Best Telecasters: Product guide
Don't assume that the Squier Affinity Telecaster's bargain basement price means you're missing out on great tone. This guitar follows the classic Fender blueprint and, as any Tele freak will tell you, often it's the cheapest examples that can surprise you with great tone and feel.
First impressions are convivial thanks to an easy to love slim C profile neck, coated in a satin urethane finish to avoid a sticky situation when your palm gets sweaty. 21 medium jumbo frets and a modern 9.5" fingerboard radius make for a low action (aka string height) and slinky string bending.
The Affinity is available in a bunch of cool finishes, with a choice of maple and Indian laurel 'boards. It's also one of the few Teles that comes in a left-handed format, albeit in a natural finish/maple 'board only edition.
As great as the Squier Affinity is for the price, the brand's Classic Vibe Series offers a significant jump in spec and feel for not much more money and is one of the best Telecasters if you're on a tight budget. In the case of this '70s Telecaster Deluxe, you also get a lovely big slice of vintage cool on the side.
This is the Tele you buy if you like classic rock stuff. The Wide-Range humbuckers offer great note separation and clarity no matter how intense the distortion gets. Controls are more Gibson like with two volumes, two tones and a three-way pickup selector toggle switch.
A slim C profile neck makes this guitar even easier to love. We also appreciate the vintage feel of the 21 narrow tall frets and a proper gloss urethane finish. All in all, this is just about the coolest looking budget guitar you'll find under $/£500.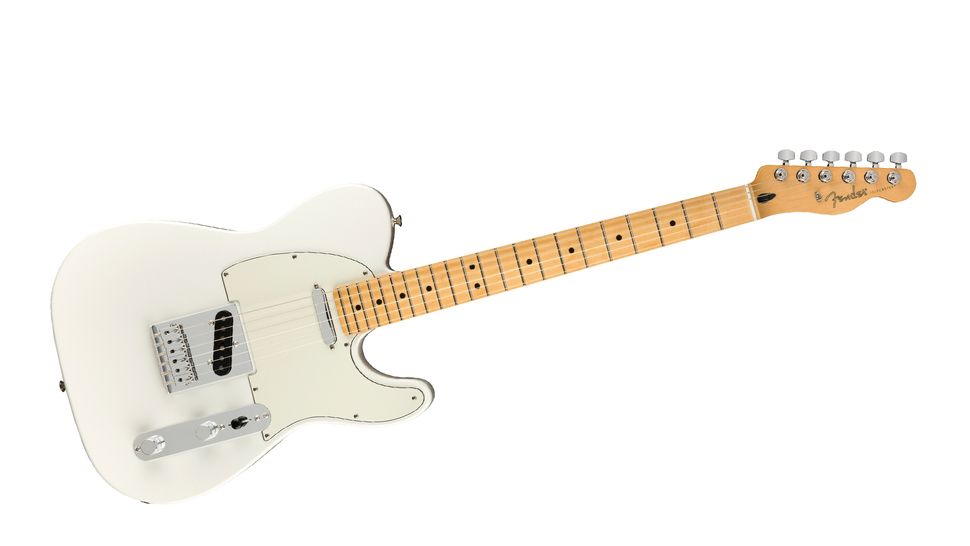 The Player is arguably the Tele that offers the best value for money. For a smidgen under $700/£600 you get a well spec'd, giggable tone machine with classic looks and modern playability. The latter is fuelled by the combination of a Modern C profile neck and 9.5" radius fingerboard, not to mention 22 medium jumbo frets.
If you're all about the classic two single coil Tele layout then you'll be more than happy here. The Player Series single coils pump out all the jingle jangle you can handle. That said, there is a two humbucker loaded version available for those looking for a bit more grunt. Occasionally, Fender releases limited runs of the Player Tele in different finishes, or with slightly different pickups, so keep your eyes peeled!
Read the full Fender Player Telecaster review
This limited edition, Mexican-made Tele merges some of the best features of vintage and modern versions of the legendary Telecaster. Celebrating 75 years since Leo Fender started up the company and changed the course of guitar making forever, this timeless model comes fitted with a pair of 50s-style Tele single-coil pickups. These dish out all the classic bite and twang you'd expect.
Unlike the very early Telecasters, which had very chunky neck profiles, this model sports a Modern C profile - you'd be hard pushed to find anyone that didn't find this comfortable. It's also got a six-saddle bridge which helps keep your intonation in check. Other little design features which help this guitar stand out include a matching painted headstock, engraved 75th anniversary neck plate and an exclusive Diamond Anniversary finish. This is one of the best Telecasters if you're looking for a vintage sound, with modern playability and want something a little out of the ordinary.
The Telecaster owns country music. No Nashville session ace would dare enter a studio in Music City without a Tele. Often these players would customise their guitars to extract the maximum amount of tonal variation. That's what the Fender Deluxe Nashville Telecaster is all about.
Fender has added a middle pickup and a five-way pickup selector switch to allow this Tele to produce Strat-like "in-between" tones. Basically, we're talking about the combination of bridge/middle or neck/middle sounds that Strat players like Jimi Hendrix loved. The pickups are Fender Noiseless models which offer classic tones with reduced hum, something that studio musicians, producers and engineers will appreciate.
Read the full Fender Deluxe Nashville Telecaster review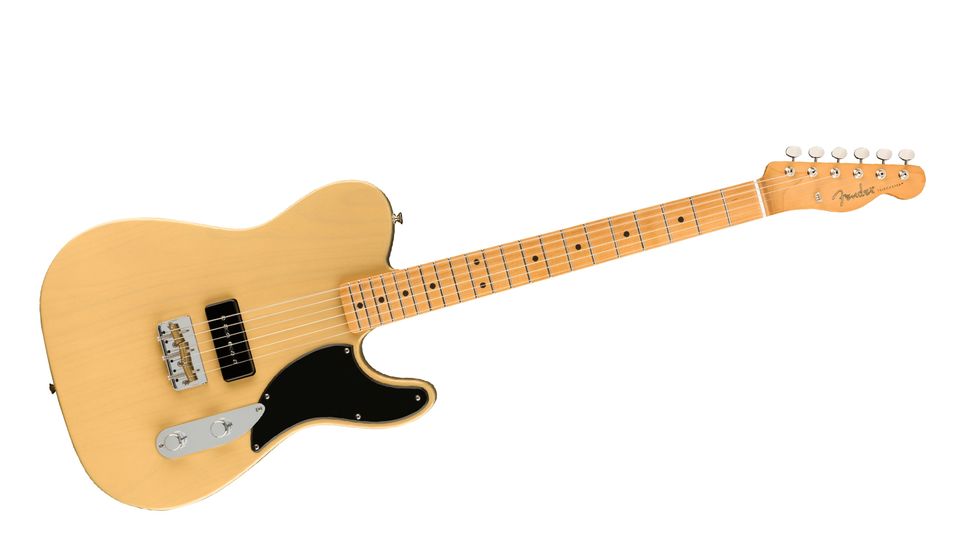 One of the most simple guitars just got a whole lot simpler. Fitted with a single Noventa single-coil pickup (essentially a P-90 - Noventa actually translates to Ninety in a number of European languages), this guitar is a stripped-back rock and roll machine. The pickup has a great mid-range growl to it, and is nice and clear. You can get some lovely clean tones out of it, but it really comes alive when you push it through a nicely overdriven tube amp. Whilst some players might feel restricted by one pickup, you can actually get a good range of tones by simply adjusting the volume and tone knobs.
Everything else about it is classic Telecaster - three brass string saddles for a nice snappy tone, alder body and maple neck construction and those instantly recognisable knurled flat-top volume and tone knobs. It also comes shipped with a gig bag, so you're ready to hit the road as soon as you get it! The Noventa is a great choice if you're looking for a simple Telecaster with a bit of a twist.
The Telecaster and Bigsby vibrato have been mates since the early 50s. The iconic whammy bar was designed by inventor and motorcycle engineer Paul A Bigsby. He also built guitars that happened to feature headstocks with the tuners all on one side. Just like Fender but Bigsby got there first. We'll leave that there...
The Mexican-built Vintera '60s Bigsby features some distinctly vintage specification. The C profile neck has a 7.25" fingerboard radius and 21 vintage frets. That means you don't get quite the same low action as a modern 9.5" radius but it's still a great neck to play. In keeping with its '60s vibe the neck has a gloss finish but where you'd expect to find a rosewood 'board we get the more eco friendly Pau Ferro. The package is completed by a smooth operating Licensed Bigsby B-50 wiggle stick, natch.
The Performer Telecaster Hum is the lowest price American-built model in the current Fender catalogue. What's "hum"? Well, this guitar features a humbucker in the neck position, just the way Keith Richards likes it. We should point out that the American Performer Telecaster is also available in a traditional, two single coil layout at the same price.
Players like a neck humbucker on a Tele for a number of reasons. Blues noodles like the warmth and sustain it can produce. Jazzers enjoy the depth it adds to their comping stuff. Rockers like the grunt it produces. This guitar also features the Fender Greasebucket tone circuit which allows you to roll off the treble without adding bass. That means you retain Tele clarity when you want to soften the Tele's trademark top end.
Read the full Fender American Performer Telecaster Hum review
The new Ultra is as far away from a vintage spec Tele as you can get. This is the Telecaster hot rodded for players that want bang up to date tone and playability. For example, the rear of the body is contoured to allow easy access to the top frets. There's a 10" to 14" compound radius fingerboard to allow for the lowest possible action above the 12th fret, and easy chording in the open positions.
A pair of Ultra Noiseless Vintage single coils offer up classic tones without the background hum and there's the Fender S-1 circuit to switch between series and parallel modes for increased tonal variety. Figure in the locking tuners and a Modern D neck profile and you've got one of the best performing Teles ever made.
Read the full Fender American Ultra Telecaster review
The '70s Telecaster Custom is one of the sexiest electric guitars ever made. Slung low around a cadaverous Keith Richards' shoulders it became a sought after classic despite being made during Fender's worst decade for quality control. Some examples weighed over ten pounds and had unnecessarily thick finishes.
The American Original improves on the '70s made model with a gloss nitrocellulose finish for the neck and body. One thing the original guitars did well was tone and this reboot captures that with a great sounding bridge single coil and an accurate remake of the iconic Fender Wide-Range humbucker, the latter perfected by pickup guru Tim Shaw. Yes, a lot of love went into creating this reissue. It's just a shame there isn't a black with maple 'board option like Keef's...
And now for something completely different. Fender's second run of Parallel Universe models continues the theme of guitars that could have happened over the last 70 years, but didn't. The Tele Magico features a semi-hollow Thinline body, a flame maple neck with a soft V to C profile, and a Gibson spec 12" fingerboard.
This is a pretty guitar but the real beauty lies in the "Gold Foil" single coil pickups. Back in the 60s, Japanese manufacturers flooded the west with cheap guitars based on Fender designs. Many of these guitars had pickups with gold foil tops. Now, while the guitars weren't particularly great quality, the pickups produced a bright punchy tone that connoisseurs like roots legend Ry Cooder loved. These pups were often plundered and installed in better quality guitars. That's what Fender has replicated on this pumped Telecaster. It's yet another new twist on a guitar that's been around for 70 years.
Now this is a Tele for those that need a bit more power. The Ultra Luxe Telecaster sits at the top end of the non-Custom Shop US-built Fenders and comes fitted with a pair of humbuckers. These give you huge, beefy tones that sound great distorted; it deals with heavy metal just as well as it does blues, pop and country. The tone switch acts as an S-1 switch too, so you can instantly access single-coil tones for that more traditional Fender sound, adding an extra layer of versatility.
The Floyd Rose trem system might not be for everyone, but some players love it. You can use it as wildly as you like, and you won't need to worry about having to retune all the time. The compound fretboard radius accommodates speedy licks and riffs nicely, and the tapered neck heel allows easy access to the highest frets of the treble strings. If you need a high-performance, road-worthy, versatile Telecaster, then this could well be it.
Telecaster history
Interestingly, Leo Fender wasn't a guitar player - he was an engineer, and as such he was driven to fix problems commonly associated with other electric guitars.
Most of the guitars prior to the Tele were hollow bodies and were prone to feedback - using a solid piece of wood to mount the pickups in helped solve this problem. He also wanted to create a guitar made up of parts that could be replaced, if something were to break, negating the need to replace the whole instrument, hence the bolt-on neck.
The Fender Telecaster had an interesting start in life, and actually had a couple of different names before they settled on what it's known as today. It was the first commercially successful solid-body guitar, and remains a best-seller 70+ years on.
It was first introduced in 1950 as the Esquire and was fitted with a single pickup in the bridge position. A few months later, a second pickup was added in the neck position - this model was soon renamed the Broadcaster. However, after a trademark conflict with Gretsch, who at the time had their Broadkaster drum kit, Fender removed the name from the headstocks.
For a short period, some guitars were made without a name next to the Fender logo - these are referred to as Nocasters and original versions go for serious money today. In 1952, Fender settled on the Telecaster name and, as they say - the rest is history. As well as Custom and Deluxe versions, alongside many others, the Fender Tele is doing just as well today as it ever was.
Best Telecasters: Buying advice
The Fender Telecaster is known for its versatility which is why so many players choose it. However, there are various different versions, all offering different pickup variations, different neck profiles, extra features, and of course covering all price ranges - our list of the best Telecasters is ordered from least to most expensive to help you locate the guitar within your price range.
There are a few key things to consider when looking for the best Telecaster for you. The pickups are a big one - a pair of single-coils will give you a more traditional Tele sound. If you want it to sound close to those hallowed early models, then look for something with 50s-style pickups. If you'd like your guitar to fill a little more sonic space, then humbuckers are a good choice or, to get the best of both worlds, you can get a 70s-style Tele Custom which has both single-coil and humbucking pickups.
Most 50s spec Teles will likely have fairly chunky neck profiles. They vary between models, but if you prefer something a little thinner, then maybe look out for a Modern C neck, which is a slightly flatter version of their popular 60s profile. Rosewood (or a cheaper replacement like pau ferro) vs maple as the fingerboard material is something to think about as well. Aside from the looks, maple tends to impart a slightly brighter sound, with a touch more snap. As per their traditional specs, 50s models will only have maple fingerboards.