Black Friday studio headphone deals: Quick Menu
1. Quick links
2. Editor's picks
3. FAQ
4. Shopping tips

Officially the Black Friday sales have finished, but that hasn't stopped many retailers from continuing to offer deals throughout the Black Friday weekend. The Black Friday studio headphone deals are still very much alive and kicking, with many fantastic savings still available on a fresh set of cans.
We're already gearing up for the Cyber Monday music deals to arrive, and we expect the majority of retailers to launch fresh sales on November 27. There is usually an emphasis on music tech on Cyber Monday, so we'll be keeping track of all the best deals on studio headphones so make sure you check it out.
We've double-checked all the major sales and there are still some absolutely huge discounts available. The biggest in terms of percentage is at Sweetwater with up to 75% off music gear and massive savings of up to $1,000 off Focal headphones. You can also get hefty discounts on Shure with up to $100 off headphones and in-ear monitors, covering both your studio and live sound needs.
One of our favourite deals that's still live is at Guitar Center, where the Shure SRH1540 with a huge $100 discount at the moment - a super deal on a premium pair of headphones. We reviewed the SRH1540 and gave them a full five stars out of five, praising them for their exceptional clarity and lightweight design.
Keep scrolling for quick links to all the best Black Friday studio headphone sales that are still going, as well as a handpicked selection of cans from the expert writing team here at MusicRadar.
Black Friday studio headphone deals: Quick links
Black Friday studio headphone deals: Editor's Picks
Black Friday has started for many major retailers and there are some great deals to take advantage of that are available right now. We've listed a selection of our favourites here for you and will continue to update this page so check back regularly!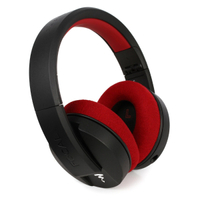 Focal headphones: Up to $1,000 off
Focal headphones have got some significant discounts over at Sweetwater at the moment, including our personal favourites the Focal Listen Professional, which are currently sitting at the top of our best studio headphones guide. Focal cans are great value for money, and they're one of the biggest names in studio monitoring too, so any of these sets comes with a serious pedigree.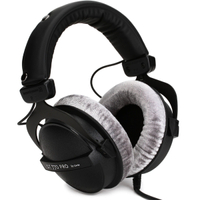 beyerdynamic DT 770 PRO: Was $169, now $149
Whilst it may not seem like a massive discount, the truth is it's not often beyerdynamic headphones come up with huge reductions, because they're so highly regarded musicians are happy to buy at full price. The DT 770 Pro are closed-back cans that are perfect for a wide variety of studio tasks. They're a bit of a legend in the recording world, and you'll find them in studios all over the world.
Price check - Sweetwater $139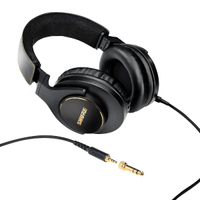 Shure SRH840A: Was $149, now $119
The Shure SRH840A does a brilliant job as monitoring cans for studio work. They're closed back so provide great isolation for drummers and vocalists alike during tracking and we've found them really comfortable for long sessions laying down endless guitar takes. The cable is nice and long which makes it useful for a variety of situations and the sound is clear and articulate enough to give a great picture of whatever you're tracking.
Price check - Sweetwater $119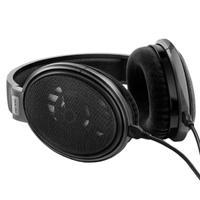 Sennheiser HD 650: was $349.95, now $287
If you want reference-quality headphones for your mixes, the Sennheiser HD 650 is a top choice. The sound quality of these cans is phenomenal, so you'll hear every fine detail of your mix like never before. They've got a massive $150 discount over at Sweetwater in their early Black Friday sale at the moment and we love the comfortable oval-shaped ear pads. Although there's a slight sub-bass roll-off, we found it gives a lovely and balanced sound for mixing with.
Price check - Guitar Center $349.95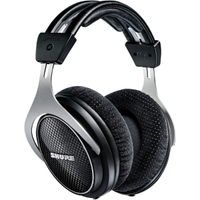 Shure SRH1540: Was $499, now $399
This premium pair of pro audio headphones has got a whopping $100 discount over at Guitar Center. The detail and clarity of their sound is absolutely exceptional, so much so that we gave them a full five stars out of five in our review. The low-end extension is impressive, and we love the fact they're so lightweight and comfortable too.
Price check - Sweetwater $399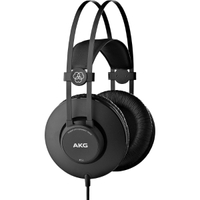 AKG K52: was $49.99, now $14.99
It may not be a massive amount of money off, but if you're after a pair of headphones for tracking in the studio, the AKG K52 is a great inexpensive option that you won't mind getting chucked around. They've got a nice $30 discount at Guitar Center at the moment, and offer excellent durability and audio quality at an incredibly low cost.
Black Friday studio headphone deals: FAQ
When do Black Friday deals start?
For 2023, the Black Friday headphone deals will officially arrive on Friday, November 24 - the day after Thanksgiving and slightly more than a month before Christmas. As usual, the deals will extend across that weekend (also known as Cyber Weekend) before the Cyber Monday music deals finish the event with a bang on Monday 27 November.
Now, we've covered Black Friday for long enough to know that many of the best Black Friday headphone deals will emerge in the weeks leading up to the big day, some as early as mid-October - and better yet, many deals stick around well after the event and into December.
If you're using Black Friday to save money on Christmas gifts, our guide to the best Christmas gifts for musicians is great for inspiration.
What Black Friday headphone deals should I expect?
We'll be keeping a close eye on the big music retailers throughout October and November, scouring the internet for the very best Black Friday headphone deals we can find.
Based on last year's evidence, the Thomann Black Friday sale, Guitar Center Black Friday sale, Sweetwater Black Friday sale, and Musician's Friend Black Friday sale are the places to go if you are looking for a tasty deal on a new pair of headphones for the studio or IEMs. Every year we see stellar discounts applied to all categories of headphones, from dedicated mixing headphones to cheaper models for tracking.
The Amazon and Walmart Black Friday sales will be massive as always, too. Here you'll be able to pick up everything from cheap wireless headphones and Amazon Echo devices to top music gear – we'll be bringing you the best deals we can find across these events.
Are headphones cheaper on Black Friday?
You're definitely likely to see the best prices for headphones around the Black Friday weekend. Due to it becoming such a big sales event, retailers will often save their best deals for Cyber Weekend as they know people will be shopping for Christmas at that time.
Each year we see loads of discounts on great studio headphones whether it's the cheaper AKG K52s, or something more boutique and expensive like the ever popular Sennheiser HD650s.
How much should I pay for good headphones?
The answer to this question, as is the case with a lot of music gear, is that you should pay however much you can afford. Studio headphones can get pretty expensive at their peak with some cans costing well over $1000/£1000. Expensive headphones will sound incredible, but there are definitely diminishing returns when you start getting to that price point.
If you're after great value for money something in the $200-400 range will offer a lot of bang for your buck. At this price point, you can get something similar to what actual professionals use in their own studios which will do a great job as headphones for mixing.
Because studio headphones need to be as articulate and neutral as possible, there aren't loads of great options below $100/£100. Headphones in this price range tend to be more readily used for tracking purposes, but in a pinch, you can use them to mix.
How to prepare for this year's Black Friday studio headphone deals
1. Create a wishlist early - There are going to be so many deals flying around on the Black Friday weekend that it can be hard to stay focused. By creating a wishlist before the sale arrives you can prevent getting distracted by the overload of bargains.
2. Work out what you actually need - Have a look at your current gear collection and see where the gaps are. Maybe your main mixing headphones have seen better days, or perhaps you need something inexpensive and durable to track with. Whichever it is make sure you get something that will add to your arsenal.
3. Consider your music-making goals - Whether you want to get a better grasp on the low end of your tracks or you need a reference pair to compare mixes against, it's good to have one eye on your music-making goals for the next year before you pull the trigger.
4. Make some room - We're all guilty of hoarding gear, so making room for more is always a good idea. As well as freeing up space on the desk of your home studio, it can also free up funds to purchase a better set of headphones. If you've not used something for a while, chances are it's no longer useful to you, so getting rid could be the best option.
How we choose the best Black Friday studio headphone deals
We're all music makers here at MusicRadar, whether it's solo EDM projects or full-on rock bands, so we know a thing or two about a good pair of studio headphones. We've all owned many a set of cans over the years from closed and open-back, to in-ear monitors.
To make sure you get the best deals we'll never recommend something that we wouldn't use ourselves, and the majority of our recommendations are based on first-hand experience. To make the cut here, the product has to be genuinely useful, and the deal has to be a good saving too.
Why you can trust our choices
We cover studio headphone deals year-round, not just on Black Friday. By keeping a close eye on the major music retailers throughout the year, we maintain an excellent overview of prices, which enables us to tell you whether a deal is good or too good to be true.
It's our job to research gear for our buyer's guides and reviews, but we also focus on sales throughout the year. We covered Amazon's Prime Day sale, which featured a nice $50.70 discount on the ever-present Audio-Technica ATH M50X, as well as the Musician's Friend Memorial Day sale, which saw the AKG K52's down to just $19.99.
Last year's Black Friday studio headphone deals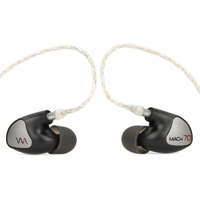 Westone Mach series IEMs: up to $480 off
The Mach series are professional in-ear monitors from Westone Audio that are designed to cater for use both on and off the stage. In last year's Black Friday sale, Sweetwater had a plethora of IEM deals with savings of up to $480 for the Mach 80s which were priced at $1,119.99, down from $1,599.99.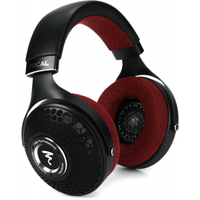 Focal Clear MG and Listen Pro: up to $250 off
Last year's Black Friday sale saw a great opportunity to save big on French high-fidelity brand Focal headphones at Sweetwater. Two models were on offer with $250 off the Clear MG, open-back reference monitor headphones and $50 off the Listen Pro closed-back reference monitor headphones.