9. Fret-King Corona Fluence
The MusicRadar/Total Guitar Best in guitars 2017 polls have received over 136,000 votes, and we're now ready to roll out the winners. The nominees were what we considered to be the guitarists and guitar gear that have excelled in 2017. Here, we present the best new electric guitars of 2017. First up we have the Fret-King Corona Fluence...
We said: "With the huge experience and production nous of Trev Wilkinson, Fishman's Fluence technology and what seem to be extremely competitive prices, we're struggling to think of a player who couldn't use these."
Full review: Fret-King Corona Fluence review
The MusicRadar Best in guitars awards are brought to you in association with Allianz Musical Insurance - the UK's Number 1 Specialist Instrument Insurer
8. Supro Jamesport
We said: "With a raft of designs from the past to draw on, we suspect Supro is back for the long haul. We certainly hope so - we haven't had as much fun as this for ages!"
7. Shergold Masquerader SM01-SD
We said: "Everything about the Masquerader feels assured, solid, and stable. Even the pickup selector. The neck is satin-smooth, clubby but quick, and super-comfortable, and, for a bolt-on construction, there's a wealth of durable sustain, so when you bend a note and hold it there's plenty of time to practise your Gary Moore solo-face."
Cort/Manson M-Jet
We said: "The M-Jet sounds great and plays better, and if you set aside some finishing flaws, you have a serious guitar at a cheerful price."
Yamaha Pacifica 611 VFMX
We said: "There's a great pickup pairing from Seymour Duncan, with a Custom 5 Trembucker in the bridge position and a Vintage soapbar single coil in the neck, and they are seated in a lovely piece of alder with a maple veneer. The Custom 5 is like a supercharged Seymour Duncan '59, with a thick, scooped tone, while the P-90-style single coil is full of charisma."
4. Squier Affinity Series Jazzmaster HH
We said: "When you crank the gain up further, you'll find a high-gain sweet spot somewhere between Iron Maiden bark and Seattle grunge. And that confirms suspicions that this Jazzmaster is more Crazy Train than Blue Train - but that's okay by us."
3. Charvel Pro-Mod San Dimas Style 2
We said: "Its wholly shreddable playability and monstrous tone make it one of the most exciting mid-priced electrics this year."
2. Gretsch G5622T-CB Electromatic Double Cutaway with Bigsby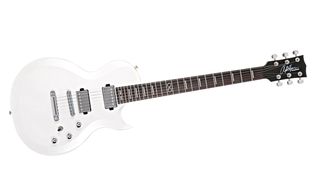 WINNER: Chapman ML2 Modern Standard
We said: "The mid-price market is a real street fight but the ML2 Modern more than punches above its weight."