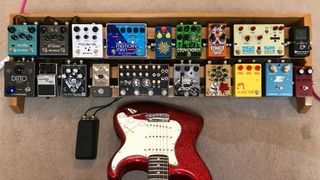 Power to the people
Pedalboards, pedalboards, pedalboards. When we're not analysing star 'boards (you can see plenty of those in our monster pro pedalboards gallery), we're looking at each other's, gazing in wonder and, most likely, envy.
As anyone who's spent literally days of their lives wrangling with patch cables and isolated power supplies will know, putting together the perfect pedalboard is a fine art, and like any fine art, it should displayed - perhaps in a physical gallery, perhaps in an online one. And that's where we come in.
Ahead are the 'boards their owners deemed fit for inclusion: among them, you'll find the boutique, the beautiful and the bonkers, but above all, you'll discover plenty of inspiration for your own rig.
Your pedalboard here!
If you'd like your pedalboard to appear on MusicRadar, join our burgeoning Facebook group dedicated to the art of pedalboarding. Share your photos and we'll upload our favourites on this here gallery.
Alternatively, email us at contact@musicradar.com with photos and a brief description (and preferably, a signal chain) using the subject line, 'The people's pedalboards'. In return, we'll share them for all the world to see, along with a pithy caption and your name up in interweb lights.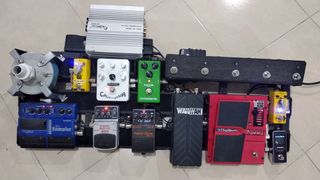 Ivan Destruktor
A full signal diagram? Ivan, you spoil us! And that's the first appearance of a talkbox on TPP that we can recall, too.
"Almost all pedals are cheap ones," Ivan says. "But what matters is the passion of building, I agree that pedalboard creation is an art and needs to be shared. In my case, I like a pedalboard with tons of colours and flavours."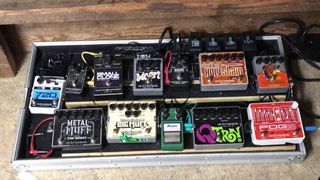 Derek Blow
EHX fan Derek is new to the pedal game and busy setting up his 'board for maximum tone.
The only placement we'd question is the Silencer and Cock Fight – stick those up front, we say!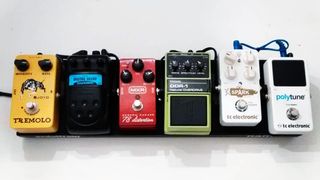 Jess Rahbek
"I play in the Danish country band Bound By Law," begins Jess. "The pedalboard is a Pedaltrain Nano+. The signal chain is TC Polytune > TC Spark Booster > Nobels ODR-1 > MXR '78 > Ibanez DL5 > Joyo Tremolo.
"The pedalboard is powered by a Cioks Adam as it fits under the Nano+ and can switch between 115V and 230V. There are four power outputs from the Adam, so the ODR and '78 are sharing an output, while the power out of the Polytune powers the Spark.
"In order to limit the size and weight I had to find alternatives to my old '86 RAT distortion and Memory Boy Deluxe but it should get the job done just fine."
We whole-heartedly agree, especially with the classic Nobels Overdrive on there.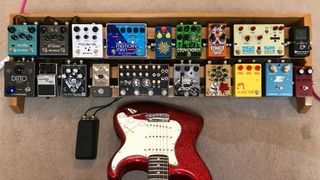 Nick Dee
Nick is a serial offender on TPP, and this entry might just be his most obscene yet.
There's so much to admire here, from the selection of off-the-wall pedals (like the Hologram Dream Sequence, Fuzz Factory 7 and Meris Polymoon) to the meticulously put-together homemade. Then there's that Stratocaster sparkle. Drool.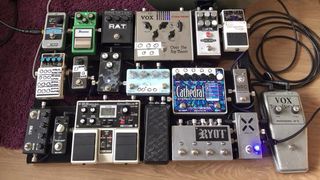 Andy Hosker
Some classic Vox picks appear on Andy's 'board: a proper Tone Bender and the ol' Cooltron Over The Top Boost. We love the delay settings stuck to the Boss DD-7, too.
Here's the signal path provided by Andy:
Loop1 > 1960s Vox Tonebender MKII > Loop2> TU2 > Cali 76 > Vox OTTB > 4-channel soft switch true bypass looper (1. Heavily modded TS9, 2. RAT, 3. PedalProjects Growly, 4. PedalProjects Klone) > PedalProjects Bufferlo (underneath) > > NGR Poker BC107> Mini Volume pedal > DD20 > Cathedral > DD-7 > Trelicopter > Zcat Hold Reverb > Ditto Looper > EHX Holy Grail Nano > amp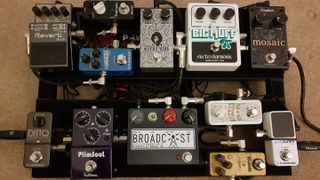 Adam Craig
A very neat setup, this: an expert use of space has enabled Adam to fit just about the maximum he can get on his Pedaltrain. Impressive picks, too.
Signal chain: Tuner > Mosaic > Spark > Tumnus > Broadcast > Muff > Plimsoul > Gypsy Vibe > Tremelo > Flashback Mini > RV-6 Reverb > Ditto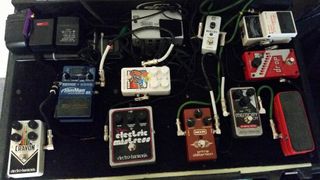 Paul Cutrona
"It's simple (and recently more simplified), and nothing boutique, but it works for me," says Paul.
"The Mistress, Canyon, Crayon and looper go in the amp loop (DSL100 stack or DSL40 depending on the gig). The rest are in front of the amp." Noice.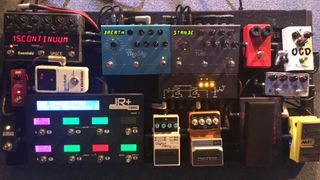 Edward Worrall
Edward is really speaking our language: Strymon BigSky and Eventide Space? Happy trails, indeed.
"Chain goes: AMT Volume, Z.Vex Box of Rock, Fulltone OCD, MXR Dyna Comp, Morley Wah, Hardwire Valve Distortion, Strymon Timeline, Boss DD-7, Strymon BigSky, Eventide Space, BBE Sonic Maximizer. FAMC Liquid Foot Jr for midi control," Edward elaborates.
"Additional MIDI controlled looper for DD-7, Hardwire and PolyTune. There's a small loop pedal which acts as a cut off switch so the rig runs super-quite when not playing."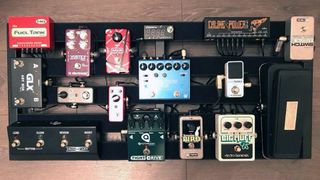 Martin Drake
There are a few sleeper pedals on Martin's 'board, including the Visual Sound H2O and Amptweaker TightDrive.
"Not quite finished but tidier than before," says Martin. "Might find room for a Q-Tron at some point. All going through a Laney IRT-Studio paired with a GS212."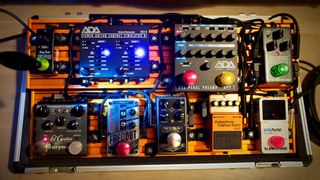 Andrius Mamontovas
"My custom Lava guitar goes perfectly with all-in-one Aclam Guitars pedalboard," beams Andrius.
"Two-channel preamp and stereo cabinet simulator by A/DA. And the effects I use to rock on. Strymon Zuma power brick underneath. No heavy lifting and it all sounds very good. Plug and play direct to PA."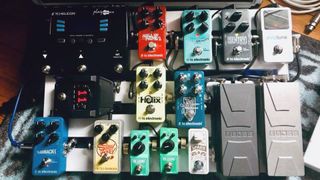 Donny Coyle
Two Tube Screamers and a John Petrucci Dreamscape? Nifty choices here.
"We play a few acoustic songs in our shows so the TC Helicon accommodates this," explains Donny.
"Signal is split at the noise gate between dirt pedals and verbs/delays. It even has programmable LED lighting on the undercarriage. All patch cables are hand made and I use 3m Dual Lock to attach the pedals."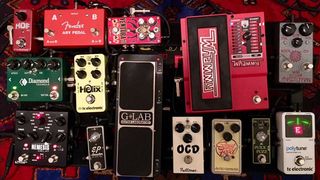 Alex Sharp
"Finally got the Mothership rewired after a lot of head scratching and digging out a few more patch cables," says a presumably exhausted Alex.
"New on my 'board are a TC Helix Stereo Phaser and my Diamond Tremolo has returned, this time running on one side of a stereo rig after tips from That Pedal Show.
Signal chain: TC PolyTune > Analogman Mini BiComp > Whammy V >
G Lab Wowee-Wah WW-1 > Fuxx Fuzz > EHX Soul Food > OCD > EP Booster > Fender ABY > DigiTech Ventura Vibe > TC Helix Phaser
=> Left side - HOF mini > Diamond Trem into delay
=> Right side - straight to delay
> Nemesis Delay
Left amp: Bugera T50 Infinium paired with Celestion V30 cab
Right amp: Laney LC15R with Ragin Cajun speaker
"Pedals are powered by a Truetone 1 SPOT Pro CS12.
"Guitars are Fender Strat Plus '84 with lace sensors and PRS S2 Semi-hollow with Alnico IV pickups."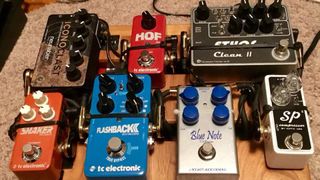 Terry Korsmo
We've been seeing an increasing number of direct 'boards lately, and Terry's is a fine, tone-rich example indeed.
Neunaber's Iconoclast is clearly a winner.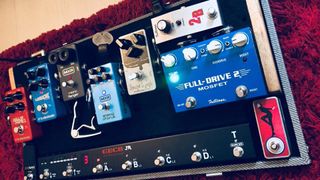 Jairo Ruge
Lovely stuff here: classic MXR modulation and a TC Electronic ambience pair.
Plus, it's always good to have a capo handy.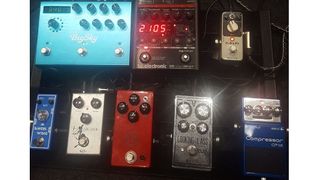 Stephen A Wilson
Stephen - no, not Steven - Wilson has put together what he reckons is a pretty versatile setup.
"This 'board covers a lot of ground tonally. I love the Boss CP-1X - I think its seriously underrated. The Looking Glass and Archer pedals stack brilliantly together.
"I upgraded my Flashback Mini to the full blown TC ND-1 which is great, and I'll never take the BigSky off my board. I like ambient post-rock and this 'board is perfect for my home studio."
Music to our ears, Stephen.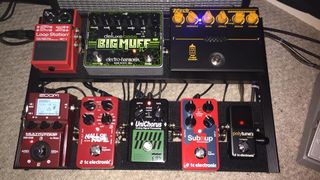 Ian Cig Roberts
A tidy bass 'board here, especially with the addition of the Zoom MultiStomp.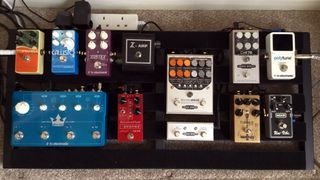 Graheme Smith
Well, well, we're starting to see Origin Effects' do-it-all RevivalDrive on pedalboards.
There are a host of other classy picks here, too: a couple of excellent stompboxes from Catalinbread and Function F(X)'s Accufunkture auto-wah. Nicely.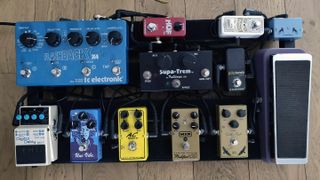 Marco Formentini
Sweet dirt choices abound in Marco's rig, including Fredric Effects' Klon-inspired Golden Eagle and MXR's underrated Custom Badass Modified OD.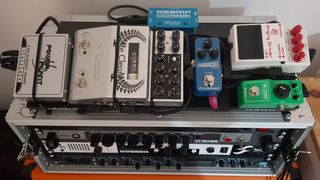 Mark Rice
Mr Rice has given us the full lowdown here - this is a well-equipped contemporary recording rig with a minimal footprint. We dig!
"I'm a gigging drummer, but enjoy writing and producing guitar in my free time," he says.
"Living in a flat, though, I can't crank a full volume amp. This board centres around a valve preamp pedal which runs into a digital load box providing a 6L6 power amp section and a vintage Vox 2x12 cab impulse. This is recorded directly into my DAW and gives me high-quality recordings at low volumes.
"The signal chain is Boss TU-3 (lives off-board) > Ibanez Tube Screamer Mini > Boss JB-2 Angry Driver > Two Notes Le Clean Preamp with the TC Electronic Flashback Mini in the FX loop > Two Notes Torpedo Live load Box > Focusrite Saffire Pro 40 > Logic X. A Harley Benton PowerPlant Jr powers the effects and the 'board is a Pedaltrain Nano+.
"I mostly keep it the cleaner channel A and get all my drive tones from the pedals. The delay also has a small amount of chorus mixed into the effect. It's surprisingly versatile and sounds great!
"I plan on getting something like an EHX Magnum 44 just to power my 2x12 Orange cab until I decide on/fund the right amp for me."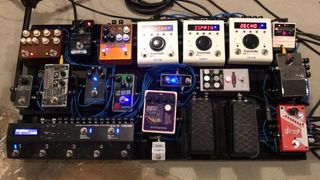 Alex Fernandez
H9 x 3 = H27? Alex's 'board is a stunner, with some of our favourite stompboxes of the past couple of years making an appearance: D&M Drive, FreqOut and Synth9? Yes, yes, yes!
The wiring is so complex, he even sent us an actual spreadsheet detailing the signal chain - we've reproduced to the best of screenshotting ability below.
If you'd like to hear this insane build in action, give Alex's band Horizon Arcs a listen.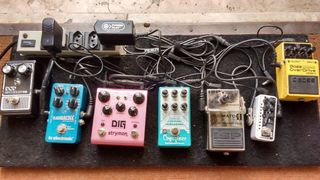 Paulo Grassia
With pitch, delay and a whole lotta gain options, Paulo has his heavy needs sorted, as he explains…
"This setup helps me getting a modern metal tone in any situation, with some decent clean tones, too," he muses.
"The Organizer sounds a lot like an EHX POG, and the Strymon is for long/almost reverby delays, and the Flashback is for short delays. I use a bass OD because it was the only one I had, and it works just fine as a regular OD for doing the clean boost thing."
Boss Bass OD ODB-3 > Mooer 005 > ISP Decimator II > EarthQuaker Devices Organizer > Strymon DIG > TC Electronic Flashback > DOD Bifet Boost 410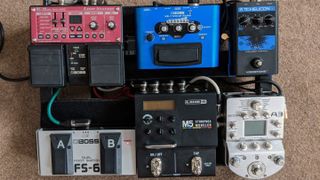 Martin Rivers
"I use this board in an acoustic duo," says Martin. "I put it together to add colour to the electro-acoustic guitar and to add vocal FX/harmonies. I'm still getting to grips with the looper!"
You'll get there, Martin - in the meantime, this is an ace acoustic setup. Any more acoustic players out there keen to share their setups?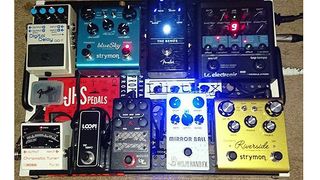 Mark Vincent
A tidy setup from Mark here - good to see Fender's new The Bends compressor cropping up on 'boards, and Mojo Hand's ace Mirror Ball analogue delay.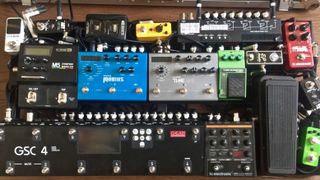 Vicente Roa Giménez
Vicente kindly sent us an in-depth description of his expertly arranged 'board, so we'll leave the talking to him…
"The chain goes like this: A Martin D-28 and a Fender Telecaster /wirelessly through a Line6 Relay G30) go to Fender ABY pedal. From there it goes to my way pedal and from there to the GSC-4 unit.
"The GSC-4 contains six pedals (in loop order): Moore Yellow Comp, TC Electronic Nova Drive, Line 6 M5, banez TS10, Moore Rumble Drive, Strymon Mobius (in the Pre setting). From there, it goes to a Fender ABY pedal which goes to either a Fender Supersonic or straight to a PA (for the acoustic). The GSC-4 is connected to a TC Electronics Polytune 1 through its tuner output.
"The effects loop of the Fender Supersonic goes to a G-Lab ML-4 which has four pedals (in loop order): EP Booster, Strymon Mobius (in the Post setting), Strymon Timeline, Hall Of Fame.
"Since the GSC-4 has midi capabilities, I can switch on and off all the effects before the Supersonic and of its FX loop, plus change the patches on the Nova Drive, Mobius, Timeline and M5. When playing with the Tele into the amp, the GSC-4 also changes the channels of the amp and turns on/off its reverb. With the acoustic into the PAI can use the Yellow Comp for compression, Nova Drive for boosting, the Mobius for chorus and M5 for delay or reverb. Total flexibility!
"Sadly, this pedalboard exists no more. It was way too heavy for a weekend warrior like me. The Pedaltrain Pro plus its case and pedals weighed around 25 kg. Now I've changed the Supersonic for a Two-Rock Exo 15 and I'm assembling a new pedalboard. Gone are the GSC-4, the Nova Drive and Hall Of Fame... and I've welcomed a Boss ES-5 and Strymon BigSky! I'll tell you about it when it's finished!"
We can't wait to see it, Vicente…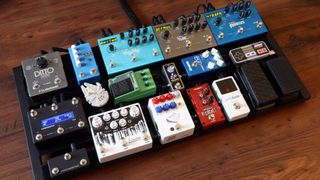 Joe Kiernan
Instrumental rocker Joe has appeared here before with his gorgeous pedalboard, but there are enough updates to warrant its inclusion here. Plus, it looks mighty purdy.
"I removed the full-sized Whammy pedal and added a Ricochet pedal, a Dunlop mini volume pedal, a JHS Colour Box and a EarthQuaker Devices Palisades. Plus my 'board can now do the Kessel Run in less than twelve parsecs."
Major props for ultimate soundscape enabler Montreal Assembly Count To Five, too.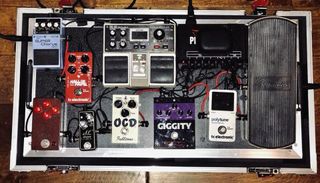 Paul Bingham
Paul's current rig features master tone shaper Voodoo Lab Giggity flanked by the killer pairing of Fulltone's OCD and Xotic's SL Drive. He's also stuck his Boss CH-1 at the end of the chain, which no doubt provides some tasty modulated delay and reverb sounds when paired with the Boss DD-20 and TC Electronic Hall Of Fame.
Paul's hoping to add the TC Electronic Flashback Delay or Eventide H9 at some point in the future, too…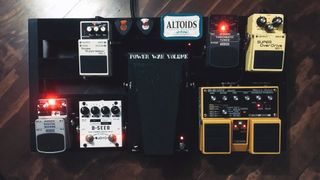 Ethan Thibeault
"It's a little junkie, but does what it needs to," says Ethan, modestly.
"I have an SP Compressor on its way, and I am soon to get a Flashback X4 to replace the D-Seed, which is actually pretty good for the price. I will also eventually get either the Hall Of Fame, or Arena reverb, and a PolyTune, then go from there."
Sounds like a plan to us. Plus, looks like he's never short of plectrums.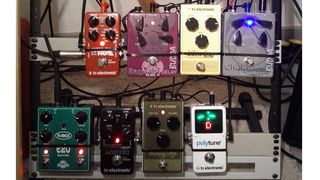 Tobias Krieß
Tobias has employed Adam Hall's STRS12U tabletop rack for his 'board, which is full of hidden pedal gems.
"My Danish zero-latency non-blinking pedalboard. Keep in mind that Budda pedals are original Carl Martin but have a 3PDT footswitch.
"The middle row contains the 'always on' pedals. Unfortunately it is hardly portable, therefore I cannot annoy somebody with my limited guitar skills!"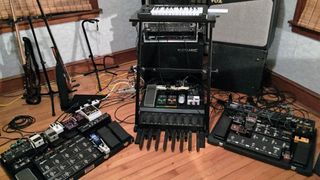 Jeffrey Brewer
Mega pedalboard alert!
"This is my multi-pedalboard setup," says prog wizard Jeffrey. "Pedalboard left is for bass; middle pedalboard controls rack mount synths, bass pedals and vocal effects; pedalboard right is for guitars.
"Signal chain is: Bass into Line 6 G90 wireless into Nose A/B switch thru Joyo PXL4 to MXR Comp to Boss modded EQ to Ernie Ball volume pedal then into loop B of the LS-2.
"Loop B out to Ampeg SCDI to the Donner Noise Killer if needed. M13 is in parallel loop A of LS-2. The Future Impact, Blueberry OD, Billy Sheehan OD and Donner Jet Convolution Flanger are in the loop of the PXL4. Finally the Gecko MK 2 midi controller controls both the M13 and Future Impact. Everything but the M13 is powered by two Mooer micro power units under riser.
"Signal chain is guitar into Nady UHF-3 wireless system into pedalboard. Loop A to Mooer Yellow Comp to Joyo Wooden Sound to TC elec Mojo to Line 6 Roto Machine to DigiTech Mosaic into channel 1 of volume pedal back to loop A of pedalboard then to amp input.
"Line 6 is in loop B of pedalboard into channel 2 of volume pedal back to loop B of pedalboard which goes out to amp effects loop. MIDI Mouse controls the M9 - additional onboard amp effects accessible with Vox footswitch."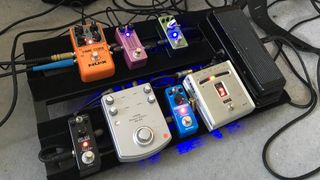 Daniel Clear
Daniel's choices are Clear (arf): this is a guitarist who values, erm, value for money. Hence the proliferation of mini pedals from brands like Rowin and Aroma. We also clocked the perennially underrated Zoom PD-01 Power Drive, too - nice.
Signal chain: Dunlop Cry Baby, Korg DT-10, Donner Ultimate Comp, Zoom PD-01, Rowin Flanger, Aroma Mod Station, Mosky Spring Reverb, NUX Time Core Deluxe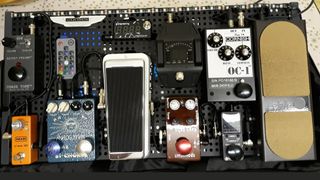 Mark Overfield
A keen poster to our burgeoning Facebook group, Mark has provided regular updates on his 'board progression. With his latest tweaks, courtesy of a gift or two from Santa, he reckons he's near completion.
Praise goes to the low-profile 'square' right-angled plugs and two Chase Tone preamps, which complement the Cornish OC-1, Wampler Ego Compressor and MXR Phase 95 in this Gilmour-inspired rig.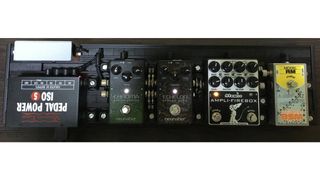 Nicu Barbieru
We're digging the portable and hugely versatile natural of Nicu's setup here - that Atomic Ampli-Fire will cover a lot of ground. The whole lot's powered by a Voodoo Lab Pedal Power Iso 5.
Signal chain: BSM Model RM-Metal, Atomic Ampli-Firebox, Neunaber Echelon, Neuenaber Chroma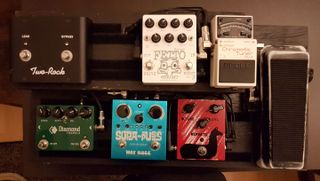 Tobias Bettzüge
Oh, Tobias, you spoil us: some legit boutique choices are all topped off by the siren song of that Two-Rock footswitch. Something tells us this rig sounds goooood.
This is the order of the chain: Boss TU-2 - Jam Pedals Wahcko+ - Himmelstrutz Fetto Maximus - Jam Pedals Delay Llama - Way Huge Supa Puss - Diamond Tremolo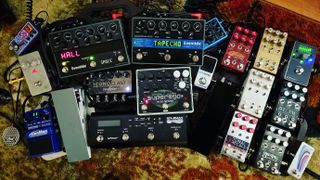 Ryan Chadwick
"Still in the middle of wiring this bad boy, just waiting on the MIDI cables!" says Ryan. Regardless, this is a truly remarkable setup - Chase Bliss Audio in particular has done awfully well out of Mr Chadwick.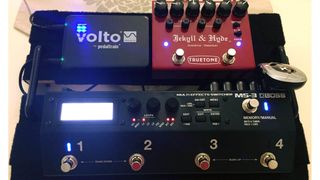 John Best
It's incredible what you can achieve with a small setup these days - John's rig spans a Jekyll & Hyde for his drive needs, while the MS-3 handles everything else.
Throw in the rechargeable Volto power supply and Xvive wireless system, and this is a truly contemporary rig.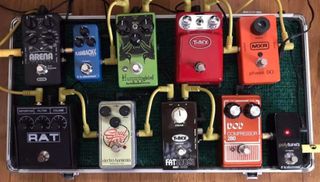 Clyde Miles
None of Clyde's pedals cost over $100 - got some good deals there. And, of course, there's also the yellow patch cables. Lovely stuff.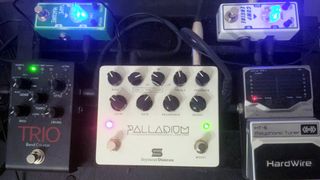 Luke Saunders
Luke describes his setup as a "good little jam rig", and we'd most certainly concur - the Trio is a seriously useful pedal when it comes to playing by yourself, especially when accompanied by such tasty drive tones.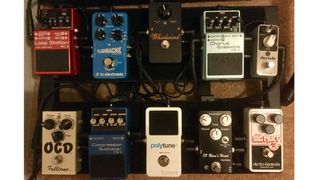 Mark Sowden
"Any guesses as to the inspiration?" quizzes Mark. We'd wager David Gilmour was the muse for this particular rig, but with that assortment, Mark has a versatile setup that'll handle just about anything.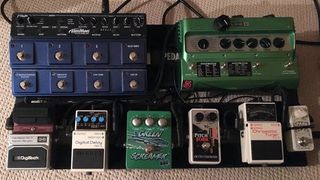 David Stobie
We like the flexibility of this offering from David, spanning a variety of atmospheric options on a Pedaltrain Classic 2.
David notes that "everything is in normal order, except I go DD-3>DL4>RV7>JamMan Delay. Great setup for what I enjoy playing."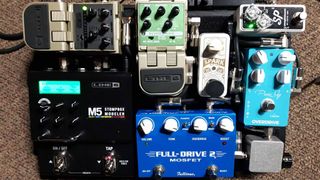 Alex Speck
"Can't see myself changing much about this setup for a while," says Alex. "It covers all the bases I need!"
And therein lies the beauty of compact multi-effects like Line 6's M5: everything for every eventuality. Cool to see the ol' Echo Park and Verbzilla make an appearance, too.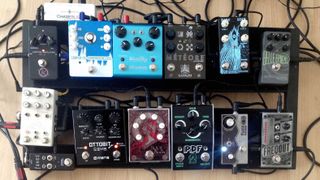 Mark Forshaw
"My 'board is a studio setup," explains Mark. "It's used on synths, guitars, drum machines, samples, etc."
It's a stunning assortment, for sure - here's what's there…
Signal chain: George Dennis Tremolo Volume / DigiTech FreqOut / Sunmachine Fuzz 0))) / Stone Deaf PDF-2 Parametric Overdrive / Fuzzhugger Doom Bloom / Meris Audio Ottobit Jr / Chase Bliss Faves / Chase Bliss Warped Vinyl mkII / Moogerfooger Cluster Flux / Catalinbread Belle Epoch / Old Blood Noise Eneavours Dark Star Pad Reverb / Caroline Météore Lo-fi Reverb / Strymon BlueSky Reverb / Cooper FX Generation Loss / Keeley Limiting Amplifier / Chase Bliss MIDI Box / Electro-Harmonix 45000 Looper / Strymon Ojai power supplies under the 'board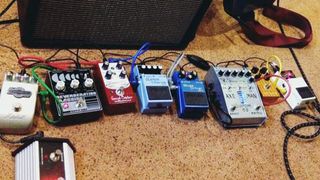 Richard Thomas
Richard is still looking for a decent wah (and an actual pedalboard), but he reckons his rig sounds amazing. We're inclined to believe him based on his choices here.
Signal chain: Boss Chromatic Tuner, Suhr Koji Compressor, Owen Electronics Axe Man, Boss Blues Driver, Boss Super Chorus, EarthQuaker Devices Grand Orbiter, Death By Audio Reverberation Machine, Marshall Echohead. Plus a Fender Super Champ footswitch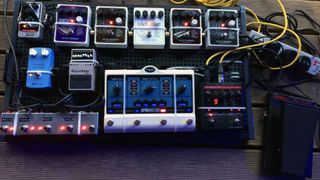 Simon Jarvis
That's right: Simon has the full, five-strong complement of Electro-Harmonix 9 series pedals. Pair that with the T-Rex Spin Doctor, and that's decades' worth of classic keyboard, synth and organ sounds at your feet.
It's a good thing, too, because Simon plays in a covers band, playing New Wave from the late '70s early '80s such as Elvis Costello, The Cars and Squeeze.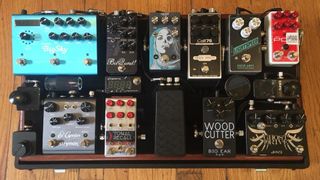 Steven Tijerino
Steven calls this his 'gets the job done' 'board, and there are some inspired choices in here, from the Chase Bliss Tonal Recall to the Big Ear Woodcutter and modded POG Nano. Nifty.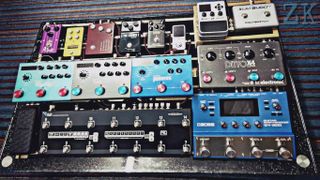 Muddy Angel
We're not sure if Muddy Angel is a real name or a pseudonym, but we want to hear the music they make with this monster.
With the trio of Strymon big boxes (Mobius, TimeLine and BigSky), plus the Boss SY-300, BeatBuddy and a quartet of drives up top, it's no wonder Muddy needs a GigRig G2 to switch everything. An impressive piece of work.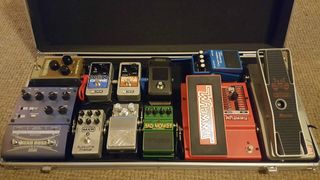 Sean Smith
It's been a while since we've seen a Weeping Demon, but we're pleased to see its presence here. Liking the DS-1 mod aesthetic, too.
Korg Pitchblack > Boss CS-3 > Ibanez Weeping Demon JR > Whammy 5 > DigiTech Bad Monkey > Boss DS-1 (with seeing eye/ultra mod) > MXR Fullbore Metal > EHX Small Stone > EHX Neo Clone > TC Electronic Echobrain > Akai HeadRush E2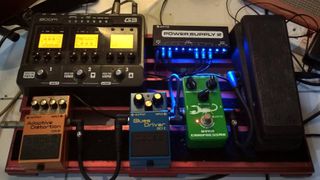 Shavkat AV
Shavkat's looking to add a Whammy, or perhaps some flange or phase, to his custom 'board, which he's painted the same colour as his guitar.
There's already a good assortment here, though, and that G3 covers an awful lot of ground.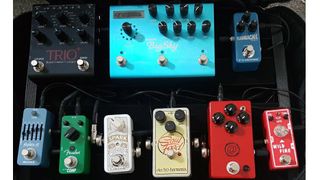 Stephen A Wilson
"This is my first pedalboard," confesses Stephen. Could have fooled us: it's a helluva lot better than our first 'boards.
"I've tried to make it pretty versatile, and thrown the Trio+ on so I can jam and improvise to my heart's content," he continues. "Special mention to the Tone City Wildfire. What a pedal!"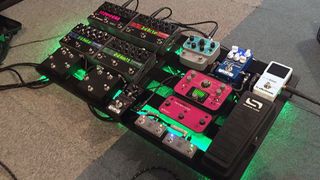 Tom Clark
We just love a 'board with lights, and Tom's has us green with envy (sorry).
This is a versatile beast for sure, with a quartet of Eventides and Source Audio Multiwave Distortion. Let Tom be your guide…
"The right hand side goes straight into the amp - TC Electronic PolyTune > Source Audio Polymod Pro > Wampler Ego Compressor > Wampler Velvet Fuzz (or Wampler SLOstortion) > Source Audio Multiwave Distortion into either a Victory V100 or a Mesa Boogie Mark IV, with the two Bright Onion switchers controlling amp channel-switching.
"On the effects loop side it's the Eventide Pitchfactor > Modfactor > Timefactor > Space with the two T1M switchers controlling the extra functions and patch switching.
"Looking to get a looper to stop tap dancing next!"
We don't blame you, Tom - that's a whole lotta tones at your disposal.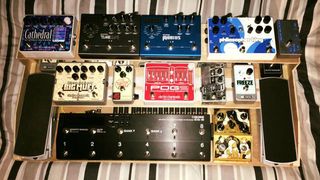 Joe Darlow
"Finally built!" Joe exclaims. "After many sheets of ply and a few cups of tea." Rightly so.
It's not quite wired up in this shot, but there are some killer units here (major props for the DigiTech FreqOut, EHX Freeze and JHS modded Soul Food), and a whole lot more under the shelves, including a DigiTech Bad Monkey, EHX Soul Preacher, TC Electronic Spark Boost, EHX LPB2, Marshall Echohead, EHX Memory Toy, EHX Q-Tron, EHX Silencer and EHX Worm, as well as TheGigRig Generator that powers the whole lot.
Monster 'board, and a nice built to boot.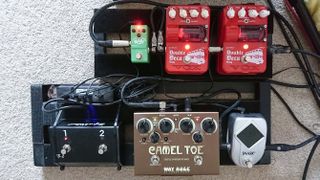 John Naismith
Holy Double Double Deca, Batman! John's triple-delay setup (note the Rowin Wave, too) goes into his Hughes & Kettner's effects loop, while the Camel Toe handles dirt duties up front.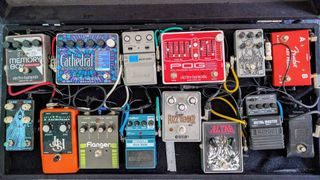 Paul Cousins
Paul's ever-evolving bass 'board is loaded with contemporary classics and some real unsung heroes - check out the JHS Phaser and Arion Metal Master for starters. Then there's the modern-day DopeFX Boba Fuzz and Old Blood Noise Endeavours Dark Star. Awesome.
"The top row and the Dark Star go to one amp," says Paul. "The bottom row is split between two more amps."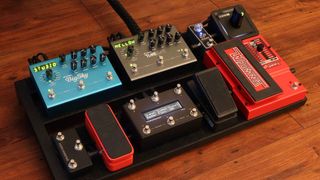 Joe Kiernan
Joe pairs this beast with an Axe-Fx for the ultimate in versatility. Add in a wireless system, and this is a true 21st century rig.
Let Joe guide you through it…
- Line 6 G10 Wireless
- Xotic EP Booster (I always leave this pedal on, just makes everything sound better)
- Strymon TimeLine
- Strymon BigSky
- DigiTech Whammy V
- Dunlop Cry Baby Mini
- Morningstar MC6 (MIDI controller for my Axe FX)
- Hotone Soul Press (Currently being used as an expression pedal for my Axe-Fx)
- Morningstar expansion switches for the MC6
"Gotta say, I'm pretty happy with it."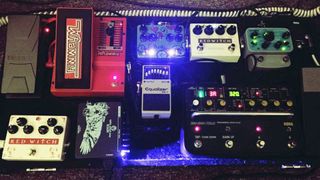 Ivan Self
Oh, this one tickles us just right: Whammy, SDD-3000, two Red Witch pedals? Oh, stop it, Ivan. What's the full line-up, then?
"From top right to bottom left... Korg tuner, Source Audio Multiwave digital distortion, Red Witch Fuzz God, Keeley Monterey, DigiTech Whammy, Boss Wah, Roland expression pedal, Korg SDD-3000 delay and preamp, Boss GE-7 and a Red Witch Chorus/Trem. It's all powered by a Walrus Audio Aetos."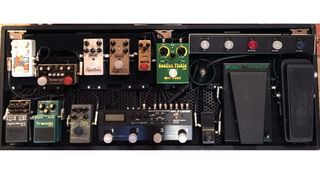 Greg Boschert
Greg's recent appointment of a Boss MS-3 Multi Effects Switcher has seen him ditch a load of his Boss pedals.
"Liking it so far," he says. "The MS-3 does a ton of stuff!"
There's plenty of flexibility elsewhere, too - and we're digging the use of those footswitch toppers.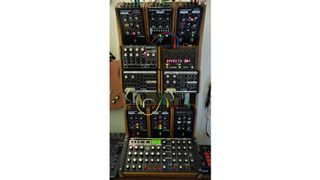 Martin Yam Møller
"I have a serious Moog addiction," admits Hong Kong native Martin Yam Møller, now living in Denmark.
"Is this a pedalboard? I dunno, you be the judge. I can say that it started as a pedalboard, but honestly, I've stopped playing guitar through it. Now nearly all sounds I make get thrown through these delicious FX."
We've never seen so many Moogerfoogers in one place. Pedalboard or not, we love it.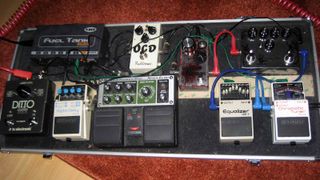 Harris Tenis
Harris turns to a handful of tried-and-tested tools for his work in German sludge merchants KATAKLYSMØS, most notably the Screaming Skull fuzz from Kleissonic, followed by a custom German Cannibal fuzz, based on the Sunn O))) drone sound.
Now imagine that delayed and looped… heavy.
Signal chain: Boss TU-2, Boss GE-7, Kleissonic Screaming Skull, German Cannibal fuzz, Fulltone OCD, Boss RE-20, Boss DD-7, TC Electronic Ditto X2 Looper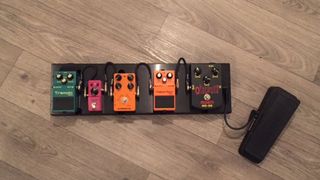 Phil Holliday
As Phil says himself, his pedalboard is "simple yet versatile" and covers all his indie and blues needs.
He's equipped his T-Rex ToneTrunk pedalboard with a Dunlop Cry Baby wah, Moen MO-OD Overdrive, Boss DS-1, Caline Boost, Ibanez Analog Delay Mini and Boss TR-2, all powered by a T-Rex Fuel Tank Jr mounted underneath. Neat!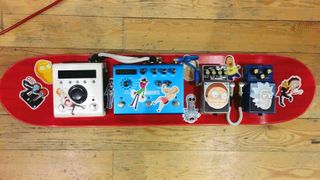 Anton Khabibulin
"Hope my 'board will be interesting for you," begins Anton Khabibulin's pedalboard submission. Damn right it is, Anton!
Besides the MR-approved Rick And Morty sticker action, Anton's setup also gets points for the appearance of the underrated Boss DSD-2, top-drawer Strymon Mobius and Eventide H9, plus the fact it's all mounted on a freaking skateboard.
Top it all off with a Boss BD-2, and we're most definitely on board.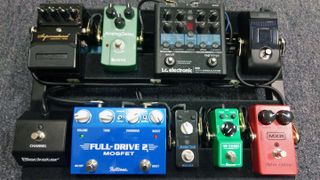 Alan MacDonald
We commend the neatness of Alan's setup here - excellent use of those sticky wire tidy things. The pedals ain't bad, either: we appreciate the mix of everything from Joyo and Mooer to Fulltone and TC Electronic.
Here's the full rundown from the man himself:
"The signal chain into the front end of my Blackstar amp is as follows: Korg Pitchblack Tuner -> MXR Dyna Comp -> Ibanez Tube Screamer Mini -> Mooer Blues Crab -> Fulltone Full-Drive 2. The TC Electronic Nova Modulator -> Joyo Analogue Delay -> DigiTech Supernatural Ambient Verb go through the amp's FX loop. The Blackstar channel selector switches between the amp's clean dirty channel (obviously).
"All patching in and out of the 'board is done via a TheGigRig Cinco Cinco Patch Bay. Power is supplied from a T-Rex Fuel Tank. All the effects can be fed into the front end of an amp without FX loop by addition of a simple jumper patch cable on the Cinco Cinco."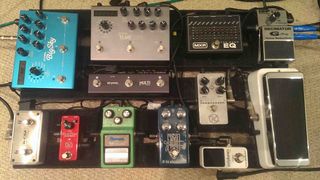 Ben Pinkus
Mr Pinkus is a UK-based guitarist, who "plays in many different bands spanning multiple genres", so accordingly, he needs a versatile 'board, and boy, has he delivered. Here's what he had to say…
"This pedalboard goes through my Mesa Boogie Lonestar Special. I wanted a 'board that would cover all my needs from ambient to big leads, and this certainly does it!
"It's powered by a One Spot Pro, and from the amp is TC PolyTune Mini>Keeley Red Dirt Mini>Ibanez TS9>Keeley C4 Compressor>Xotic XW-1>ISP Decimator G string.
"In the loop I have the ISP Decimator G string, MXR 10 Band EQ, TC Electronic Dreamscape, Strymon Timeline (with multi switch) and Strymon Big Sky."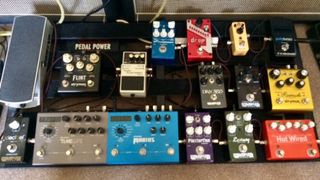 Patric Schoenaker
Holy distortion pedal, Batman! Patric has rammed his Pedaltrain chock-full of drives to cover all manner of dirt.
"I've been building up to this version for years, but it's pretty stable now," he says.
"I use Evidence Audio SIS patches, and the whole thing goes into a Hiwatt Custom Studio/Stage mk II 212 combo and/or a Hiwatt Custom 50 112 combo (whichever I take with me) as a clean platform.
"I play in a rock/metal cover band, so I need to be able to go from Cream's Sunshine Of Your Love to garage rock to classic rock to full metal and anything in between - hence the selection of distortions."
Signal path: TC Electronic PolyTune - Mooer Acoustikar - DigiTech Drop - Strymon Mobius (in the loop of the Mobius: Boss NS-2 (in its loop: Wampler Hot Wired v1 - Wampler Ecstasy - Wampler Plextortion - Strymon Riverside - Wampler Velvet Fuzz - Wampler Dracarys - Wampler Ego Compressor - back to NS-2) - back to Mobius) - Strymon Timeline - Strymon Flint - Wampler Decibel+ - Ernie Ball VP Jr.
"The loop of the Mobius enables you to put the stuff in its loop (i.e.: all distortions throug the NS-2) before or after the Mobius' effects.
"The volume at the end is because I want to manipulate actual volume, and not the behaviour of the distortions... I can do that with the volume on my guitar :-)"
Impressive stuff, Patric.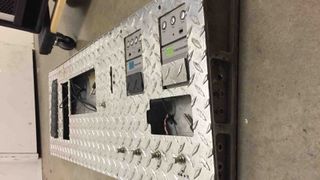 Dave Leighton
Bit of a different offering here from Dave, who has put his machinist skills to good use and built his own seemingly bombproof 'board, complete with a built-in patch bay and a freaking smoke machine - no, really.
Our machining knowledge isn't as good as Dave's, so let him explain…
"Being a machinist and guitarist/bassist, I decided to combine my skills and design a pedalboard made from machined aluminium parts.
"Before building I started designing my unit with BOBCAD design software. My goal was making the lowest profile board and make all pedals flush to the top surface. All dimensions were taken from pedals and drawn in the design software.
"Wah and expression pedals were also drawn showing extreme travel limits of each. This determined the angle and plane height of the top surface, which I piano-hinged with gas struts to automatically open when latch is released. Then billet aluminium risers were machined to raise pedals up to the desired height, flush.
"Custom wheel protrudes up through slot for changing the speed of the Univox Micro Fazer which has a horizontally orientated speed control. Empty spots are for a Line 6 DL4 and a removable tray holding a Korg tuner.
"Inside is a small custom-built patch bay for changing pedal sequence, power supply, built in LED indicators for 3 input ABY switching, wireless receiver, stereo or mono switching, and built-in smoke machine with flame simulation lighting - to watch people freak when they think my gear is on fire!
"Truly elephant-proof construction. Weight was never a factor, but I can carry it under one arm. I switched to bass guitar after 30 years playing guitar and am in the process of a redesign to support my bass pedals."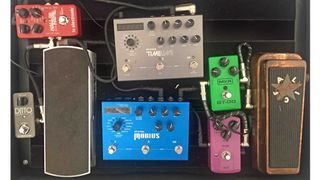 Jean Paul Fortuno
Mauritius-based guitarist Jean Paul is a man after our own heart: a fan of the likes of Oceansize, Steven Wilson and Opeth among others, he's decked his 'board out with a variety of modulating and ambient devices, which he uses in his band Skeptikal.
"My main amp is a Laney GH50L which I use both for live and recordings," he explains.
"The signal chain is a Dunlop Jerry Cantrell wah (I love its dark sound), an MXR GT-OD, a custom-built Suhr Riot-like distortion, the Strymon Mobius, Ernie Ball VP Jr straight to the amp. I have the TimeLine, Hall Of Fame Reverb and the Ditto Looper in the effects loop."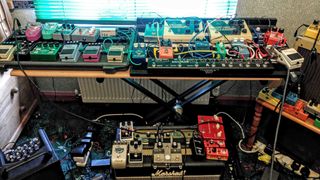 Gordon Norman
Wow… that's a lot of pedals, even for this gallery. Gordon has at least four 'boards according to these photos, and a ton of stompers to switch in and out, too.
As he puts it, "My 'boards are in a state of creative chaos - I'm still working on my signature sound."
His chain is hard to see, but it apparently includes a DOD 280 compressor into a Joyo Chorus, a Caline Crazy Cactus that's always on, into a Big Knobs Civil War into an SE3 MOSFET overdrive into a DigiTech DL8 before finishing with an Aroma Space reverb.
"These are all plugged into a Joyo 8 Live loop switcher," Gordon continues. "Whatever else you see is in the circuit but optional!"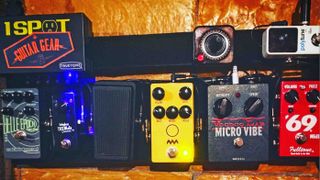 Serch Ortega
Serch is based in Guadalajara, Mexico and was looking for a practical and portable 'board for blues - he settled on the arrangement above, which looks pretty sweet to us.
The whole lot is powered by a 1Spot Pro7, except the Fulltone '69 fuzz, which Serch powers via battery, because he prefers the tone.
Signal chain: TC Electronic PolyTune>Fulltone '69 fuzz>Voodoo Labs Microvibe>JHS Charlie Brown>Jim Dunlop Cry Baby Mini wah> Lovepedal Babyface Tremolo>Catalinbread Belle Epoch tape echo
Played through an Orange Tiny Terror combo or Fender Hot Rod DeVille III.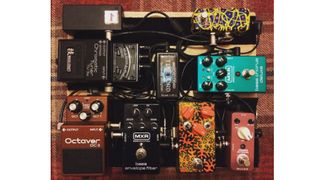 Simon Poulton
Double trouble from UK-based Simon Poulton, who's loaded his twin pedalboards with filters, modulation and octavers aplenty. We like.
Small 'board signal chain: DIY bypass looper -> MXR Bass Chorus Deluxe -> Mooer Tender Octaver -> COG Effects Mini 66 -> MXR Bass Envelope Filter -> Boss OC-2 -> Boss TU-3W -> Bypass looper
Large 'board signal chain: COG Effects Knightfall 66 prototype -> Fuzzrocious M.O.T.H. -> Boss VB-2 -> Boss PH-3 -> Mr Black Eterna -> DigiTech Bass Synth Wah -> COG Effects T-16 -> TC Flashback Mini -> TC PolyTune Mini Noir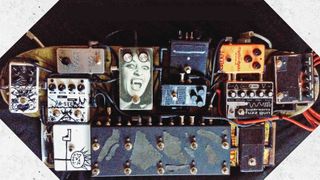 Antero Koskikallio
This is one of the more radical 'boards we've seen on The People's Pedalboards… or perhaps we should we say The People's Skateboards, because Antero's pedal collection is stashed on a well-worn deck, with an extension for a Buzz Electronics custom 8 looper.
The assortment is heavily fuzz-based, with Antero's penmanship adorning many of the pedals, too. He uses it for both guitar and bass.
Signal chain: TC Electronic PolyTune 2 - MXR Slash Octave Fuzz – '70s Loco Box Mysto-Dysto - Death By Audio Supersonic Fuzz Gun - Fredrik Effects Super Unpleasant Companion - Electro-Harmonix Silencer - Vampira DIY Fuzz Face Replica - Destruction #1 - Boo FX Boost – Joyo D-Seed Digital Delay - Phaser/Roto Vibe. All effects are plugged into a Buzz Electronics custom 8 looper, which has two separate amp switches.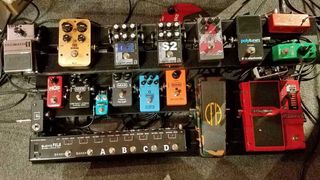 Leonardo Moncayo
Ecuadorean six-stringer Leonardo spent two years refining this monster rig, which he uses to play metal and rock through a Blackstar HT Metal 5. Looks like this one can do just about everything - Leonardo, talk us through it, if you please…
"Guitar to: Epigaze Audio Neutrino Quark Buffer>TC Electronic PolyTune 2>Xotic Compressor>DigiTech Whammy>Dunlop Dimebag Cry Baby wah>Joyo PXL8 loops: L1: Ibanez Tube Screamer Mini, L2: Catalinbread Rah, L3: AMT S2, L4: AMT D2, L5: J Rocket 10 Ton Hammer, L6: ISP Decimator, L7: (next purchase Xotic EP Booster) >>JHS Mute pedal
"Send Loop: MXR Phase 90>MXR Analog Chorus>MXR Micro Flanger>Hotone Tremolo>MXR Carbon Copy>TC Electronic Mini HOF: Return Loop
"All this jungle sits on a Sudthuli Custom Pedalboard, powered by two Caline power supplies (both do the job as well as the $130-up power supplies, try it!). Hosa and Strukture patch cables."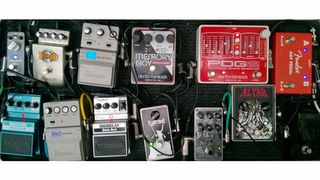 Paul Cousins
Cheeky bass player Paul has sent us two pedalboards, one for each of his bands. First up is this delay and 'verb-heavy setup, which we're pleased to see is stocked with a number of early-noughties gems.
"The signal goes to two amps, with one used for atmospheric noises from the delays and reverbs and the other for the straight bass sound (except for the two fuzzes)," Paul explains.
"The signal goes from the Fender ABY to: Channel A: EHX POG2 - Nine Of Swords Tyrant fuzz - EHX Memory Boy delay - Ibanez DE7 delay - DigiTech Digidelay - Ibanez PH7 phaser - DigiTech Digiverb - Marshall Reflector reverb - Mooer ShimVerb reverb. Channel B: Korg Pitchblack tuner - Nine Of Swords Altar fuzz - DopeFX Iron Lung fuzz."
…and here's the other one. And no, Paul doesn't play Swedeath, despite what those Boss HM-2s imply - this setup is actually for a rock covers outfit…
"The Ibanez FZ7 is for the Fuzz part in Tiger Feet by Mud; it does a good velcro-ripping sound," Paul elaborates.
"The two Boss HM-2s are set more like boosts, with just a bit of drive and different EQ settings. Both on gives a great overdriven sound.
"The Retro Electro Superboss is a Superfuzz and Bosstone in one, and is used when I want a really synthy fuzzy sound, sometimes with the FZ7. Signal chain is PolyTune tuner – Ibanez FZ7 fuzz – Boss HM-2 – Boss HM-2 – Retro Electro Superboss."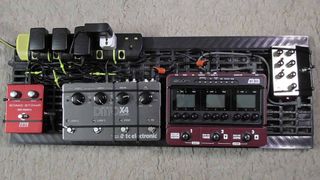 Albert Loo
Once nine-string fan Albert had built up his fine collection of pedals, he found himself short of enough cash to afford a proper pedalboard - his solution was rather ingenious…
"I took a trip to the DIY store to look for stuff that make a cheap 'board - wood plank, food tray, large chopping board, shoe rack, etc - and when I spotted the hard plastic drain cover, I knew it was just right.
"The drain cover is very rigid and comes with plenty of holes for me to cable tie the pedals securely. It is mostly a bass effects setup for clean sound fingerstyle playing, supporting the low-end of my Ibanez RG9 well."
Signal chain: Eden World Tour Bass Preamp, Zoom B3, TC Electronic Ditto Looper X4, BBE Sonic Stomp Maximizer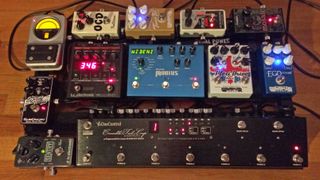 James Holt
Now here's the 'board of a true pedal connoisseur. James has kitted his rig out with a wide range of vintage-voiced and contemporary stompers, with boutiques aplenty and a tasty switching system to boot. We like.
So, James, how does it work?
"My guitar plugs into the buffered input of the One Control Crocodile Tail Loop Switcher. The Peterson Stomp Classic Tuner plugs into the isolated tuner input. The other 10 pedals are connected as loops and the loop order is as follows: Loop 1 - Digitech Mosaic, Loop 2 - Wampler Ego Compressor, Loop 3 – Electro-Harmonix Pitch Fork, Loop 4 - Wampler '57 Tweed, Loop 5 - Wampler Plexi Drive Deluxe, Loop 6 - Fulltone OCD, Loop 7 - TC Electronic Sentry, Loop 8 - Strymon Mobius, Loop 9 - TC Electronic Nova Delay, Loop 10 - Subdecay Super Spring Theory"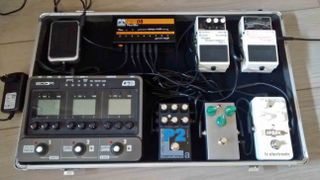 Luigi Iacovitti
Luigi plays in Italian metal band Eva Can't, and he's certainly got some heavy staples here: 5150-voiced distortion, TS overdrive, noise suppressor - here's how he uses it…
"The Spark Booster is always on and used to build a strong, slightly compressed and frequency-balanced signal; the TS9 is used to boost solos when the AMT P2 is set clean, and to tighten the AMT P2 in 5150 mode, in order to achieve a modern metal sound.
"The AMT P2 cabinet simulation output is used in order to go directly to the stage PA through the Zoom G3 XLR output, while the unbalanced G3 output goes to a monitor or guitar amp return for stage monitoring. Simply, effective, lightweight and flexible."
Signal chain: Boss TU-3 Tuner-> Boss NS-2 Noise Suppressor (in its loop: TC Electronics Spark Booster -> DIY TS9 -> AMT P2 with cabinet out) -> Zoom G3 (delay, chorus, reverb and EQ). Everything is powered by a Palmer PWT08.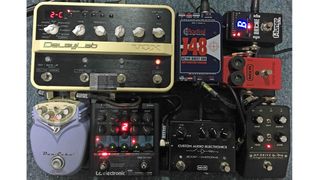 Kang Seokho
South Korean guitarist Kang has crammed a lot of sounds into a small space, and what's more, it covers electric and acoustic guitar, too.
"I only use the J48 when I am playing with acoustic guitar," Kang says. "I mix balanced output and Thru Channel of J48 by 50:50 to have clear acoustic sound with cool delays and reverbs. In my case, I use the MF Drive as a preamp, especially for acoustic guitar."
Signal chain: Tuner - MXR Dyna Comp - Moog MF Drive - Radial J48 (balanced output goes to mixer directly, thru channel goes to the next effect) - MXR Custom Audio Electronics Boost/Overdrive - TC Electronic Nova Modulator - Danelectro Dan Echo - Vox DelayLab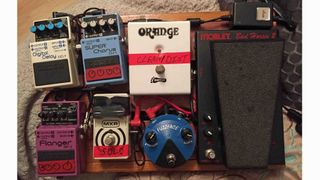 Dan O'Brien
Dan has been on a downsizing mission, stripping his rig back to the bare essentials.
"It sounds awesome and there's less to go wrong," he enthuses. "I've taken off the PolyTune Mini and replaced it with a clip-on PolyTune to save space, along with ditching Hall Of Fame Reverb, EHX Silencer and many other toys..."
Signal chain: Morley Bad Horsie 2>Dunlop Fuzz Face Mini>MXR Zakk Wylde Overdrive>Boss BF-3 Flanger>Boss CH-1 Super Chorus>Boss DD-7 Delay
Orange channel switcher
Powered by Diago power supply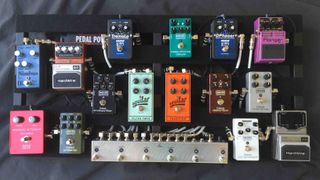 Bill Thompson
We've got a monster bass 'board on our hands here, folks, and we like it a lot. It should certainly cover a lot of tonal bas(s)es. Aha.
Anyway, let Bill take you on a guided tour…
"The signal flow is fairly simple.
Starting on the right, my signal goes into a Hardwire HT-6 Tuner and then into a MXR M87 Bass Compressor. From there, it goes into a Loop Master six-channel looper and then out to a MXR M81 Bass Preamp into a BBE Sonic Stomp and then out to the amp.
In regards to the six channel looper, I leave Channel One open for an external Bass Wah (EBS Stanley Clarke Wah or sometimes a Dunlop Bass Wah).
Channel Two is to engage my distortion pedals (MXR Bass M89 Overdrive, MXR M85 Bass Distortion, and an Aguilar Bass Fuzzistor).
Channel Three is for a Boss BF-3 Flanger.
Channel Four is for additional modulation effects (EBS D Phaser and an MXR M83 Bass Chorus Deluxe).
Channel Five is for my envelope filters (Aguilar Filter Twin and an MXR M82 Bass Envelope Filter).
Channel Six is for my ambient effects (EBS Bass Tremelo, Hardwire DL-8 Delay/Looper, and a Nimbus Iron Ether Bass Reverb).
I power everything with two Voodoo Labs Pedal Power 2 Plus pedals, and the 'board is a Pedaltrain Classic Pro 32" by 16"."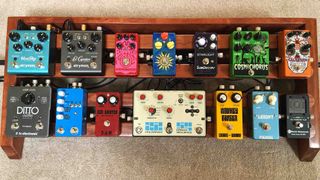 Nicholas Demetriou
We're a little bit in love with this one, not only for the colourful effect choices, but also Nicholas's DIY knowhow.
"I make my own pedalboards from reclaimed hardwoods," he explains.
"In and out jacks are fitted into the board at each end. A Cioks DC8 lives on a removable shelf under the board, providing the majority of the power. Guitar to amp cables are Vovox. Patch cables are all Lava soldered mini ELC (apart from one!)."
Signal chain: Sonic Research Turbo Tuner > Pigdog Loony (Tonebender Mki Ge) > Pigdog Monkey Finger (Tonebender Mkii Ge) > Hologram Electronics Dream Sequence (Octave Sequencer/Arpeggiator) > D*A*M Red Rooster (Bass/Treble Booster Ge) > Montreal Assembly Count to Five (Delay/Sampler) > Alexander Pedals Calavera (Phaser/Ring Mod) > Dr Scientist Cosmichorus (Chorus) > Subdecay Starlight (Flanger) > Jam Pedals Chill (Tremolo) > Catalinbread Bicycle Delay (Mood/Spiral Delay) > Strymon El Capistan (Tape Delay) > Strymon Blue Sky (Reverb) > TC Electronics Ditto X2 (Looper)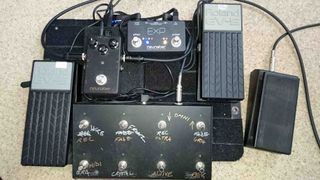 Paul Maguire
"Simple 'board but many options. Less cable, cleaner signal. Happy days" was all the explanation Paul offered for this none-more-black setup.
Looks to us like a Neunaber Expanse pedal, set up to the company's ExP controller to switch effects, which is also hooked up to a trio of expression pedals for on-the-fly control of individual parameters.
It seems like there could be some MIDI action going on, too - intriguing…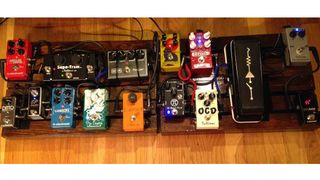 Seth Dominick
Seth's put together a stunner here, serving up some serious versatility indeed. Here's his ethos…
"I've got what I like to think of as a rather standard assortment of pedal types, spread over two 'boards pushed together.
"The right 'board goes straight into the front of the amp, and the second (left) 'board, which is mostly modulation, can be run through the amp's effects loop if needed. Nothing too crazy effects-wise, but able to cover a great range of classic-rock tones."
A great range indeed, Seth, a great range indeed.
Signal chain: TC Electronic PolyTune tuner - Keeley Compressor - MXR/CAE MC404 wah - Fulltone OCD overdrive - Vick Audio '73 Ram's Head fuzz - Wampler Pinnacle distortion - Catalinbread Katzenkonig distortion - MXR Phase 90 phase shifter - MXR Flanger - Earthquaker Devices The Depths univibe - Fulltone Supa-Trem tremolo - TC Electronic Flashback Delay - TC Electronic Hall Of Fame Reverb - Xotic Effects EP booster - TC Electronic Ditto Looper.
Each board has a Gator power brick underneath, which also offer 18 volts for a couple of the pedals.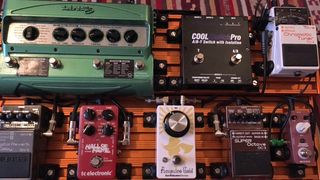 Andrew Simmons
Mr Simmons describes his 'board as "a real slow slog putting this together", but the effort was most definitely worth it.
There's a story behind the current configuration, too…
"It's currently used for just bass, but was built for when I was playing through both guitar and bass amps in a two-piece melodic hardcore band, which sadly didn't get out of the practice room."
Shame, that. Still, Andrew has this marvellous assortment effects to keep him happy - here's what he's loaded his 'board with:
"Current chain: Boss TU-2 (refuses to die!), Mooer Tender Octaver (octave up), Boss OC-3 (octave down), Earthquaker Devices Acapulco Gold (gnarly), TC Hall Of Fame (hint of 'verb / doubles as chorus pedal in mod mode), Boss RV-3 (more epic combo delay+'verb), Line 6 DL4 (sample mode exclusively for between song ambience), ART Pro Audio Coolswitch ABY
Board: Aclam Smart Track S2 (no velcro, just the screw-in grips, genius)
Voodoo Lab Pedal Power 2 out of shot, mounted underneath"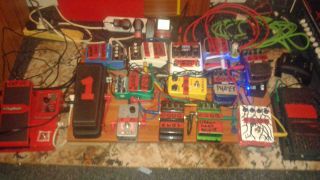 Jay Diabolus Nemesis
It's hard to make out exactly what's going on in the, ahem, informal photography, but Jay describes his 'board as "pretty DIY", as he tends to switch up the order from gig to gig.
Oh, and what's the wah doing on the left?
"I am a goofy-footed guitarist so my wah/Whammy is set to the left," Jay explains, "but I still have the same routing set to the right. My 'board tends to go through a morphing process but it is practical for my needs.
"I also use this on bass as well as guitar, so I don't muck around with amps as I only play bass on one or two songs with J Solo Project. When I play bass with Ivy Blue, nothing changes and I still use the same setup.
"The Behringer and Joyo stuff is not too bad, but that will be replaced when I get around to it. Down the line, I will be slapping the stompboxes in a rack, and I might run a switcher one of these days.
"The reason why it's a mess is because, you know, studio mode, and I can't be bothered velcroing them down. The pedalboard base I actually made out of drawers and threw a whole bunch of screws into it. Suffice to say, it's practical, but boy, it works.
"Wah-wise, I enjoy the Dunlop 535Q wah, because simply, it sounds amazing. The DigiTech Whammy IV, for me, is just awesome because I like that glitchiness that comes with it. I might go with the Whammy V if it decides to shuffle off its mortal coil.
"The DigiTech Death Metal, Bad Monkey, Boss NS-2 and Boss CS-3 are my tone. Those four pedals I could speak about for ages and will always recommend them for metal.
"Everyone cries over amp tone. But whack them through a clean channel and watch that amp go to hell and back."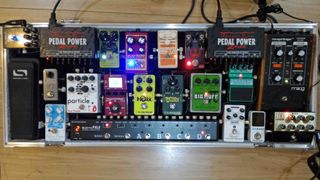 Luis Santiago
"I don't know why, but my band's guitarists ask me all the time about the energy generator to power my pedalboard," says bass ace Luis. "I think it is some kind of bullying..."
Don't worry: you're safe here, Luis. Now, please, talk us through this attractively arranged collection…
"The chain is not so complex: The bass signal flows through the Eden Preamp, to the PolyTune Mini, to MXR Bass Compressor, to the Joyo PXL8 IN. The OUT from the PLX8 goes through the EarthQuaker Devices Dispatch Master, to the Ditto Looper to the MXR Bass Preamp.
"All the other pedals goes in the PXL8 loops in the following sequence: Moog MF101 (loop 1), DigiTech Bass Synth Wah (loop 2), EHX Bass Big Muff (loop 3), DMT pedals Bass Overdrive and SolidGold FX Beta (loop 4), TC Electronic Viscous Vibe and Helix Phaser (loop 5), DOD Meatbox (loop 6), Zoom MS60B (loop 7) and EarthQuaker Devices Hummingbird V2 and Red Panda Particle (loop 8).
"The Source Audio Expression (dual expression) controls parameters of Red Panda Particle and Moog MF101.
"Power by two Voodoo Lab Pedal Power 2 Plus."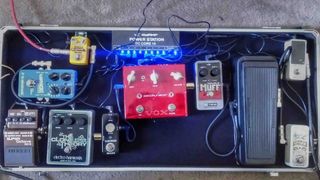 Prav Abe
Prav dubs this creation "My little pedalboard". We're sure it's nothing to do with My Little Pony. Definitely not.
Anyway, we admire the clutch of oft-overlooked EHX pedals here, as well as choice mini pedals from Mooer, TC and Hotone. Noice!
Signal chain: Mooer Baby Tuner, TC Electronic Spark Mini Booster, Dunlop Cry Baby wah, Electro-Harmonix Double Muff, Vox Satchurator, Mooer Slow Engine, Electro-Harmonix Stereo Clone Theory, Boss OC-3 Super Octave, TC Electronic Flashback Delay, Hotone Wally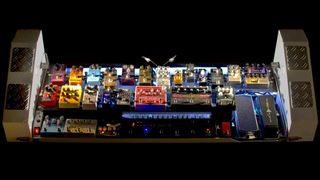 Ardan Dal Rì
A 'board as majestic as Ardan's Flagship should have a fascinating backstory, and it certainly delivers - take it away, Ardan…
"I am a musician from Italy, deeply interested in sound experiments. Since I started to play guitar, I realised that there were tons of sound possibilities within the instrument, so I built my first pedalboard.
"Meanwhile, I went deep into electronic and noise music, working with signal-processing software such as Max/Msp and Pure Data. The main problem was that in order to control so many parameters, I needed a huge control surface. Not to mention the CPU consumption.
"So I decided to design a whole new 'board, which would allow me to process my guitar sound straight before it reaches the computer.
"And here comes Flagship, my main pedalboard!
"The main structure is made with bent/riveted aluminium, while the two lateral removable footboards are made of wood. All covered with white carbon-fibre film. The black pedal support is made of semi-transparent perspex.
"On the right side, I have five female plugs (input, output, send, return and tuner out), while on the left side I have placed three tap-tempo and five expression inputs, plus a powercon for electric current.
"As you can see in the photos, Flagship is backlit, and there are 2 powerful LEDs on the two footboards' internal sides. This light system is completely separated from the power supplies, and both have independent on/off switch and fuse.
"All the pedals are powered by two Cioks power supply, for an average consumption of 4200mA.
"Concerning the cables, I used seven meters of Sommer LLX with G&H plugs to ensure the best possible signal transparency. I can guarantee that the signal passes easily through the whole chain with ridiculously low loss.
"This 'board comes out from almost eight years spent working around pedals, searching for the best effects, best functionality and best matching, and it took me seven months to complete it.
"Hope you'll enjoy."
Enjoy it we have, Ardan. Head over to the guitarist'sFacebook page for more FX madness.
Signal chain: Z.Vex Fuzz Factory (modified) - Keeley 4k Compressor - Moen GEC9 - Custom Audio Wah - Subdecay Prometheus DLX - MXR 6-band EQ - Eventide PitchFactor – Electro-Harmonix POG2 - BRBS True Drive (custom) - Suhr Riot Reloaded - Analogman SunFace - One Control Mosquite Blender - Copilot FX Arrow Airwaves - WMD Geiger Counter - Subdecay Vitruvian Mod - Mooer Slow Engine (modified) - Dawner Prince Starla - Dr. Scientist The Elements - Road Rage Looper - Hotone Wally - Empress Buffer+ - Ernie Ball VPJR (modified) - Vinteck Killswitch (custom) - MXR Analog Chorus - VFE Enterprise - TC Electronic Vortex Flanger - T-Rex Replay Box - Empress Superdelay - Strymon Blue Sky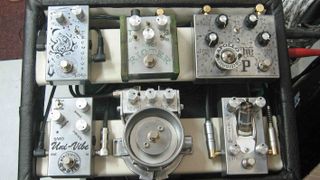 Nebojsa Cupic
This is a canny bit of self-marketing from Nebojsa, who built all the pedals on his 'board as part of his company Apollo Music Service, but we'll forgive him, because they look so bloody marvellous.
He's rocking a tube preamp, Throttle distortion (made from a transformed junk car part), Uni Vibe (utilising SMD tech), The P fuzz (with built-in kill switch), Rioter boost/overdrive and modified Tremulus Lune tremolo.
Versatile indeed. You can see more of his work over at Apollo Music Service.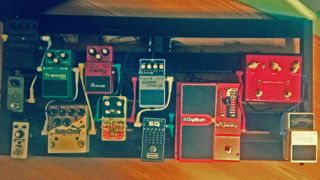 Steve Stevens
Now, we're 95% sure this isn't that Steve Stevens - we don't remember the Billy Idol guitarist ever focusing his skills on capturing "odd, strange, beautiful ambient and industrial sounds", for one - but we love this 'board just as much as we love the Top Gun Anthem.
"My main goal with this pedal board is to create a mixture of My Bloody Valentine and Nine Inch Nails," says Steve. "I had more delay and distortion pedals, but it was too much of an awesome mess."
Awesome, indeed, as it packs two of our favourite delays of the past couple of years: the Boss DM-2W and DigiTech Obscura. Keep on industrialising, Steve!
Signal chain: Boss TU-3, Vox Satchurator, DigiTech Whammy IV, MXR 6-band EQ, Boss CH-1, DigiTech Obscura Delay, Boss Waza Craft DM-2W, Tech 21 Roto Choir, Boss TR-2, DigiTech Supernatural Reverb, TC Electronic Ditto Looper, TWA Echo. MXR Power Brick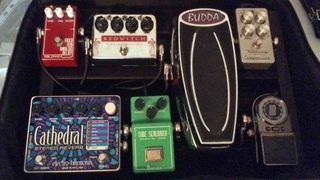 Michael Koullas
Now, here's a shining example of a pedalboard submission: Michael has gone and written his own lengthy - and, at times, moving - description of his 'board. He's even included a header - take it away, Michael…
Chrome, simplicity and effectiveness
"So, I am a guitar pedal junkie. So much so that I realised that I bought way too many pedals for my own good. The missus wasn't happy with it, either; however, I saw potential.
"With that in mind, I built a small pedalboard to cover as many music genres as possible, keep a core guitar-to-amp tone, as well as bring out experimentation, if I choose so.
"It started life as a fun project. Then I used it mostly on small jam sessions and rehearsal. Now, it is flying with me to Cyprus for a fly date because it is convenient and light. Simple yet mighty, allowing me to work more with the instrument, and the effects as extra tone palettes.
"The 'board itself is a Pedaltrain Pro Junior. The wires are Mogami cables. The whole rig is powered by a Decibel 11 Hot Stone Deluxe Power Supply."
Nice work, Michael, nice work.
Signal chain: Planet Waves Chromatic Tuner>Keeley Compressor>Budda Budwah> Ibanez Tube Screamer>Red Witch Empress Chorus> Malekko Ekko 616 Mark II> Electro Harmonix Cathedral Stereo Reverb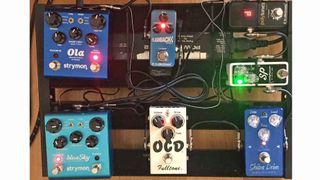 André Marcelo
André is a bona fide tonehound from Lisbon, Portugal, and his 'board is the culmination of a whole year's worth of planning.
According to André, "it always sounds great", too, and we can see why: those are some top-quality drives 'n' Strymons. Looks like there's room to expand, too…
Signal chain: TC Electronic PolyTune 2----- Xotic SP Compressor ----- Suhr Shiba Drive Reloaded ----- Fulltone OCD ---- Strymon BlueSky Reverb ---- TC Electronic Flashback Mini Delay ---- Strymon Ola. All powered by an Eventide Power Factory by Cioks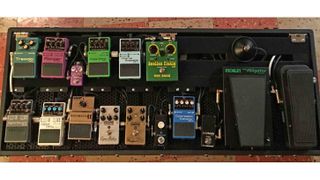 Greg Boschert
"Yeah… lotta Boss stuff," says Greg, "but they are indestructible!!!"
Well, quite, but we're enjoying Mr Boschert's versatile set of drives here, too, with some sound choices from MXR and Mooer.
Greg also says, "The 'board is set up to do a whole bunch of different stuff if needs be," and we'd struggle to argue: just about every base is covered in this versatile setup.
Signal chain: TC Electronic PolyTune2>Dunlop 535Q Wah>Boss CS-3 Compressor>Mooer Blues Crab>MXR Modified OD>MXR Super Badass Distortion>ISP Decimator 2>Way Huge Swollen Pickle>Boss CE-5>Boss PH-3>Hotone Octa>Boss BF-3>Boss TR-2>Morley Little Alligator Volume>Boss DD-7> Boss RV-5; amp boost switch above the Volume
Powered by a Walrus Audio Aetos and a Live Wire wall wart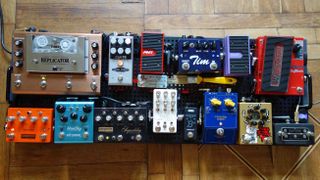 Krzysiek Lochowicz
When he's not playing with pop singer Mela Koteluk, Krzysiek is a session musician in his native Poland, and runs his own gear-focused YouTube channel.
His pedalboard is an absolute monster, and we are truly in awe of its sonic potential and general tidiness - not to mention that Whammy I. One question, though: what's the deal with the paintbrush?
Signal chain: Blackstone Effectors MOSFET Overdrive, DigiTech Whammy I, Z.Vex Fuzz Factory 7, AMT Wah, Paul Cochrane TIM, Origin Effects Cali 76 Compact Deluxe, Chandler Limited Germanium Drive, Korg Pitchblack Mini, Chase Bliss Audio Warped Vinyl, Empress Vintage Modified Superdelay, Strymon BlueSky, Empress Tremolo, T-Rex Replicator, AMT EXP for Empress and T-Rex.
Powered by Yankee HS-M24, Mogami cables with Hicon. Templeboard Duo 34 pedalboard.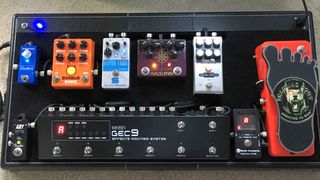 William Schweickert
Despite the impressive build, courtesy of Helweg custom pedalboards, the goal of William's 'board is pure simplicity. As he says, "I am a blues player and there is really no need for modulation/effects pedals.
"The ABY switch allows me to select different channels on my amp. Also, amp reverb and tremolo are controlled via the Moen GEC9."
A quality rig, well executed. We like this a lot.
Signal chain: GEC9 -> Turbo Tuner ST-200 -| GEC9 -> Cali76 Compact Deluxe -> Whine-O-Wah -> King of Tone -> Diablo Gain Plus -> Vapor Trail -> MicroHUSH -> MicroABY Switch –|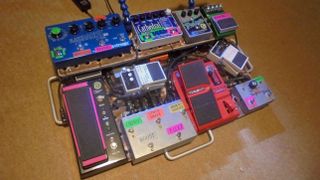 Darren Roberts
Darren is a fan of shoegaze-y ambient sounds and enjoys a "low, muddy tone". Intriguing. There's more to this 'board than meets the eye, though, as Darren explains:
"The 'board itself is just ply wood with holes drilled in it, a thin frame and rubber feet, with two levels at the back with my chorus and drive pedals underneath accessible via a switching box at the front with a second level of plywood spaced above.
"The DigiTech Whammy has its own dedicated power supply; all the other pedals are daisy-chained with a Diago Powerstation, and the pedals themselves are all bolted to the plywood through the holes in the surface and bolts drilled through and attached to the underside of each of the pedal's casings - definitely the most secure way of holding them on ever!"
Signal chain: Napalm Whammy blender - DigiTech Whammy pedal - (via switch box) JHS Moonshine - Hardwire TL2-JHS/BOSS DS-1 Synth Drive - EarthQuaker Devices Speaker Cranker - Carl Martin Classic Chorus - (out of switch box) BOSS NS-2 Noise Suppressor - Vox Big Bad Wah - BOSS TU-3 Tuner - Hardwire SP7 Phaser - EHX Pulsar tremolo - EHX Cathedral reverb - TC Electronics Flashback X4 delay.
"Usually rigged with insert cable into Hayden MOFO 30W head and 1X15 bass cab with Celestion driver of unknown origin."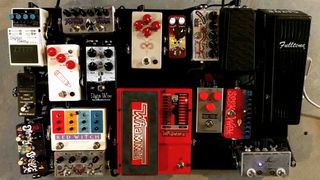 Spencer Daw
It's a thing of beauty, this one, and flexible, too: Spencer runs two signal paths from the Loop Master looper, which he can switch between or combine. Here's the lowdown from the man himself…
"My board starts with the Fulltone Clyde Deluxe Wah > Loop Master looper > Z.Vex Jonny Octave > Whammy > Z.Vex Sonar Tremolo > Sonic Research Tuner > Boss DD-7 > Dunlop Mini Expression X.
"I have two signals paths from the looper. The first one starts with the Z.Vex Seek Wah > Hooligan Fuzz > ZVEX Instant Lo Fi Junky > Z.Vex Fuzzolo. The second path starts with the JHS Pollinator > Red Witch Synthotron > Z.Vex Double Rock > EQD Night Wire > JHS Crayon."
The whole lot is powered by a pair of Voodoo Lab power supplies, too.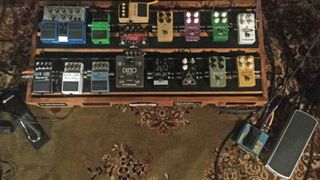 James Yancey
Just the three pedalboards for Mr Yancey here. We'll let him explain what does what…
"First is my stereo 'board with lots of mod and reverb. Part A is a TC setup looping through a GFI Specular reverb. Part B is Boss stereo with some phasing and rich chorusing reverb - love the auto-wah boost. Then board the spaceship for some TrancePortal ambience to Supermoon with Mr. Black.
"For my warm and cozy comfort zone, I compress my Jazzmaster with the Foxpedal Refinery to a beautiful Old Blood Noise Endeavors setup into my old faithful Alesis MicroVerb4."
Very impressive, James. As he concludes: "Yes, they are all delicious." Just a bit.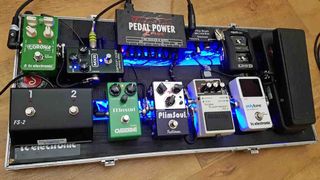 Barry Crisp
"Yes! Pedalboard lights!" we screamed when we saw Barry's 'board. Mr Crisp is a fan of 80s rock, instrumental rock and funk/blues/rock, and he's currently gearing up to handle guitar duties in Rock Of Ages in July. He's well-qualified, we'd say. Here's how he put the 'board together:
"I bought the flight case secondhand, and carved out a wooden 'board to exact dimensions, sanded and sprayed it with blackboard paint, fitted the blue LED lights and stowed the pedal wiring underneath, and velcro'd the pedals on top neatly."
Neat indeed, Barry, neat indeed.
Full pedalboard: Line 6 G30 Relay > One Control Junction Box > Dunlop Crybaby 95Q > TC Electronic PolyTune > Boss NS-2 Noise Suppressor >[Loop] Fulltone Plimsoul > Maxon OD808
Amp FX loop > MXR Carbon Copy > TC Electronic Corona > amp FX loop; amp channel switch
Powered by Voodoo Lab Pedal Power 2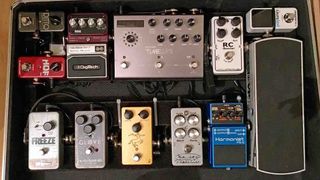 Colm Rogan
Mr Rogan plays in Irish wedding band Quantum, and he's also an owner/teacher at Blackrock Academy of Music in Louth, Ireland. He's therefore a guitarist who clearly knows his onions, and this well-considered, versatile 'board reflects that. Nice.
Full pedalboard: TC Electronic PolyTune Mini 2, Boss PS-6 Harmonist, Keeley 4-Knob Compressor, Pedal Projects Klone, Electro-Harmonix OD Glove, Electro-Harmonix Freeze, Ernie Ball VP Jr, Xotic RC Booster, Strymon TimeLine, DigiTech RV-7 (always-on plate reverb), TC Electronic HOF Mini (for a much bigger church setting), TC Electronic Ditto Looper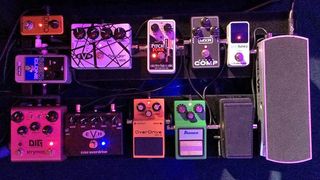 Paul Hart
As guitarist for Worcestershire cover band Come Together, Paul needs to, ahem, cover a lot of tones, and accordingly, his 'board is chockfull of diverse effects. We'd wager he's an EVH fan, too.
Full pedalboard: Ernie Ball Volume Pedal Jnr, Dunlop Crybaby Wah Mini, MXR Super Comp, Ibanez TS9, Boss OD3, EVH 5150 Overdrive, Electro Harmonix Pitch Fork, MXR EVH Flanger, PolyTune Mini (fed by tuner output on volume pedal); effects loop: Strymon DIG, Electro Harmonix Neo Clone, TC Electronic Ditto Gold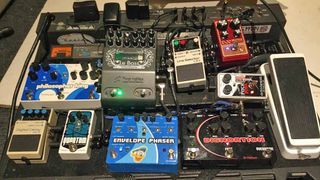 Roey Haviv
Jazz, fusion, hard-rock, session work, Red Hot Chili Peppers tributes: Roey does it all, and needs a 'board to match - enter this Two Notes LeBass-centred rig.
First up is the Boss LS-2 Line Selector, which runs into the Two Notes preamp into the amp. The LS-2's parallel effects loops contain a DOD Meatbox (one), and an Electro-Harmonix Pitchfork, Pigtronix Disnortion, Pigtronix Envelope Phaser 2 and Dunlop Cry Baby Bass 105Q. The LeBass's effects loop also includes a Pigtronix Philosopher King, Pigtronix Quantum Time Modulator and Boss DD-3 Digital Delay. Finally, the Boss tuner is hooked up to LeBass's tuner output.
Roey goes into more detail in the video below…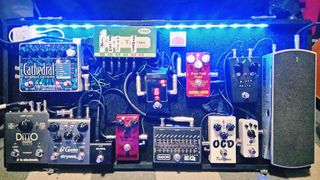 Joonas Pihala
We love pedalboard lights, and Joonas's well-organised batch of pedals makes us very happy indeed. Joonas hails from Finland, and accordingly, his rig features a couple of pedals from fellow Fin Mad Professor.
Full pedalboard: Ernie Ball volume pedal -> Jaska's Garage Black Majik (phaser/vibe) -> Mooer Pure Boost -> Fulltone OCD -> Mad Professor Fire Red Fuzz -> Korh Pitchblack Tuner -> MXR 10-band EQ -> Mad Professor Ruby Red Booster -> Strymon El Capistan with Favorite Switch -> Electro Harmonix Cathedral stereo reverb -> TC Electronic Ditto X2 Looper -> amp (Hiwatt DR103W)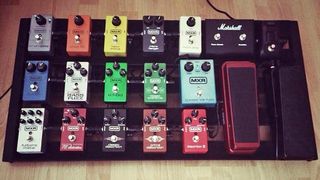 Callum Smith
There's some serious brand loyalty on display with Mr Smith's setup.
"As you can see, I am a big MXR fan!" says Callum. "Mounted to a PedalTrain Pro, this 'board sits in my music room and is a great palate for tonal colours."
He's not kidding – we counted 11 dirt pedals on that monster. Callum adds: "Just missing a Carbon Copy and Reverb pedal!"
Full pedalboard: Korg Pitchblack, Dunlop Volume (X), Dunlop Slash Signature Cry Baby, MXR Distortion III, MXR Prime Distortion, MXR Classic Distortion, MXR '78 Distortion, MXR Fullbore Metal, MXR Classic 108 Fuzz, MXR Classic Overdrive, MXR GT-OD, MXR El Grande Bass Fuzz, MXR Blue Box, MXR Micro Amp, MXR Micro Flanger, MXR Micro Chorus, MXR Phase 90, MXR Smart Gate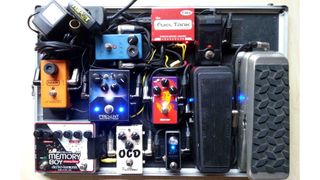 Thomas van den Reydt
Thomas is a man after our own heart, a Dutch instrumental rocker and clearly a careful planner of pedalboard real estate. Dirt options aplenty!
Full pedalboard: Dunlop DVP1, Korg Pitchblack, Dunlop Cry Baby Classic GCB95F (w/ on/off light), Xotic EP Booster, MXR Jimi Hendrix 70th Anniversary Tribute Series Uni-Vibe JHM3, MXR Blue Box (script logo reissue), Fulltone OCD (running at 18V), MXR Phase 90 (early block logo reissue w/ true bypass mod), Black Effects Pedals Present (based on Coron Distortion 15), Electro-Harmonix Memory Boy, Electro-Harmonix Holier Grail (not pictured)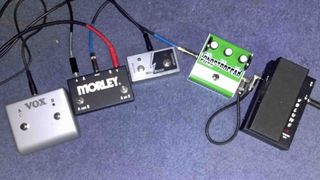 P.R. Lindsay
Just seeing the pedals only tells half the story in this case.
"My 'board' is all that I really need," says the mysterious P.R. "Hovercraft fuzz and a switcher that changes between my AC30 and Mesa/Boogie. Clean, simple. Used to have a huge 'board but it just killed my tone no matter what I did."
Fair enough. There's a Morley volume pedal there, too, though, right?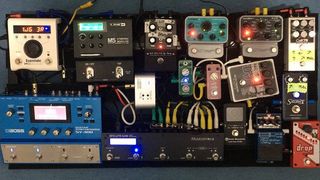 Julian G Harding
Julian is the guitarist and singer in BRO, but judging from this array, he also doubles up on synth, organ and bass duties. That is one flexible setup, all right.
Full pedalboard: DigiTech Drop, Spaceman Saturn V, Origin Effects Cali76 Compact, Source Audio OFD Micromodeler, Source Audio Soundblox 2 Multiwave Distortion, Electro-Harmonix B9 Organ Machine, Boss PS-3 Digital Pitch-Shifter/Delay, Sonic Research Turbo Tuner, Mooer Tender Octaver, Mooer Lo-Fi Machine, Moog MF Drive, Musicom EFX Lite 62M controller, Line 6 M5, Boss SY-300 Guitar Synthesizer, Eventide H9 Harmonizer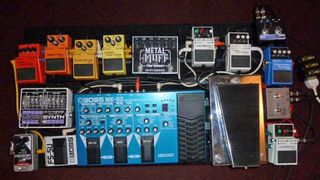 Andreas Psomopoulos
Boss ahoy! Andreas handles guitar and vocals in Bad Overman, and his 'board is certainly well kitted-out, and pleasingly colour-coded in the case of the Boss dirtbox arsenal in the top left.
Full pedalboard: 2x Boss LS-2 Line Selector, Boss CS-3 Compression Sustainer, Boss NS-2 Noise Suppressor, Electro-Harmonix Metal Muff with Top Boost, old-school Morley multi-function wah of some description, Boss ME-50 with Boss FS-5U footswitch, Boss SD_1 Super Overdrive, Boss OD-3 OverDrive, Boss DS-1 Distortion, Boss MD-2 Mega Distortion, Electro-Harmonix Micro Synth, Electro-Harmonix Memory Toy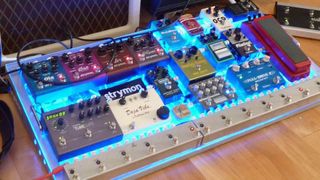 Pablo Cosa
Wow. The bevy of Strymon pedals - complete with sticker - isn't even the most incredible thing about Pablo's 'board: check out that lighting setup! The right-hand side of the 'board is heavily armed with drive tones, too.
Full pedalboard: Sonic Research Turbo Tuner, Real McCoy RMC6 Wizard Wah, Fulltone OCD, Fulltone Plimsoul, Fulltone Full-Drive 2, Maxon Super Tube Screamer, Empress Multidrive, Way Huge Swollen Pickle, Fulltone Octofuzz, MXR Carbon Copy, Strymon El Capistan, Strymon Lex, Strymon Orbit, Strymon Ola, Fulltone Deja Vibe, Strymon TimeLine, 2x Loopmaster custom switchers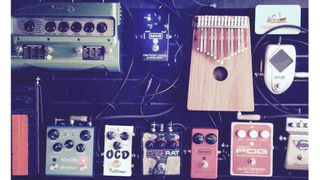 Marc Pautz
Line 6 DL4, EHX Micro POG, MXR Dyna Comp… a mbira?! Yes, the African thumb piano plays a key part of Marc's 'board, although we're not quite sure how he plays it with his feet…
Full pedalboard: Snark Tuner, Marshall Vibratrem, Electro-Harmonix Micro POG, MXR Dyna Comp, Pro Co Turbo Rat, Fulltone OCD, Strymon BlueSky, MXR Carbon Copy, Line 6 DL4, Line 6 expression pedal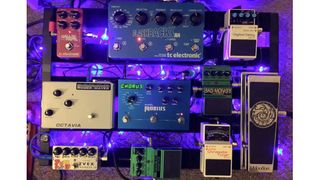 Dean Llewellyn
More light-up action here, and a mean assortment of stompboxes from mid-priced gems to top-class tone machines.
Full pedalboard: Moollon Vintage Wah, Boss TU-3 Chromatic Tuner, Boss DD-3 Digital Delay, DigiTech Bad Monkey, DigiTech Synth Wah, Strymon Mobius, TC Electronic Flashback X4, Z.Vex Fuzz Factory, Roger Mayer Octavia, TC Electronic Hall Of Fame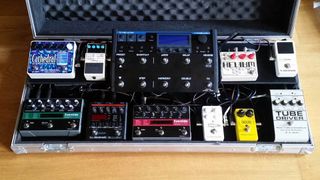 Simon Dawes
We're betting Simon is a singer as well as an axe-slinger, hence the TC-Helicon VoiceLive occupying pride of place on his 'board.
Full pedalboard: TC Electronic PolyTune, Chandler Tube Driver, MXR Distortion+, TC Electronic Spark Booster, Malekko Wolftone Helium, TC-Helicon VoiceLive 2, Eventide Pitch Factor, TC Electronic Nova Delay, Eventide ModFactor, Boss DD-7 Digital Delay, Electro-Harmonix Cathedral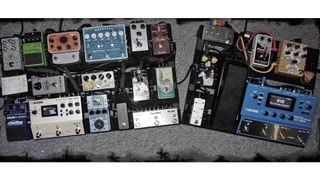 Scott Alan Trowbridge
Wow. We don't even know where to start with this one: the mind boggles at the sonic possibilities. Scott notes that the 'board features a custom triple tap tempo (for the Boss PH-3, Super Pulsar and DD-500), as well as three expression-controlled pedals (SY-300, Pitchfork and Dwarfcraft Gears), switched via a Mission Expressionator. Let's just say we're jealous. Very, very jealous.
Full pedalboard: Boss SY-300 Guitar Synthesizer, Dwarfcraft Gears, Electro-Harmonix Pitch Fork, Dunlop expression pedal, Mission Expressionator, VFE White Horse, Mad Professor Simble Overdrive, J Rockett Archer Ikon, Earthquaker Tentacle, Z.Vex Woolly Mammoth, Electro-Harmonix Super Pulsar, Zoom MS-70CDR MultiStomp, Boss DD-500 Digital Delay, DigiTech JamMan Solo XT, MXR Smart Gate, Source Audio Orbital Modulator, Boss PH-3 Phase Shifter, DigiTech Polara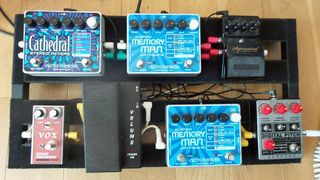 Denis Del Nista
"Delays and reverbs come in couples," so says Mr Del Nista, whose 'board delivers a fine combination of useful and crazy.
Full pedalboard: Seppuku Effects DPM-2 Digital Pitch Modulator 2, 2x Electro-Harmonix Stereo Memory Man with Hazarai, DigiTech HardWire Supernatural, Morley Mini Volume, Vox Repeat Percussion clone, Electro-Harmonix Cathedral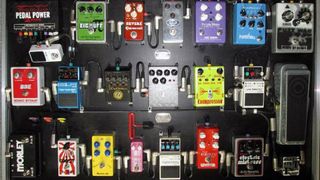 Jan Van Engelenhoven
Jan's expansive rig has our heads spinning - fortunately, he's on hand to explain it all...
Input channel: Visual Sound Buffer, Dunlop Zakk Wylde Cry Baby wah, Boss LS-2 Line Selector
Channel A - dirt and weird: Death By Audio Fuzz War, Subdecay Prometheus, Carl Martin Purple Moon, Rothwell Hellbender, Tone Freak Severe, Electro-Harmonix Big Muff (side chain: TC Electronic PolyTune Mini)
Channel B - dirt and simulation: MI Audio Compressor, Tech 21 US Steel, AMT Dist Station 2, Boss PS-6 Harmonist
Output channel: Electro-Harmonix Electric Mistress, Wampler Faux Analog Delay, Boss DD-3, Malekko Chicklet Reverb, Homebrew Electric Detox, MI Audio Buff And Boost, BBE Sonic Stomp
"This all goes in to a Morley A/B switch, channel A goes directly to a power amp, channel B goes to an amp with preamp."
"It took a long time and many pedals to find the sound and possibilities I liked - I screwed them on the shelf after that, so I can't change pedals again, saving myself a lot of trouble and money.
"The kind of music I play with it? Jazz/experimental to death metal."
Wham bam, thank you, Jan.