Well, Christmas will be here before you know it. Hopefully, by now you've untangled the fairy lights, gotten the tree up, and started the dreaded Christmas shopping. Thankfully, if you've not quite gotten around to picking up that special gift for the guitar player in your life, Fender has the sale for you. Kicking off earlier this month, Fender's 12 Days of Deals promotion, saw the guitar giant drop a new bargain every day - but unfortunately, the sale ends today!
The guitar titan started this epic sale with 30% off the stunning Squier 40th Anniversary Vintage and Gold series, slashing the price of the Jazzmaster, Telecaster, Stratocaster, Jazz Bass and Precision Bass.
As we moved through December, the deals kept coming. On Day 2, Fender discounted a range of beginner starter packs, dropping the Squier Stratocaster Pack to only $259.99.
By day 5, Fender had heavily reduced the price of the Newporter Player and Malibu acoustic guitars, loaded Stratocaster pickguards and the beloved CD-60SCE - dropping this dreadnought to only $319.99. As we reach day 12, the list of bargains now includes Fender-branded clothing, pedals, the sleek Contemporary series and Mustang amps.
Luckily, all 12 of the deals are still available, but you'll need to be quick, as the sale ends today!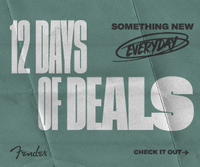 Fender: 12 Days of Deals
Fender is here with an advent calendar that goes far beyond mini chocolates. For the last 12 days, Fender has been dropping truly epic bargains - right in time for Christmas. There are discounts on everything from guitars to accessories, so be sure to grab one while you still can!
Need more Christmas gift inspiration? Check out our expert buying guides