Quick menu
1. Editor's picks
2. Gifts under $20/£20
3. Gifts under $30/£30
4. Gifts under $50/£50
5. Gifts under $100/£100
6. Gifts under $150/£150
7. Gifts under $250/£250
8. Gifts $250/£250+
9. Last minute ideas and subscriptions
10. Cards and gift wrap
11. Where to shop
It's difficult to choose the best Christmas gifts for guitar players, especially as guitarists are an especially finicky bunch. There's so much guitar gear out there that this task is made all the more difficult when it comes to deciding on a present. So you want to make sure that you buy something that doesn't get immediately consigned to a place on a dusty shelf, yet you have no idea what to go for?
Well, you're in the right place here, as we've put together this list packed with loads of cool gifts for guitar players, all of which have been handpicked by other guitarists.
If you want an easy answer to this conundrum, we'll straight up say to go for some electric or acoustic guitar strings. Guitarists will always use these, and we're always grateful to receive more as they'll inevitably come in handy, and actually get used, unlike last year's jumper. Strings come in many shapes and sizes, however, so you may need to do a bit of further information gathering to get the right set.
If you're wanting something different, then this guide is the perfect place to start. All of these gifts are things we'd love to see in our stocking this year, so you can rest assured the guitarist in your life will love them. There are some more unique gifts for guitar players for those who already own a lot of gear, last-minute ideas if you've forgotten someone or want something extra, and we've also gathered gifts from every price bracket so you'll find plenty of choice here.
Best Christmas gifts for guitar players: Editor's picks
All of the products in this guide will make great gifts but if you want to know what we'd buy, these are our favourites. There's a range of budgets here, and something to suit every kind of guitarist.
Best for electric players
1. D'Addario Instrument Care Kit
Perfect for electric guitar players, this kit contains everything they'll need to set up and maintain their guitar. There's plenty of cleaning materials and handy tools for performing set ups, meaning their guitar will be in top shape. It also comes in a handy carry case which makes it easy to wrap this Christmas.
Best for bassists
2. Levy's MSS2 Signature Series
If your loved one is a bass player or rocks a heavy guitar like a Les Paul, this strap will ensure they can play for longer. Made from leather, it's got an extra wide design that spreads the weight more evenly than a regular guitar strap. The rugged materials mean it will last for years too.
Best for acoustic
A unique gift for acoustic guitar players, the Macrame Guitar Hanger is unlike any other with its unusual design and vintage-finish safe materials. Perfect for displaying their pride and joy, they come in a range of colours and are available for acoustic guitars, ukuleles, violins, banjos, and even the sitar.
Best on a budget
If you're on the hunt for stocking fillers or the budget is tight, Ernie Ball Slinkys are a gift that every guitarist will love. We're always having to buy new strings, so getting them gifted to us is always a welcome surprise. There are sets of electric, acoustic, and bass players that will cover everyone this Christmas.
Best for splurging
5. Positive Grid Spark Mini
If someone's been very good this year, the Positive Grid Spark Mini will absolutely make their day this Christmas. This smart amp has been taking the world of guitar by storm and is packed with top-quality tones, loads of effects, and some clever AI-powered practice tools. A great way to show your appreciation.
Best last minute
6. Fender Play subscription
Doing some last minute shopping? Or maybe you just forgot someone off your list. If you need something in a pinch then a Fender Play subscription makes a fantastic gift for any guitar player, giving them a huge selection of top quality lessons that will improve their playing. Plus you don't have to wrap it!
Best Christmas gifts for guitar players: Under $20/£20
Guitarists will always need new strings so this is one gift that's guaranteed to see use, unlike that jumper that's never left the closet. They come in multi-packs so their guitar collection stays fresher for longer and best of all, they're low-cost, making them a perfect stocking filler.
This little tin of slippery greatness has been a favourite of guitarists for years. The idea is to rub its slippy bit up and down the strings of a guitar. It not only lubricates the strings but protects them from the hideous secretions that seep from your fingertips. Strings live longer and the guitar just feels nicer to play.
Most players get their start learning their favourite band's songs, so this is the perfect gift for a beginner player or even one who's already been going for a while. Over at Musicroom, there's a huge selection of major name artists available so you're sure to find something to suit here, although it's unlikely you'll find their favourite Swedish melo-death band. There's also a great selection of more educational tab books that will improve their chord work, soloing, phrasing, and much more.
There's no sweeter sound than George Harrison playing slide guitar. That's a fact. A slide is essentially a glass, ceramic or metal tube dragged along the strings to emulate the sound of a wailing human voice. In the wrong hands it can sound like a dying cat being pulled through a hedge backwards, but this fancy brass number from Fender is a brilliant choice for a guitarist that wants to try something new.
Best Christmas gifts for guitar players: Under $30/£30
There's nothing more distressing for a guitarist than the moment their pride and joy slips off its strap and hits the deck. If Sir Isaac Newton were around today and riffing and that, he would be using strap locks. These are available in various finishes - black, gold, nickel, chrome - to suit the rest of the hardware on a guitar. So, do your homework... Our guide on how to upgrade and install strap locks is a great place to start.
There are two types of guitarist. Those that keep their gear clean... and those filthy beasts that need to get their act together. Keeping a guitar clean and polished protects the finish and hardware, and actually adds to the lifespan of guitar strings. This Fender set comes with a cleaner, polish, quick clean and a fingerboard revitaliser.
As a musician, there's one thing above all that's irreplaceable - your hearing. You can't gift yourself a new pair of ears for Christmas, so taking care of the ones you already have is critical. These Alpine MusicSafe Pro Earplugs come with a wide variety of fittings, are washable, and will ensure that their hearing stays pristine for longer. Plus if you get yourself a pair you can drown out that 50th attempt at the Stairway to Heaven solo!
Best Christmas gifts for guitar players: Under $50/£50
There hasn't really been much innovation in guitar wall hangers, until now. Macra Music's range of instrument hangers takes the boring black and plastic of the past and brings it firmly into the future with all-natural materials and a huge range of colour options.
We particularly love the Macrame Acoustic Guitar Hanger, with its isometric lines that enhance the features of your guitar whilst simultaneously holding it securely. The hanger itself is super lightweight, yet the rope is strong enough to hold even the heftiest jumbo acoustic guitar.
It's made from 100% cotton and a bamboo hoop, which means that there's no chance of harming your vintage guitar's finish. Whilst it takes a little getting used to get it in and out of the hanger, once you've nailed the process it takes no longer than a regular one. It's a perfect gift for acoustic guitar players who want something different or the guitarist who has absolutely everything.
If you're tired of hearing out of tune chords emanating from upstairs, the TC Electronic Polytune Clip Tuner will be a perfect gift. Small enough to fit in a stocking, this powerful little tool works on electric, acoustic, and bass guitars as well as ukuleles, violins, banjos, and pretty much any stringed instrument you can think of.
Best Christmas gifts for guitar players: Under $100/£100
This simple pedal is a stalwart of the guitar world, having been heard on countless records since its inception in the 70s. The Boss DS-1 is excellent value for money and built like a tank, so will last them a lifetime. It's versatile enough to suit a variety of players too, whether they're an all out metal head or they like soft rock and blues.
This premium leather guitar strap is a great choice for bass guitarists, or those who play a heavier electric guitar like a Les Paul. The extra wide band offers great support for a heavy instrument and the leather ensures it doesn't slip off your shoulder. The top quality construction means it will stand the test of time too, with many users still using them after more than ten years of use!
Even if your loved one already has a capo, another one will certainly be a welcome addition. Having a capo for different guitars can save the faff of switching a single one between multiple instruments, and the G7th Performance 3 Art Capo will perform in pretty much any situation. The Adaptive Radius Technology means it will fit a huge variety of guitars, so your giftee is bound to find a use for this excellent bit of kit.
Packed full of tools and cleaning kit the D'Addario Instrument Care Kit gives them everything they need to take care of their instrument. Even a cheaper instrument can play brilliantly when set up and looked after properly, making this handy kit the perfect gift for any guitar player.
It's got a range of cleaning materials, set up tools, and even features a headstock rest and a mat to make sure their guitar's finish stays pristine. The ultimate gift for electric guitar players, it also comes in a convenient carry case so their instrument will always be in top condition.
A looper pedal is a fantastic gift for a variety of reasons. It's a great practice tool but also serves their songwriting well by allowing them to bounce ideas off themselves. The TC Electronic Ditto Looper is the perfect gift because it's easy to use yet powerful, compact, and relatively cheap when it comes to loopers.
For the guitarist who likes to experiment sonically, or one that already has a huge collection of gear, the EBow Plus will give them something different. The EBow sits under the radar a little when it comes to guitar gear, but it can open up a huge range of tones from their guitar. It can be unpredictable at times, and takes some getting used to, but it's a fantastic gift idea and they're unlikely to already have one.
Best Christmas gifts for guitar players: Under $150/£150
If the guitarist in your life already has a million different guitars, the Fender Lego Stratocaster will definitely offer them something different. It's a fun building project that isn't too complicated, making it great for any age guitarist. We were really surprised with the level of detail in the amplifier too, which features tubes, capacitors, and correct internals. The headstock is fiddly to construct and a little flimsy, but it's designed to be displayed rather than actually played so it's a minor issue.
The Fender Mustang Micro is an amazingly powerful headphone amplifier that really is pocket sized. We've had one for a few years now and it's an amazing practice tool that will fit a wide variety of guitars. There's a huge array of sounds from clean to full on metal high gain so no matter what their preferred style of playing is, they'll find a sound that works well here.
A long-awaited update to an icon of the delay pedal world, the Boss DD-3T retains the simplicity of the original whilst adding some extra features that increase functionality and improve its versatility. A delay pedal will work brilliantly in a variety of styles, so no matter what they play it will be a welcome addition. You can rest assured with Boss' build quality too, as their pedals are well known for surviving pretty much anything.
A hard case offers much better protection than that free gig bag that comes with their instrument when they buy it, so it's a worthy investment no matter who the guitar player is. The Gator Deluxe ABS Molded Case offers sturdy protection whilst remaining nice and lightweight thanks to the plastic construction, it's also available for a variety of different guitar types.
Best Christmas gifts for guitar players: Under $250/£250
The brand-new Squier Sonic Stratocaster is a huge update to Fender's beginner guitar offering, featuring new pickup configurations and a whole new set of enticing colours. There's a lot of variety on offer here and they're all fantastic value for money too, making it the perfect gift for your loved one who wants to take up the guitar this year.
Perfect for quiet practice or just listening to their favourite tunes, the Audio-Technica ATH-M50xBT2 are a premium set of headphones that work great for guitarists. Featuring studio-grade sound, they'll make certain their guitar tone shines when practicing with their amp. The added Bluetooth functionality means they can take that great sound on the road with them too.
Best Christmas gifts for guitar players: $250/£250+
Want a one-way ticket into the good books? What if we said you could buy the guitarist in your life a whopping ten amplifiers and 65 effects? And all for less than the price of a games console. The Boss Katana II 50 watt combo uses clever internal gubbins to replicate the sound of the aforementioned mountain of gear. Plus, it can be run at gig, rehearsal and bedroom volume. Yes, there is a headphone socket. The Boss Katana isn't just one of our favourite cheap guitar amps under $500/£500 but also one of the best guitar amps on the market - period.
If you've got a little rock god in waiting, the Epiphone Slash AFD Pack is a brilliant all-in-one kit that will get them on the road to superstardom. Featuring a guitar, amp, and a myriad of accessories, it's your one-stop shop for a budding guitar player. Epiphone guitars punch well above their weight in terms of quality versus price point, so don't think this is a mere toy. It's also a great platform for upgrading components should they want more performance as they develop.
The Martin LX1 is the smallest and cheapest of the Little Martin series acoustic guitars, but you absolutely don't compromise on tone or quality as a result. The solid Sitka spruce top is of the same grade as some of Martin's most desirable USA-made models, and paired with the durable HPL back and sides this little beauty provides a depth of tone that no other small bodied acoustic can get close to. It's that typical Martin sound - but in a nice neat package.
This LX1E has an internal pickup from Fishman, who are widely regarded as one of the best in the business. Plug this bad boy in and it'll produce an arena-filling sound - FYI it also makes a fantastic travel guitar for those on the move!
Read the full Martin LX1E Little Martin review
One of the legends of the guitar world, the Fender Player Stratocaster is a fantastic instrument that will suit a large variety of different players. Whether they're looking to upgrade from a beginner guitar, or just add to their collection, this ultra-playable axe is the perfect intermediate-level instrument. Available in a variety of configurations and colour schemes, the Fender Player Strat is a brilliant guitar in every sense and will make an amazing gift this Christmas.
Read the full Fender Player Stratocaster review
Best Christmas gifts for guitar players: Last minute ideas and subscriptions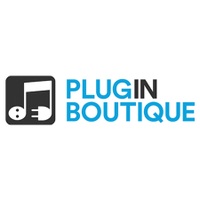 Music software: Various
Recording and creating music at home is now easier than ever, thanks to powerful laptops and easy-to-use recording software.
Plugins and software are great last-minute ideas as they are instant downloads, meaning there's no need to wait on delivery! Why not tell your giftee what budget you have for them and set them free on sites like Plugin Boutique or Waves?
These sites have everything from guitar amp simulators to reverbs, delays and compressors, so they won't be short of options.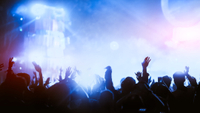 Concert tickets: Ticketmaster
If you're shopping last minute for someone who loves live music, then e-tickets for a concert or a voucher to put towards their next gig is a no-brainer.
There are many sites out there, but Ticketmaster is our vendor of choice. This is due to the vastness of events on offer, plus you can spread the cost of tickets!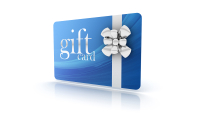 Gift cards: Any amount
Ok so gift vouchers aren't the most inspiring gift idea, but with guitarists being a fussy bunch, sometimes they are the best option.
Buying vouchers for their favourite shop gives them the option to choose what they really want, plus, you can usually get them delivered straight to an email address; ideal if you're shopping very close to the big day!
Our recommendations would be Thomann and Andertons in the UK and Guitar Center, Sweetwater and Musician's Friend in the US.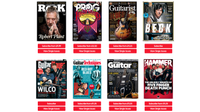 Music magazines: subscribe and save!
Sometimes nothing beats sitting down with a good book or magazine and ditching the tech for a while. You can subscribe and save on music-making magazines right now from Future Music and Computer Music, to Guitarist, Total Guitar, Guitar World and Guitar Techniques. Head to our subscriptions site or call 0330 333 1113.
Best Christmas gifts for guitar players: Cards and gift wrap
Now that you've selected the perfect guitar gift, you'll need to make sure the card and wrapping paper are a match too! If you're looking for quirky, handmade options that support independent makers, our first choice would be Etsy. You'll find plenty of music-themed designs like this awesome guitar print paper.
Best Christmas gifts for guitar players: Quick links
Didn't find your perfect gift here? Well, below are a selection of our favourite places to grab a guitar-related bargain.
US
MusicRadar's got your back Our team of expert musicians and producers spends hours testing products to help you choose the best music-making gear for you. Find out more about how we test.
UK
Related buyer's guides