The warm days of summer have finally arrived and it's the perfect time to get together with friends and family for a backyard barbeque or a weekend visit to the beach. Invariably as a guitar player, you're going to get asked to show off your chops and thanks to a generous 20% discount in the Fender Days sale on ukuleles, you'll be able to serenade everyone in style this summer.
Whilst Fender isn't widely known for their offerings in the world of ukuleles, we reckon you'll be pleasantly surprised to find they're every bit as high quality as their electric guitars. Offering something stylistically different from many ukuleles out there, there are loads of fantastic finishes and alternate body shapes available, all with the hallmark build quality and great tone that Fender is well known for.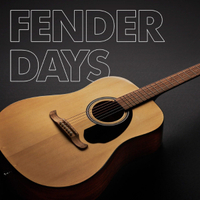 Fender Days: 20% off select ukuleles
Fender has a tempting selection of ukuleles on offer at the moment, with 20% off for some serious savings this summer. Whether you want a traditional tenor ukulele, or you're more interested in the Strat-shaped Fullerton range, these ukes are perfect for late nights around the campfire or summer days in the sun. They're only available whilst stocks last, so you'll need to act quickly to get your hands on one.
We've had a peek at the sale to see what's available and pulled out some excellent options for you. For the serious strummer, the Fender Montecito Tenor Ukulele is no mere toy, comprised of an acacia body wood for a unique and warm timbre. Like everything in the sale, it's got 20% off the regular price, bringing it down from $279.99 to just $223.99.
If you're just getting started on the ukulele or any instrument at all, then the Fender Avalon Tenor Ukulele is the perfect place to hone your chops, now available for just $95.99. It comes in a range of colors that will suit any player, including some Fender favorites like Daphne Blue and Surf Green.
Finally, if you're a bit too cool for a traditional ukulele shape, you'll want to check out the Fender Fullerton Strat Uke, which gives you all the versatility of the iconic electric, including onboard electronics, whilst still retaining the DNA of a ukulele. With 20% off the regular price, it's an absolute steal down from $219.99 to a tempting $175.99 in the Fender Days sale.
Check out loads more great gear with our buyer's guides