Introduction
As 2019 comes to a close, we're taking a brief moment to acknowledge the people and products that have helped make the last 12 months in music tech, so exciting.
Our end of year poll represents a mere cross section of the huge range of new gear and high-achieving producers, writers and DJs that have arrived or thrived in 2019. From audio interfaces and Eurorack gear, to software plugins and house, techno and hip-hop talent, our 14 categories offer you the chance to tell us who deserves recognition this year.
Browse through the gallery to vote on each poll category. Voting closes at midnight on 4 December 2019 and we'll reveal the results in the following weeks. Happy voting!
Who is the best house producer/DJ of 2019?
The world of house music is rich and varied. Even simply defining the criteria for the best house producer/DJ - let alone picking a winner - is going to be a hotly contested topic, but who do you feel stands out from the crowd this year?
In the poll below, we've put together a list that represents a decent cross-section of house music in 2019. Who will take the title? Well, that's up to you...
Who is the best techno producer/DJ of 2019?
From Detroit to dub, industrial to electro, techno music in 2019 is looking as vibrant as ever, but who do you think merits the title of best techno producer/DJ of 2019?
It's all very simple: pick your favourite below, hit the vote button and you're done, but choose wisely as you have but one chance to make your mark.
Who is the best bass music or DnB producer/DJ of 2019?
DnB, dubstep, bassline, bass music... however you get your low-end fix there's a wealth of killer production and DJ talent out there in 2019, but who is the best bass music or DnB producer/DJ of 2019?
Our list below features pioneers, enduring mainstays of the scene and some newer names, to boot. Who will take the title this year? That's up to you to decide. Vote below and let us know.
Who is the best hip-hop, R&B or grime producer/DJ of 2019?
Hip-hop may be the dominant cultural force in 2019, but if anything that just makes it harder to pick a favourite producer. It's a big ask, but who do you think has earned the top spot in 2019?
We also can't let hip-hop hoover up all the nominations here, though. That's why this category - broad, as they all are in these polls – also encompasses the worlds of trap, grime and R&B. Vote now and tell us who was your personal favourite of the last 12 months.
Who is the best electronica, ambient or underground DJ/producer of 2019?
House and techno may take the chart spots, but there is a whole world of esoteric, innovative electronic music-making that exists outside of that space.
From electronica, to ambient or underground, downtempo beats to lo-fi treats, which artist deserves your click in this year's poll? Vote below and let us know your pick for 2019.
Who is the best house producer/DJ of 2019?
This one is straightforward. Who is that seems to turn everything they touch into gold? Who's tracks have dominated the charts? Which of our list deserves the title of best record producer of 2019?
This category is all about taking a moment to recognise the names that often eschew the spotlight in favour of the studio half-light. We're talking about those who write and produce some of the world's biggest hits, yet can still pop to the shops without getting mobbed. Vote now to let us know who you think deserves the title.
Who is the best music tech personality of 2019?
YouTube has continued to be a democratising and (predominantly) positive force in music education, entertainment and criticism. This category is about recognising the talent and dedication of the people bringing you that content on a daily basis.
We do a bit of this, too, of course – and we can tell you it takes no small effort. This is your chance then to say thanks and acknowledge the brilliant work of music tech YouTubers. Who do you think is best music tech personality of 2019?
What is the best new hardware synth of 2019?
You can have as many MIDI triggers, tracks and soft synths as you like, but it is still hard to resist the allure of the hardware synth. The last 12 months have represented an embarrassment of riches in this sense, with a huge range of new hardware pouring into the hands and ears of music-makers.
Which, though, is the finest hardware synth of the year? We've put together a shortlist and we want you to vote for your favourite in the poll below. You only get one shot, though, so make it count.
What is the best new drum machine or sampler of 2019?
Access to sampling and drum machine tech, particularly in software form, has never been more varied and affordable, yet have you fallen for a hardware drum machine or sampler in the last 12 months?
When we're judging the best new music tech gear of 2019, then (which we are, by the way) drum machines and samplers need to come into the equation. Vote for your favourite new product below.
What is the best new MIDI controller or sequencer of 2019?
Were you in the market for a new MIDI controller or sequencer in the last year? If so, what did you opt for? Which box gave you the control you needed over your music production in 2019?
Our pick of the controller and sequencer releases of the year is laid out below. Give your vote to the one that you think deserves it the most, and we'll bring you the results of the poll in early December.
What is the best new audio interface of 2019?
The audio interface is essential to your workflow and the best examples are often those that just get out of the way, enabling you to interact with your choice of DAW seamlessly, while offering good quality recording and monitoring.
Here we have put together a shortlist of the best new audio interfaces of 2019, but which I/O box gets your vote? Have you been impressed by any of the gear on the list below? Let us know who you think deserves the title.
What is the best new studio gear of 2019?
Yes, it's the best of the rest 2019! In all seriousness, this is the go-to studio gear of the year - the crucial bits and pieces we all use but that often do not get a share of the limelight.
Our shortlist of new products covers multiple price points, representing a variety of cornerstone production gear. Browse through the list and vote for the best of 2019.
What is the best new plugin/software of 2019?
There are so many superb plugins and bits of music-making software released each year that picking a single 'best of 2019' is perhaps impossible. That said, there are always stand-out examples - those that have solved problems or stimulated creativity - and these deserve shouting about.
Here we ask you to browse our shortlist of the top performing new software and let us know which you feel is most worthy of recognition and, perhaps, that title of best new plugin/software of 2019.
What is the best new Eurorack gear of 2019?
We are living in a new golden age for modular gear in 2019. As more Eurorack products hit the shelves, the format's dominance in the modular market seems undebatable.
From DIY kits, to outboard gear and synths galore, there are around 400 manufacturers of Eurorack modules competing for your cash. Here we have rounded-up a small selection from the last 12 months, but which deserves the the title of best of the year? Let us know what you think below...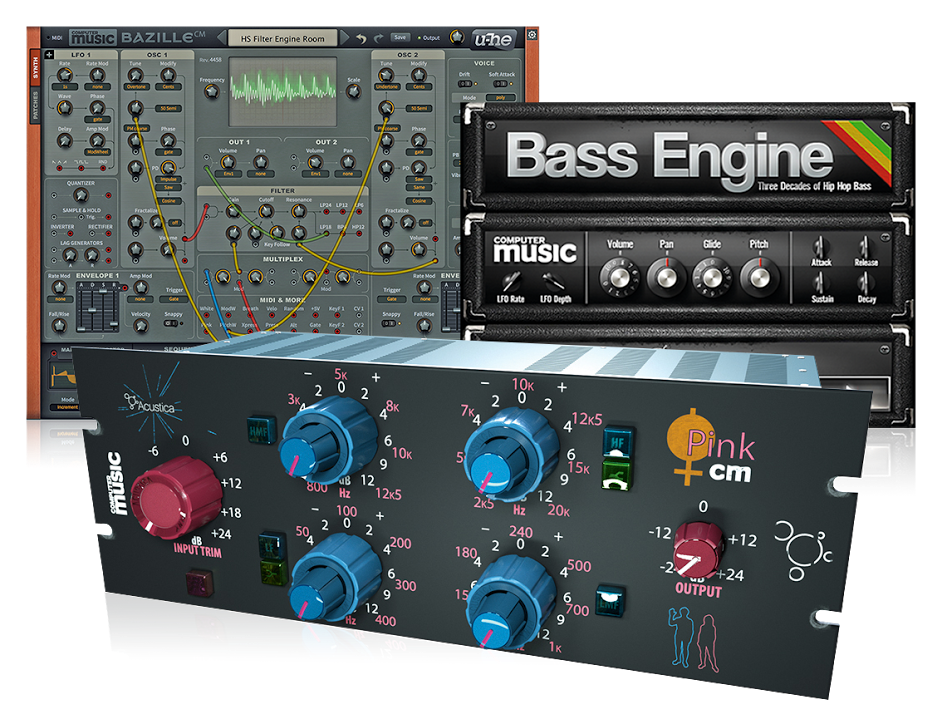 Get over 70 FREE plugin instruments and effects…
…with the latest issue of Computer Music magazine