20 electronic artists set to smash the 2017 festival season
Summer of love
Stuck for inspiration on which festivals to hit this summer? Here's our pick of the best electronic acts appearing at UK festivals throughout the 'sunnier' months of 2017.
Summer's yet to get into full swing, but it will soon and that means festival season is almost upon us. Once upon a time, festivals were all about hippies, (green) grass and guitars, now they've been taken over by a swathe of synth revolutionaries.
Romanced by the smell of hot dogs, burgers and red-hot circuitry, we have cherry-picked 20 of the best electronic acts and DJs you cannot miss on this summer's festival circuit.
For this list we've gone for your classic chronological methodology, so get those calendars out and take a look at the lineup.
1. Flying Lotus
Festival: Field Day, London
Date: 3 June
The multi-format Flying Lotus had people walking out of screenings for his first feature-length movie at the Sundance Film Festival earlier this year.
Let's hope he has the audience glued to his set this June at the Field Day Festival, Victoria Park.
2. Aphex Twin
Festival: Field Day, London
Date: 3 June
If you're at Field Day this year, you've hit the mother lode. Aphex Twin will be there, mangling his way through some rapid-fire D&B, techno and IDM.
Rumour has it the festival organisers have built a unique stage door just for Richard D. James to enter. Expect the unexpected.
3. Fatboy Slim
Festival: Wilde Life, Brighton
Date: 9-10 June
He may not be fat… or a boy, but he is a veritable DJ institution.
Watch Norman Cook go head-to-head with DJ stalwarts Pete Tong, Armand Van Helden and explosive English rapper Giggs, pumping out the bangers at this year's tropical Wilde Life Festival in Brighton.
Fatboy Slim on going digital as a DJ and as a producer
4. Boys Noize
Festival: Glastonbury, Pilton
Date: 21-25 June
Fresh from the release of his new album, Mayday, German producer and DJ Alexander Ridha of Boys Noize has gained recognition for mixing live visuals with his hip hop-influenced electro sound.
He'll be joining major electronic acts such as Major Lazer, Moderat and DJ Shadow at Glastonbury this year.
Boys Noize in the studio with Future Music
5. Major Lazer
Festival: Glastonbury, Pilton
Date: 21-25 June
American Dancehall trio Major Lazer are teasing us by holding back the release date of their upcoming new album Music is the Weapon.
Expect a sudden splash; it could even be out before the boys hit Glasto this year, where they're certain to be a major draw!
6. Redlight
Festival: El Dorado, Ledbury
Date: 30 June–3 July
Being brought up in the Bristol '90s warehouse rave scene hasn't stopped Redlight delivering an amazingly fresh sound.
He'll be one of the main attractions hoping to blow the windows out in the quaint market town of Ledbury at this year's boutique El Dorado Festival.
In pictures: Redlight's London studio
7. Metronomy
Festival: Blissfields, Hampshire
Date: 6-8 July
On-stage, Metronomy's nu-disco sound is acoustically driven, enabling Joseph Mount to project a very stylish and natural-sounding live set.
He should sound great on a warm summer's night with a couple of margaritas alongside follow headliners The Cinematic Orchestra.
Metronomy: 10 records that blew my mind
8. Sven Vath
Festival: Cocoon In The Park, Leeds
Date: 8 July
The blonde locks may have gone, but you won't be tearing your hair out listening to Sven Vath – the figurehead for Germany's '80s techno revolution.
One of the most charismatic DJs of his generation, Vath remains as vital and relevant as ever and will be seeking to prove it!
9. Pendulum
Festival: NASS, Shepton Mallet
Date: 6-9 July
Australian drum and bass legends, Pendulum, haven't released an album since 2010 – the little teases. In 2014, vocalist Rob Swire proclaimed they didn't wanna play live no more!
But here they are at the Nass Festival in Somerset, described as "three days of raw action sports, music and party-hard livin'".
In pictures: Pendulum's studio and live setups
10. High Contrast
Festival: Nass, Shepton Mallet
Date: 6-9 July
We recently visited the charming Lincoln Barrett at London's Brixton Electric to discuss his live setup and were not disappointed.
Moving away from the typical High Contrast DJ set, Barrett delivers a full-on live band experience, pumping out banging drum and bass for a passionate audience. Don't miss out.
In pictures: High Contrast's live setup revealed
11. LTJ Bukem
Festival: Noisily, Leicestershire
Date: 6-9 July
Set in the deep rolling hills of rural Leicestershire, you'll find LTJ Bukem serving up some superior drum and bass at Noisily this year.
If you go down to the woods, you'll also find fellow DnB protagonists The Prototypes in action, alongside ambient techno festival favourites System 7.
12. Shobaleader One
Festival: Bluedot, Jodrell Bank
Date: 7-9 July
Led by bearded genius Tom Jenkinson of Squarepusher fame, Shobaleader One has to be a massive attention grabber for any festival event.
The supercharged atmosphere will be ripe for Tom's brand of breakneck funk-based jazz fusion, with a side serving of 'electronic'… and LED face masks.
13. Seth Troxler
Festival: Lovebox, London
Date: 14-15 July
There are few personalities in the DJ world larger than Seth Troxler, whose eclectic sets continue to wow partygoers on a global scale.
Troxler will no doubt be using all of his magnetic powers to draw in the crowds at Lovebox, so make sure you have a ticket.
Seth Troxler on growing up in Detroit and the art of DJing
14. Carl Cox
Festival: Eastern Electrics, London
Date: 5 August
After finishing his residency at Space Ibiza and closing his global radio podcast, there was huge speculation that DJ legend Carl Cox was hanging up the headphones.
Thankfully, that's proved not to be the case, so catch him while you can at one of the biggest all-dayers in the festival calendar year.
Carl Cox talks techno and turntables
15. DJ Shadow
Festival: Boardmasters, Newquay
Date: 9-13 August
DJ Shadow was at the top of his game last year with the release of The Mountain Will Fall.
Most turntablists with a downtempo groove might find it hard to kick up a storm live, but Shadow is a class act skillfully adept at combining visuals and a symphonic-sounding mix. You're bound to be hooked as soon as he drops the first sample.
DJ Shadow on the key influences over the years and the gear he just can't do without
16. Carl Craig
Festival: Boomtown Fair, Hampshire
Date: 10-13 August
Carl Craig departed from the norm to release his orchestral album 'Versus' in May, but this year's set at Boomtown Fair will see the Detroit kingpin performing a blend of techno-induced jazz and soul cuts.
It's not often you get to see a bona-fide legend in action, so join the 60,000 at Winchester.
Carl Craig on samplers, software, iPad apps and more
17. Richie Hawtin
Festival: Creamfields, Daresbury
Date: 24-27 August
Richie Hawtin's enthusiasm for techno has never waned, whether setting the standard with his M_nus label or giving university lectures and production seminars to the next generation of music makers.
But he's most at home on the decks, and Creamfields will be Hawtin's only UK festival performance this year.
Richie Hawtin on the past, present and future of techno
18. Diplo
Festival: Creamfields, Daresbury
Date: 24-27 August
It's Creamfields' 20th anniversary and they're bringing out the big guns. This year's special event will be headlined by Diplo, who's currently busy working on the new Major Lazer album.
Other electronic acts/DJs set to grace the 30-stage Daresbury site will include The Chainsmokers, Stormzy, Above & Beyond, Faithless, and Martin Garrix.
19. Sub Focus
Festival: Reading Festival, Reading
Date: 25-27 August
Taking a break from recording his new album, out later this year, Sub Focus is one of dance music's most cerebral producers.
Working the festival circuit this year, Nick Douwma's pristine uptempo dance tracks should go down a storm at the Reading Festival, now in its incredible 62nd year.
Sub Focus: 10 tracks that blew my mind
20. Deadmau5
Festival: South West Four, London
Date: 26-27 August
Visionary electronic artist Deadmau5 will be back in London for the first time in three years on Sunday, 27th August at South West Four in leafy Clapham Common.
Fresh from the release of Stuff I Used to Do earlier this year, the Mau is ready to treat audiences to another jaw-dropping live production.
Deadmau5 turns teacher and creates his own music production course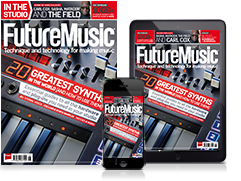 All-access artist interviews, in-depth gear reviews, essential production tutorials and much more.
Get the latest issue now!