In pictures: High Contrast's live setup revealed
Brixton bound
Drum and bass artist High Contrast (Lincoln Barrett) grew up to the doom-laden drones of A Clockwork Orange and Bladerunner soundtracks and studied filmmaking in Wales.
Now he has evolved into one of the most recognised names in the drum and bass scene, often incorporating elements of rock and northern soul into his sound.
In his younger years, the impressionable Barrett worked at Cardiff's only electronic record store and was given his breakthrough performing a DJ residency alongside Grooverider and London Elektricity. In 2002, Barrett released his debut High Contrast album, True Colours, spawning hit singles Return of Forever and Global Love.
Further albums followed, as did remixes and regular DJ slots at clubs including Fabric, while recently Barrett branched out into production work for Underworld on their new album Barbara Barbara, We Face a Shining Future.
This year also saw the release of the High Contrast single Shotgun Mouthwash, as featured on the soundtrack to T2: Trainspotting, and Barrett has now taken another step forward by performing his debut headline live show.
Before bringing that show to London's Brixton Electric, the drum and bass maestro invited us to run through his on-stage setup.
Lincoln Barrett
LB: "I've been DJing for so many years but put off doing a live show because I'm such a perfectionist that I always felt like it's not going to sound the same as the record.
"I think I've had to get over that and accept that the live experience is a very different thing to DJing and has its own value. People go to a live show for a different reason than a DJ show and I had to get over that mental hurdle of only being a DJ/producer.
"Over the past two years I've started writing songs in a more traditional way with a guitar and piano, so the music is gearing towards a live band-type treatment, so it makes sense now to do the live act. I think we try to get it as close to the record as we can, but everyone can bring their own thing to the stage - we don't want to be a slave to the record.
"It was a whole new world for me, but thankfully my right hand man Tom Cane was here to put it all together and train me up. I also sing on one track, if you can call it singing."
Roland System-1
LB: "I've created presets based on sounds from each of the records and they get triggered automatically by Ableton so I don't have to mess around choosing them. For each song, the Roland System-1 automatically goes to the sound I want to play, but I'm playing it live and can manipulate it live.
"I thought that was quite a normal thing to do, but for a lot of dance acts generating a sound live like this is a bit of a radical thing because they're mostly taking sounds from the record and just triggering them with MIDI, whereas I'm triggering new sounds and can be a lot more hands-on filtering things.
"For playing the synth parts in my tracks, you only need a monophonic keyboard with two octaves, and if things ever get slightly more complicated I just press a button and jump up an octave. So for lead lines, it's all I need.
Tom Cane: "It's just a really easy synth to programme. I made it really easy when we were redoing various things from the record, its basic synth design means it quickly became what we needed.
"Roland's System range of keyboards is spot on for that stuff, we don't have to go through a bunch of menus, you look at it and go, yeah, of course, it's that knob isn't it?"
Novation SLMK2 49 Key
LB: "For piano and Rhodes keyboards-type stuff we're doing it on the Novation. It's a MIDI keyboard that's taking sounds from Ableton on a laptop.
"Again, for each track it's automatically jumping to the right sound so I don't have to mess around, but I can control reverb and delay on here and send sounds into my MXR delay guitar pedal."
MXR Carbon Copy Delay Pedal
LB: "It's a delay unit for guitar but I thought it would be interesting to run synths into it. It produces a crazy delay and almost becomes an instrument in a way.
"I think it's an interesting piece of gear to introduce into what is, traditionally, an electronic live show. I definitely like the idea of mixing it up a bit with something from the guitar world."
Novation Launch Control
LB: "It's just a general controller. If there are programmed drums I can manipulate them with this. For example, sometimes we have an Amen beat running and I can chop it up on here and use effects to throw it off.
"We've assigned a button called 'mash', which sets whether you chop the beats up into 16ths, 8ths or quarters, and if you turn one of the assigned knobs all the way it turns into a flange, although it's actually a delay rather than a flange and I can affect the depth.
"I can send the guitar pedal to the reverb and delay or send signals to the guitar pedal and filter if there's too much phase."
Roland SPD-SX
LB: "The drum element was the part I was most nervous about, but by having this combination of an electric and acoustic kit I'm getting the best of both worlds.
"All the drums are being played by Affy [Green]. I use drum sticks on this, it's the same as Affy's got for triggering electronic hits, but what we've done is cut up some of the samples I use on my tracks and apply them here.
"We've got a sampled vocal from Racing Green on here and a soul sample from I Get High, and it's got handclaps and cymbal hits so I can join in with some of the percussion."
Ableton Live
LB: "For me, one of the most important things is not having to mess around with menus on anything, and that's being taken care of by Ableton so I can just do the playing and the fun stuff.
"In the studio, I use Cubase and always have done - it's what I'm used to and it works really well. I know a lot of people in drum and bass tend to use Cubase, but Ableton is the programme to use live. Maybe I need to look at integrating Ableton more or maybe even use both, for example, using Ableton on the road for making tracks."

Affy Green's hybrid setup
Drummer Affy Green: "This show's different because I've got a hybrid setup with parts that are electronic and acoustic so I have to be able to switch between them.
"We took some of the breaks and cut them into two halves for the kick and the snare, then laid the kicks onto my Roland kick pedal and used the Roland SPD-SX for the snares. So I'm playing the main breaks on that and then I'm filling in with rides, hi hats and playing some of the other fills acoustically.
"I would definitely recommend the SPD-SX because you can load in your samples via computer with a USB cable or stick, so it's super-easy. You've also got four jacks to add pads scattered around the kit - Roland stuff is definitely the way forward.
"In terms of the kit, I use Mapex because they tune lovely and I have some special effects cymbals. When you think of a standard rock kit you have rides and crashes, but Sabian have come out with some special ones that are a bit trashier; it basically sounds like a dustbin lid. Some cymbals cut through more than others.
"I've learned from Lincoln, it's about finding the gaps in-between some of the breaks and finding the space to be able to play percussion live."
Mario Ellis
Guitarist Marco Ellis: "I've always been a big fan of playing guitar on music that doesn't actually have any guitar in it, because then you get a bit of freedom to make stuff up and almost write parts.
"I've got an Ernie Ball Music Man Luke and a Semi-Hollow PRS. The Luke is really good for all the rock and big lead sounds. It's very bitey and gainy; it's basically like a Superstrat. The PRS is really rich and very good for the jazz stuff and big chords. These two complement the electronic stuff, because there's so much going on in the music.
"I'm primarily running the guitars through the Kemper Profiler Head, which is perfect for this type of gig because it can do a zillion different sounds but can also manipulate and almost turn them into a synth. Because of the MIDI switchboard I've got, I don't have to tap dance I can just click a button and have a sound with eight different effects on it."
"I've also got a couple of analogue effects, the MXR Boost Pedal, which is literally just a decibel booster is great for soloing and I'm using a Time Machine Delay Pedal Box – a Joe Satriani signature pedal that's really spacey and good for adding ambient sounds to the set.
"I'm using the MXR GTOD as an overdrive pedal; it's like the Ibanez Tube Screamer, but a bit bitier, and a standard Boss Chromatic Tuner, which does what it says on the tin.
"Finally, I have a boss volume pedal and the Boss Multi-Wah, which has a few different wahs built in, and you can also save presets in there."
High Contrast's Questions EP is out now on 3 Beat.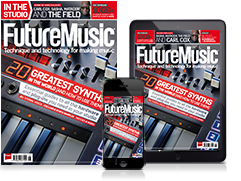 All-access artist interviews, in-depth gear reviews, essential production tutorials and much more.
Get the latest issue now!