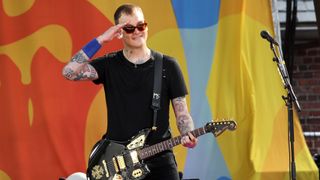 Matt Skiba (Blink-182)
The Total Guitar Best in guitars 2016 polls have received over 68,000 votes, and we're now ready to roll out the winners. The nominees were what we considered to be the guitarists and guitar gear that have excelled in 2016. Here, we present the best rock guitarist of 2016. First up we have Blink-182's Matt Skiba…
Skiba had already made quite the name for himself as guitarist/frontman of goth punks Alkaline Trio, but it was his invite to join the ranks of pop punk heroes Blink-182 (in place of Tom Delonge) that really made him a household name in 2016.
Blink's latest album California - and the first to feature Skiba - was a number one smash in both the US and UK, and Skiba's playing helped return the band to the sound of their late 90s/early-noughties halcyon days.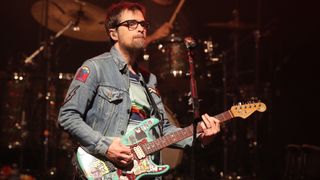 Rivers Cuomo (Weezer)
King of the geeks Rivers Cuomo and co came back with a bang in April 2016 with a new self-titled album (aka, The White Album).
Not only was it one of their best albums in years and featuring some massively catchy tunes, but it also showed that Rivers had lost none of his riff-writing charm - like the Beach Boys-esque picked intro to (Girl We Got A) Good Thing.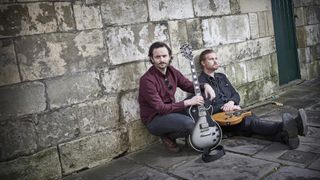 Mark Trotter, Ross Smithwick (Lonely The Brave)
The latest album from the Cambridge quintet, Things Will Matter, was a natural progression from their 2014 debut The Day's War, particularly from the perspective of potent guitar duo Mark Trotter and Ross Smithwick.
Tracks like Black Mire and Dust & Bones highlight just how far they've come as writers, and what a killer pairing they are, and Diamond Days further highlights the many intriguing layers to the band's music.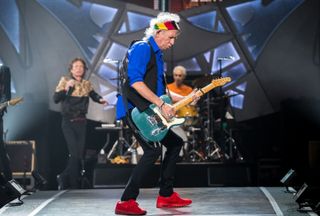 Keith Richards (The Rolling Stones)
For their 25th studio album, and their first studio release for 11 years, Keef and the Rolling Stones opted to record a series of covers of carefully selected Chicago blues tunes that hark back to their earlier days.
The result is 12 songs - recorded in 3 days - that feature Keith Richards in his absolute element, and firing on all cylinders on tracks like the low-slung Commit A Crime. If Keith keeps playing with this sort of energy and obvious enjoyment we'd love to hear him tackle some new Stones material...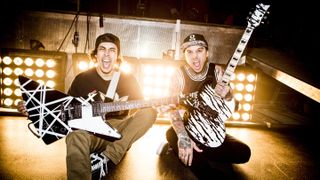 Vic Fuentes, Tony Perry (Pierce The Veil)
It took a while for the San Diegan post hardcore quartet to put out their fourth album Misadventures and, as such, the anticipation for the album was huge. Thankfully guitar duo Vic Fuentes and Tony Perry knew it, and put their absolute all into the guitar parts on the album.
More polished than previous efforts and ambitious in its scale, Misadventures features everything from mosh pit anthems, to ballads and serious guitar workouts, and looks set to propel the band even higher.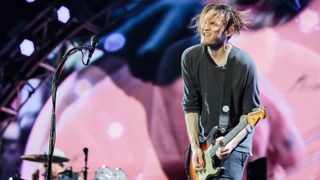 Josh Klinghoffer (Red Hot Chili Peppers)
The Chili Peppers' bad luck with guitarists is well documented, but in Josh Klinghoffer they've found someone who clearly gels well with the band and who has more than enough talent to fill the shoes of the departed John Frusciante.
The Chili's newest album The Getaway is Josh's second with the band, and is an indication that the young musician has truly found his way, whilst putting his own stamp on their well-known style.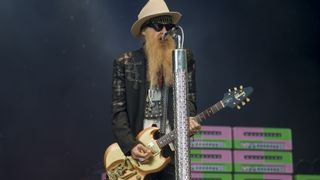 Billy Gibbons (ZZ Top)
When is Billy Gibbons ever not one of rock's best guitarists? Although 2016 was a fairly quiet year on the ZZ Top front, at the tail end of 2015 Billy released his debut solo album, Perfectamundo, with his BFG band.
They toured sporadically through 2016, Billy proving time and again why he's the king of boogie rock and why his playing could make a statue dance. But come on now Billy, surely it's time for a new ZZ Top album?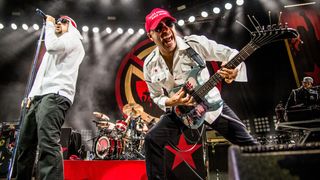 Tom Morello (Prophets Of Rage)
We've always loved the playing of Rage Against The Machine six-string pioneer Tom, but there's something about the passion with which he's tackling those seminal riffs in Prophets Of Rage (the politically-charged supergroup featuring Brad, Tom Morello, Timmy C, and Public Enemy's Chuck D and Cypress Hill's B Real), that has got us excited all over again.
In one of the most politically divided years the world has ever seen, we all need a band like Prophets Of Rage.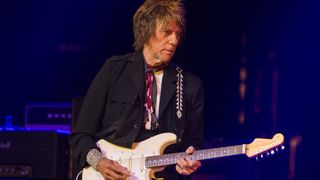 Jeff Beck
Guitar hero Jeff Beck doesn't need to release new music. He can lay claim to an incredible back catalogue and enough hero worship to see him touring until the end of time. Thankfully, he still has plenty of fire in his belly and magic in his hands, as proven on this year's Loud Hailer.
The album was both sonically cutting edge and effortlessly musical. Pull It has an almost dubstep edge to its heavy blues riff, and Thug Club is an absolute groove-fest.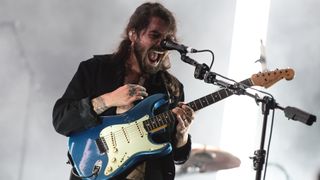 Simon Neil (Biffy Clyro)
Simon and Biffy continued their unstoppable rise in July 2016 with the release of the almighty Ellipsis album. Neil proved once again that his twisted take on melody and time signatures can be both beguiling and fascinating, whilst commercially appealing at the same time.
Now that would be enough for most bands, but Biffy went on to slay the competition with main stage headlining slots at the Reading & Leeds festivals, where the new songs sounded just as anthemic as the classics.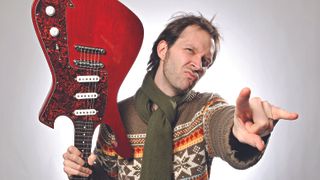 Paul Gilbert
2016 was the year Mr Gilbert dropped his 17th (yes, you read that right) solo album, produced by the awesome Kevin Shirley. The album naturally showed off the guitarist's vast abilities, but kept the right balance between musicality and virtuosity.
Gilbert also hit the road, laying waste to venues across Europe in the last quarter of 2016. Faces were duly melted.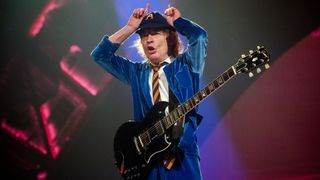 Angus Young (AC/DC)
Considering the absence of Phil Rudd, Malcolm Young and Brian Johnson from the AC/DC line up in 2016, and with bassist Cliff Williams suggesting this will be his last year of touring, it was up to Angus Young to rock the fans hard - and that's just what he did.
Controversially touring with Axl Rose on the mic - although seemingly converting many along the way - Angus never faltered in terms of volume, riff mastery and pure rock attitude. We salute you, sir!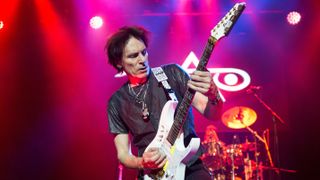 Steve Vai
New music isn't regularly forthcoming from the legendary guitar shredder, so when news of a fresh new Vai album surfaced, we couldn't contain our excitement.
Modern Primitive actually contains tracks written in the 80s, re-recorded by Steve in the last year or so, but he brings them right up to date with his signature style and modern production. It's so good, in fact, that we're hoping he has more guitar gold lurking in the archives.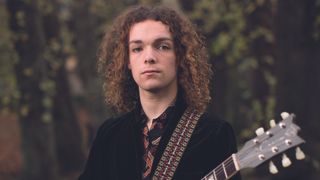 Dorian Sorriaux (Blues Pills)
The Swedish rockers may have only been a band for four years, but they've very quickly proven their musical credibility and prowess, and none more so that guitarist Dorian Sorriaux.
The band's sophomore album Lady In Gold, released in August 2016, sees the blues rockers adding heaps more soul to their tunes, and it really plays to all the musicians' strengths. Give Burned Out a spin and you'll hear exactly what we mean.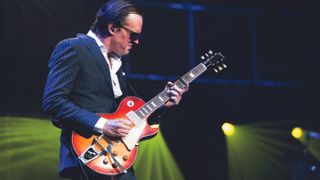 Joe Bonamassa
Between his incredible vintage guitar and amp collection and his enviable playing skills, there's rarely a time where we don't dream of spending a day in the New York guitar hero's shoes.
Joe's newest album Blues Of Desperation, released on 25 March 2016, hit number 12 on the US Billboard charts and number 3 on the UK charts - further proof that the UK music buying public has immaculate taste. The hard rocking blues tunes on the album demonstrate that Joe is no one-trick pony and that his creative well is far from dry. Keep 'em coming, Joe!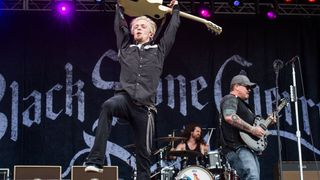 Chris Robertson, Ben Wells (Black Stone Cherry)
Free from their former label Roadrunner Records, the fifth studio album from these Kentucky natives (called, erm… Kentucky), is the sound of a band heading back to their southern rock roots and writing the songs they've always wanted to write.
The guitar duo of Chris Robertson and Ben Wells is as potent as ever and hits you in the face right from opener The Way Of The Future, through the grooving Soul Machine, right up to acoustic album closer The Rambler.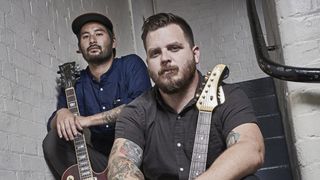 Dustin Kensrue, Teppei Teranishi (Thrice)
When Thrice went on hiatus in Spring 2012 we thought that would be the last we were going to hear from the Californian post hardcore quartet. Our tears had only just dried when, in 2014, it emerged the band was gearing up to play together again.
A new album To Be Everywhere Is To Be Nowhere dropped in May 2016, and was everything fans had been waiting for. The time guitarists Dustin Kensrue and Teppei Teranishi spent away from the band clearly helped on their return to the studio with Thrice. From a guitar perspective the album was heavy where it needed to be, melancholic, pensive and incredibly lush.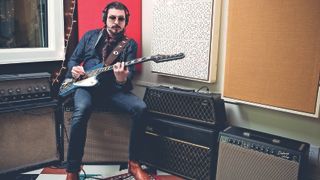 Scott Holiday (Rival Sons)
On new album Hollow Bones Rival Sons' Scott Holiday proved, once again, that he's a riff writing machine with bags of raw talent and an effortless cool. Tracks like Tied Up and the raucous Hollow Bones Pt.2 only build on the band's already stellar reputation.
Much of 2016 was spent on the road supporting Black Sabbath on their final world tour, as well as a jaunt with Deep Purple. Fine company indeed.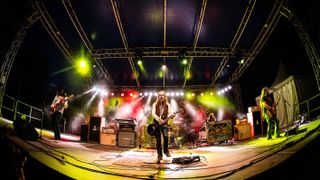 Paul Jackson, Charlie Starr (Blackberry Smoke)
They may have been around since the early 2000s, but Blackberry Smoke's star has risen most rapidly since the release of their 2012 album The Whippoorwill and the excellent follow-up Holding All the Roses.
Their 2016 album Like An Arrow, released on their own label 3 Legged Records, is the culmination of the band, and in particular guitarists Paul Jackson and Charlie Starr, honing their craft and transforming into true guitar heroes. The album is loaded with rockers like Let It Burn and gentler moments like The Good Life, all with an authentic Nashville edge - in fact, the album hit number one on the US country chart.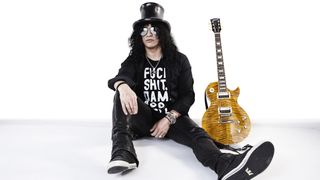 Slash (Guns N' Roses)
There's only one thing that dominated Saul Hudson's life in 2016, and that's the reunion with Axl Rose and Duff McKagan for the Guns N' Roses Not In This Lifetime shows and subsequent world tour. The fact that Slash has never played those G'n'R songs better only demonstrates that he was born to play the incendiary rock and roll classics.
Unsurprisingly, one million tickets for recently announced European dates sold out within 24 hours. The wait for the reunion may have been longer than the recording sessions for Chinese Democracy, but the difference is that these shows will have been worth the wait.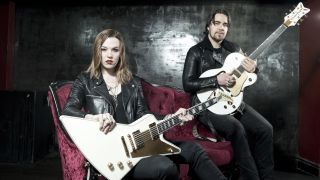 Lzzy Hale, Joe Hottinger (Halestorm)
Following the runaway success of the American rock band's third album Into The Wild Life, Lzzy, Joe and the band spent much of 2016 on the road, crushing crowds with their high-powered rock and roll.
Most recently, the band announced the ReAniMate EP, featuring covers of acts including Joan Jett, Metallica and Soundgarden. Anyone who's heard their rocking cover of Whitesnake's Still Of The Night should be satiated just enough until they put out a new longplayer hopefully sometime in 2017.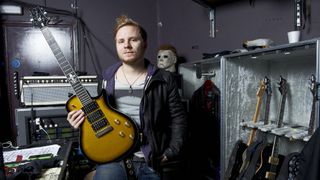 Zach Myers (Shinedown)
Throughout 2016 Shinedown continued to tour the globe in support of fifth studio album Threat To Survival, which topped the US rock charts upon its release in September 2015. Most recently Zach Myers and the band has been on the road with Five FInger Death Punch and Sixx: A.M.
Whether he's playing acoustic or electric, Zach is a master of his instrument, and his second place in this year's Best in guitars polls is further proof that he's a fan favourite.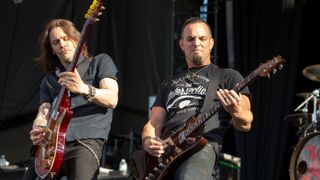 Winners: Mark Tremonti, Myles Kennedy (Alter Bridge)
It may only be a couple of months old, but Alter Bridge's politically and socially charged new album The Last Hero, has already made significant waves, both in terms of its message and musical impact.
The album represents some of the band's heaviest music yet, and the interplay between Mark Tremonti and Myles Kennedy is playful and bombastic. Tremonti, in particular, holds nothing back on tracks like Show Me A Leader and Poison In Your Veins - all the evidence needed to justify the duo's position at the top spot of the Best rock guitarist category.