The 15 best rock guitarists in the world right now
10. Jerry Cantrell, William DuVall (Alice In Chains)
Best of 2019: The Total Guitar/MusicRadar Best in guitars 2018 polls received an astonishing 126,000 votes, and we're now ready to roll out the winners. The nominees were what we considered to be the guitarists and guitar gear that have excelled in 2018. Here, we present the best rock guitarists of 2018.
Taking up positions 15 to 11 are:
15. Rich Robinson (The Magpie Salute)
14. Michael Schenker
13. Phil Collen, Vivian Campbell (Def Leppard)
12. Billy Corgan, James Iha, Jeff Schroeder (The Smashing Pumpkins)
11. Tim Sult, Neil Fallon (Clutch)
Kicking off the top 10 we have Jerry Cantrell and William DuVall of Alice In Chains...
2018 highlight: We've had to wait a while for new music from the grunge titans, but the wait was well worth it as Rainier Fog represented one of 2018's best guitar albums. From the guitar work to the vocal delivery, DuVall and Cantrell have become a real powerhouse duo, in particular with DuVall helping Cantrell raise his guitar game even higher.
The MusicRadar Best in guitars awards are brought to you in association with Ernie Ball. #colorsofrocknroll
9. Lzzy Hale, Joe Hottinger (Halestorm)
2018 highlight: The release of fourth album Vicious saw the Pennsylvania rockers play some of their biggest gigs to date (with more planned for 2019). Super producer Nick Raskulinecz helped the band shape their biggest rock bangers yet, while the guitar duo's playing was on fire. Our personal highlight was Lzzy and Joe answering fan's guitar questions on Facebook Live for a riotous half hour on World Guitar Day.
8. Chris Robertson, Ben Wells (Black Stone Cherry)
2018 highlight: The Kentucky rockers just go from strength to strength and new album Family Tree proved once again that they are leaders of the hard rock pack. The album had all the swing and swagger we've come to love, and some fine guitar work from Robertson and Wells in the shape of the ZZ Top-infused Burnin' and the epic opening of Carry Me On Down The Road.
7. Tom Morello
2018 highlight: When he's not busy with Prophets Of Rage or urging people to vote, Rage Against The Machine guitar hero Morello writes a lot of his own music. This year some of that music was released in the form of The Atlas Underground, a star-studded album that featured everyone from Big Boi of Outkast fame, to Marcus Mumford. The album was a melting pot of rock, dubstep, hip-hop and more, all peppered with killer riffs. Considering Morello is no stranger to boundary breaking, the album was an absolute triumph.
6. Justin Hawkins, Dan Hawkins (The Darkness)
2018 highlight: While The Darkness still have their tongues firmly in cheek, the Lowestoft quartet have transcended the comedy angle to become bona fide rock stars, and brothers in riff Justin and Dan are true greats of the instrument. While a new album is in the works for 2019, the band whet our appetite in 2018 with the release of the brilliant (and bonkers) theme song to CBeebies show Catie's Amazing Machines.
5. Slash (Guns N' Roses)
2018 highlight: There's little left to be said about the top-hatted guitar legend. Slash always been held in high regard, but since rejoining Guns N' Roses in 2015, the guitarist has been firing on all cylinders and playing those hits better than ever. Bringing their monumental Not In This Lifetime tour back to the hallowed ground of Donington for the 2018 Download Festival was a major highlight of the year.
4. Joe Satriani
2018 highlight: Every player in this top 4 deserves to win for their legendary status and pioneering playing. Satriani released his sixteenth studio album in 2018. What Happens Next? featured a more straight ahead, rock guitar approach from Satch, but the playing was no less accomplished and it's been on heavy rotation in the MusicRadar office since its release. We also loved having Joe take part in our Guitarist of the Year competition as a guest judge.
3. Paul Gilbert
2018 highlight: Paul rallied his fans to help him create his new solo album, Behold Electric Guitar. As the title suggests, the album serves as a showcase for his eclectic playing style, with many of the riffs and solos featuring tasty, bluesy slide work, whilst many of the songs are inflected by his newfound love for jazz. The album is a real journey and well worth your time.
2. Richie Kotzen
2018 highlight: If you've been chomping at the bit for more Kotzen music since 2017's Salting Earth, you will have been pleased to hear the slick runs and soulful vocals of new track Riot. It's an exciting sign of things to come next year from the guitar virtuoso. It's just been announced that The Winery Dogs will be heading out on the road again in 2019, too – and we can't wait to catch Richie rocking again!
Winners: Mark Tremonti, Myles Kennedy (Alter Bridge)
2018 highlight: There hasn't been any new music from the Floridian rockers this year (that's pencilled in for 2019), but the live album from their monumental Royal Albert Hall gig, alongside the Parallax Orchestra, has helped us cope. The playing from Tremonti and Kennedy is second to none, and the addition of strings adds an additional electricity, particularly to hits like Cry Of Achilles and set closer Open Your Eye. At 21 tracks long, there's no shortage of music; it just makes us wish we'd been there!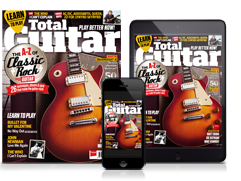 Stay up to date with the latest gear and tuition.
Subscribe and save today!