Easter is right around the corner, so it's time to boil some eggs, get the craft station out and pick up a new piece of music equipment, obviously. Now, while most people are preoccupied with chocolate and family traditions, musicians have noticed that the Easter weekend is quickly becoming a fantastic time to level up their acoustic guitar, drum kit, or recording gear. Take this mega promotion from music retail giant Thomann, for example. Until 11 April, you can bag up to 30% off a wide range of music gear in their Easter sale.
If you've ever spent any time on the Thomann site, you'll know that it's a treasure trove of musical delights, with their very own Harley Benton guitar brand being one of the most popular among musicians looking to keep the cost to a minimum - and better yet, you can grab one at an even cheaper price this Easter! The Harley Benton Fusion-II - which features in our guide to the best electric guitars - and the Harley Benton SC-400 are each down to only £295.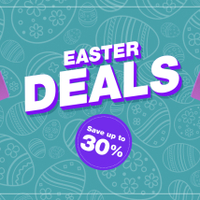 Thomann Easter Vibes Sale: up to 30% off
If you're looking to make your Easter a musical one, then the place to go is Thomann. Right now, you can land up to 30% off everything from acoustic guitars to basses, digital pianos to synthesizers, and so much more. The promotion starts on Sunday, April 2nd and runs to Tuesday, April 11th.
Of course, there are many more brands available in this sale, you aren't just limited to the best Harley Benton guitars. For example, if you've got your heart set on an extra fancy, high-end acoustic, the absolutely stunning Taylor K24ce is down to only £4,199. If you are a budding producer looking to upgrade your home studio equipment, you can grab the hugely popular AKAI Professional MPK 225 for as little as £159, and you can even level up your synth sounds with the incredible Moog DFAM, which is down to £625.
Not content with just offering significant savings, Thomann is also offering you the chance to win one of ten 50€ vouchers. The Easter Egg hunt will begin on April 2nd and will end on April 11th. All you have to do is decipher the clever hints on Thomann's Facebook and Instagram pages to find an egg. Once you've bagged one, you submit this info to Thomann and you'll be entered into the final raffle.
Fancy getting involved? Well, you can read more about the rules on the Thomann blog.
Looking to start your musical journey? Browse our beginner-friendly guides to find your perfect gear