The 6 best new signature guitars of 2018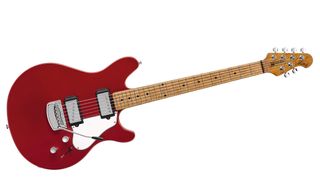 6. Ernie Ball Music Man Valentine Tremolo
The Total Guitar/MusicRadar Best in guitars 2018 polls received an astonishing 126,000 votes, and we're now ready to roll out the winners. The nominees were what we considered to be the guitarists and guitar gear that have excelled in 2018. Here, we present the best new signature guitars of 2018. First up we have the Ernie Ball Music Man Valentine Tremolo...
We say: One of the classiest, most intelligent new designs that we've encountered that covers huge sonic ground with style and class. It's Valentine's day indeed!
Read the review: Ernie Ball Music Man Valentine Tremolo review
The MusicRadar Best in guitars awards are brought to you in association with Ernie Ball. #colorsofrocknroll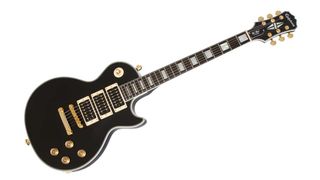 5. Epiphone Ltd. Ed. Peter Frampton Les Paul Custom Pro
We say: This Les Paul is based on Frampton's 1954 'Phenix' Les Paul - as seen on the cover of iconic live album Frampton Comes Alive - and comes in two versions: the Premium Outfit ($1,199) with hand-signed certificate of authenticity and premium hardcase is limited to 200 guitars; the guitar-only version ($899) is limited to 900.
Frampton's LP comes equipped with a weight-relieved mahogany body, two ProBucker and a single Ceramic Pro open-coil humbuckers, an ebony fretboard and gold Grover Rotomatic machineheads.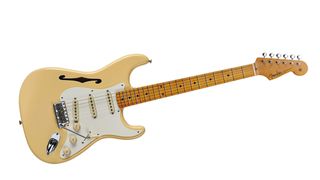 4. Fender Eric Johnson Thinline Stratocaster
We say: All the expected clean sounds are there, but somewhat 'prettier'. Crank up the wick, though, and it really does take on a different nature, blossoming with sweet, juicy fatness. Think of Eric's sounds and they are never ferocious, just big, fat and controlled, and that's clearly what he was going for here. Of course, every molecule screams 'Strat', so no big surprises here for the unwary.
Read the review: Fender Eric Johnson Thinline Stratocaster review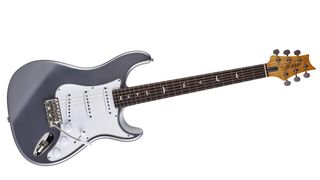 3. PRS John Mayer Silver Sky
We say: A superb vintage and experience-informed three single-coil bolt-on. The build, playability, sound and typical PRS attention to detail and quality are top notch.
Read the review: PRS John Mayer Silver Sky review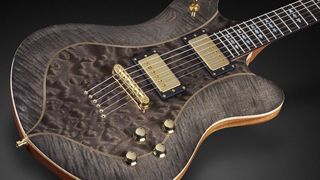 2. Framus William DuVall Talisman
Available in Custom Shop Masterbuilt (hand-built) and Teambuilt configurations, the Alice In Chains man's model is notable for its mahogany body interspersed with AAA flamed maple top and quilted maple inlays, as well as coil-splittable Seymour Duncan APH-1 and SH-11 pickups.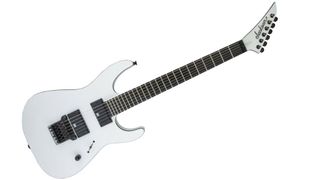 Winner: Jackson Pro Series Mick Thomson SL2
We say: We love how pared back Mick Thomson's Soloist is - there isn't even a truss-rod cover - and a hardtail bridge with locking tuners is practical for riffing hard. Its sustain, facilitated by the Slipknot guitarist's signature Seymour Duncan Blackouts and neck-through construction, is quite breathtaking.
If you're after the ultimate metal guitar, then it's the Mick Thomson Soloist. Its harmonic response and note separation when playing through filthy levels of gain is unbeatable.
Read the review: Jackson Pro Series Mick Thomson SL2