If you're wanting to make a first foray into the world of music production, or you're just after a replacement for that tired old MIDI keyboard lying on your desk, Native Instruments have got a great deal for you. When you buy their Komplete Kontrol M32 you'll get Komplete 14 Select totally free, usually priced at $199/£179. That's a whopping $338/£288 worth of gear for just $138/£109.
If you've already got a MIDI keyboard or controller then fear not, you can still take advantage of a great deal as Komplete 14 Select on its own also has an amazing 50% discount off the regular price. Packed with sounds, synths, effects, and drum kits it gives you all the tools you need for release-ready mixes.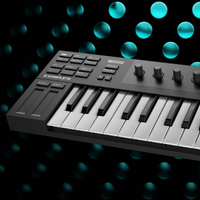 Komplete Kontrol M32 & Komplete 14 Select: Save $199/£179
Combining everything you need to make music, this compact MIDI keyboard in the Komplete Kontrol M32 and virtual instrument and effects suite with Komplete Select is the perfect starting point for the budding producer. Available until July 6, 2023, you'll need to move quickly if you want to snap up this fantastic deal.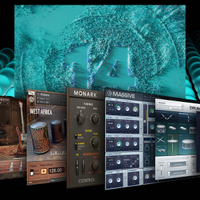 Komplete 14 Select: Now 50% off
Including some of the music's most popular synthesizers, effects, and drum kits Komplete Select is perfect for kickstarting your songwriting. Its rounded set of features makes it applicable to a whole range of different musical styles, and with a whopping 50% off it's an even more tantalizing prospect.
Komplete Kontrol M32 stands apart from many other DAW controllers in that it allows you to control many aspects of your plugins straight from the controller. It's a brilliant bit of kit as evidenced by our review where we gave it five stars out of five. Combining hotkeys with a four-directional push encoder, you can navigate tracks and adjust plugins in your session all without having to reach for your mouse and keyboard.
As well as more typical controls like pitch bend and mod wheel you also get some really interesting 'Smart Play' controls that enhance your songwriting. Scale mode sets the keyboard to a single scale so you can't play any wrong notes, and a similar chord mode gives you the ability to only play a certain sequence from your chosen scale, making songwriting much easier.
Komplete 14 Select houses two of NI's heavyweight synthesizers in Monark and Massive, giving you a huge selection of sounds that range from vintage analog right through to clean and pristine modern synth sounds. You'll also get some more esoteric options with Ethereal Earth and the West Africa percussion selection to add some extra flavor to your compositions.
It also features some must-have mix tools with the Solid Bus Compressor, the highly rated Replika delay plugin, and one of our personal favorites, the Raum reverb plugin. Add a massive selection of sample packs that tackle everything from West Coast hip-hop beats to futuristic Detroit electro sounds and you've got the perfect springboard for your next creative endeavor.
Related buyer's guides