If you thought it was too soon for early Black Friday guitar deals to start landing, think again because Fender has just dropped an amazing sale over at their official store. With a huge $100 off Player Plus and $50 off Player series guitars, the big 'F' have given guitarists something to think about when it comes to their Black Friday buying plans.
The Fender Player and Player Plus series are always some of the best-selling guitars during Black Friday weekend, so this is an excellent opportunity to get your hands on one early doors. These deals are also only available whilst stocks last, so you'll want to act fast as we can see the most popular models selling out quickly.
Apart from a few Limited Edition models and some Duo-Sonic and Mustang, pretty much every model from the Player and Player Plus series is on sale at the moment. We've spotted the ever-present Fender Player Strat in the sale as well as some more esoteric models like the Player Lead II and Player Plus Meteora getting a discount too.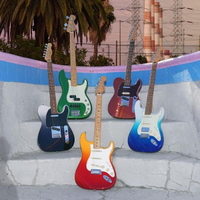 Fender Player Plus Series: Get a massive $100 off
As owners of a Player Plus Tele, we can attest to the build quality and tone options you get when purchasing one of these guitars. Premium features normally reserved for much more expensive instruments are par for the course here, and with a huge $100 discount on the regular price they're even better value for money than usual. There's a huge range so no matter what your playing style it's worth a browse if you're in the market for a new guitar.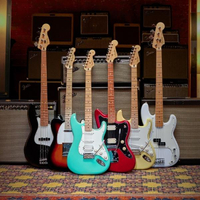 Fender Player Series: Get a huge $50 off
With a selection of the best-selling mid-range guitars from the last few years, the Player Series is the perfect stepping stone for those looking to move up from a beginner instrument or seasoned players who want a quality number two for alternate tunings. With a healthy $50 discount on the regular price, the already excellent value-for-money Player series just got even more tempting.
We've had a look over the sale and picked out a few of our favourites for you. First up is the absolute tone monster, the Fender Player Plus Stratocaster HSS. It's got a hugely versatile tonal palette thanks to the HSS configuration with splittable humbucker. Add in a two-point tremolo with locking tuners for extra stability, and you've got a gig-ready guitar that can handle pretty much anything. Fender slashing the price by $100 down to $1,029.99 just sweetens the deal.
If you're after something a little more distinctive, we'd have a look at the Fender Player Jaguar. It's currently got a healthy $50 discount at the moment, meaning it only costs $829.99. With a unique pickup configuration, this Jag has a splittable humbucker in the bridge position and a single coil in the neck. Combine that with the expressive Jaguar tremolo bridge and you can add a lot of flair to your playing. It's truly an instrument that doesn't sound like anything else.