If you're a guitar player then no doubt you've come across Boss products before. From professional touring players to those just making their first foray into the wide world of electric guitar, Boss' stompboxes, practice amps, and accessories are synonymous with six strings - and now you can get some seriously good discounts with the huge Boss sale on Amazon throughout November.
You're probably sick of hearing about the Boss Katana now, but it really is that good! It's currently available with a nice 15% discount in the Amazon Boss sale, which means you can get your hands on it for just $229.99. For those in the market for an amp that can do everything from quiet home practice to home recording, all the way to full-on live shows, the Katana has got you covered.
If you're in the market for yet another addition to a busy pedalboard, the warm, mid-range heavy fatness of the Boss FZ-1W Wazacraft fuzz pedal will add some serious character to your sound. Use it almost like an overdrive, or crank things fully for some properly raunchy and raspy fuzz tones, this brilliant pedal is available with a 20% discount at just $160.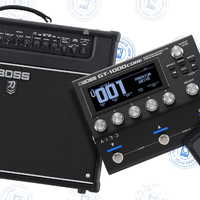 Boss Black Friday Sale: Huge savings at Amazon
Not content with giving you just a few days to bag yourself a bargain, Boss has opted to go early with their Black Friday guitar deals so you can save big straight away. There's a whole bunch of pedals, Katana amps, straps, cables, and more just waiting to be picked up at a great discount.
The Boss SY-1 Guitar Synthesizer Pedal aso caught our eye in the sale. This versatile stompbox lets you add some insane sounds to your pedalboard and is currently available at just $190, down from $229.99. If you need a quiet practice option when inspiration strikes late at night, the Boss Pocket GT is now available with a hefty 23% discount, putting it below the $100 mark. Previously listed at $129.99, you can get it for just $99.99 for a limited time.
Shop more early Black Friday deals