With Amazon's Prime Big Deal Days in full swing, you'll need to brace yourself for an avalanche of savings and deals over the next two days. Truth be told, Amazon isn't our go-to for music gear unless we're on the hunt for budget-friendly accessories like acoustic guitar strings or a new capo. But thankfully for guitar players everywhere, if you head over to the official Fender shop you can grab yourself substantial discounts of up to $350 off a variety of Aerodyne and Vintera electric guitars.
For those willing to bide their time until Black Friday to secure a saving, you'll want to have a look at our Black Friday guitar deals page. We're consistently updating it with early bargains leading up to Cyber Weekend, and when the grand day arrives, it will be jam-packed with all the biggest savings of the weekend. It's regularly updated with our handpicked deals, so well worth checking back to see what's new.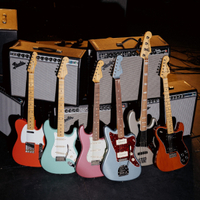 Fender shop: Up to $350 off Aerodyne and Vintera
Representing the cutting edge of modern guitar tech, the Fender Aerodyne series is made in Japan, so you're getting the very best components with the outstanding build quality Japanese luthiers are renowned for. If you prefer your guitars more classically inspired, then the Vintera series offers period-correct instruments that capture the best of the 50s, 60s, and 70s Fender guitars. Both ranges have significant discounts at the moment, with up to $350 off Aerodyne, and a cool 20% discount on all Vintera guitars.
With the arrival of Vintera II, we weren't too surprised to see the original Vintera series being offered at a discount. We weren't expecting 20% off the whole range though! The super cool Fender Vintera 50s Telecaster Modified caught our eye straight away, with its Custom Shop pickups, four-way switching, and S-1 switch, it's an incredibly versatile Tele. It's also got a massive $240 discount, down all the way from $1,199.99 to just $959.99.
The Fender Vintera 60s Stratocaster Modified also had us swooning, and only partially due to the $240 discount. With three hot Stratocaster single coils for vintage tones voiced for the modern player, a handy S-1 switch adds the neck pickup into positions one and two, giving you even more tone choices than your typical Stratocaster. It's down from $1,199.99 to $959.99, making it even better value for money than usual.
If you prefer your guitar more modern, then the Fender Aerodyne Special Jazz Bass will be right up your street with its carved top and modern colorways. It's got a gigantic discount of $350 over at the Fender shop at the moment, delivering that signature Jazz Bass tone with the modern design and build quality of a Japanese-made instrument. The neck profiles of these guitars are incredibly comfortable, and it's the perfect antidote for players who are tired of yet another vintage-reissue style bass guitar.