Well, today is officially the first day of spring, and while we are undoubtedly excited about the prospect of longer days and warmer weather, we are most enthusiastic about the slew of price drops that have started rolling in already. The birds are chirping, the sun is shining and PMT has just launched one of the best spring sales around, offering a whopping up to 60% off on big-name brands. So whether your pedalboard is in dire need of a spring clean, you have your eye on a brand-new drum kit, or you could do with upgrading your recording gear, you'll find it in this mega sale.
PMT is kicking off the new season with a bang, springing into action with an impressive sale that will be sure to satisfy every type of musician. From guitarists to drummers, pianists, producers and bass players, everyone can get in on the price-slashing action this spring.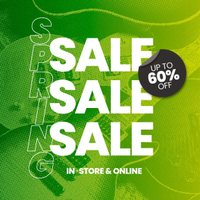 PMT spring sale: up to 60% off
Score an exceptional up to 60% off a massive range of musical equipment right now at PMT. With all the major brands represented, from Fender to Gibson, PRS, Roland, Korg, Tama, Blackstar, Shure, AKG and so much more, there is more than enough to sink your teeth into here. That said, you'll need to be quick if you want to grab a bargain, as you only have until the 29th of March to take advantage of this brilliant offer.
Of course, with so much on offer, it can get a little overwhelming - but don't worry, MusicRadar is here to lend a helping hand. We've scoured through the entire sale, hand-picking a few of our favourite items.
First up, we have to give a shout-out to the stunning Fender American Acoustasonic Stratocaster in the fierce Dakota Red finish, which has £580 slashed off the price, bringing it down to £1,319. Providing the best of both worlds, this rather unique guitar perfectly combines the electric and acoustic guitar into one highly playable and stylish instrument.
Next up, we have the ever-popular KRK V4S4 studio monitor. This canary yellow speaker has been seen on the desks of numerous well-known producers and is thought of by many as one of the best studio monitors on the market right now - a sentiment we share. Now, if you've always wanted to know what the fuss is about, now might be the time to try them as you can currently save a cool £116 off the price, making them only £233 per speaker.
Drummers can't go wrong with the rock-solid Mapex Black Panther Solidus maple shell snare, which currently has £154 knocked off the price, bringing it down to only £314. The Black Panther snare has been a staple in recording studios, venues and rehearsal spaces for decades, and now you can seriously improve your snare sound without breaking the bank!
For the bass player, PMT has a particularly great deal on the Spector Legend 4, which is down to only £399. With £200 off, this is a fantastic opportunity to bring the thunder on a budget, with an incredibly playable bass that sounds as good as it looks.
Looking for more great gear? Our expert buyer's guides are here to help