We can never really have enough plugins, can we? Well, IK Multimedia is testing that theory to its absolute limit. It's going in hard with a Black Friday sale price on its Total Studio 4 Max bundle, which gets you a giant haul of effects and instruments with a combined value of over €14,000 (if bought individually) for just €349. This could well be one of the best Black Friday plugin deals we've ever seen.
Let's wind back a bit though, what software could possibly constitute a life-savings level of cash? Launched at the start of 2023, IK Multimedia Total Studio 4 Max comprises a whopping 170 products, and it's designed to pretty much be an 'everything-we-make' software bundle which covers every stage of music production, from initial ideas to mastering.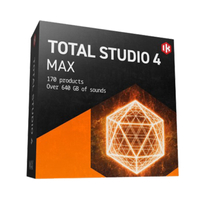 Total Studio 4 MAX: Was €799, now €349
Get all the plugins you need to take your music from a spark of inspiration, all the way to a finished, mastered release with IK Multimedia Total Studio 4 Max. With 170 instruments, more than 500 FX and over 640 gigabytes of sample data, it's a complete solution for composition, mixing and mastering your music with a combined total value of over €14,000. At this price, why are you still reading this article?
Now, it might well be worth that much if you bought every product piecemeal, but IK Multimedia Total Studio 4 Max has a regular retail price of €799 - already a fraction of the price. But here we see it slashed again by nearly 60% to an absolute bargain price of just €349.
There's over 640 GB of instruments/samples, and over 500 FX included. We're not sure the internet has space for the bullet points required to list them all, and frankly, we're afraid to try. But the highlights include every major IK product you can think of and we've reviewed some of them, too. Check out the links below.
There are seven main virtual instruments included, covering everything from general-purpose sounds with Sampletank 4 MAX (and all 34 expansion packs); a plethora of classic synths from Syntronik 2 MAX; pristine orchestral instruments with Miroslav Philharmonik 2; vintage keys in the form of SampleTron 2 and Hammond B-3 X; and smart, modelled bass and drum sounds thanks to MODO BASS 2 and MODO DRUM 1.5.
Mixing and mastering tools are taken care of by T-RackS 5 Max v2, the incredible ARC 3 room calibration software, MixBox's 500-series-style presentation of EQ, dynamics and more, and a faithfully modelled emulation of Lurssen Mastering's mastering chain.
But IK's not done yet, because also included is the awesome AmpliTube 5 MAX v2 suite of guitar amps, effects, cabinets and more. With over 400 recreations of classic and contemporary heads, combos, pedals and speakers, AmpliTube 5 puts radio-ready guitar tone at your fingertips.
If you're still not satisfied, check out IK's TONEX MAX, which also comes in the bundle, allowing you to create your own models from any hardware you can get your hands on. If we didn't feel like we were stealing already, we do now.
Shop more early Black Friday software sales