Unfortunately, it's that time of year again, it's time to get ready for the return to school. Whether you're a parent of a young one heading back to elementary school or a college student branching out into the world of further education, you'll no doubt be stressing over all the equipment you need. Well, while we can't help with the pens, pencils, and protractors, we can help you with a guitar - and we can save you money, too! Guitar Center is now offering 15% off beginner-friendly acoustic guitars and lessons, meaning you can have your pick of the best acoustic guitars for beginners on the market at an even more affordable price.
Luckily, this sale sees the biggest names in the world of budget acoustic guitars represented, with the likes of D'Angelico, Yamaha, Ibanez, and Sigma all seeing sizable discounts applied the to price. Don't worry if this is all alien to you, we are here with a few of our favourites to help point you in the right direction.
Our first pick from this sale has to be the fabulous Yamaha F335, which is down to only $144.49. Yamaha is renowned the world over for its stellar build quality and fantastic tone, and frankly, we believe they offer the best value for money in this price category. We are also big fans of the understated Epiphone PRO-1, which delivers a surprisingly great tone despite its modest price tag - coming in at only $161.49.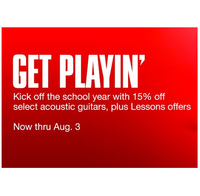 Guitar Center: 15% off acoustic guitars and lessons
We know that every little helps when it comes to saving money around the start of the school year, that's why we are excited to share this fantastic offer from Guitar Center with you. For a limited time, you can bag 15% off a wide range of beginner acoustic guitars, and better yet, if you buy three lessons, you get one free as well.
Now, both of the guitars above are in the dreadnought category, which may be a little large for some of the younger players out there, so if you are seeking a smaller-bodied acoustic guitar, then the Sigma SIG10 Mini is a brilliant option, as it combines a solid sitka spruce top, a thin neck and handsome good looks for only $186.99. If you are thinking about purchasing a premium option, then our pick would be the absolutely amazing PRS SE P20E Parlor, which in our opinion is one of the best petite acoustic guitars on the market, and the Pink Lotus finish option is down to only $424.15.
Thankfully it's not only instruments that are on sale, as Guitar Center is offering discounts on their popular online guitar lessons as well - meaning you or your child can get ahead of the class! For a limited time, if you buy three lessons, you get one free. All of these back-to-school offers run from now until 3 August, so be quick as your time is running out to bag a deal.
Still not sure which guitar is right for starting out? Well our buyer's guides are here to help