The Gaslight Anthem's drum setup in pictures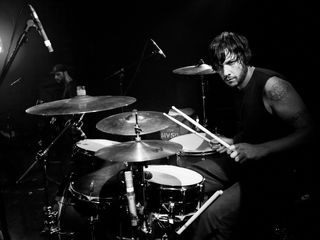 Benny Horowitz's drum setup
"I'm not the most technical or flair-y drummer," says Gaslight Anthem drummer Benny Horowitz. "I think my greatest attribute is to really pound away, to hit super hard and keep a song really trucking in the right direction. I want a constant state of motion."
Rhythm magazine spoke to Benny just as The Gaslight Anthem wrapped up the British leg of their last tour when the momentum was undeniably behind the band. Their second album, the '59 Sound, propelled the New Jersey rockers to international success and the follow-up, American Slang, only added to their rapidly growing army of ardent admirers.
Read more: Zildjian A Series City Pack
Among the exclusive shots of Benny's setup you'll see in this gallery are snippets from that interview, in which the drummer discusses his gear, the songwriting and recording process, his penchant for Motown, and the challenges of playing to a click track.
You can also check out Rhythm's current issue 187 fronted by Stone Sour's monster sticksman Roy Mayorga. Or subscribe to Rhythm here.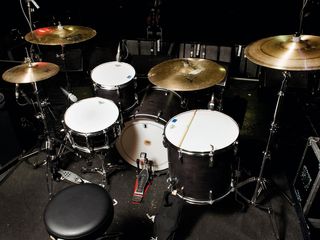 The kit
Benny and producer Tim Hutt spent a day getting the right drum sound on American Slang, which involved playing mix and match with the gear. Benny tours with a set from Dark Horse Percussion, but the studio kit is another beast…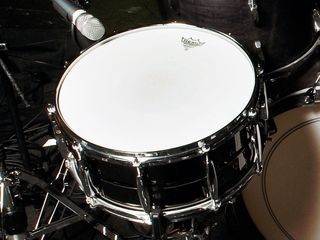 Snare and toms
"…and we had this old Ludwig snare, 14"x7". I used my Dark Horse toms, my 12" from home and my 18" floor tom…"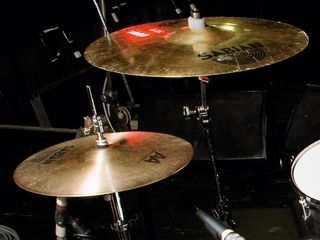 Cymbals
"…and I used my basic cymbal set-up, mostly Sabian with my Zildjian ride. I rented out some 15" hi-hats for the session. I really wanted kick, snare, hat to be big and as Motown-y as possible."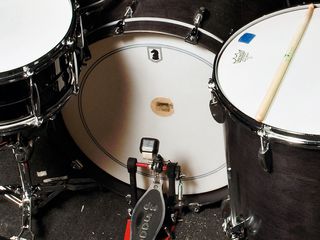 Single kick drum
"I really believe in making four drums sound awesome rather than compensating with extra stuff."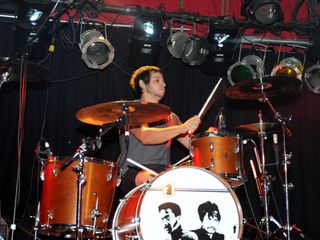 Songwriting
Where some groups like to jam and see what they come up with, Benny prefers to work from a sketch of a song rather than a blank canvas.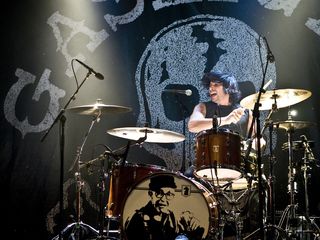 Writing drum parts
"With writing drum parts, I really appreciate it when Brian has a melody constructed when he brings in the song because I try to write to the hook and the melody."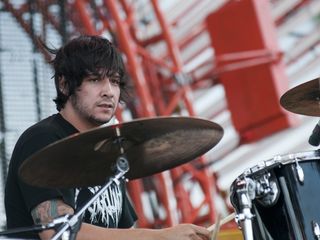 Motown soul
One element that quickly comes to the fore when listening to Benny's playing is his love for Motown. Beneath the punk exterior of the Gaslight Anthem lies a heart pulsing to the beat of classic soul.
"I grew up with a lot of Motown through my father. I've been fairly obsessed with it for the last couple of years, ever since I got over being too hardcore.
"Once I hit 15 or 16, if something wasn't super fast and super heavy I had no interest in it. It took me years to re-develop my ear for melody. I gave it a rest for a long time."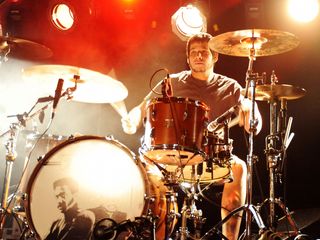 Dance floor grooves
Benny's approach is built around maximising the potential of his kick, snare and hi-hat, like the drummers of Motown who laid down their grooves for the dance floor.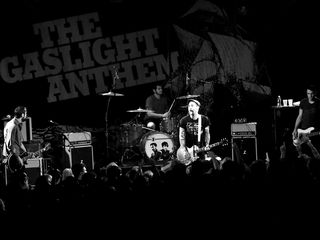 Recording with a click track
For American Slang, the band recorded using a click track, which poses its own challenges for any drummer looking to capture a feeling.