The best DJ gear of the year: 2012
Mixer of the year
Much like its bigger sibling, Pioneer's DJM-900 Nexus - our mixer of the year last year - the DJM-850's best trick is the fact that it manages to cram an assortment of forward-thinking, digital-friendly features into a reassuringly familiar, quality package.
It might not pack all the same spec as Pioneer's top of the line units (digital inputs, full rekordbox integration and extra FX controls are missing), but its built-in audio interface with USB connection, along with its superb sound quality, all make the DJM-850 a thoroughly worthy update to a DJ booth favourite.
4.5 out of 5
Full review: Pioneer DJM-850 Mixer
BUY Pioneer DJM-850 Mixer currently available from:
UK/Europe: Thomann
USA: Sweetwater | Full Compass
DJ controller of the year
More than ever in 2012, the four-deck controller market has become a crowded and competitive space. Numark's latest Traktor-orientated offering stood out for us however, with its excellent build quality and seemingly indestructible metal casing.
While NI's S4 may still beat it in terms of integration with Traktor, the 4Trak is unquestionably well spec'd and features an impressive stand-alone mixer.
Honourable mentions in the controller category go to two of Native Instruments' new crop of Traktor gadgets: the well implemented and brilliantly flexible Kontrol F1 Remix Decks controller, and the Z2 - the company's newly released, and impressively powerful control mixer.
4.5 out of 5
Full review: Numark 4Trak
BUY Numark 4Trak currently available from:
UK/Europe: Andertons Music Co. | Thomann | Scan Pro Audio | Gear4Music
USA: Sweetwater | Full Compass
Also in the running: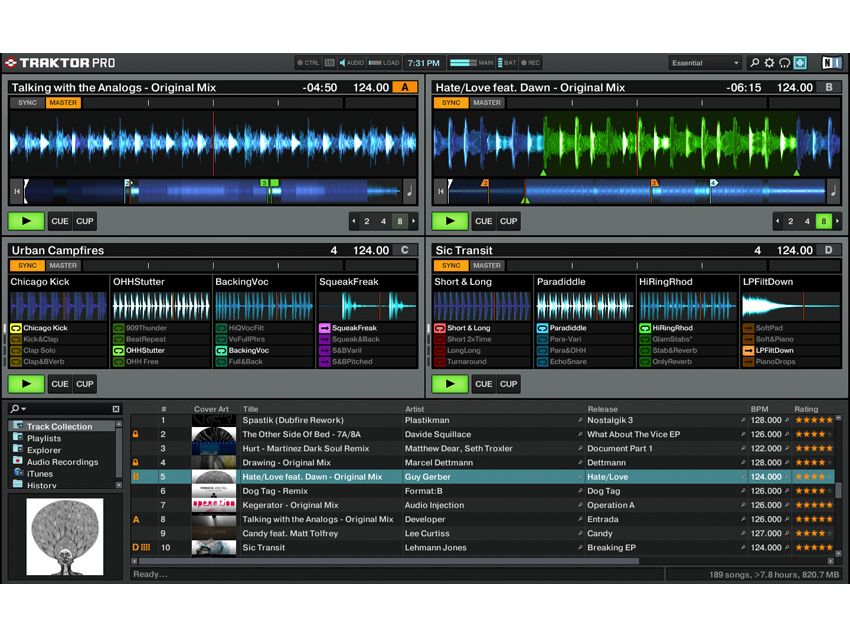 DJ software of the year
Since being crowned our top DJ application of 2011, Traktor Pro has only undergone a couple of 'point' updates, rather than a full new version.

But when Traktor Pro 2.5 landed in May it brought with it the excellent new Remix Decks - allowing DJs to easily throw anything up to 64 loops and one-shot samples into their mixes. It's this feature in particular that has kept Traktor at the top of the game in 2012.
An honourable mention however, goes to Serato DJ - Serato's redesigned (and now MIDI mapable) controller-focused software - which features excellent sounding effects and an improved sample deck. At the entry-level end of the market too, Magix's Digital DJ2 impressed us with its bare bones budget efficiency.
4.5 out of 5
Full review: Traktor Pro 2 (previous version)
Also in the running:
DJ effect of the year
Not only is the RMX-1000 an impressive external effects unit, allowing hands-on control of Pioneer's much-loved DJ effects, but it also marks an interesting step forward for the company by shipping complete with an associated VST - allowing the unit to function as a MIDI controller as part of a more complex, computer-based studio or live set-up.
Fear not though vinyl purists, as even if it never goes within a hundred yards of a laptop the RMX-1000 is still a handy, powerful and above all fun DJing tool. We only have slight reservations over the price.
An honourable mention in this category goes to Korg's updated handheld effects device, the Mini Kaoss Pad 2. With its new cut-down size, touch slider, microSD support and improved effects, the Mini KP is a great little portable DJ gadget.
5 out of 5
Full review: Pioneer RMX-1000 Remix Station
BUY Pioneer RMX-1000 Remix Station currently available from:
UK/Europe: Thomann | Gear4Music
USA: Sweetwater | Full Compass
Also in the running:
DJ player/device of the year
Even if you don't take into account its headline feature - wireless connectivity with up to four devices running rekordbox - the XDJ-AERO still offers great value for money.
It can work as an all-in-one DJing unit with USB flash drive connectivity, it can also hold its own as Traktor controller and it even features a stand-alone, two-channel mixer. Add to that the surprisingly quick and reliable WIFI functionality, solid build quality and the decent built-in effects and the AERO becomes an impressively versatile DJ unit at a very competitive price.
Full review: (coming soon)
iOS/mobile DJing product of the year
Numark's iPad-powered controller for algoriddim's excellent djay app is the most serious piece of iOS DJ gear we've seen so far.
The unit's components are of a far higher quality than you might expect from iOS hardware; the jog wheels, faders and effects pots feel as solid as most 'pro level' controllers. While it's not quite a club-standard bit of kit, it's great as a home DJing unit or as the ideal house party solution.
Honourable mention goes to IK Multimedia's compact iOS mixer, the iRig Mix which - while feeling a tad clumsy at times - is immense fun for sketching out mix ideas on an iPad or iPhone (or both), and works particularly nicely with the impressive iPad version of IK's DJ Rig app.
Full review: (coming soon)
Also in the running